March 2018 Articles
Columns
Paul Moffett
Eddy Metal
Eddy Metal
Blogs
Got Shows?
Send Them To Us
Bookmark Louisville Music News.net with these handy
social bookmarking tools:
Available RSS Feeds
- Top Picks
- Today's Music
- Editor's Blog
- Articles
Add Louisville Music News' RSS Feed to Your Yahoo!

Issue:
Love Jones
With theme music from "Cape Fear " swelling ominously in the background, Love Jones vocalist Jonathan Palmer slowly walked on stage, holding a menacing-looking electric shaver in one hand. As bandmate Ben Daughtrey hid in the background, calling Palmer "The Demon " and likening him to Woody Harrelson's character from "Natural Born Killers," Palmer began using the shaver to shear big clumps of hair from his head. Eventually, the shaver gave out, leaving Palmer with a mottled, half-shaved pate and a crazed gleam in his eye. Then his bandmates joined him onstage and launched into the incongruously amiable "Li'l Black Book,' even as Palmer prowled about like a refugee from a dinner theater version of "Silence of the Lambs."
Welcome to Love Jones, 1994.
That remarkable opening, from the group's appearance Sept. 17 at the Brewery's Thunderdome, showed that Louisville's favorite sort-of hometown band hasn't lost its flair for the bizarre. The rest of its set proved that the band continues to grow as musicians. The Jones offered tight versions of old favorites ( "Pineapple," "Drive-In," "Custom Van"), new material ( "Stars," "Who Can Say? ") and even some well-selected covers (including "Do You Know the Way to San Jose? "). The show wasn't as polished as the band's slick Derby Week gigs at the Toy Tiger earlier this year, but it was a quantum leap from the sloppy, drunken sets Love Jones were delivering before they left for Los Angeles and, eventually, a big-label deal with Zoo Entertainment a couple of years ago.
"We're really moving away from being novices and becoming more polished, musically," Palmer said in an interview the next day."The confidence level in our musical ability has increased tremendously. We're still hacks, but we're very accomplished hacks."
And that's not the only good news for Love Jones fans. The band has been riding a wave of publicity lately as the national media have covered the so-called "cocktail nation " movement with stories about the resurgence of lounge-style acts like Love Jones. Palmer and Daughtrey have been quoted by USA Today and Newsweek. Not all the attention has been favorable – Entertainment Weekly and Spin both trashed the band – but it's all been helpful, Palmer said.
The publicity has helped sales of the band's debut CD, Here's to the Losers, and turnout for an eight-week U.S. tour which the band completed last shortly after the Thunderdome show.
"The turnout has been very good, considering our reputation is built almost exclusively on word-of-mouth," Palmer said."New York, Chicago, St. Louis and Austin were phenomenal. They were asking us to autograph everything from CD cases to underpants, which was awkward."
Word-of-mouth is the one kind of advertising you can't buy. But the band would probably trade it for a little airplay. Palmer said he and his cohorts are frustrated that Zoo hasn't solicited a single to radio stations. The company could also have pushed harder to get the band's video, for "Pineapple," on MTV, he feels. The label also nixed a tentative deal that would have sent the Jones on another national tour, opening for Brian Setzer.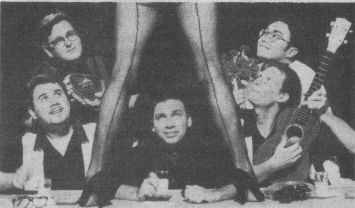 Love JOnes. Photo by Peter Duke
"We hate our label," Palmer said."Zoo thinks we are some freak alternative act."
Long-time Jones fans know the band is really a pop group with punk sensibilities, disguised as a lounge act. Maybe the confusion came when record execs took a peek at the cassette cases in the group's van and found new Weezer, Basia, Killdozer and old Little River Band among the group's recent favorite purchases. Palmer describes the band's sound as "musically incompetent, white-boy versions of '60s bossa nova jazz. . . . The only thing about us that's truly lounge is we co-opt that brat pack smarminess. The fact is, we're a mainstream pop band."
Before the tour, Palmer said, he and the rest of the band were concentrating on writing new songs."We look back on our second year of existence as one of the peak periods, when we were really cranking out songs," he said."We would like to get back to that level of productivity and quality."
The band wrote "Pineapple," "Fragile," "Custom Van" and "I Like Young Girls," among other tunes, during that period."Those songs are really the cornerstone of what we do," Palmer said."I'd like to see some new songs pop up and compete with those."
That would be nice, especially since the band is set to record its second album, tentatively titled Kentucky Kernels, in December or January. Palmer's favorites from the band's new material are numbers like "Wood " and "Stars," which the band played on its most recent Louisville dates." `Stars,' we're really proud of that," he said."It's a nice bossa piece."
The new album will probably also include a few old Jones favorites that didn't make it on to Here's to the Losers – "Helpin' Hands" and "Melissa," Palmer said. But as new tunes emerge, some of the group's oldest and – at least in the opinion of its writers – weakest material is being dropped from the Jones repertoire."People always ask us, `When are you going to do "Dune Buggy?"' And then there's that awkward moment," Palmer said.
Palmer said the band hasn't given up on Here's to the Losers staging a late run at the charts, but he and his pals must concentrate on the new record for now.
"It could be a situation where, if the second album is handled properly, the first record could take off – much the same way the first Duran Duran record took off after Rio came out," Palmer said."And we're all big Duran Duran fans, so that would be apropos."
Until then, their name will be Love Jones and they'll be dancing in the sand of L.A., waiting to catch that Top 40 wave to stardom.