May 2018 Articles
Cover Story
Paul Moffett
Columns
Eddy Metal
Eddy Metal
Blogs
Got Shows?
Send Them To Us
Bookmark Louisville Music News.net with these handy
social bookmarking tools:
Available RSS Feeds
- Top Picks
- Today's Music
- Editor's Blog
- Articles
Add Louisville Music News' RSS Feed to Your Yahoo!

Issue:
Kershaw, Gibson/Miller for Frazier Rehab
By Michael W. Stout
The First Annual HFH-Frazier Rehab Classic ended September 19 with a hole-in-one concert at Louisville Gardens featuring Sammy Kershaw and the Gibson/Miller Band. The two-day benefit combined golf and country music and was made possible by the dedication and support of Harry S. Sr. and Jean Frazier.
The Gibson/Miller Band started the night off right by offering a very impressive, hand-clapping, toe-tapping 45-minute set. It was very evident that their music is, as Dave Gibson believes, on the "cutting edge of country rnusic." Their rockin' country playlist included some of the band's biggest hits, such as "High Rollin'," "Texas Tattoo," "Big Heart," and "Stone Cold Country," as well as the Waylon Jennings-Willie Nelson hit, "Mammas Don't Let Your Babies Grow Up to Be Cowboys," and their own version of Merle Haggard's "Mama Tried."
Gibson and Miller's voices complemented each other in a very unique and pleasing fashion, setting them apart from all other country groups. Perhaps that's why they currently reign as the Academy of Country Music's Top New Vocal Group of the Year.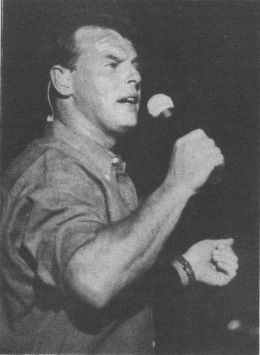 Sammy Kershaw. Photo by Michael Stout
Their outstanding band excelled with some spine-chilling steel guitar and down-and-dirty bass guitar and the crowd was very receptive to them. Blue Miller, on behalf of the entire band, expressed his appreciation to the fans for the success the group has enjoyed over the last 19 months on the road.
Sammy Kershaw hit the stage smokin' and didn't cool down until after the last encore of his 70-minute set. When asked to describe his music, Kershaw stated that it is "music from the heart, honest music." No one leaving the show could deny this statement's truth.
This incredible show could very well have been called "The Greatest Hits of Sammy Kershaw." He performed all of them from his first two releases — his platinum Don't Go Near The Water and Haunted Heart — and some recent and soon-to-be hits from his latest effort, Feelin' Good Train. Among this string were "Yard Sale," Don't Go Near the Water," "I Can't Reach Her Anymore," his first release, "Cadillac Style," and his latest hits, "National Working Woman's Holiday" and "Third Rate Romance." He also offered up his first number one hit, "She Don't Know She's Beautiful."
The pick hit of the evening was "Queen of My Double Wide Trailer." The crowd screamed and chanted "Sammy" until he sang the tune a second time in its entirety. A special treat was Samrny's contribution to the Red Hot + Country album, Lynyrd Skynyrd's "I Know A Little."
Kershaw's stage was clad with steel risers and ramps, chain-link fence and his very talented seven-piece band, Cadillac. Cadillac backed Sammy up very well, but unfortunately was not allowed to shine in the spotlight.
Hats off to the Frazier Rehab Center, Sarnmy Kershaw, the Gibson/Miller Band, the fans and _ everyone involved for making this such an enjoyable and successful benefit.
All proceeds will go to the Frazier Rehab Center's Pediatric Program fund to construct a therapeutic area—Rehab 1-2-3 — that includes real-life modules specifically designed for children's needs.