April 2018 Articles
Cover Story
Paul Moffett
Columns
Eddy Metal
Eddy Metal
Blogs
Got Shows?
Send Them To Us
Bookmark Louisville Music News.net with these handy
social bookmarking tools:
Available RSS Feeds
- Top Picks
- Today's Music
- Editor's Blog
- Articles
Add Louisville Music News' RSS Feed to Your Yahoo!

Issue: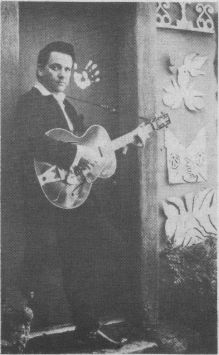 Jimmie Vaughn
the curse of playing in the shadow
Strange Pleasure (Epic)
Jimmie Vaughan
By Allen Howie
Imagine being Jimi Hendrix' brother, or Jim Morrison's, or John Lennon's and wanting to make music your career. No matter how talented you were, you 'd probably never overcome the weight of all the hero worship that followed your sibling around like a shadow.
This is the situation in which Jimmie Vaughan, older brother of late guitar god Stevie Ray, must find himself. Unfortunately for Vaughan, his new album, Strange Pleasure, doesn't have nearly enough momentum to break free of his younger brother's orbit.
Not that the record doesn't have its charms. Jimmie's fluid vocal style goes down smooth and his own guitar work is pretty and polished. The two come together especially well in the relaxed groove of "(Everybody's Got) Sweet Soul Vibe," and again in the genuinely moving "Six Strings Down," a tribute to his late brother co-written with a couple of the Neville Brothers.
But what ultimately keeps Strange Pleasure from rising any higher is a sameness among the material, the tired blues shuffle that so often made his work with the Fabulous Thunderbirds a snore. Even when guest artists like Dr. John and Lou Ann Barton sit in, the sheer mediocrity of the material drags them all down. More than anything else, this sounds like Steve Miller's blues effort from a few years back — easy to listen to, but hard to connect with.
Strange Pleasure would make a good album to play at a party: it's familiar-sounding enough to make decent backgrotmd music, but not intrusive enough to make anyone stop talking and listen.
On second thought, maybe it's not such a good party album after all.