April 2018 Articles
Cover Story
Paul Moffett
Columns
Eddy Metal
Eddy Metal
Blogs
Got Shows?
Send Them To Us
Bookmark Louisville Music News.net with these handy
social bookmarking tools:
Available RSS Feeds
- Top Picks
- Today's Music
- Editor's Blog
- Articles
Add Louisville Music News' RSS Feed to Your Yahoo!

Issue:


Bluegrass Beat
It's time to look to Fall things and other good bluegrass opportunities. One of those, featuring great old-time string/mountain music (which you can hardly tell from bluegrass), mixed with a tremendous display of arts and crafts, demonstrations and exhibits of the old ways gets in full swing the 6th of this month. Regular listeners [to Sunday Bluegrass, WFPL FM 89.3, 8:30-11 p.m. Sundays] and readers know that is a reference to the Tennessee Fall Homecoming at the Museum of Appalachia, Oct. 6-9, at Norris, Tenn. This event is voted as one of the top 20 October events in the Southeast by the SE Tourism Society and one of the 100 top events in North America by the American Bus Association. While you are going, might as well go to the best.
This past month provided some good shows. The Strictly Bluegrass Festival, held this year at Iroquois Park, from all appearances was a high success. Brought together and produced by the Brewers, Gary and his folks have got a good annual show going. I was there for the Thursday night pre-festival party, which was at Jefferson Memorial Forest and featured the Country Gentlemen, and Friday night for the park show. When I left Friday night a very respectable crowd had begun to fill the place. I understand that Saturday was even better. I have had a number of comments from callers about the show and Gary's part. One went something to the effect that a member of one of the visiting bands Friday night thought Gary did the best show that night. Gary's addition of the old-time segment featuring his clawhammer banjo has gotten them much praise. Rather deservedly so, I believe. Many think that Gary's dad Jim Brewer's songs are also a big boost to this part of the show.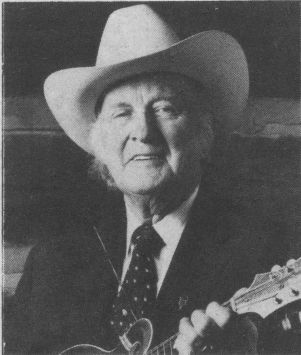 Bill Monroe. Photo by Jim Devault
In just a few days now Shepherdsville will be cranking up the Friday night bluegrass shows again, starting with Carl Story on Oct. 7. Carl is one of the old timers who has a large number of followers and can be counted on to deliver a good show every time. Oct. 14 will be Jr. Blankenship and Ernie Thacker, formerly with Ralph Stanley. Also planning to be there that night to do a couple or so numbers with them will be Johnny Collins. The 21st of October will have the Sunnysiders back and probably Cyndi Ruff with them, plus Alan Phelps. Jan. 6 Ralph Stanley, Jan. 27 Larry Stephenson, and March 24 Randall Hylton. There are more that I don't have exact dates and groups at this time.
By the time this is out the big IBMA Fan Fest at Owensboro will be all over but the shouting. I will have to tell about it next time, however. In the meantime, once more, best of luck to Cyndi and Crossriver in the Pizza Hut Showdown. Cyndi had a birthday this month. Happy %&th birthday, Cyndi. Also this month was Bill Monroe's birthday and we hope he had a great 83rd and will have many more.
I must mention also that I had a most pleasant experience at the Country Gentlemen show. I finally got to meet a lady who listens to our show, by tape, and who has called in and pledged during the last fund drive. Bev and her husband Steve Reynolds live in Boise, Idaho, and were visiting her folks in Louisville, Mr. and Mrs. Herman Barnette. It was so nice to see them and we hope you can come back real soon. Thanks for you-all's support.
•
Video Review High Lonesome, the Story of Bluegrass (Shanachie Entertainment)
Various Artists
By Berk Bryant
As I understand it, the home video High Lonesome was originally made for theater showing. This 95-minute color film received the following honors: Gold Plaque, Chicago Film Festival; Best Feature Documentary, Atlanta Film Festival; and CINE Golden Eagle -- these and many other accolades from various newspapers across the country.
In this video you will see and hear music and talk from Bill Monroe, The Stanley Bros., Mac Wiseman, Jimmy Martin, Flatt & Scruggs, The Osborne Bros., Jim & Jesse and many others. The film is narrated by Mac Wiseman and of course features and centers around Bill Monroe.
Some of the scenes and some of the clips included are to me worth the whole tape: scenes of Bill looking through and around his old homeplace at Rosine, Ky; clips that show Don Reno and others when they were with Bill. It is informative, it is entertaining, and it is a keeper.
It can be ordered from Shanachie, P.O. Box 208, Newton, N.J. 07860, or call 1-800-497-1043, between 9 a.m. and 5 p.m. EDT. Cost is $19.95 plus $1.85 PH for first item. They have a number of other videos that many of you will be interested in.