April 2018 Articles
Cover Story
Paul Moffett
Columns
Eddy Metal
Eddy Metal
Blogs
Got Shows?
Send Them To Us
Bookmark Louisville Music News.net with these handy
social bookmarking tools:
Available RSS Feeds
- Top Picks
- Today's Music
- Editor's Blog
- Articles
Add Louisville Music News' RSS Feed to Your Yahoo!

Issue:

Second Thoughts
Kentucky Opera opens exciting new season replete with exquisitely beautiful music
It's time to think of Kentucky Opera once again. And that is not all. Thomson Smillie's musical menu contains some of the most beautiful music ever written. Here are some highlights you can savor from this melodious repast.
For the first time in its history, our local company presents the favorite operatic double-header: the one-act tragedy, now in its second century of continuing audience appeal, Cavalleria Rusticana (Rustic Chivalry) by the then-27-year-old Pietro Mascagni and the equally tragic and melodic I Pagliacci (The Strolling Players) by an equally talented young man, Ruggiero Leoncavallo. For fans of local musical history, the Metropolitan Opera staged Cavalleria on its last visit here in 1910.
There's more too. Thomson Smillie revealed that beginning this season, our Company will have an annual Christmas performance. The choice is Rossini's Cinderella, which appeals to music lovers of all ages. Thomson has become so taken with this masterpiece that he is completing a new translation for its vibrant and often-humorous text. We guarantee you can rediscover the pleasure of laughter if you pay heed to the scenes where the prince and his valet switch roles and the latter gayly flirts with Cinderella's shrewish and haughty half-sisters. Even the valet's name, Dandini, has an impish twist. Don't miss it!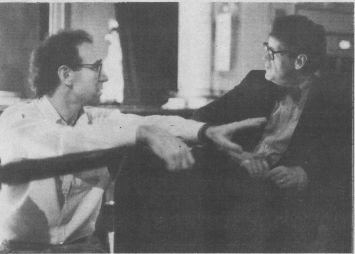 Conductor Bob Bernhardt, at left, and Thomson Smillie plan for another Kentucky Opera season.
The season opener, Verdi's Masked Ball, beautifully reveals some of the master's touches. You will delight in its melodies for the sorceress Ulrica's invocation of the evil spirits, the poignant "Eri tu" (Is it you?) and the greatness of soul of the King even when he has been assassinated.
And if all this was not an abundance of melody, Thomson is also offering a program of works by Stephen Sondheim, one of 20th Century America's masters of melody.
Here is the schedule: Masked Ball, Oct. 15 and 18; Cinderella, Dec. 9, 10 (matinee) and 13; Side By Side (Sondheim), Jan. 12-15 and 17-22; Cavalleria and Pagliacci, March 4 and 7.
By the time you read this, opening night will be only a little more than two weeks away. So call Kentucky Opera and make your reservations for four nights of the most beautiful music you have ever heard. It can give joy to your life and new meaning to this ancient adage: A thing of beauty is a joy forever.