January 2016 Articles
Cover Story
Paul Moffett
Columns
Mike Suttles
Martin Z. Kasdan Jr.
Eddy Metal
Eddy Metal
Blogs
Got Shows?
Send Them To Us
Bookmark Louisville Music News.net with these handy
social bookmarking tools:
Available RSS Feeds
- Top Picks
- Today's Music
- Editor's Blog
- Articles
Add Louisville Music News' RSS Feed to Your Yahoo!

Issue: January 2016
Name: Troy Edlin
Age: 40
Instrument: Drums
Band/Former Bands: Currently bringing the pain in VAMT. Previous projects of note include Gordon's Iguana, Gravemouth, Anna Lies, Algae, Silly (a tribute to Weird Al), HiKru & the Throwntogethers, and many more.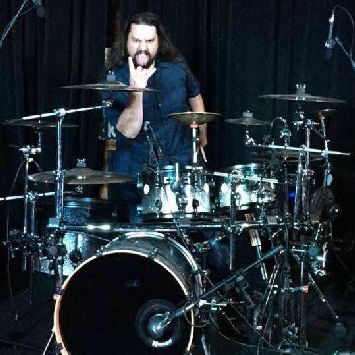 How long on instrument: I grew up in a household of music and art. But I first sat down at the drum kit in a serious manner nearly 30 years ago.
Equipment: I've got two kits. A small 4 piece Ludwig Accent Customs (tobacco fade birch shells) that is my secondary tinkering-at-home kit. But my performance kit is a 5 piece Mapex Meridian (black/silver sparkle "galaxy fade" maple shells) in the "smasher" configuration. "Smasher" refers to the shell dimensions. My 10x7 & 12x8 rack toms speak quickly and cut through with tone and attack. The 16x14 floor tom sustains body, low end & punch. The 13x6 snare drum simultaneously sings like a canary while offering attack that sounds like you just broke your fucking neck! (I especially like that the diameter is smaller than the 14" standard). Last but certainly not least, the 20x20 bass drum (smaller in diameter than the standard 22" and deeper than the standard 18" loaded with an Aquarian Superkick II batter head and a KickPort in front) is a god damn cannon! It is seriously one of the most impressive kicks (and drum kits in general) that I have ever personally played on. I love it. Top shelf Zildjian A Custom cymbals across the board. Rock solid Gibraltar hardware. And Joey Jordison signature ProMark sticks.
Influences: Tool, Faith No More, Alice In Chains, Guns-N-Roses, Megadeth, Pantera, NIN (If you listen, you can still hear these influences come through in how I play to this day.)
My first gig: I believe my first time out of the basement and onto a stage was at the Carl Casper's Custom Auto Show Battle of the Bands in 1992 with Your Mother (who later became Gordon's Iguana). Shortly after that I played my first bar gig at a place called Players Sports Bar on Bardstown Road (next door to The Great Escape. I think there is a Mexican joint in that space today.) Both gigs had a great turnout, great response, and good times were had by all.
Hobbies: I'm a 40 year old grown ass man who still collects Transformers, reads comic books, and watches cartoons. I'm really just a big kid.
Favorite movies: The Planet of the Apes saga, Batman (almost all varieties), A Nightmare on Elm Street, The Devil's Rejects, Don't Be A Menace to South Central While Drinking Your Juice In The Hood, Cannibal The Musical, Little Shop of Horrors (the original bleak ending intact), JJ Abrams Star Trek movies, the 1984 Transformer animated movie
Favorite place: On stage. There is no drug, no sex, no anything like it. If not on stage, I love being in the comfort of my own home. (One could argue that either sitting on my sofa with my wife or rocking my kit on stage, I am home.)
Favorite sports or team: I'm not really a sports kind of guy. Though, once I did watch the Brazzers house olympics. It was pretty rad.
What I'm listening to nowadays: I am listening to a lot rap on Spotify these days. Mostly what falls under the Aftermath/Shady umbrella. Other than that, I have pretty extensive personal collection that spans a very wide spectrum of genres, styles and artists. I have over 4,500 songs loaded on my phone. More often than not, I just fire up my iTunes and put it on shuffle.
Coolest thing I've done: Coolest thing? Hmm.... that's a hard one. I try to have as much fun as possible. I've played a gig in the Mojave Desert. I've partied on the Motley Crue bar bus while Kiss' manager schmoozed with my buddy Murdock. My family and I hung out at OzzFest with VIP access. I teched for Chad Smith of the Red Hot Chili Peppers. Blurry hazy memories from New York to LA. Having said these things, probably the coolest thing that I have done was to raise my daughter Jessica, at such an early age. What makes is so cool is that the generation gap to so small. Therefore we're into a lot of the same things. We can relate on a level that a lot of families can't/don't. We enjoy the same movies, music, etc. Family outings usually consisted of summer rock concerts together.
Most embarrassing moment: Another difficult question, as I don't embarrass easily. When you're a naturally born self-promoter/whore, you shed that skin real quick. Though I will say that I have had more than my share of sober Monday mornings strolling through office apologizing for my antics at the after-hours company social function.
Bad Habits: My worst habit is probably internalizing conflict. In an effort to place nice or be the good guy, I rarely let anyone know when I have a problem with something/someone. I try like hell to work through it, rationalize it, hoping that the situation will correct itself. But I eventually hit a wall and I can't take it anymore. Then shit explodes. I am quick to kill the problem, often in an extreme manner, leaving those in the wake to wonder "What the hell is his problem?!" I have since learned to communicate a bit better. But it takes work, as it does battling any personality quirk.
What was your first concert ever: My father was a musician and a lover of music. Some of my earliest memories is hanging out on the Belvedere for the annual Bluegrass Festivals. I literally have been attending concerts ever since I can remember.
If you could meet a Rockstar ( past or present ), who would it be, and why: Probably Trent Reznor. He is a true musician and producer. He can approach a concept from nearly any/every angle, instrument, tempo, style, mix... and it's always gold. He is a very impressive force to be reckoned with.
Who do you love: I love my wife, Jennifer, and my daughter, Jessica. I love my Mother, my late Father, and my sister, Cristyn. I love my family. I love my friends. I love my Brothers. I love rock-n-roll... put another dime in the jukebox, baby!