November 2015 Articles
Cover Story
Paul Moffett
Columns
Les Reynolds
Eddy Metal
Eddy Metal
Blogs
Got Shows?
Send Them To Us
Bookmark Louisville Music News.net with these handy
social bookmarking tools:
Available RSS Feeds
- Top Picks
- Today's Music
- Editor's Blog
- Articles
Add Louisville Music News' RSS Feed to Your Yahoo!

Issue: November 2015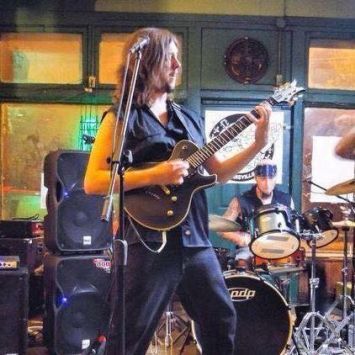 Mark Doss
Name: Mark "The FuzzMan" Doss
Age: 22
Instrument: Lead Guitar!
Band/Former Bands: Kingslayer, Under The Eternal Dragon (solo) and Sons of Medusa.
How long on instrument: 13 years
Equipment: Guitars -Agile Interceptor 727, Epiphone "Cobra" Explorer, Jackson JS1, Ibanez Xiphos. Amps n' gear - Peavey XXX cab, Mesa Boogie 4x12 Cab (not sure what model... But it's Mesa.) Peavey 6505+, Ibanez tubescreamer pedal, ISP Noise suppressor.
Influences: Matt Heafy, Dave Murray & Adrian Smith, Jani Liimatainen, Dave Mustaine, Michael Amott, Steve Vai, and my Dad, who is also a killer musician.
My first gig: Mag Bar in August of 2014 as a fill-in for Sons of Medusa. Was a helluva night. Two weeks later, I would get the phone call to be their second ax-man.
Hobbies: Shredding people's faces off at shows, being in the company of good friends, and attending Metal Mondays at the Highland's Taproom. Never a dull moment.
Favorite movies: Anything gory and horrific. I also enjoy Trailer Park Boys. And I'm a Dragon Ball Z fanatic.
Favorite food: Chinese and Italian food kick arse. Can't choose between the two.
Favorite place: I like wildlife and such. The Ripley's Gatlinburg Aquarium in Gatlinburg, Tennessee.
Favorite sports or team: I've never cared for sports. I work with a bunch of U of L fans and I have to hear about it almost everyday. Haha!
What I'm listening to nowadays: I keep an open mind towards music. Metal is my main preference, but so far on my recent playlist, it's been Sonata Arctica, Revocation, Arch Enemy, Dio, Civil War, and Lizzy Borden. I'm a HUGE Lizzy Borden fan,
Coolest thing I've done: Most likely when I did a gainer off the diving board. I got yelled at by the hot lady lifeguard, and threatened to be kicked out, but it was pretty cool.
Most embarrassing moment: Too many to count. Probably when I chipped my tooth biting into a cold Snicker Doodle at a party of mine. My SoM guitarist, Alex, noticed half of my front tooth was missing. I wasn't in pain, my two front teeth are composite molds after getting them knocked out by a baseball long ago. But anyway, this was in November of last year, and I didn't get this tooth fixed until May of this year. It was pretty embarrassing playing shows with a noticeable chipped tooth.
Bad Habits: I tap and play air drums on counters and even do double bass with my feet at work and it gets on everyone's nerves. I also have a nervous habit of fiddling with my beard. It's not a manly gesture, it's out of strict anxiousness.
What was your first concert ever: KISS at Freedom Hall 1999? It was awesome. I ended getting a contact buzz and was only in the 1st grade. Good times.
If you could meet a Rockstar ( past or present ), who would it be, and why: I'd like to meet Dimebag Darrell, it's very cliche for most metal guitarists to say that but seriously. I've seen videos of this man being so humble to everyone, and that inspires me to be kind and generous to those who make me who I am musically and in a moral sense. GETCHA PULL!!
Who do you love: My family, my guitars, my friends, and my band mates. They all continue to inspire on a daily basis.