October 2015 Articles
Cover Story
Paul Moffett
Features
Eddy Metal
Columns
Mike Suttles
Eddy Metal
Blogs
Got Shows?
Send Them To Us
Bookmark Louisville Music News.net with these handy
social bookmarking tools:
Available RSS Feeds
- Top Picks
- Today's Music
- Editor's Blog
- Articles
Add Louisville Music News' RSS Feed to Your Yahoo!

Issue: October 2015
Name: Corey Heim
Age: 30
Instrument: Bass Guitar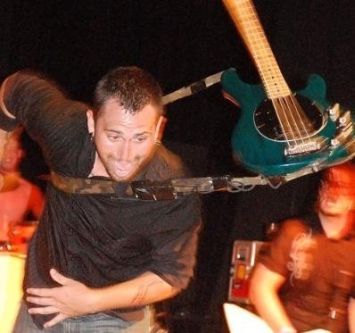 Corey Heim
Band/Former Bands: Currently playing with Incursion 502, Thomas Medicine, The Undercover Band and Rocktimus Prime. Former bands consist of (intheclear), Listen,Listen Man, Autumn Canvas, Wake The Light, From Within, Hatecast, Grave Flower and Phrail
How long on instrument: 18 years
Equipment: Mesa Boogie Buster 200, Mesa 1516B Cabinet and Sansamp pre amp. Basses include Fender American P-Bass Deluxe, Fender Blacktop and ESP-500
Influences: Ryan Jurhs, Flea and that guy from Blyss was a bad ass!
My first gig: Expo 5 back in 2002. Opened for Silent Q!!! God that was so freaking long ago!
Hobbies: Hunting, Golf, Mountain Biking, Motorcycles, Mechanic and Slappin Da Bassssss!!!!!
Favorite movies: Harry Potter and The Hobbit / Lord of the rings series
Favorite food: Rainbow Sherbert!
Favorite place: On stage! I recently got to play with those amazing fuckers in Incursion at Diamonds. It had been so long since I had gotten to really get down to music like that. That's the best I'd felt on stage in a really long time.
Favorite sports or team: Kentucky Wildcats or whoever is playing Louisville…. Sorry Donnie ;)
What I'm listening to nowadays: Louisville boys ARTIFEX PEREO!!!! Pick up this record…. You will not regret it!
Coolest thing I've done: I've done soooo many cool things at this point. Skydiving, Playing in front of 15,000 + people, countless tours, Sturgis trip…. All that stuff was awesome, but creating and raising my kids has by far been the coolest thing I've ever done.
Most embarrassing moment: I was running a service truck for awhile. I got a call to Horseshoe Casino to work on a broken-down Budget rental truck. Turns out, it was for Dwight Yokam! I was out there getting this thing fixed and he came out of the tour bus next to me. I noticed him and yelled "There ain't no god damned band, Randy! You tunin son of a bitch!" You know, from "Sling Blade"? Anyway, He gave me this look like I was the biggest idiot ever, shook his head and walked off….. One of his crew members came up to me and said "He really hates that…"
Bad Habits: Overbooking myself!!! I just love to play, though!!!!
What was your first concert: Foreigner at Cardinal Stadium. It was cool as shit! I was probably 6 years old.
If you could meet a Rockstar (past or present), who would it be and why: I would want to meet Dimebag and get wasted with him! He just seemed so freaking cool. I know a bunch of people that got that privilege and thoroughly enjoyed it! He had a heart of gold and was probably one of the most spirited musicians I had ever seen.
2Who do you love: I love my wife Jessica, my kids Avery and Camden. Without them I am dead weight. I love my parents, siblings, my aunts and uncles and cousins. I especially love my friends. All of my former band mates and current band mates. Those guys are the reason I am even getting featured. I learned so much from all of them and wouldn't trade any of the moments I ever had, good or bad, with any of them!