May 1996 Articles
Cover Story
Allen Howie
Features
Mike Stout
Jean Metcalfe
Columns
Berk Bryant
Robert Gruber
Decimus Rock
Mike Stout
Paul Moffett
Earl Meyers
Keith Clements
Michael Ferraraccio
Henry C. Mayer
Duncan Barlow
CD Reviews
Michael Campbell
Robert Gruber
Performance Reviews
Paul Moffett
Sherry Watson
Robert Gruber
Kevin Gibson
Bob Bahr
Kevin Gibson
Michael Campbell
Paul Moffett
Michael Campbell
Calendar
Bob Bahr
Book Review
Jean Metcalfe
Opinion
Jean Metcalfe
Blogs
Got Shows?
Send Them To Us
Bookmark Louisville Music News.net with these handy
social bookmarking tools:
Available RSS Feeds
- Top Picks
- Today's Music
- Editor's Blog
- Articles
Add Louisville Music News' RSS Feed to Your Yahoo!

Issue`: May 1996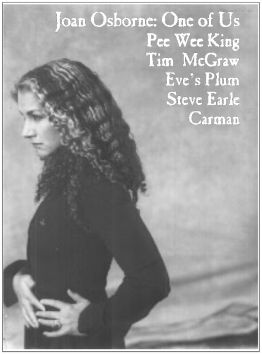 Joan Osborne
By Allen Howie
It wasn't long ago that Joan Osborne was a buzz beginning to happen, turning up in Timothy White's Billboard column and in a handful of critical reviews. Then came THE SONG, an unlikely bit of dreamy philosophical musing called "One of Us" that pushed Osborne's album, Relish, into the upper reaches of the pop charts and the singer into a seemingly inextinguishable limelight. The Anchorage. Kentucky native snagged Grammy nominations in five of the biggest categories (Record of the Year, Album of the year, Best New Artist, Best Female Pop Vocal Performance and Best Female Rock Vocal Performance), traveled to India to explore Qawwali singing, appeared on Saturday Night Live and toured Europe with Melissa Etheridge. Her current tour, which kicked off in Richmond Virginia at the beginning of the month, stops at the Palace Theatre in Louisville on April 30, but it's unlikely that Osborne will have much time to enjoy the visit, coming as it does just four weeks into a 60-city excursion through the U.S.
If you're a Louisville native who had never heard of the singer before her album hit the charts, there's a good reason. Music wasn't the first career she chose to pursue. Born July 8, 1962 in Anchorage, Kentucky, one of six children of Jerry and Ruth Osborne, Joan graduated from Waggener High School, then moved shortly thereafter to the east coast to study film at New York University. It was in the Big Apple, not Louisville, that her musical career began, in a story that has since been related in dozens of magazine and newspaper articles. Osborne stepped into a New York bar called the Abilene with a handful of friends, catching the tail-end of an open-mic night. Her pals coaxed her onstage, where her rendition of a Billie Holiday tune caught the discerning ear of the piano player. He suggested she come back for more - and if you read the articles, in the blink of an eye, she had landed a record deal.
Mention this "overnight success" angle to the singer, and she just chuckles. "It wasn't quite that easy" she recalled in a recent conversation. "That was about a six-year process. Really, the open-mic night - I guess because people like to hear Cinderella stories, they feel like when you do something like that, there must be a famous producer in the audience who whisks you away to the studio and makes you a star."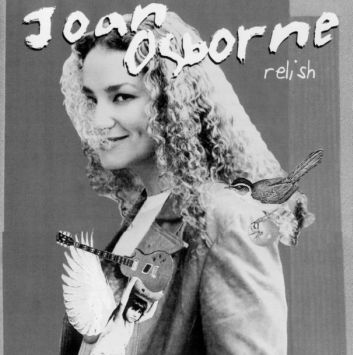 Relish
But Osborne is quick to credit that apocryphal event with opening a slightly different door. "The best thing about that open-mic night was that fact that it was a way for me to discover the existence of this community of musicians and bands and clubs and places where this great music was going on. It was blues, it was soul music, it was some indie-rock music as well, in the East Village scene, and it was a place in which all these styles were coming together. For me, the blues aspect of it was such a revelation, and something to really latch onto. That's really what it was for me. It's not that I thought I was going to be rich and famous or anything like that. It was just this great community, this really cool scene that was going on, and I wanted to be part of it. And I discovered that there was a way for me to be part of it through singing."
If her voice has drawn an avalanche of comparisons to Bonnie Raitt, it's not so much that the two sound alike, but that they share many of the same influences, primary blues singers like Etta James, along with a passion for what's real. "I first heard Billie Holiday when I was in high school, and I really loved it even then. But finding out about some of the people who are a little bit more obscure - Mavis Staples or Etta James - came from a desire that I had to educate myself about this music."
It turns out that image was very important to Osborne - not in the marketing sense. But with regard to authenticity and sincerity. "If I was going to sing at these open mic sessions," she had decided, "I didn't want to go up and just sing the same two songs every time. I wanted to find new songs, songs that I thought were really cool. So I'd ask people whose records they thought I should buy, then go into the record stores, talk to the clerks and say 'this is really what I'm into what else do you have that's like this?' I was going into libraries, jukeboxes, you know, just anywhere I could find it. Talking to the other musicians. I really felt that I needed to educate myself, or I'd just look like a jerk standing up there - some white girl trying to sing the blues and not knowing what she's doing. I was very conscious that there was a possibility of being seen in that way, and I didn't want that. So it was partly out of fear, and partly out of being honestly in love with the music."
Soaking up influences, though, is hardly the typical career path for a musician these days. Ask Osborne whether she was more interested in a successful recording career or simply honing her craft as a singer, and she offers a disarmingly candid response - neither. "I just wanted to be part of this really cool scene."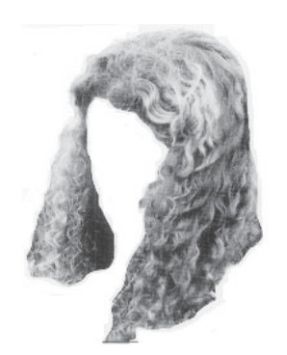 But as she succeeded in that smaller goal, the big picture began to snap into focus for her. "As I went along," she remembers, "I realized that I could put a band together, that we could play in clubs and build a following that way. I realized that there was a way to put out records on my own small label (Womanly Hips Music) and a way to handle the business side of it myself. I began to see that I could make some kind of a career out of it, whether it was selling millions of records or thousands of records."
The singer still gets enthusiastic when she talks about that initial rush of self-discovery. "This was something I could do, and that was really exciting to me - that I could be somebody who wrote songs and recorded them, and that people could come to a gig and buy those songs and take them home and listen to them. Just on that very small scale, that was very real - and to me, very satisfying. So the concept of doing it on a huge scale like it's become really wasn't relevant at that time. It was almost like I was afraid to even think about it in that way, because I was just so excited by doing it even on that smaller level. I didn't want to think too much beyond that."
In fact, when I spoke with the singer just after the record had been released, her hopes for its future were refreshingly modest, something she credited to her Kentucky roots and a strong sense of family. "My dad builds houses, and we kind of think we do the same thing," she suggested, referring to the notion of building a following, one she hopes will stay with her for the duration. "I'd like to reach enough people to have an audience waiting for the next record," she said back then, "and to have a chance to work with some people I respect musically. I'm hoping for a kind of grass-roots, word-of-mouth reaction. Maybe then I can reach people in a deeper way," she speculates, "a way that's going to last."
Of course, Osborne has gone way beyond that earlier vision. Relish isn't the singer's first recording (she released "Soul Show" in 1991 and an EP entitled "Blue Million Miles" in 1993, both on her own label. If you're wondering whether those earlier albums will be available at some point, the singer is optimistic. "I'm sure they will, but I don't know when. Polygram now owns them, and I'm sure they will see that they can make money by putting them out. I think they might be trying not to compete with Relish, or confuse people, or something. I don't know.")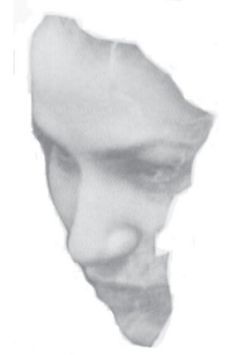 And Relish, after all, is her major label debut, the record that's been lodged on the Billboard album charts for months, boosted by a truckload of favorable reviews, those Grammy nods, and her omnipresent hit, "One of Us." The success of that single, as beneficial as it has been, has also proven a little worrisome to the singer. In fact, she was initially hesitant about its release as a single.
"I was kind of afraid of that song," Osborne admits, "because I knew that it had the potential to be something that was very easily accessible, that it could be a hit song. But that if it was the only hit song, people would get the wrong impression about the record as a whole. So I fought very hard against releasing it as the first single. The first video we made was for 'St. Teresa,' and we really tried to work with that song, and we did get so airplay on the AAA stations and the more adult alternative stations. We built up a little bit of a ground swell with that song and that audience before "One of Us" broke out on its own and took off and became this phenomenon."
Asked whether she expected the song to take off, she says, "I did realize that that's what could happen - but I also realized that there were other songs that could be singles as well. 'Right Hand Man,' which is the one (here she pauses, adopting a very put-on, marketing voice) that we're promoting right now (then back in her own voice) - It's so weird to thing about it in these terms - or 'Pensacola' could be singles. I think 'Crazy Baby' would be a good single or focus track or video or whatever."

Of course, all of this says something about how much critics know. I tell Osborne that I had "Spider Web," the feverish soul rave in which she has a strange encounter with Ray Charles, pegged as the first hit. "That's what (producer) Rick Chertoff thought was going to be the first hit, too, so you're not completely alone in that. It's weird, because I'm almost ready to leave this record behind and go on to the next one, cause I just have so many new ideas and so much new stuff that I want to work on. But at the same time, I don't want to leave with 'One of Us' having been the one thing people think of when they think of this record. I think that would be a disservice to this record, and to the people who could appreciate it in its entirety for what it really is."
And so Osborne is willing to play the game, soldiering on to promote the record. But she admits that a little of the initial magic has faded. "I am kind of tired of it, actually. I knew that the touring and promotion were part of what I considered to be my responsibility to help the music get to the audience. A song can be the greatest song in the world, but if people don't hear it, it doesn't mean anything, so I really did feel like it was part of my job to help out and do the interviews and make the videos and all that - and even pay for the videos, which I do have to do."
"But at this point, it's gotten almost to the point of diminishing returns. Once you've shown yourself to be willing to do these things, everyone asks you. You have to start to get very firm about saying no, because if all you do all day is sit and talk about yourself, then you just have nothing left over to put into making your music. I think it turns you into the kind of person I don't want to be. I don't want to sit around all day and talk about myself. That's not why I do this. So there has come a point where I just have to put a stop to a lot of it and just save enough for myself as a person and myself as an artist to work on the important stuff."
In the end, though, it's the singer who controls how much energy gets spent on the business side of things. "It really is up to me. Even if I have to say no to some people who don't like it that I said no to them, it is up to me who I speak to and who I don't speak to, and what I do with my day and what I don't do with my day."
Which gets us back to music, specifically how Osborne goes about writing material for her albums. As with everything she does, there seems to be no single, clear-cut approach that works best. "Things come to me in different ways. I'll hear a snatch of a melody, and I'll try to put that down and construct something around that. Or I'll think of a phrase or even just an idea for a whole song - some emotion I'll try to describe or some person's head I'll try to get into and describe exactly what they're seeing or feeling in a particular situation. So I don't have any set way that I do it all the time - I'll take it anyway I can get it! (laughs).
"It's not the easiest thing to do, so whatever way works is the way that I'll try. 'Pensacola,' for instance, was a set of words long before there was any music to it. The music that I sort of ended up marrying that to was music that Eric (Bazilian) and Rob (Hyman) had come up with as something separate, and I realized that those words might fit in with that very well. I just got up on the microphone and started singing (while they were playing) and the melody just came to me instantly in that minute of just trying it. That's pretty rare that that happens, but sometimes it does happen that way. I feel like that's the best song on the record, because it has that sort of grace to it - it's like I didn't have to think about it too much. It just came out."
According to Osborne, the eclectic sound of Relish evolved over a series of work sessions in Philadelphia with a group of musicians spearheaded by Bazilian and Hyman, both members of the Hooters who had also collaborated with Cyndi Lauper on her breakthrough debut album. "We just got together and threw a bunch of ideas around," she recalls. "It was a true collaborative effort, which was a different approach for me Ñ trying to suspend that control freak thing and learn from the people around me."
Known for that chameleon-like voice, the singer spends little tie worrying about her skills as a player. "I play some guitar. I mess around a little bit on the piano, enough to know some chords to construct a song with or come up with a melody line. But I'm not a great instrumentalist by any means. That's the main reason that the songs on Relish were co-written with others who are much better instrumentally than I am. But when I sit down to write something by myself, I usually just pull out an acoustic guitar."
But when it comes to writing words to go with the music, Osborne has always worked pretty much alone. "The lyrics were my territory," she admits. "I was particular about making the lyrics my own thing." The resulting album speaks to how successful the whole venture was.
As do the five Grammy nominations, to which she had a very down-to-earth, practical reaction. "Getting all those nominations made us more visible and more famous or whatever, which is useful to me, because it probably means that more people are going to go out and buy the record." In fact, true to form, she went to the big ceremony thinking more like a music fan than a nominee. She asked Suzanne Vega to dance (Vega declined), picked up a bowling trophy from fellow nominee Alanis Morisette, was "moved to tears" by CeCe Winans performance at the rehearsals, was charmed by Annie Lenox, and had Bonnie Raitt tell her that she had gotten her vote. Not a bad night for a woman recovering from a relentless cold.
Nor was she disappointed that the trophies went to other artists. "That was never any personal goal of mine, to win Grammies," she says. "There are people I respect a lot who have never won a Grammy. So it's not like I thought of it as some sort of seal of approval that I didn't get. I almost wish I could have been at one of my family's little Grammy parties instead of on the show. But again, I think there was so much of a focus on the song One of Us' at the show, that it's still sort of put me back in this position of having to work all the more to make people understand that that's not the end of the story - that that's not the whole story with us. It's not just that one song, but it's a lot more."
I mention the fact that virtually every word written about her seems positive, and Osborne reveals that while she has gotten great press for the most part, negative reviews do show up from time to time. "We got one from Austin, Texas just the other day. I was at the South by Southwest festival. When I had agreed to do it, I had always heard about South by Southwest being this really cool, hip thing with just a ton of people playing in a bunch of little clubs, and I thought we were going to do a little club show."
Not so. "It turned out they had us doing a free show on an outdoor stage, and 12,000 people came to see the show. So the reviewer, I think, was kind of put of by the fact that he was standing a block away and couldn't really see the stage, and he gave us a really terrible review. So we do get them." And is she bothered by that kind of criticism? "I guess I'm still a little bit sensitive, because when I read that, it did sting me a little, because the guy used the word 'passionless,' and that's something I've never been accused of being before. But after you read it once, it bums you out, then you make a little joke about it, and it becomes just one more thing to play with in this whole weird smorgasbord."
Osborne's family is probably her most enthusiastic group of fans, something in which she clearly finds satisfaction. "They're really proud. That's one of the things that's really good about this larger success of Grammy nominations and Rolling Stone covers, is that it's something you can share with your family. My mom is now a celebrity on her own right in our town. Everybody's always calling her, and talking to her, and asking her what she thinks on the local news - so she's like the queen bee of Anchorage right now from all this. So it's good."
Of course, the demands of pop stardom can make it harder to stay in touch. "I don't get to see them as much as I used to," she admits, "which is not good. That's the downside of it. But it's still nice. In a way, they can appreciate it more than I can, and they can be happier about it than I can, just because they're my family, and they love me. They can be proud and loving and not have to deal with the day to day realities of being this person who has all this focus on her, for good and for bad."
Tags: