February 1996 Articles
Cover Story
Mike Stout
Features
Paul Moffett
Jean Metcalfe
Columns
Berk Bryant
Decimus Rock
Mike Stout
Paul Moffett
Earl Meyers
Keith Clements
Todd Hildreth
Henry C. Mayer
Duncan Barlow
CD Reviews
Robert Gruber
Paul Moffett
Kory Wilcoxson
Kory Wilcoxson
Mike Stout
Robert Gruber
Bob Bahr
Bob Bahr
Robert Gruber
Kory Wilcoxson
John Goodin
Kory Wilcoxson
Mike Bucayu / Thomas W. Wynn
Performance Reviews
Jean Metcalfe
Pete Strojny
Jean Metcalfe
Calendar
Bob Bahr
Errata
Blogs
Got Shows?
Send Them To Us
Bookmark Louisville Music News.net with these handy
social bookmarking tools:
Available RSS Feeds
- Top Picks
- Today's Music
- Editor's Blog
- Articles
Add Louisville Music News' RSS Feed to Your Yahoo!

Issue`: February 1996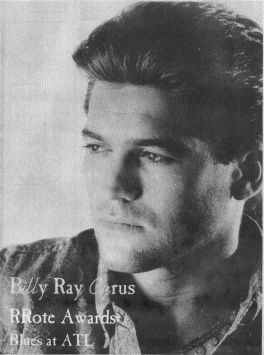 Billy Ray Cyrus
Everything But An Achy Breaky Heart
There weren't any signs no fireworks, no howls in the night — on August 25, 1961, in Flatwoods, Kentucky, so no one can blame the residents for not realizing that a baby born that day would put their small town on the map. The proud parents named their new son Billy Ray.
Country music megastar Billy Ray Cyrus is an inspirational example of a good ole country boy with an undying dream, who never looked back until he could view the world from the top. This small-town southern gentleman skyrocketed to country and pop music sueeess in the spring of 1992 with his debut single "Achy Breaky Heart," which captured a position on the Billboard charts before it was officially released.'The song quickly soared to #1 on both the country and pop charts, thanks in part to "The Achy Breaky," a dance created specifically for it;
Billy Ray Cyrus's passionate, fiery delivery of a tune might well convince even those who are only borderline fans of country music. that his raging desire to sing was present from the moment his parents, Ky. State Representative Ron Cyrus, D-Flatwoods, and Ruth Adkins, first set eyes on their new baby boy. But this is far from the truth..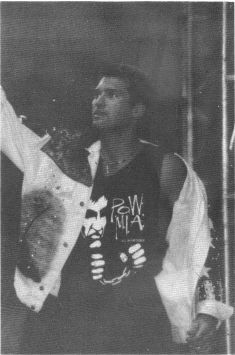 Billy Ray Cyrus, Freedom Hall, 1993. File Photo by Beverly Ingram
Rep. Cyrus recently told Louisville Music News that Billy was "just a regular little hard-nosed kid that loved baseball."
"I don't think I ever seen him turn on the radio and listen to music till he got older," Rep. Cyrus said. "I really thought I was going to see him right behind the catcher's plate for the Cincinnati Reds, until he was twenty years old."
Despite Cyrus's lack of interest in music as a youngster, he was no stranger to a microphone and the stage. While in Louisville recently, Billy told LMN that he made his musical debut "in the Pentecostal (pronounced by Cyrus 'pinteekostel') church that my [paternal] grandfather was a preacher at."
For 16 years Ron Cyrus sang in a gospel group known as The Crownsmen Quartet, and son Billy would occasionally join them — capturing the spotlight. Rep. Cyrus. recalls, "If we were singing out at concerts, I'd stand him up, I'd tell the people they were getting ready to hear the toothless version of 'Swing Low, Sweet Chariot.' He'd belt it out for them and the quartet would back him up. He enjoyed it; he was never backward about singing. He was never backward about it, he just didn't have a big love for it. He had a love for baseball."
The divorce of Cyrus's parents when he was five greatly affected his childhood and taught him the meaning of two very important words that would later influence his musical career: "diversity" and "versatility." Cyrus describes his childhood as "just a lot of versatility." He explained: "A lot of that's the reason that I think my music now is so diverse. There's so much of my roots and my growing up and my childhood in my music; all the things I was around."
Following his parents' separation, Cyrus spent most of his childhood living with his mother, Ruth. His maternal grandfather was a hoe-down fiddler, and his mother played bluegrass music with him. on Saturday nights.
Despite his extensive exposure to music, Cyrus paid little attention to any form of music during those years. Athletics — most especially the sport of baseball — was his passion. Cincinnati Reds catcher Johnny Bench was more a role model to Cyrus at this stage of his life than was George Jones, Bruce Springsteen, or the Oak Ridge Boys, artists he would later cite as musical influences.
As a teenager, Billy Ray Cyrus dreamed of being a baseball star. After graduating from high school in Russell, Ky., Cyrus attended college in Georgetown, Ky., on a baseball scholarship. He would later transfer to Morehcad University because, in addition to allowing him to fulfill his dreams on the baseball diamond, the school offered him the opportunity to be a football team walk-on.
Cyrus's lifelong dream of playing baseball with the Cincinnati Reds changed when he won tickets to a Neil Diamond concert. After the concert, he went home to his father and said, "Dad, I think I found a new niche. I think I'm going to buy myself a guitar." But Rep. Cyrus thought, "Well, the first time they call him to practice—the Reds call him — that will be the end of that. [I] really never gave it a second thought, and sure enough, he didn't quit."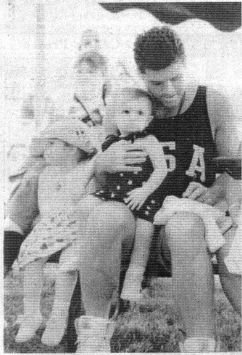 Cyrus with son Braison and daughter "Miley" (Destiny) at Fan Club Picnic in '95. Photo courtesy of Billy Ray Cyrus Fan Club
Did this decision surprise Cyrus's father? "[It] really did! Really did till the first time he didn't go to baseball practice. He said. 'No, I've got band practice.' I knew we had a problem. I thought, 'Uh, oh! Baseball's gone!"'
And Cyrus did indeed embark on a singing career. The day after buying himself a guitar, he formed his first band, Sly Dog. After about ten months of practice, Billy Ray Cyrus and Sly Dog landed their first gig at the Sand Bar in neighboring Ironton, Ohio. They went on to play to packed houses, entertaining their audiences with music ranging from Willie Nelson to Lynyrd Skynyrd.
In 1984 Sly Dog literally went up in smoke when the band's equipment was destroyed in a fire. Cyrus felt it was a prime time for him to move on to bigger and better things as a musician, and traded the backwoods of Kentucky for the sprawling city of Los Angeles, where he hoped to land a recording contract. Although four years passed without the coveted record deal, Cyrus did manage to gain some studio experience.
But dreams didn't pay the bills, so Cyrus took a job selling Oldsmobiles. His stint as a car salesman proved to be a prosperous one, but it robbed him of time to spend on his musical career.
ln 1986 Cyrus decided that enough was enough and headed back to his. hometown.
During the ensuing four years he took a wife, Cindy, and reestablished his former band. Billy Ray Cyrus and Sly Dog performed four sets a night, five nights a week at the Ragtime Lounge in Huntington, West Virginia. On his two days off each week Cyrus traveled to Nashville — photos, credentials, and songs in hand —~attempting once again to land the elusive recording contract.
His dream took a toll on Cyrus's marriage and he and Cindy were divorced, unaware they would someday enjoy considerable success with tunes they had cowritten: "Wher'm I Gonna Live?" and his career beginning "Some Gave All."
Ron Cyrus recalls the origin of "Some Gave All," Billy's anthem to the American veteran: "[I remember] the night that Billy came home and he'd been playing up at the Ragtime. He said, 'Dad, would you get up and talk to me a while?' I knew something was serious; it could be a speeding ticket or he ran a stop sign or something, but he'd never done that. I don't guess he'd ever had a traffic violation that I knew about. He told me about dedicating a song to veterans."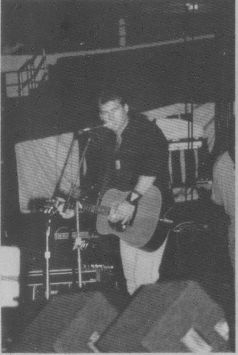 Cyrus at the pivotal 1990 Freedom Hall show. Photo by Beverly Ingram
Rep. Cyrus continued, "[He told me that] when he took a break, this one guy got him over to talk and thanked him for the songs and to tell him some stories about Vietnam. [Billy] was telling me, 'Dad, it was the look in his eye.'"
"He had given him a little dirty, filthy POW MIA ball cap and I said, 'Bo, I think you ought to take that cap off. lf you're gonna wear it, let's get it washed.' He said, 'I can't! It's [in] some way keeping the vibes alive. We need to keep the vibes alive.'"
"I said, 'Well, I think you can just think about it and maybe there's some way you can repay him.' It wasn't but a few days he came in and plunked out 'Some Gave All.' I thought it was pretty heavy, pretty tough, not a song that people's gonna play on the radio. It doesn't make you want to pat your foot or anything like that, but, being a veteran, when I listened to it, it made tears come to my eyes."
"I thought, 'That's a pretty heavy song, Bo.' I was kind of in awe. I'd take the tape around we'd made and just basically play it for veterans. It was remarkable how emotional it was to them and I told Billy that 'you've got something very special here in this song. If the band ever gets it worked up perfect, it's gonna be a special song.'
"And sure enough it was."
Rep. Cyrus's words were a huge understatement. ln 1989, on one of Billy's weekly trips to Music City, Billy met country star Del Reeves who introduced him to his former manager, Jack McFadden. In short order, Billy was added to McFadden's management roster. With McFadden's direction, "Some Gave All" helped spark Mercury Records' interest in Cyrus.
The turning point in Billy's quest for a recording contract happened at none other than Louisville's Freedom Hall when Mercury Nashville's Manager of A&R, Buddy Cannon,' was impressed with Cyrus's performance on a bill with Highway 101 and Reba McEntire. After Harold Shedd, Mercury's A&R chief, caught one of Billy's performances in Huntington, West Virginia, Billy Ray Cyrus was offered a recording contract with Mercury Nashville Records.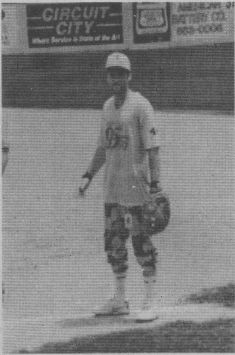 Cyrus returns to baseball for the City of Hope Benefit in 1993. Photo by Beverly Ingram.
Cyrus signed his long awaited deal with Mercury Records on January 3, 1991, on the stage at Ashland's Paramount Arts Center. Following the celebrated signing, the proud mayors of both Flatwoods and Ashland presented Cyrus with a key to their city.
Just a year later, Billy's debut single, "Achy Breaky Heart," written by Don Von Tress, dominated the music world and made Billy Ray Cyrus a household name.
Cyrus returned home to film the video for "Achy Breaky Heart" at the Paramount Arts Center in Ashland.
Cyrus's dream had finally come true. He had reached the top of the world as a country music megastar. His debut Mercury album," Some Gave All, hit the streets on May 19, 1992, and became the first debut country album to enter the country charts at #1. Upon shipping, this smash album was certified Gold (500,000 copies sold), was certified Platinum (1,000,000 copies sold) in just two weeks, and was certified triple platinum within two months. It was also the first debut country album to enter the Billboard pop charts at #4 and then climb to #1 the very next week, winning the Most Weeks At #1 Album Award at the 1992 Billboard Music Awards.
With the release of this astronomically successful album, 1992 became a record year for Billy Ray Cynrs when awards time rolled around:
The Country Music Association gave "Achy Breaky Heart" the Single of the Year Award, and the American Music Awards honored it with the Favorite Country Single Award and named Cyrus the Favorite New Country Artist.
"Achy Breaky Heart" also helped Cyrus capture the Best Country Male Artist and Best New Country Artist honors at the Billboard Music Video Awards. Additionally, it. was named the AMOA Jukebox Awards' Pop Record of the Year and Country Record of the Year, and earned for Cyrus the Rising Star Award.
According to Rep. Cyrus, the success of "Achy Breaky Heart" was "kind of when my little boy quit reversing charges when'he called home, so I think that meant a big change."
With his new-found fame, Billy Ray Cyrus's life became one big roller coaster. "When the teeter finally went to totter," he said, "it tottered' there for a couple of years and my life was at the speed of sound."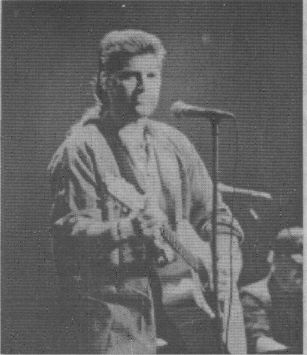 Cyrus at the Palace, Ocotber '95. Photo by Michael W. Stout
Cyrus would soon become the king of controversy and the subject of rumors:
Was Billy Ray Cyrus really a Chippendales dancer? (Absolutely not!)
Did Cyrus really father a child out of wedlock? (Yes. Four-year-old Christopher Cody lives with his mother in the Carolinas.)
And probably the biggest controversy of all: Travis Tritt's slam, "What we're going to have to do to be popular is get into an *#!-wiggling contest between one another." This statement was merely an innocent joke that was greatly blown out of proportion. Tritt apologized, sent Cyrus a plant, and there are no ill feelings.
Cyrus's life has since become somewhat more peaceful. "One thing I've been able to do in the last year," he says, "is get my life back in balance." Cyrus and Leticia, his wife since Dec. 28, 1993, are enjoying life with their two children, 3-year-old daughter Destiny Hope and' 1 ½-year-old son Braison Chance, in their Franklin, Tenn., home. Cyrus says, "It feels like I've found a happy balance between Billy Ray Cyrus and being Dad, and I like it, all the spect rum. My family helps keep my feet on the ground and I enjoy it so much."
Since the release and amazing success of the multi-platinum Some Gave All, Cyrus has released two additional, critically acclaimed albums: It Won't Be the Last was released in June, 1993, and has been certified Platinum, while his latest, Storm in the Heartland, released in November, 1994, has been certified Gold.
Cyrus has enjoyed two #1 singles since "Achy Breaky Heart": "Could've Been Me" and "In the Heart Of a Woman." Does Cyrus believe anything will ever surpass "Achy Breaky Heart"?
"Something will one ofthese days. It may not be for me, it might be for somebody else. Songs like 'Achy Breaky Heart' only come around once in a lifetime if you're lucky. Worldwide, it went across all boundaries. Songs like that only come around every so often, so, if I ever get another one, then that's great. But, I sure am tickled to death that I got that one. I'm just gonna keep making my music."
While "Achy Breaky Heart" has brought Billy Ray Cyrus great success, it was his groundbreaking tune for the Vietnam veterans, "Some Gave All," that sparked what Cyrus considers his most prestigious award: "[In, September, 1995], I received the very first ever Bob Hope Award from the Congressional Medal of Honor Society for the song 'Some Gave All' for restoring patriotism and pride. It was just the highest award of my entire life, and [Bob Hope] flew in to give it to me. George Bush got his Congressional Medal of Honor after the awards ceremony. He sat right to my left and the Governor of Pennsylvania sat right to my right. Pretty lofty for an old hillbilly like me!"
Billy Ray Cyrus has set a personal goal to make the world a better place in which to live. According to Ron Cyrus, Billy's charity work to aid ill and special needs children began when he first started returning to Flatwoods for an annual benefit concert.
He felt the need and desire "because he wanted to return something to the community; Kentucky, and Ohio, West Virginia, the people there that support him so strong. ... He's got a very soft spot in his heart and he just happens to be in a situation where he can help."
After Billy began performing the charity benefit concerts, he started to receive an amazing number of requests from terminally ill children with a variety of problems. He went to his father for advice:
"Dad, what would it take if we could put a charity together where we could maybe help more of these kids that need the help?"
With Ron Cyrus acting as president, plus some gracious volunteers, the Billy Ray Cyrus Charities Foundation was formed to benefit terminally ill and "special" children. In recent years, the foundation has grown by leaps and bounds.
Rep. Cyrus says that besides the proceeds from the benefit concerts, "now that people's learned about it, people send several monetary gifts for [Billy's] birthday and for Christmas and it's now grown to where we can help a lot more people than what we thought we'd originally be able to do."
Billy says that "we just try to do the things with them that [we] feel can help out; we try to find the 'right' situation."
And just what is the right situation? With up to 300 requests received per month, several right situations are blood transfusions, special medication, or aid for a child being treated at a specialty hospital. Cyrus's father explains that if a request "looks like a possibility that it's something we want to [and can] help, we send back a questionnaire for their illness for their doctor to fill out; [we] get more information. Once that goes through the process, it's brought before the full board and we thank God for letting us be in our situation."
The Billy Ray Cyrus Charities Foundation is a class operation. Says Ron Cyrus, "I think we've got twelve good, hardworking volunteers who give us a lot of hours. It's a big job, but when you see those kids with a smile on their face or a mother that sees that her kid is going to be able to get the medicine they need or get into the hospital that's needed, it makes it all worthwhile."
The foundation is "something I'm very proud of," Billy Ray says. "We look forward to this spring [or summer], going back and doing another concert. I just pitch in wherever we can. It's obvious, you take a look at today's society and today's world, if everybody can pitch in just a little bit to try to make this more of a positive place to live, we need that right now. We're falling apart as a human race. We've got to pull together, white, black, no matter what color."
The date for Billy's 1996 benefit concert in Flatwoods has not been finalized because he is working on a new album. Cyrus's manager, Jack McFadden, says that Billy has written four or five new songs, has chosen eight songs, and is negotiating with producer Barry Beckett for this project.
Mercury Nashville Records hopes to release this currently untitled disc, which Cyrus describes as a "very roots-oriented album," in mid- to late summer. "On this album here, I said, 'I'm going to be Billy Ray Cyrus just making my music the way I feel it.'"
This year's benefit concert will coincide with the release of the first single from the upcoming album since Mercury plans to film the video for it during the benefit concert. Once again, the event will be held at the Paramount Arts Center in Ashland.
For more information on the foundation or to make a donation, write to: Billy Ray Cyrus Charities Foundation, P. O. Box 222, Flatwoods, KY 41139.
Billy Ray Cyrus himself sums it up best: "We've got to pull together as a human race or we're going to go down!"
Tags: