January 1996 Articles
Cover Story
Kevin Gibson
Features
Paul Moffett
Columns
Berk Bryant
Decimus Rock
Mike Stout
Paul Moffett
Earl Meyers
Keith Clements
Todd Hildreth
Duncan Barlow
CD Reviews
Robert Gruber
Mark Clark
Bob Mitchell
Bob Bahr
Robert Gruber
Robert Gruber
Mike Stout
Kory Wilcoxson
Bob Mitchell
Bob Bahr
Kory Wilcoxson
Bob Bahr
Darrell Elmore
Bob Bahr
Kory Wilcoxson
Kory Wilcoxson
Performance Reviews
Darrell Elmore
Jean Metcalfe
Henry C. Mayer
Pete Strojny
Henry C. Mayer
Paul Moffett
Paul Moffett
Michael Campbell
Bob Bahr
Robert Gruber
Wally Stewart
Henry C. Mayer
Mike Stout
Calendar
Bob Bahr
Photos
LASC
Jean Metcalfe
Blogs
Got Shows?
Send Them To Us
Bookmark Louisville Music News.net with these handy
social bookmarking tools:
Available RSS Feeds
- Top Picks
- Today's Music
- Editor's Blog
- Articles
Add Louisville Music News' RSS Feed to Your Yahoo!

Issue`: January 1996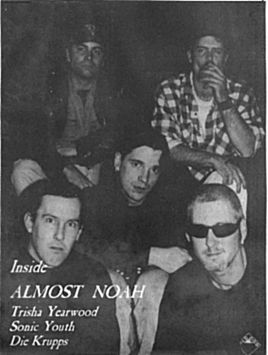 Center, Jon Paris, and clockwise from top left, John Anderon, Donnie Highland, Kein Garr and Ed Rodimel. Photo By Kevin Gibson
Playing The Songs And Paying The Dues
The huge projections on each side of the stage proclaimed "On air," and in between, the Miller Brewing Co. Red Dog mascot stared down from the backdrop.
Guitarist Ed Rodimel's hockey jersey bore the Red Dog logo proudly as he and his Almost Noah bandmates whipped out Stephen Stills' "For What lt's Worth" as if they could do it in their sleep.
"We just want to try some cover tunes for giggles," lead singer Jon Paris announced moments later, though he displayed a hint of discomfort as if he could sense heavy stares from members of so-called "original bands" beating a path to the stage.
Even as the five-member Louisville-based outfit poured forth tight covers of everything from Foo Fighters to the Rolling Stones, Edwyn Collins to The Presidents of the United States of America, and Live to — believe it or not - Hootie, all it took was a glance to the front of the room to remind them of reality.
The display of hot-selling (and all-original) compact discs told the story, as did the T-shirts for sale and glossy 8x10 promo shots of the modern rock group. Let the "originals only" crowd look down their noses if they want, but Almost Noah is one of the hottest bands in Louisville. Period.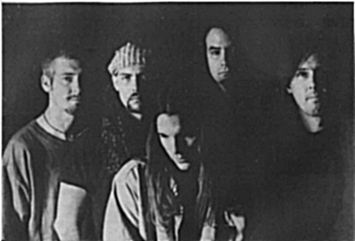 Photo by Kevin Gibson
With 600-plus CDs in the hands of area music listeners, a sponsorship from Red Dog beer and a couple of investors/promoters working hard in their corner, the members of this relatively new ensemble have a tight grasp on reality.
It isn't about being a musical martyr, starving and working two jobs to play only originals. It also isn't about selling out, playing popular tunes to make the girls by the bar get off their stools and dance, or appeasing the local radio station which wants guaranteed listeners for its mid-week live show. It's about paying the bills.
"There's always been that thing between all-around cover bands and bands that do all originals," said Paris between sets that night. "All original bands tend to get a little more attention; we get paid to play music all the time."
And there you have the Almost Noah game plan. These aren't kids stumbling through college and playing weekend gigs; these are professional musicians with families and grown-up responsibilities. They play their hard-edged grooves four nights a week, stay on the road most of the year and draw a paycheck from their own recently incorporated business.
"To make a living playing music, playing originals won't pay the bills," said guitarist John Anderson. "You have to (play covers) to get people to hear the original stuff."
And Almost Noah is able to "put a little bread on the table," according to George Timmering, who promotes the band. "it's not enough to get fat on but it's enough to survive."
"Next year we get fat," added Rodimel with a smile.
But let's not jump ahead.
Almost Noah began with Rodimel and Paris, a couple of veterans of the lndianapolis music scene, getting together in the spring of l993. Moving the act to Louisville was an easy choice.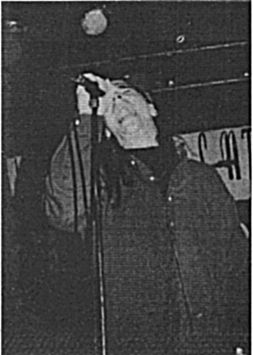 Almost Noah Vocalist Jon Paris. Photo by Kevin Gibson
"The Indianapolis market is dead," Rodimel said. "Basically, Louisville was the biggest market near us."
While the band has existed for nearly three years, the current lineup including Paris, Rodimel and Anderson, has been together just over a year with the addition of bassist Kevin Garr and drummer Donnie Highland in the fall of 1994. "With a couple of different lineups in between;" Rodimel noted.
As the band's repertoire grew, so did its fan base. Local popularity (Paris, Rodimel and Gan were chosen for the local All-Star Rock 'n' Roll Band earlier this year) gave way to regional success (the band draws crowds from Evansville, lnd., to Panama City Beach, Fla-.), which also ushered in jobs opening for national acts such as the Violent Femmes, Cheap Trick and the Smithereens. Good reviews and packed houses at every venue led Timmering and Joe Steier, co-owners of the Golden Nugget night club in Louisville, to take a special interest in the band. One thing led to another, and that interest became financial.
"Jon jumps out and grabs the crowd," said Timmering, explaining what he found special about Almost Noah. "He would take the crowd and work it."
So, Steier, Timmering and Paris, who usually serves as the band's spokesman, sat down for a meeting at Baxter Station restaurant to discuss the band's future and the Golden Nugget owners' interest in sponsor-ship and promotion. The discussion went well.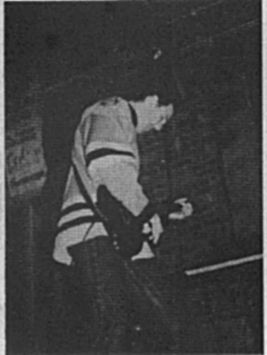 Ed Rodimel. Photo by Kevin Gibson
"lt went so well" we forgot to pay the tab," Timmering said (adding that they went back later to settle up).
Paris and the two investors discussed terms over the meal, the most important of which guaranteed that each band member get a regular paycheck. All agreed, said Timmering, "and Almost Noah Inc. was born."
Timmering started promoting the band through mailing lists and also helped land the Red Dog sponsorship. The momentum the band built was to be used in order to make the compact disc a reality, and an acquaintance named Joe Hayden was the ironic catalyst.
Timmering explained that he knew Hayden several years ago as a roadie for various local bands. Since that time, Hayden procured an internship at Javelina Studios in Nashville, Tenn., a recording house which has recently welcomed the likes of Billy Joel, Mark Knopfler, Neil Diamond and George Jones & Tammy Wynette.
Hayden would later see Almost Noah perform at Butchertown Pub, where he would also run into his old acquaintance Timmering. Hayden told Timmering how much he liked the band's sound and said he'd love to have them down for a recording session.
Moralized Timmering, "Always treat people good no matter what, because you never know where they're going to end up."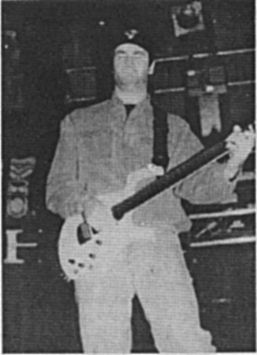 John Anderson. Photo by Kevin Gibson
So, Hayden, with help from Anderson and the rest of the band, produced, recorded and mixed the ten-song, Atonal Mosh, which was released at a Nov. 19 party at The Brewery's Thunderdome. About 300 discs were sold that night, with several hundred more bought in the two months since at shows and in local music stores.
Anyone who has caught Almost Noah's live act knows the potential of a studio set from this fivesome. The band is certain fans won't be disappointed.
The album was a cooperative effort between band members in a rather unusual way; while many bands have one main songwriter and many others collaborate on all songs, Almost Noah takes a different route. Rodimel writes all the music, Paris writes all the lyrics, and it was Anderson who stepped forth as leader in the studio.
"I was happy with the way the CD came out," said Paris. "It's selling great and we're looking forward to the new year. We want to give this CD six months to get the fire cooking under it and then go back and do another one."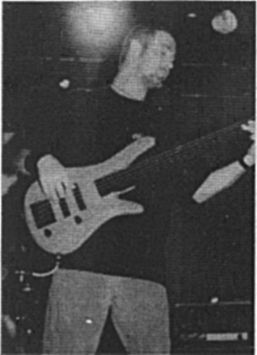 Kevin Garr. Photo by Kevin Gibson
If sound equals momentum, Almost Noah is on a rocket ride. Atonal Mosh, with its funky bass lines and sharp, tight, edgy guitar, is not only a natural for lovers of the current alternative sound but also sparkles lyrically. Paris penned everything for the album from songs of gloom to stories of growing up. In "A Boy and His Dog," Paris looks back at his youth with envy: "I daydream of the things / That can never be the same / It may be selfish but l would / Throw this all away for just one day with my love."
In "Crystal Houses," meanwhile, Paris gives us a picture of depression and vulnerability: "Got my mind in a million pieces / I can't pick them all up / Running round in so many directions / Crystal houses just aren't enough."
Pretty dark stuff considering the bright future which appears to be just over the next hill. Critics in the region have repeatedly predicted Almost Noah to be the next Louisville band to get signed. That sounds good to Paris, Rodimel, Anderson, Garr and Highland, but they also realize this is one egg that hasn't hatched.
"Think of the other bands they said that about and that never got signed; all those bands that could've and should've but didn't. We appreciate all the support we've gotten from Louisville, but we never set out to be Louisville's super band. We just caught on."
Bottom line: A local following isn't enough. Rodimel estimates that getting a record deal is 50 percent talent and 50 percent luck; Anderson broke it down further.
"I'd say it's 33-1/3% chance, 33-1/3% talent, and 33-1/3% perseverance. We don't expect more than we put in. You have to invest in yourself," he said. Considering Atonal Mosh was a project which cost about $20,000, Almost Noah has done just that. But even perseverance isn't always enough in the. eyes of Paris, who estimates that luck is more like 75 percent of the reason a band gets signed initially.
"Everybody wants to get signed," said Paris. "You can beat the doors (of reoord companies) down 'til your hands fall off, but they're not going to give you a deal just to shut you up. They know how to say 'no' a thousand times.
"Our goal is to find a good sound that everybody (in the band) agrees on ... to sell as many CDs as we can, get in front of as many people as we can and try to get signed."
"Our sales are immense here in Louisville. We couldn't do any better if we tried. Now we're looking to go outside the area and do just originals out there."
Timmering suggested, however, that persistence does pay dividends.
"To me the main thing is we made the commitment to go down to Nashville and make a good CD," he said. "If some record label sees Javelina Studios on the label it means a lot more" than a basement job.
Plus, he argued, all bands can't be judged the same way. In his mind, Almost Noah is special.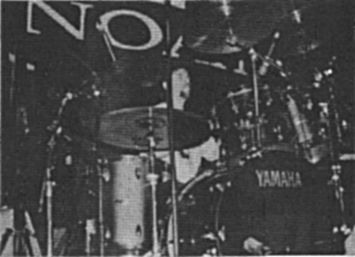 Donnie Highland. Photo by Kevin Gibson
"Most bands get helped by advertising but this band did a grass-roots kind of thing. They're the ones who developed their own following," Timmering said.
The numbers speak for themselves.
The band can put about 1,500 bodies in the Thunderdome on a weekend, and routinely packs the smaller clubs such as Timmering's own Golden Nugget. Thanks to opening gigs, such as the Violent Femmcs show, the band has been seen by crowds as big as 2,000.
A mailing list has been set up to keep fans informed of upcoming dates, and the compact disc continues to move. There is now talk of hiring a lawyer to represent the band. Timmering and Paris said legal representation could get the band a European tour, exposure at an international music festival in France next year (similar to the Cannes Film Festival) and an increased chance at being listened to by major labels. In Paris' mind, at least, it's the way to go.
"Lawyers can help," he said. "lf you get a manager you still need a lawyer, and a manager will just take control. We're all veterans. The last thing we need is some fat guy telling us what to do."
Better yet, an attorney can help relieve a band of the task of playing Hootie and the Blowfish tunes to crowds of college students.
"We know we can make a living playing music. It's not about being rich, it's about being at a point where you can play what you want," Paris said. "Sting is an awesome example of that, and Paul Simon — they can play whatever they want."
"The way l look at it," said Anderson, "our chances are as good as anyone else's. We've taken steps to try to secure whatever we could. Sometimes it just boils down to being in the right place at the right time. We've all had more than our share of disappointments in that particular area.
"We figure if we're good at it, we promote ourselves and put out a good product, we're taking the right steps."
With Atonal Mosh as evidence, it's the music, not the promotion, on which the band has decided to concentrate. Without the music, they agree, there is nothing.
"We don't always get along well," Rodimel said, "but one area where we do get along is we all dig music."
It doesn't hurt that they don't take themselves too seriously. When asked what the band was "about," Anderson replied, "We're about 5-10, 6-4."
Rodimel chimed in, as if on cue, "We're one of the tallest bands in the area —I'd like to point that out."
. Paris knows all too well that fame is often dictated by fate, and can just as easily be yanked away again.
In his mind, it depends on "luck. God. Being in the right place at the right time. And if it happens, it's usually very short-lived. No original band should depend on the hope of getting a record deal to get them through. You've got to be able to not need (record companies) to get them."
So, Almost Noah will continue to tolerate playing the occasional covers in order to get their music heard by the right ears. If it works, the band will consider it more than a rewarded sacrifice. And if they can have a little fun along the way playing infectious tunes like The Presidents' "Lump," what's the harm? "People enjoy the way we sound," Paris said, "not necessarily what song we're playing all the time. It's about people enjoying the way you sound as a band.
"Ultimately, the original music is where it's at, but there are different roads to get there."
"This band has worked it's butt off as a" cover band," concurred Timmering, "but the whole goal is to get signed."
"It's just good business," Paris continued. "We're a cover band. We don't want to work during the day so that's how we pay for it — we do covers."
They may pay for it in their own way, but they're also getting paid. And if the time is right (and the critics believe it is), they may be calling their own shots in the near future.
"That would be the plan," shrugged Rodimel.
•
Almost Noah plays Phoenix Hill Tavern Jan. 4-6 before hitting the road. then returns Jan 24 to Louisville's Backstage Cafe and plays Jan. 25 at Butchertown Pub.
Compact disc copies of Atonal Mosh are available at the shows.
Tags: