December 1995 Articles
Cover Story
Bob Bahr
Features
Darrell Elmore
Paul Moffett
Columns
Duncan Barlow
Berk Bryant
Robert Gruber
Decimus Rock
Mike Stout
Paul Moffett
Keith Clements
Todd Hildreth
Henry C. Mayer
Alan Rhody
CD Reviews
Allen Howie
Bob Bahr
Kory Wilcoxson
Kory Wilcoxson
Gary Savelson
Bob Bahr
Robert Gruber
Duncan Barlow
Kory Wilcoxson
Gabriella Mattingly Gray
Duncan Barlow
Mark Clark
Bob Bahr
Bob Bahr
Kory Wilcoxson
Gary Savelson
Kory Wilcoxson
John Goodin
Performance Reviews
Wally Stewart
Kyra Marie Landzelius
Michael Campbell
Robert Gruber
Henry C. Mayer
Bill Ede
Kevin Gibson
Calendar
Bob Bahr
Preview
Robert Gruber
LASC
Jean Metcalfe
Jean Metcalfe
Blogs
Got Shows?
Send Them To Us
Bookmark Louisville Music News.net with these handy
social bookmarking tools:
Available RSS Feeds
- Top Picks
- Today's Music
- Editor's Blog
- Articles
Add Louisville Music News' RSS Feed to Your Yahoo!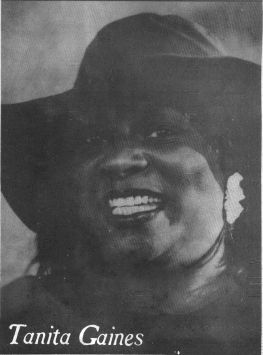 Tanita Gaines
Tanita Gaines
Story by Bob Bahr
Photos by Eddie Davis
Your friend from grade school has always had a good mind for science. His career is in advertising now, but he still demonstrates an easy grip on the most complex and challenging issues in physics. Another acquaintance is a talented painter, but she just dabbles with canvases on the side; she runs a catering company.
They could be the most talented physicist and most gifted painter the world would ever know. Such are the tricks of life.
Tanita Gaines' story is a bit different but has the same heart-quickening sense of ripe opportunity. People hear her sing and say she has what it takes to become famous. Big Time. Even the woman herself admits that she operates at about 75% of her potential when she sings blues, R&B or jazz in the Louisville clubs she frequents. And the crowds uniformly go wild.
She has opened shows for Bobby Blue Bland and other national acts and when they hear her sing, they all say the same things: "Why are you here? Do you want to do more?" "l just want to say, 'Leave me alone! How do you know what I want to do? Maybe I'm doing exactly what I want to do,'" Gaines said one night in between sets at Big Heavy's, a blues bar on Louisville's Market Street. The Big Time almost came to her in the early 1970s when her band The New Birth outgrew Club Louisvillian, the Golden Barrel Lounge and the other stages of our town. The band moved to Los Angeles and recorded two Top 40 hits — "I Can Understand It" and "Dream Merchant" — but Gaines never made the trip to L.A.
"She was taking care of me and my little brother, so she had to get out," explained Curtis Gaines, Tanita's vocalist son. "I guess motherhood prevailed."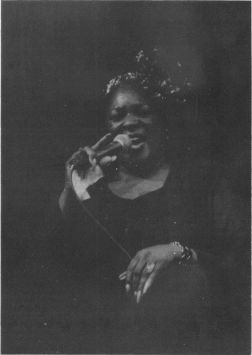 Instead, she raised her three sons and maintained a gig schedule on the side. Tanita seems pretty apathetic about the New Birth era and perhaps a little bit irritated that the subject is raised at all. Tanita Gaines lives in the present and the present is pretty good to her.
"As long as she's singing she'll be happy," said Curtis. "If she gets famous, she could take it or leave it. Making money is something she loves to do, it's hard to do that these days —make money at something you really enjoy"
She sings at least four nights a week. She loves to dig into a racy Denise LaSalle number at the Butchertown Pub, to dive headfirst info a contemporary R&B tune at Joe's Palm Room the next night, to lay back into a little Sarah Vaughan at Syl's Lounge the following night. And wherever she's performing, the band had better know Patsy Cline's "Crazy"
"I make everybody I play with play it," Gaines said. "I love that song, but I think every band I play with hates it. I bet they talk about me behind my back," she said, laughing. "But the audience always loves it."
Gaines prides herself on being able to "sell" any song to any audience. Perhaps she loves the challenge. At one point during one of our several conversations, Gaines expressed a half-joking wish to become the first successful female Black country singer. She's sure she could do it.
She's bowled over by the singing of Della Reese, the arrangements of Quincy Jones, the emotion of U2's Bono, the work of contemporary Christian rockers Bride. The word "crossover" doesn't mean much to her; she lives right in the middle of it and fails to see what the big deal is. Gaines said she has played the same exact set at Joe's Palm Room, a primarily African-American bar, as she played at Butchertown Pub, a primarily White bar. Both communities have a deep respect for her singing abilities. And another, quite different segment of society loves her voice too: the churches.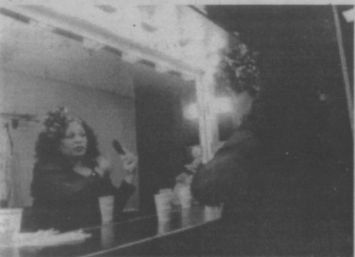 Tanita Gaines backstage at the Kentucky Center for the Arts, preparing for a Midnite Ramble show.
As a young girl growing up in Newburg, a suburb located in the south-central part of Jefferson County, Tanita Gaines wanted to be a nurse when she grew up. But the seeds of a different career were planted every Sunday when her family drove into town to attend the Cable Baptist Church on East Wenzel. Gaines' gospel singing in the choir was getting her noticed. People started asking her to perform at their weddings. She sang at school recitals and in talent contests. But she still wasn't bitten by the bug.
"l wasn't aware that I had a talent and it wasn't really glamorous, what I was doing," Gaines said. "It's really amazing; I never thought I'd be a singer."
Gospel was her first love, but the sounds of Motown started working their magic. She was singing pop songs in the shower, adding new vocal parts. By the time Tanita was 12, she had her own stereo and some favorite records — the Isley Brothers' "Twist and Shout," the Contours' "Do You Love Me?," Hank Ballard's "Finger Poppin' Time," and later, the music of Dionne Warwick — that she had bought with money earned from babysitting. She still has those 45s and she still sings those tunes in her sets.
Occasionally, a gospel tune makes it into one of Gaines' set too; "Pass Me Not O Gentle Savior" is a likely candidate. What does the congregation at her church, Bethel Baptist Church, think about their star choir member singing "Mister, Your Wife Is Cheatin' on Us" on the weekends?
"I just say to them,'Unless you're going to pay my light and gas, then leave me alone.' It's just a job. They accept that. They have to."
"I used to feel guilty. I did. Sometimes I would go to church and I'd hide. But I saw that if I can work in the clubs and sing, then I can sure give my talents back to the Lord."
Gaines said there aren't too many area churches that she hasn't sung in. Churches often call her to sing solos and she thinks they forgive her decidedly secular job because of the way she carries herself. "If I acted any differently, they probably wouldn't let me in their church," Gaines said.
Down at Joe's Palm Room, she often sings an early set ending at 10:30 p.m. for the older audience. If she hangs around and sits in with the next band as the younger crowd takes over, she gets nothing but respect. The musicians that play with her (she usually just puts together a band tailored to the particular gig) likewise have nothing but praise for Gaines. They recount how she will pull a dazzling vocal lick out, then just laugh it off while the band tries to pick their jaws off the floor.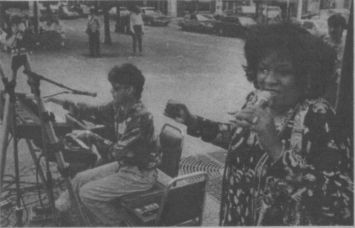 Tanita sang with Bobby Lanz at Theatre Square in 1992.
For being such an extrovert on stage, Gaines is very private away from the microphone. She'll share a few dreams, though...recording a CD of Christmas standards, singing the national anthem at the Super Bowl...she's working on putting a road tour together, if it can be worked out around the schedule of her adopted daughter, four-year-old Chastitie. Gaines has the utmost confidence that she could get singing work in any major city, especially Detroit and Chicago.
"The sky would be the limit," Gaines said. "I know that I haven't let loose, I guess because I thought that I haven't had the opportunity."
When Tanita Gaines works a stage like the grand one in Macauley Theatre, she seems as though she has found her place in the world. Comfortable, controlled, sassy, explosive, professional, emotive. She's been singing like this for 30 years and the size of the stage doesn't matter.
"Gigs that I know she really doesn't like, I wish I could do what she does; she smiles like she enjoys it," said her son Curtis. "She just sounds like a trouper, while I'm just like, 'I can't wait to get through this.' She'll just sing another one."
Gaines said she loves to sing at Big Heavy's and she loves working for the owner. Every Wednesday she's there, mixing jazz standards like "Summertime" or "Misty" with some righteous blues. Still, it's hard to see her standing on the tiles of the Big Heavy dance floor, no room on the stage for the vocalist with the four members of The Accused using up all the space. A mic is set up on the floor for her to wield in her elegant seduction of the audience. At this stage of her life (she calls herself "40 and pending") it seems like Gaines should be reaping the benefits of greater success.
The city and state are certainly smitten. Former Governor Brereton Jones requested that Gaines play at several state functions. Jones is reportedly reduced to a writhing, dancing fiend by Gaines' music and he designated Gaines the Official Songbird of the State of Kentucky. She has sung the national anthem at minor league Redbirds baseball games and the University of Louisville tapped her to sing at the start of basketball games.
Her first time singing through the massive sound system at Cardinal Stadium was unforgettable. Stadium officials told her to put cotton in her ears, but Gaines didn't like that idea at all. She wasn't prepared for the waves of echo coming from her own voice.
"When I started singing,'O say can you see / By the dawn's early light," it started coming back to me. It was comical. It was confusing. And it was the longest song of my life," Gaines said laughing.
Surprisingly, Gaines said nothing has attracted more attention than the few seconds of work she did for a Bud Light beer commercial filmed in Louisville.
Gaines belts out the words "Bud Light" in her best soul/R&B diva voice.
"Folks come up to me say,'Please tell me you're the person in the Bud Light commercial.' Or they just walk by and say,'Bud Light!' I'm getting more recognition for that than anything else." ' The added publicity has put Gaines in a good position. She now gets as many gigs as she wants.
"l like the way I can say no to something I don't want to do," she said. "Before, I was looking for work. Maybe I've paid some dues. I've gotten more work lately than I ever have in my life."
She might be getting some work from another place soon — her son. Curtis Gaines is in the process of inking a deal with a Japanese company named Global Music Marketing, a deal that he calls "really lucrative." Gaines is going to Tokyo this spring to kick off his recording project, which will end with world-wide record distribution through Sony and Warner Bros. and international touring. Gaines said he wants to record a duet with his mom for a future recording.
"It's something that I've always wanted to do and I am going to do it eventually," Curtis said. "I've written a lot of songs that I have dedicated to her."
Curtis said there was always music in the home when he was growing up, everything from R&B to jazz. Plus, he'd hear the New Birth practicing and imagine himself being a member of the group.
"I remember them rehearsing downstairs and I was upstairs doin' the steps and singing in the mirror," Curtis said. "I never let them see me, though."
While mother and son don't sound too much alike, Curtis said he has stolen some specific things from his mom's music book.
"I use some things that I've heard her do at gigs, the way she interacts with the crowd," Curtis said. "Bullsh**in' with them, I really stole that from her, because I'm still a little bit shy sometimes. I remember the things she used to say and I say them."
Curtis Gaines' technique is truly world-class and his upcoming R&B record should be a dazzler. He's not a fan of the blues...except when mom sings them.
"I love to hear her do blues. Straight blues, the down-home blues and the freaky stuff. ;Cause she can get down on the blues, now. She makes me like the blues."
Tanita knew the oldest of her three sons had a special gift early on.
"When he was a baby, he'd play the right side of every record," she said. "I never understood how he did it. He couldn't read or nothing. He'd play the wrong side, listen to it for a second and flip it over and play the right song [the song that was the hit]."
So even as Tanita Gaines happily lives her life singing around town, her homesickness anchoring her to Louisville, Curtis prepares to jet to the Far East in pursuit of fame and fortune. When he makes it, he vows that part of it will come back to the source of his inspiration.
"The credit on my album is going to read,'This one's for you, Mama. Now open up that bank account so I can put something in!" ' said Curtis.
Tags: