October 1995 Articles
Cover Story
Kevin Gibson
Features
Paul Moffett
Staff
Paul Moffett
Paul Moffett
Columns
Berk Bryant
Decimus Rock
Robert Gruber
Mike Bucayu / Thomas W. Wynn
Paul Moffett
Keith Clements
Todd Hildreth
Duncan Barlow
CD Reviews
Gary Savelson
Kory Wilcoxson
Robert Gruber
Mike Stout
Kory Wilcoxson
Bob Bahr
Kory Wilcoxson
Allen Howie
Mike Stout
Kory Wilcoxson
Mark Clark
Robert Gruber
Kory Wilcoxson
Kory Wilcoxson
Allen Howie
Gary Savelson
Bob Bahr
Kevin Gibson
Allen Howie
Performance Reviews
Mike Stout
Paul Moffett
Cindy Lamb
Jean Metcalfe
Robert Gruber
Les Reynolds
Henry C. Mayer
Jean Metcalfe
Calendar
Bob Bahr
News Item
Jean Metcalfe
Preview
Henry C. Mayer
Opinion
Errata
Photos
Pete Strojny
Jean Metcalfe
Bob Bahr
Jean Metcalfe
LASC
Paul Moffett
Jean Metcalfe
Blogs
Got Shows?
Send Them To Us
Bookmark Louisville Music News.net with these handy
social bookmarking tools:
Available RSS Feeds
- Top Picks
- Today's Music
- Editor's Blog
- Articles
Add Louisville Music News' RSS Feed to Your Yahoo!

Issue`: October 1995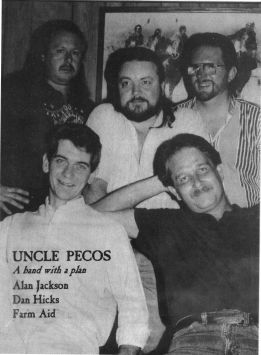 Uncle Pecos Pushes Ahead -- With a Plan
The members of Louisville-based country act Uncle Pecos know the benefits of a little good luck. They also know luck can carry a band only so far.
"Everything is calculation," said guitarist Steve Wallace.
After six years of playing together and four years of writing and recording music, the band recently followed up a hit single in 1992 with its first full-length album on Music Man Records. The 10-song, self-titled recording serves as symbolic proof of the band's resolve.
"We've got a plan," Wallace said. "You've got to have a plan and goals; if you don't, you're going nowhere."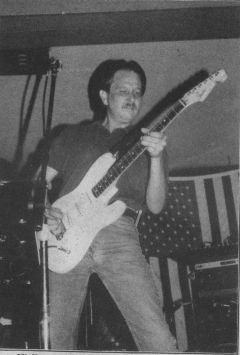 Steve Wallace at Colonial Gardens
A little ingenuity doesn't hurt either. In '92, three years after the group formed, Wallace and his bandmates Steve Robbins (guitar), Kerry Culbreth (drums) and Larry Colburn (bass) went to Nashville to record a couple of tracks.
After spending all their allotted funds in the studio, the band came up with another song, a tune called "Buy American," but had no way to record it. So, they went to Dave Bowling, producer for the Owen Bradley Barn, where they'd been recording, to work out a deal.
They found Bowling at his favorite Nashville hangout, "The Cooker," and told them of their plight. Bowling reluctantly agreed that, if his boss, Gene Kennedy, would provide some studio time, he would produce the song for the band free.
So, Uncle Pecos immediately contacted Kennedy and announced that Bowling had offered to produce the song absolutely free -- if Kennedy would agree to provide some free studio time.
"That was about four o'clock on a Sunday afternoon," said Bowling during an interview before a recent show at Colonial Gardens in Louisville. "By six we were in the studio, and by midnight we had it recorded."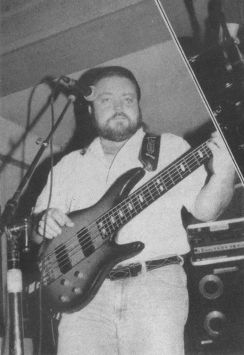 Larry Coburn
He then turned to his fellow band members and scolded, "I can't believe you all set me up like that."
"Persuaded," Robbins corrected.
Actually, Bowling doesn't seem to mind having been, uh, persuaded; on the contrary, he must have found something about the group which impressed him, because he joined Uncle Pecos soon after as keyboardist.
By Wednesday after that single was cut, the record was in the hands of 680 radio programmers across the United States. Within two weeks, it was on the charts, eventually climbing to the Country Top 40 and to No. 15 on the independent charts.
"And with NO promotion," Bowling is quick to point out, noting that it benefited from anti-Japanese sentiment generated by statements from Japanese government officials that American workers were "lazy."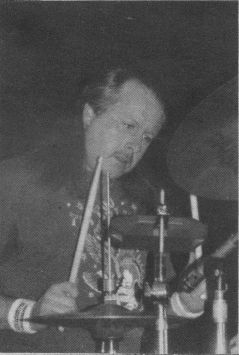 Unfortunately, while that bit of luck, timing and ingenuity was a high point in the band's career, it in no way put Uncle Pecos on top of the heap for good. In the music business, songs are often forgotten as quickly as they are discovered, and soon "Buy American" was off the charts and off the minds of radio listeners.
"It was a real high," said Culbreth, a Louisville native who knew Bowling in high school, "but it was also a real low because everything stopped happening so suddenly. . . . In this business, you can be driving a Cadillac one day and working at McDonald's the next."
"We knew we'd taken the first step," Colburn added. "It's a long process (becoming successful). Our main objective was to get our name out there."
That they certainly did, but it didn't lead to a major-label recording contract, which is every band's dream and Uncle Pecos' objective.
Said Robbins: "It's just such a fast business. Thee are so many people out there trying to do this. It's not like it was several years ago."
With national attention from the single dying and the weekend night-club routine returning with a thump, it would have been easy for Uncle Pecos to hang up the six-strings and call it a career.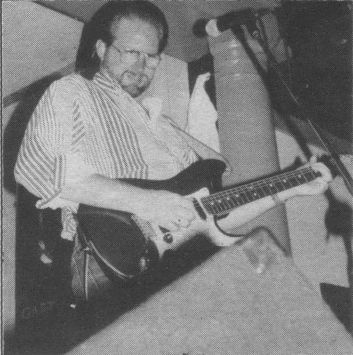 Steve Robbins
However, these particular musicians are anything but quitters. They simply tuned their guitars and kept doing what they do best: playing music and having a good time.
Indeed, spending an evening with Uncle Pecos isn't like going to a concert. It's more like a campfire sing-along. The band involves the crowd whenever possible and keeps listeners on their toes.
During the first set of a recent show at Colonial Gardens, Uncle Pecos spent almost as much time clowning as they did singing. The way the band pulls it off is effective; these aren't one-liners thrown down like so many souvenirs. It's just everyday dialogue, like one person talking to another.
After one song, for instance, Wallace directed the crowd to a corner of the club where cassettes, T-shirts and photos could be purchased. "We'll sign any or all of them," he announced. "The only thing I won't sign is a check."
Later in the set, during a cover of Alan Jackson's "Chattahoochie," Culbreth, the one band member who doesn't take a turn singing lead vocals, added his tongue-in-cheek two-cents worth at a crucial moment to the amusement of the crowd and his fellow band members.
"He's the only one who doesn't have a microphone," Wallace said after the tune ended, "so we like to give him his turn."
Why the extra showmanship?
"We're just goofy," Culbreth said with a chuckle. "We like to keep it laid back and down home. We don't want to seem too cosmetic. The crowd is part of our show; they seem to like that."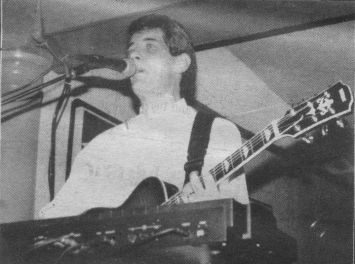 Dave Bowling
Rest assured, it's no act. Spending an hour with Uncle Pecos is like bumping into a group of old friends; each one seems like just the kind of genuine, honest person you'd want moving in next door to you.
Springfield, Ky., producer Charlie Walls, who produced the band's new album, said, "You can't beat 'em. They're great guys; they've all got their hearts in the right spot."
"I've known them for years," said John Bryant, owner of Colonial Gardens, where Uncle Pecos got its start. "They're good guys and they're professionals."
The band's rapport with fans may be a result of the group members' rapport with one another; the men who make up Uncle Pecos are as much friends as they are business associates. As long as that friendship survives, the band will likely persevere as well.
Robbins summed it up this way: "When we quit having fun, we'll either A, put the nails in the coffin, or B, call an emergency meeting and figure out how to have fun again."
Almost as important as their collective interpersonal relationships is their business savvy. Wallace strongly believes that, in spite of the country music fairy tale, a good singing voice and a twangy guitar isn't enough in the real world.
"There are a lot of musicians out there doing this. The ones that make a living at it are good musicians, but they have to have a business sense about them," Wallace said.
"You have to know how to market yourself. Most musicians can't do that."
But a band can only market so much on its own. There's much more involved, and it's not just the politics of whom you know.
Bowling insists that his Nashville connection with Owen Bradley, who owns the Bard and has produced acts such as Patsy Cline, Conway Twitty, Brenda Lee and other big-time performers during his time, isn't enough to put Uncle Pecos back on the charts.
"There are only two kinds of music: good and bad," he said. "It's good to know a couple of people, but just because you know the guy holding the flag at Indy, you can't expect to win."
"You've got to have a good product," interjected Robbins. And, as Wallace pointed out, a plan.
So, Uncle Pecos hooked up with Walls at Music Man to record and distribute their first full-length collection of music, a project four years in the making. The album, which contains music recorded in 1992 at the Barn, was released in August at the Kentucky State Fair. Sales have been relatively steady so far.
And it's still early in the game. Walls and Wallace will be taking a trip to Nashville later this month to pitch Uncle Pecos to some publishers and producers. Walls is optimistic about the album's chances.
"I think the tape shows a wide variety of songs," he said. "They (Uncle Pecos) play everything from traditional country to pop country; they've got decent harmonies, and they're decent musicians. I'm anxious to try and pitch the product around.
"I'm hoping some label is looking for a self-sustained band that's ready to go."
After all the hard work, they're certainly ready. Uncle Pecos is eager to see what Walls and Wallace can accomplish on their mini-promotional tour.
"Charlie is knowledgeable and he's VERY honest. He really works hard at promotion," Wallace said, adding that the band is also happy with the product itself, which is the most important thing.
"We're very proud" of the album, he said. "It took us about four years to write and record all the material. This is a golden effort. We've been together so long . . . all the guys in this group are headed in the same direction, and that's so important."
"It was a labor of love," added Culbreth. "It took a lot of hours, a lot of years."
Seven of the album's tracks are originals, with John Pickett's "Candle," Alan Rhody's "Daddy's Back Pocket," and Alan Morris' "I Can't Get Enough" completing the list.
"Buy American" isn't on the new album, but band originals "I'll Make You Feel Loved," "Trunk of the Tree," and "Love the Hurt Away" are, along with four others.
Wallace wants to waste no time in getting these songs into the hands of someone who can put the band on a major label. Time is money and then some in the music business.
"If you stop or remain the same you always go backwards," he said. "It's about the difference between commitment and involvement. It's like if you're eating ham and eggs for breakfast. There's a big difference: the chicken is involved, but the pig is committed."
Playing several nights a week and putting up their own money to record songs qualifies Uncle Pecos for commitment as well. This is no flash-in-the-pan band that enjoys its 15 minutes of fame and eventually winds up selling cars. They are undeniably musicians and each one has paid his dues both individually and collectively.
Steve Rollins, for instance, became hooked on music as a child and began taking guitar lessons at age nine. He found a partner and formed the gospel singing duo Steve and Laura, performing primarily at churches.
He's spent his life in Kentucky, and still lives in his hometown Brandenburg. Actually, he's from Guston, but he explains that it's "about 17-1/2 or 18 feet outside of Brandenburg."
Bowling, meanwhile, has performed with artists such as Charley Pride and Dave & Sugar, and has been involved with Bradley's Barn since the 1980s where he learned much about the music business from Bradley himself.
"He's a wealth of knowledge," Bowling said. "It's a treat just to converse with him."
Wallace, originally from Piedmont, Mo., has been playing guitar since age seven, Culbreth has been playing clubs and other venues for more than 20 years. Colburn, also an experienced performer, is one of the original four that met at Colonial Gardens.
"They used to be our house band," Bryant recalled. "They're a mixture of different other bands that played here over the years. They've been around; they're pretty well seasoned."
As local legend has it, Wallace, Robbins, Culbreth and Colburn got together at Bryant's urging (Wallace and Robbins were in a band called Jumping the Fence just prior to this time) and Uncle Pecos was the result. The mixture worked, and circumstance led the foursome to their first gig, playing Thanksgiving eve at Colonial Gardens.
"We were either good enough or bad enough that he let us off on Thanksgiving," Robbins quipped.
The quartet became popular locally, which led to gigs opening for national acts like Aaron Tippin, Tracy Lawrence and Earl Thomas Conley, a strong local following (about 150 are on the band's mailing list), the hit single, expansion to a quintet and the current album.
And, of course, the current quest for a spot in Nashville.
"Just to get in the game on your own merit is a good first step," Bowling said, referring to "Buy American." "(But) When I got up here and joined the band, nobody seemed to know they had a national hit record."
Perhaps not, but as the five sat sipping coffee and soft drinks, considering their future in the tiny dressing room of Colonial Gardens with posters of beautiful women, icy beer bottles and Randy Travis staring down, there was no sense of disappointment in their current position.
"It takes a lot to hang in there for six years and keep the same goal in sight," offered Colburn. "For some people it comes overnight, and for some it takes 10 or 15 years."
Those who know their talent believe, however, and so do the five men who comprise Uncle Pecos.
"I think they have a shot," said Bryant.
Walls said the band's initial popularity "seemed like it got to one spot and peaked out, but I always thought they're as good as anybody -- in Louisville or Nashville. And now they've got a product to pitch."
Whether the newly-released material makes the same splash as that first single three years ago remains to be seen, but recording contract or not Uncle Pecos will still be there with boot straps pulled up, guitars plugged in and smiles framing their gentle faces.
"We're sort of taking it like the economy," suggested Wallace. "Slow and sure."
l
Uncle Pecos will appear at Palomino's (formerly Sparky's) Oct. 19, 20 and 21. The band will return to Colonial Gardens for a two-week stint in early November.
Tags: