August 1995 Articles
Cover Story
Bob Bahr
Features
Earl Meyers
Les Reynolds
Columns
Berk Bryant
Decimus Rock
Mike Stout
Paul Moffett
Keith Clements
Todd Hildreth
Henry C. Mayer
Alan Rhody
CD Reviews
Kory Wilcoxson
Allen Howie
Bob Bahr
Allen Howie
Kory Wilcoxson
Kory Wilcoxson
Mike Stout
Allen Howie
Mark Clark
Bob Bahr
Michael Campbell
Performance Reviews
Decimus Rock
Ninette Shorter
William Brents
Michael Campbell
Interviews
Mike Stout
Calendar
Bob Bahr
News Item
Opinion
Photos
Pete Strojny
LASC
Jean Metcalfe
Jean Metcalfe
Blogs
Got Shows?
Send Them To Us
Bookmark Louisville Music News.net with these handy
social bookmarking tools:
Available RSS Feeds
- Top Picks
- Today's Music
- Editor's Blog
- Articles
Add Louisville Music News' RSS Feed to Your Yahoo!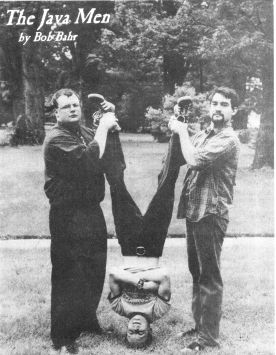 Java Men Cover Photo
The Java Men
Story and Photos By Bob Bahr
"We sort of strive to be the Ed Wood of jazz."
So say the Java Men, but the only scary thing about their music is the technique that it requires and the only cheesy thing about the group "is the "drunken mariachi Viking chorus" in the burnin' tune "Gaddzooks!" With two flattering recordings and a solid local following, the jazz trio is forcing people to rethink the assumption that original jazz music isn't marketable. Many major jazz artists mine the standards of the genre for money, while here in Louisville three young players make their way with songs such as "Here Comes Mr. Slinky" and "Enigmatic Lee." And they think what they're doing is the only logical action they could have taken.
"It's just a sonic sandbox, an arena in which to play," said Craig Wagner, the skinny, young-looking guitarist with guitar skills that sicken lesser players. As the only member of the Java Men who stands up while playing, Wagner is the natural focus of audience members. From his vantage point, the excruciatingly tight execution of their parts is a necessity, not a primary goal.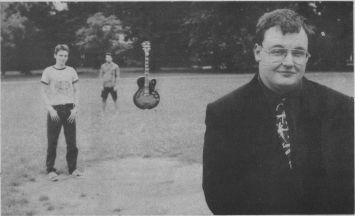 "With a lot of the tunes, if they're not played just right on the money, they sound terrible," Wagner said. Technique and sharp playing are de rigueur in the Java Men.
This love of precision in jazz is nothing new and the Java Men's open ransacking of musical styles (blues, bluegrass, funk, r&b, soul, Latin and Brazilian to name a few) isn't unheard of in a jazz world that has experienced Sun Ra and Charles Mingus. But the Java Men are notable for the places where they pick up their fans — rapt listeners marveling at the Jimmy Smith colors of Todd Hildreth's organ playing, the pan-stylistic drumming of Ray Rizzo and the Jimmv Raney coached fretwork of Craig Wagner. A substantial number of the group's fans are from the alternative nation. They heard the band at hangouts like the Twice-Told Coffeehouse, Tewligans Tavern and Highland Grounds. They heard the Java Men open for lo-fi stars such as Hula Hoop (whose members have expressed apprehension at the thought of ever taking guitar lessons) and Bodeco (whose musical simplicity is never questioned).
Seeing is believing when the Java boys trot out "It'll Never Happen," with its challenging counterpoint lines and dense bop poeticism and the people in the decidedly rustic confines of Air Devils Inn applaud from the far side of the bar. Young punks, blue-collar beer-drinkers, students and hipsters tap their feet to the Java Men. The city's jazz establishment, including traditionalists, shower them with praise.
But the Java Men's disregard for conventional marketing wisdom make the group a touch revolutionary. Jazz at Tewligans? Hildreth shrugs it off. What else can a young jazzer with ambition do in Louisville? Read charts in a touring band? Play more weddings?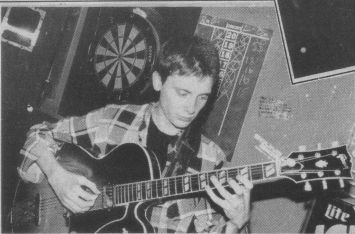 Craig Wagner
"A lot of us end up taking gigs where we're playing jazz at a function," said Hildreth. "That's cool, but you can't really stretch out.
Eventually I wanted to play original tunes and that meant finding the audience that would appreciate them. So I thought, why wouldn't the same audience that listened to original rock listen to original jazz?"
Jazz is just 'presumed to be music for financially secure people above 30, people who wouldn't be willing to listen to an energetic band like Bodeco. Jazz clubs almost always focus on the upscale listener. The Java Men knew there were people their own age (mid-20s) hungry for modern jazz. Those people were going to original rock music venues. So the Java Men crossed some invisible boundary line and played rock clubs.
The Java Men formed when Hildreth was asked to play the Twice-Told Coffeehouse's grand opening in October of 1992. The name was both a play on coffee's nickname and the prehistoric humanoid remains found on the island of Java. At first, the group just jammed out, playing standards and neglected favorites. After nine months Hildreth booked the band on a Rough Diamond Music Network showcase, an original music show at Phoenix Hill Tavern, to force the original songs to come. His attitude toward venues and showbills that are exclusively glued to one music genre is one of perplexation.
"We don't sit in a corner and say, 'We're the jazz band, over here,' he said. "We are one band among many bands playing original music. We are a local original band."
Okay. We'll sidestep the fact that the Java Men are very much a jazz band.
(Wagner once said, "if nothing else, by default it can be categorized as instrumental, improvisational music.") What does someone experience at a Java Men show? Hildreth sits at his Hammond XB-2, a computerized version of the classic (and prohibitively bulky) Hammond B-3 organ. Chances are good he's chewing on a straw, or maybe a toothpick, a tear-strip from the top of a milk jug or a coffee stirrer from McDonald's. It's a nervous habit he's had since college. Hildreth is probably sweating and he's surely bobbing to the beat. He's biting or pursing his lips.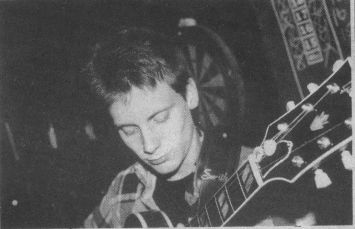 Criag Wagner
His organ playing shows unquestionable ability and quite a bit of confidence, with Larry Young's influence most prevalent and blue tones from Jimmy Smith evident as well. He protects the groove. His solos show a chattering, intelligent gift for improvisation and a solid sense of when to build for the big moment. With his left hand, he plays a bass line that locks in with Rizzo's drumming. It's not as good as having a bass player, but it's much better than having an empty-sounding trio. Hildreth handles his bass duties well, but they are simple by necessity. Does he ever wish the Java Men had a bass player?
"In the middle of certain tunes, yeah," Hildreth said, evoking laughter from the two other Java Men. "But no — I've always been fascinated by the concept of a trio. The first music I really got into was boogie-woogie piano, with independent things going on with each hand."
In the back of the stage is Rizzo, looking one-tonsured-haircut short of being a handsome monk, his hands casually dishing out the shifting rhythms.
"I hear just everything in Ray's playing because he's always switching back and forth with grooves," said Wagner. "He's always experimenting with different ways to play the tunes, but it never chokes or strangles it. In fact it helps it breathe more. And his influences run a wider gamut even than ours do—everything from Joey Barron to Snoop Doggy Dogg."
Of the three, Rizzo is the one who takes the least amount of solos. That's a shame, because a Rizzo solo can be powerful and electric. He's also the only member of the group who hasn't written tunes for the band. And that is mostly attributable to what he sees as his role in the Java Men.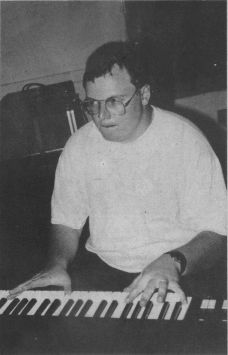 Todd Hildreth
"My whole attitude really hasn't changed that much from when I started playing with the group," Rizzo said. "I realized that the time I was devoting to the group wasn't equal to the time they have put into it. The focus was on developing their songs."
Rizzo had another project eating away his time: lovesauce & soulbones. The Java Men were always a second priority for Rizzo while lovesauce was up and running. The popular funk/rock/ gospel group broke up last March, freeing Rizzo to take a more active role in the Java Men.
"Ray's situation with lovesauce made things difficult for a while," said Hildreth. "We ended up working with a couple of different drummers during that time. But now, there's a pretty level commitment between the three of us."
Rizzo's renewed commitment last spring not only provided the group with a permanent drummer, it also gave the group a percussionist On some tunes, he'll play drums with one hand and percussion (often a conga) with the other, further thickening the sound of the trio. Wagner said that even while the drummer's slot was filled variously by Rizzo and a few subs, the creative growth of the Java Men continued.
"Creatively, I don't think there's been a lag. There's been a bevy of tunes written. There's a whole bunch that I haven't presented to the band and there's a lot that Todd has written that we haven't played yet," Wagner said.
A reserved figure on the Java Men stage, Wagner is a mixture of understatement and extreme. People come away talking about his two-handed fretboard tapping, his simultaneous lines or some other flashy technique, but it's the subtlety of his decisions and the taste that he exercises that make him invaluable to the Java Men. Consider this from Wagner: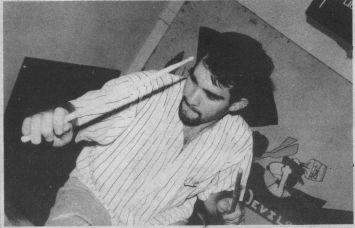 Ray Rizoo
"I think the slower tunes are best, because there is more room, more room to reach a peak and explore dynamics. On a fast tune, where do you go?"
Showing off chops is not the goal. Providing space for the listener, developing themes and grooves, working as part of a team in the construction of a song — that is the goal. Wagner's solos are impressive, but so is his accompaniment. Good comping is a valued skill among the Java Men.
"When I'm most frustrated is when I feel like we aren't mentally or emotionally functioning together," Rizzo said. "I'd be happy if the solos didn't have quite the same flash on some nights, but we sounded better as a unit."
"Todd best described soloing as the leader of the composition at that moment," Rizzo continued. "That idea opened up a lot for me in approaching a composition ... Learning to be aware and sensitive to the other players.
"It's everyone's thing, but you're just leading it," Hildreth said in explanation. "Soloing is not just railing over the changes on top while the others keep time. And good comping involves knowing how to push the soloist where the soloist wants to go."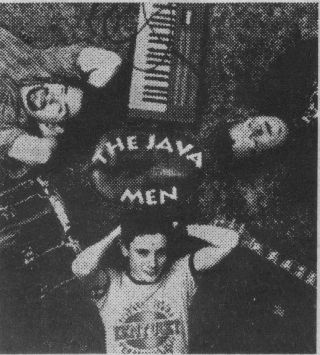 The inner structure of the Java Men is fairly laid back. Biting humor rules rehearsals. Each is teased mercilessly and accused of all sorts of vile actions and motives. It all means nothing.
Then again, it means something when it translates into the music. Wagner compared the group's use of musical humor to that of Mingus, with a surprising chord provoking a chuckle or the juxtaposition of styles creating a mild absurdity. Their humor is evident in the song titles, too.
The group is ostensibly a democracy and contentious votes are rare. Hildreth is left to handle the business duties. He downplays' his role, but Hildreth has been the member providing the vision for the Java Men from the beginning and even today, his words seem to carry a bit more weight than the others. Rizzo likened Hildreth's role to that of a big brother.
Wagner has written twelve of the band's sixteen recorded songs. What does big brother think of that'?
"There are frequent comparisons of our tunes," said Hildreth, "but there's no competition. I assume that there's a mutual respect," he chuckled. All three agreed that Hildreth's tunes, which are usually more groove-oriented, serve as rough blueprints. He writes with the Java Men in mind.
"They say that I write tunes for guitar and accompaniment," Wagner said with a laugh. "That's been the big beef with them and it's kind of funny. They're pretty understanding of the kind of things that I write and the aspirations I have as a guitar player. They give me a lot of grief about it, but they let me do it."
"I'm going to try writing more for the band, dispersing all the textures and harmonies across the board and writing more with each individual player in mind."
Hildreth put it very kindly: "Craig's tunes are more likely to get translated to other mediums, whereas mine are written for these three people."
Wagner's tunes carry a trace of bluegrass and the flat-picking guitar technique, a sound that captivated him for a spell several years ago. There are written passages with intricate parts. And the songs are beautiful.
"Gaddzooks!" begins with a bewilderingly difficult guitar lick and settles down into a breakneck jazz dash with a hint of hot country. "A Letter to St. Paul," a meditative tune with a convoluted chord progression, builds to cymbal-splashed peaks. Perhaps this is the tune that should have been named "Gaddzooks!" as Rizzo's drumming is reminiscent of Steve Gadd on the cut. "St. Paul" is the title track of the Java Men's just released second album.
On their first recording, a self-titled live cassette of eight songs, the band attempted to capture the standout Wagner song "Joy."
They take another crack at "Joy" on A Letter to St. Paul. with Wagner playing the dramatic introduction on acoustic guitar before switching to a Stratocaster for the bulk of the tune. "Joy" is referred to by the Java Men as their "hit," meaning it's the song that seems the most admired and requested by fans. And Wagner is a little tired of playing it.
"All I can say is that I can't imagine writing a tune like that or "Rooster" [a Wagner tune with blatant bluegrass flavor] ever again," Wagner said. "I hear things a lot differently now. I still really love both of those tunes though."
But with Hildreth writing gequally captivating songs like "Jimmy the Spock" and "Chaz Haz Imploded," is there a rivalry between the two musicians? "In all honesty, Todd does nothing but encourage Craig's creativity," said Rizzo.
"As far as any rivalry, that's only joked about. It's never taken seriously; it's a running joke. That's what's great about this group compared to most I know. There's almost no ego involved."
Quite honestly, there's a lot that's great about the Java Men. People do have criticisms of the group and many of these criticisms originate in what people think the band should be.
"I've heard people say, 'Well, that's good, but it's not jazz.' What's the more important question?," asked Hildreth. "They seem to be more concerned with defining the boundaries of it than anything else."
"For instance, on "Cellophane Mary," we spend time developing a groove," said Rizzo. "It's the pop rhythms — that's what is getting questioned."
"I think it's definitely a fresh sound," continued Hildreth. "I think that we're very sincere at what we do. Reduced to its most basic components, we're not doing something startlingly new harmonically or melodically. But what we bring to the group as individuals — different experiences, different influences — I think it makes it fresh. We're definitely into the jazz tradition and trying to study it. It will probably be a lifelong process. But we also feel like we are three 20-something people living in 1995, so there's a lot of things out there that can be incorporated tastefully."
Whether it's a bossa nova, a soul groove or a bluegrass angle, the Java Men refuse to adhere to the traditional style of playing it. They are too busy mixing, matching, exploring and playing. Even the traditional roles of an organ trio are subverted somewhat. For instance, just what composes the rhythm section in the Java Men?
"Depending on the song, anyone of us could be carrying the time at any point," Rizzo said. "We've all really lean on each other. We don't operate as a typical jazz group where the bass player is the focus of the rhythm section and everyone listens to them and builds on it. It is handed off from each of us."
The Java Men said what they are striving for is a loose tightness, an orchestrated ease, much like Mingus accomplished in his blend of written parts and improvised passages, mixed tempos and blended popular and jazz styles. Like Frank Zappa, they want to be free to hybridize grooves in a sincere mixture of styles, yet still be successful in the marketplace. They also admire Zappa's sense of humor.
"What we do, we take very seriously, but we don't take ourselves very seriously," said Wagner. "I think that the biggest problem with the music industry is there are too many people who take themselves too seriously and don't take what they do seriously enough."
With at least two practices each week and lots of individual practice in between, the Java Men certainly do take their music seriously. "There are passages that are to be the same every time and there's really no reason not to get it right every time," said Hildreth. At the same time, Hildreth is happy to be an auxiliary member of King Kong, a lo-fi alternative band that has played Lollapalooza — and rarely practices. It's just for fun.
Wagner actively pursues solo gigs, where he can work out some ideas that have been nagging him and improve his playing. Rizzo subs for Stuart Johnson in Love Jones when Johnson is busy playing for Matthew Sweet and he also is a member of a talented songwriting group called Mandoo L'woo.
Right now, all-three are energized by the release of the new CD and the growth that they've seen in themselves.
With this caliber of players, there is always a danger that someone will be lured away by an offer that can't be refused. Hildreth, Rizzo and Wagner realize this. They also realize that the Java Men is something well worth pursuing.
"I believe there is a nationwide audience for this music and I believe we can make a living playing it," Hildreth summed it up.
"In this past year we reached plateaus as players, all three of us developing ourselves in distinct directions," said Rizzo. "But the group is still growing, the plateau as a group is yet to come. I'm so proud of the growth between this recording and the last one."
Tags: