May 1995 Articles
Cover Story
Darrell Elmore
Features
Robert Gruber
Earl Meyers
Darrell Elmore
Columns
Duncan Barlow
Berk Bryant
Decimus Rock
Mike Stout
Paul Moffett
Keith Clements
Todd Fuller
CD Reviews
Robert Gruber
Bob Bahr
Jeff Walter
Mike Stout
Robert Gruber
Bob Bahr
Robert Gruber
Mark Clark
Mark Clark
Kory Wilcoxson
Jeff Walter
Mark Clark
Performance Reviews
Robert Gruber
Mike Stout
Jean Metcalfe
Ninette Shorter
Decimus Rock
William Brents
Mark Clark
Interviews
Mike Stout
Calendar
Bob Bahr
Opinion
Photos
Mark Tucker
LASC
Cindy Lamb
Jean Metcalfe
Blogs
Got Shows?
Send Them To Us
Bookmark Louisville Music News.net with these handy
social bookmarking tools:
Available RSS Feeds
- Top Picks
- Today's Music
- Editor's Blog
- Articles
Add Louisville Music News' RSS Feed to Your Yahoo!

Issue`: May 1995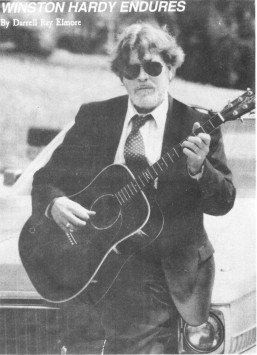 Winston Hardy - May 1995 Cover
Winston Hardy
By Darrell Ray Elmore
Photos by Eddie Davis
It's tough getting older, established rock 'n' rollers to talk about their life. They're reluctant, in the most frustrating way. They'll tell you this really great story, all about hanging out with Owlsley in San Francisco, and how one night walking home from Jerry Garcia's place, tripping their brains out, they saw extraterrestrials. UFOs, man. And they looked just like "clean-cut Chinese yuppies." Then, once the story is over, they look at you, smile and say "but you can't print that."
What do you do in a situation like that?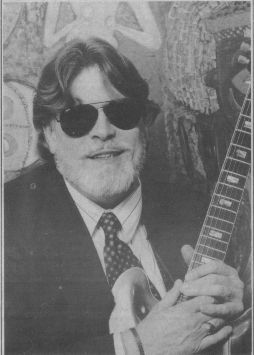 Well, you try to "weave it in," I guess.
"When you get in the record business someone gonna rip you anyway so that don't bother me. If you don't rip me, she gonna rip me, and if she don't rip me, he gonna rip me, so I'm gonna get ripped, so you don't be bothered by that, because people round you gonna rip you if they can." – Muddy Waters.
"My business interests are self-defense." –Frank Zappa.
Blondie's – The place is nice; big sign in front proclaims "THIS IS NOT A GO-GO BAR!" Inside, it looks like it used to be a go-go bar. Groovy Vegas-style layout, lots of chrome, brass posts, and wall panels that would look about right on "Lost In Space," maybe in Will Robinson's compartment on the "Jupiter 2."
Definitely spacey, but clean. Yeah, Vegas, but like North Vegas – somewhere off the strip.
Of course, this is the nefarious 7th Street Strip ... as close as Louisville gets to Vegas ... unless you count that off-track betting place.
And there are plenty of topless bars within easy walking distance ... but we're not here for half-naked women ... we're here for Winston Hardy.
There's a stage. And there's people on it. A lot of people. Like eight people, all playing the blues. A saucy number, upbeat. New Orleans-style? Yeah.
Big guy up front has a kinda Kris Kristofferson thing going with his hair, but he's cool. He's got what looks like a pair of pince-nez hanging on a chain around his neck. Studious. Academic. Professional.
You bet.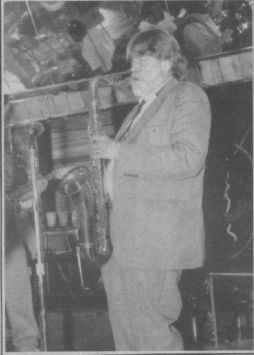 Sax At Blondies
I've noticed something about the blues. Good blues always seem kind of syrupy; they tend to roll off stage. There is the rhythm of water there ... .
This stuff is like that. But tight, real tight. Motor tight. Winston Hardy and the Roadmasters, chugging along in high gear. A three-Cadillac band. But it wasn't always like this.
Once it was called the "26th Street Tavern Original Blues Band." That was back when Smoketown Red was in the band. Then it was something called "Winston Hardy Original Blues Band," then for a while it was just "Winston Hardy." If you go way back, back to 1957, you could call it "The Pharaohs," and you'd be on the money. During the '60s it was "The CIA."
What is "it?" Why "it" is Winston Hardy, the guy with the pince-nez, looking 'bout half like a college professor.
He doesn't look too professorial in a 1961 photo advertising "The Mom and Dads Booster Club Carnival" at Male High School. In that photo he looks like a mischievous young man who blows sax like a "hep cat." Hardy gigged around with guys like Freddie Kaiser and Denny Doyle, way back in '57. Kaiser's now in the Rusty Spoons; he's the bass player with the cool hat.
Back in the '50s, rock 'n' roll lived and breathed on 7th Street, and The Fabulon, which became the Thorobred Club (now a strip bar), was where all the "hep-cats" gathered to rock the town. Bands like The Carnations, The Casuals, The Sultans, The Monarchs and The Pharaohs could pull in $300 to $400 a weekend, and as Winston says: "That was some serious money in 1957."
Winston also pulled gigs in Indiana. "Fifteen hundred to two thousand kids, all about 17 years old, would pile into these huge barns out in Jasper, Indiana, and for $2 it was all the beer, fried chicken, white bread, and rock and roll you could gulp down."
Hardy had left the Male High School football team to blow sax, make money, and hang with chicks. Rock 'n' Roll was the new big thing, and just about every high school band member in Louisville bought a shiny suit and made the scene. Besides the Fabulon, and the bucolic gigs in Jasper, there was always a spot opening for The Monarchs at Fontaine Ferry Park.
Then came the '60s. The Beatles' British Invasion was felt even in the heartland. Rock 'n' roll was reborn, and after the tumultuous surprise of having the Brits do rock 'n' roll music even better than the Americans who invented it, thousands of Beatles-listening, Rolling Stones-copying musicians split for the coast. After touring a number of college campuses (as a student), Winston rode the wave all the way to the Source: San Francisco, hippie heaven, the huge cauldron of drug-addled, new-horizon-surfing refugees from the heartland. Perfect.
It was while hanging with this new breed of "hipsters" that Winston formed The CIA, and straddled the stage opening for acts like the Grateful Dead and Moby Grape.
A newspaper clipping from around this time (1965) describes Winston as "son of local merchant and funeral director Harold W. Hardy," and goes on to say in a local-boy-does-good sort of way that Winston had just been accepted at the University of California. It also says, and I quote: "He is at present, working with Frank Zappa, of 'Studio Z,' in recording; and playing, when possible, with a group of musicians who are rehearsing for a possible upcoming recording contract with Capitol Records, and an audition for the TV program 'Shindig.' But as Winston clearly states, '. . . I do not count on any of these breaks. I have been playing for over five years now and every band I was ever with thought they would be in the "big-time" by next month. My only goal, of the moment is to earn enough money in the business that I can continue my education ... With this education I hope to be able to combat the racial prejudice I saw in the South and man's inhumanity to man that one experiences while traveling and living with an empty wallet – instead of "touring" with a Carte-Blanc Card.' "
Pretty heady stuff for a 20-year-old kid.
It was also during this time that Winston got to meet and hang out with all the rock 'n' roll stars of the period. "Many of them, it was like a chance meeting, you know, like walking up and shaking a hand backstage after a show. I'm not one of those guys that says 'Man, Jerry couldn't have done it without me ... .' But I can say 'Frank couldn't have done that first album without me ....' "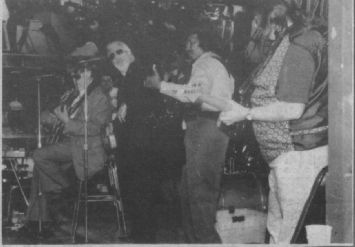 The Roadmasters: Hardy, Rocky Adcock, James Warfield and Andy Brauner. (left to right)
After turning down an offer from Jerry Garcia to play with the Grateful Dead ("I told him, 'Sorry man, my band and I have got a good thing going,' then three weeks later we broke up ...") And getting his fill of the Haight-Ashbury scene (Owlsley was my patron ... no s–-"), Winston packed up his family and headed back home.
Thus started Winston's search for something to do besides music. He tried a number of jobs: cab driver, hod carrier, advertising salesman, even private detective. But it was his father's business that provided the best niche.
"I spent several years as funeral director for my father. This was my early 30s, and I stopped playing music. I found it impossible to do the party thing at night for people, then deal with all that grief and suffering during the day."
And it was this position that caused him some trouble. An idealist and firm believer in civil rights, Winston found himself caught up in local politics ("I ran for mayor and got one-third of the votes"), fighting against white supremacists. "It was terrible. For 15 years myself and my family were harassed, humiliated, attacked. They even shot at me, and I'll be d––- if I wasn't going to shoot back."
Finally, the harassment proved too much, and Winston's wife convinced him to move to Louisville, where, hopefully, they could find some peace.
When I met Winston at his rather palatial estate, the first thing I asked him was "How did you get so rich?" His reply, true-to-form honest and off-the-cuff was, "My daddy." When I told him my own father was pretty well-off, but that I didn't see much of it, he said, "I've waited a long time."
It is just this kind of honesty that makes Winston unique ... and perhaps a little difficult to deal with. People aren't used to someone who speaks their mind, and that can put them off. I found it most refreshing, and completely unpretentious.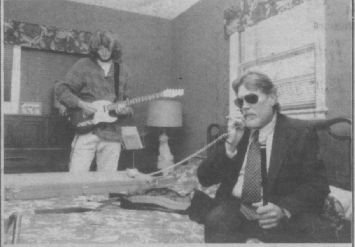 Hardy and son Hal
While shooting pictures for the cover of this newspaper, Winston stole a look at himself in a mirror and proclaimed, "I look like some homeless MF in a big suit!" After the photo session, Winston came out of his "big suit," and the two of us found a quiet spot to talk, ironically the bedroom of his father, who is in the hospital in quite ill health and not expected to make it.
Once out of the suit, Winston was just another man in a T-shirt with holes in it, not the cool, sunglasses-and-black-tie blues cat that had posed on the hood of his Cadillac. I appreciated the irony and intimacy this man was affording me, and when Winston's wife, Nancy, came in and proclaimed "you boys found the most uncomfortable place in the house!" I had to disagree. Sitting in a rocking chair talking to Winston as he sat on his father's bed is a memory I will take to my grave. While the rest of the house was immaculate, this room held vibes important to the man, and these feelings seeped into me like heat from an electric blanket.
The entire time we talked, Winston's 19-year-old son Hal hung with us, and I could see in his admiring gaze the same sort of bond I expect exists between Winston and his own father. I could tell that Hal had heard many of the stories that Winston was relating, but every so often something would slip in and I could tell by Hal's eyes that it was a "new one" on him.
Perhaps the most amazing thing about Winston Hardy is his son, Hal. Quietly polite, he of the wolfman beard and long, layered brown hair, at 19, Hal has been playing with his father's band for just a couple of months. He told me that he gets nervous on stage, and doesn't like to do extended solos, as then he gets "really nervous." During a few minutes when Winston was out of the room, I asked Hal a few questions, and he said, "Wait, I wanna show you something," and when he came back he was carrying a tiny, red, Silvertone-type guitar. "This is my sister's," he told me, "but she never plays it. I learned on this, then dad got me a Telecaster, and I learned a lot more on that, 'cuz it's so much easier to play, so much smoother ... ." When I asked Hal if he played with other kids his own age, I expected him to tell me that he did and that they played Nirvana covers and such, but he surprised me by saying, "Yeah, I've got a few friends, and we've kinda got a jazz quartet going."
Indeed? Seeing the smile in my eyes, Hal said: "When I first started playing guitar, you know, it made me hear music differently. I mean, I used to like Van Halen, and all that stuff, back when I was a kid, like 5 or something ... . Now I dig jazz. ... "
Like father, like son. Winston: "When I was a kid, I wanted to be a jazz cat, but I was never good enough ... even out in San Francisco, I was like a third-rater, you know, but I was still proud to be a part of it all ... even as a third-rater. Like all the other kids, I was singing about "C'mon and love me ... " or "Love you, yeah, yeah, yeah ... but now, I'm older, and my songs have changed. Now they're more about "I loved her and this is what happened ... " or "Don't love me cuz I'm like this ... I like to think my music is more than just entertainment. ... I see it more as therapy ... for myself and the people listening. Everybody needs an escape, a relief. Good blues music can be that relief."
No doubt. The present line-up of Hardy's band is ready, willing and able to provide you with relief. James Warfield, Winston's bass player, originally played with Henry and the Noisemakers. Sam Harris, the drummer, has a Ph.D in music, and played with Winston back in 1961 at U of K. Winston says he was at first leery of asking him to play again, as Sam is so good. Hal nods and says, "Sam is all the time showing us stuff on the guitar. I've learned a lot from him."
Hal plays rhythm guitar, and trades licks with Andy Brauner on lead. Joe Moore blows the blues harp, and does one heck of a job. In fact it was his sound that captured my attention right off the bat, when I saw The Roadmasters perform at Blondie's. Winston told me that Joe "just showed up one night at Dutch's, and I think he had Andy with him."
"Rocky Adcock, premier bluesman and big man in the musician's union, sings vocals, along with Joyce Stewart, who has performed with such luminaries as James Brown and Solomon Burke.
These good ol' boys (and girl), are preparing to release a CD entitled Mumbo-Jumbo, right around Derby Day, and Winston is also preparing to publish his novel, "Endurance," at the same time. The book is primarily about Winston's trials and tribulations with the law, human rights, and surviving a world that has changed dramatically three times in about as many decades. His has been a long life, filled with pleasure and pain and tests, both personal and public, that would break a lesser man ... far too much to sum up in the paltry 3,000 words I have here. I didn't even get to mention the time when Winston and his wife built a log cabin, accidentally burned it to the ground, then built another on the ashes ... a pretty good story, and one you should get Winston to tell you if you ever have the pleasure of meeting him. It's a good parable of this man's life, and I think it dramatizes the philosophy behind the man: Never say die, never give up, the payoff is bound to be just around the bend ... .
Winston Hardy did time in some of the best schools in the country, but claims he is no less the man for it. He taught English at the University of Louisville, and came within one credit of his master's degree. He has no regrets, and claims that the one credit he is lacking is perhaps the talisman that has placed him in a life of sweet success. That, and his father's undeniable business success before him. I asked him if he thought it was ironic, his comfortable home, his loving family, and his dedication to singing the blues. He agreed, but claimed that the blues was all he knew, and that he was more than comfortable singing them. He has no pretensions about his lot in life, and says that he often feels as if he is living his own personal dream. "I lock that door at night, and I feel like I've died and someone has made me president. You ever see that movie 'Brewster's Millions'? Or 'Dave'? That's the way I feel. Just a good ol' country boy living the bluesman's dream of gigging regular and having plenty to eat, but don't think I don't realize that I wouldn't be able to do this if my father hadn't sold all those groceries and buried all those good people."
I convinced him to give me a ride in the Cadillac he is so proud of, and as he was pulling away, he told me, "I think they were right, putting you with me ... ." Ten minutes later, my phone rang. It was Winston. "Hey babe," came the gruff voice from the receiver, "You don't worry about all I said about not printing this or that ... you write whatever you want. Talking to you cleared a lot of things up in my head, you know? Almost like therapy or something ... and I didn't even have to pay for it. Ain't life sweet?" As long as there are people like Winston Hardy in life, I'll tend to agree.
Tags: