July 1993 Articles
Cover Story
Mark Clark
Features
Staff
Columns
Duncan Barlow
Berk Bryant
Jim Galipeau
Jan Winders
Paul Moffett
Keith Clements
Todd Hildreth
Elaine Ford
Alan Rhody
CD Reviews
Steve Estes
Allen Howie
Mark Clark
John Goodin
Bob Bahr
Allen Howie
Kory Wilcoxson
Allen Howie
Bob Bahr
Kory Wilcoxson
Performance Reviews
Wally Stewart
Paul Moffett
Jean-Marie Ebel
Mark Clark
Joseph J. Di Cicco
Jean Metcalfe
Mark Clark
Allen Howie
Darrell Elmore
William Brents
Allen Howie
Interviews
Mark Clark
Paul Moffett
Calendar
Staff
News Item
Paul Moffett
Staff
Staff
Staff
Preview
Bob Bahr
Photos
Letha Marshall
LASC
Staff
Staff
Staff
Ray Yates
Ray Yates
Staff
Jean Metcalfe
Bookmark Louisville Music News.net with these handy
social bookmarking tools:
Available RSS Feeds
- Top Picks
- Today's Music
- Editor's Blog
- Articles
Add Louisville Music News' RSS Feed to Your Yahoo!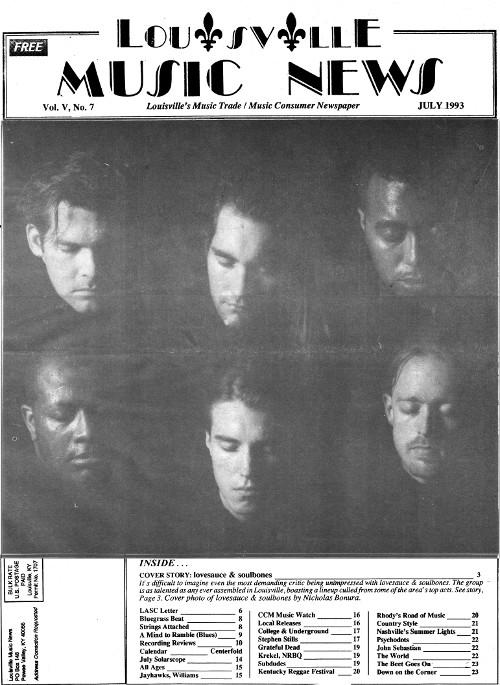 ?>
lovesauce and soulbones
By Mark Clark, Contributing Writer
It's about 10 p.m. at the American Federation of Musicians local union hall on Bardstown Road.
In one corner of the ugly, yellow practice room sit the members of former Domani bassist Sam Anderson's new band, lovesauce and soulbones. They're in a circle of metal folding chairs. Empty fast food bags are scattered at their feet – Arby's, Long John Silver's, Subway.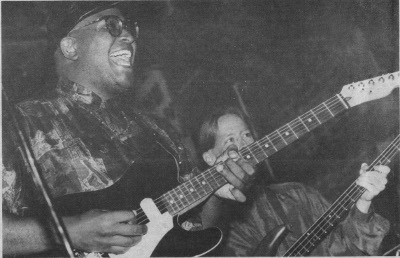 Sam Anderson at left, and Dan Kiely
Keyboardist Scott Thomas has his back to the rest of the group, his finger on the keys of the union hall's resident baby grand. In his sock feet, drummer Paul Culligan is playing a stripped-down kit with only a bass drum, snare and high-hat. Anderson has an electric guitar, Dan Kiely his bass and Mauriece Hamilton his saxophone. Percussionist Ray Rizzo is empty handed.
The band is working up a tune not yet unveiled for the public, "The Doo Doo Song."There are a couple of false starts. Then suddenly, like a bloodhound picking up a scent, the band finds the groove. What was supposed to be a loose run-through is instantly transformed into something else. The intensity level in the room skyrockets.
Rizzo, eager to get involved, searches the floor for something, anything to serve as an instrument. He unfolds an extra chair and begins rapping on it with two empty, plastic water bottles.
"That's not bad. That's pretty good,"Anderson says when the song is over. Coming from a notorious perfectionist, it's high praise.
"It's something I can truly believe in."
It's difficult to imagine even the most demanding critic being unimpressed with lovesauce and soulbones. The group is as talented as any ever assembled in Louisville, boasting a lineup culled from some of the area's top acts. (See sidebar, page ??). But it takes more than a constellation of big names to make a group successful. (Anybody remember Asia?) For lovesauce and soulbones, that extra something is, well, a mission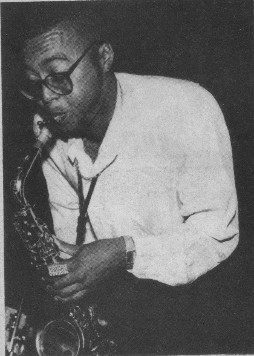 Mauriece Hamilton
"Frankly, we all came from pretty big things — Goodnight Maxine, The World,"Hamilton said. "We all hand things we dropped because we're all working for the same thing."
Call it pretentious, idealistic or just foolhardy, but what the band says it's working for has more to do with making a difference than making a mint. Although several record industry insiders attended the band's public debut June 2 at Phoenix Hill Tavern (See review, page ??), rock stardom isn't on the band's agenda — at least not in the traditional hotel room-trashing, groupie-mongering sense of the term.
"When I first got into the group, it wasn't to get a record contract, to get rich, nothing like that,"Culligan said. "It's about changing something that needs to be changed. ... There's so much dark out there right now, it's running rampant."
The hope, expressed by every member of the band, is that the group's music will help brighten listeners' lives.
"I think my generation is sick, spiritually,"Rizzo said. The band members range in age from 22 to 29. "The whole thing about being a cowboy who's just going to ride the range and survive, (that's) not knowing how to handle freedom."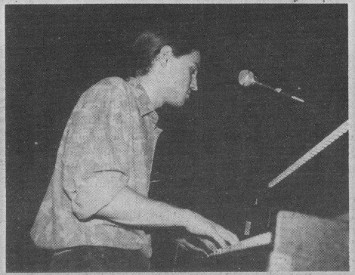 Keyboardist Scott Thomas
In the band's music and sense of purpose, Rizzo said, "my head and my heart are together. It's something I can truly believe in."
At first listen, observers may find the band's penchant for rumpshaking grooves lovesauce and soulbones' most striking dimension. But there are definite spiritual undertones to the group's material.
Take, for instance, "Move Your Net,"perhaps the group's strongest number. On the surface, it's a dance-floor-packing rocker. Underneath, there's a message, related with nearly Biblical fishing imagery by lyricist Anderson:
"Yours is the life of most dreams
Is that your house on the hill?
Got all the material things once could desire
You're unhappy still
Move your net to the other side
You're fishin' in the wrong spot"
The message is even clearer in "Love and Peace,"a ballad also written by Anderson:
"We all have to suffer
But we get our release from one another
Maybe tomorrow there is a sweet by and by
May we find love and peace and an answer why"
Anderson broke down and cried singing those words during the band's debut. Hamilton teared up during "Talkin' 'Bout Love,"a song which reminds him of his daughter.
"There's going to be a lot of times through the first few nights I might break up,"Anderson said. "Frankly, I hope it happens all the time. I want to get lost in it. To me, that's what makes it real."
Hamilton said that, eventually, every member of the band will have an experience like his and Anderson's, because every member of the band is committed to the same philosophy.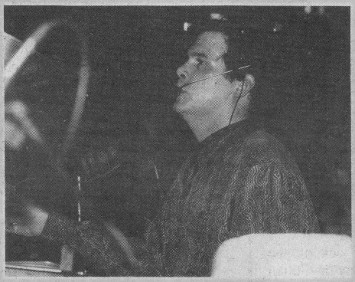 Drummer Paul Culligan
"Everybody will go through it,"he said. "When you've gone as far as you can into yourself and you put yourself on that platter, when they can see the real you, that takes a lot out of you."
Some fans in the audience will be affected as well, Hamilton said.
"I don't have to touch everybody, but if I touch one person in the audience and they feel what I feel, I've done my job,"he said.
"If you dream on a big level, that's what you'll be."
None of this should give you the impression that lovesauce and soulbones are a bunch of overly serious types who spend their days watching CNN and weeping for the soul of man.
With a name like lovesauce and soulbones, the guys can't take themselves too seriously. This is a band that counts Bugs Bunny and Jim Henson — along with Curtis Mayfield and Prince — among its strongest influences.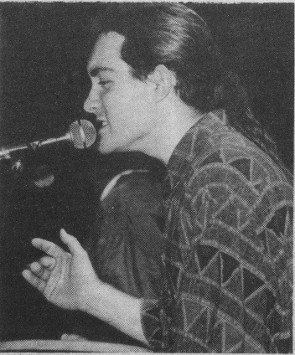 Percussionist Ray Rizzo
After practice, when I attempted to interview them, the fellas insisted on playing a perverted sort of musical chairs.
The six members circled a line of five chairs. I asked a question. When I had finished my query, band members made a mad dash to get their rear ends into a seat. The member left standing — the loser — had to answer the question. His bandmates applauded what they deemed good responses and booed poor ones.
I felt as if I had stepped into a cross between "Family Feud"and "A Hard Day's Night."The group serioused up, however, when I asked the band why it had sworn off playing covers. Culligan said he's been playing covers since he was 14 years old and he's sick of it. Anderson's answer was more ethereal.
"If you did covers, what would you leave behind?"he said. "There's not enough people speaking out, trying to make things better."
As Anderson's answer suggests, the band's decision not to play covers is only part of a bigger picture — lovesauce and soulbones' vision of itself as more than a "local band."The mere placement of those words in succession is enough to make Anderson wince.
"I hate being called a local musician,"he said. "I haven't been a local musician since I was 13 years old. I love Louisville, but there's no outlet here for what I do."
The band's sense of purpose, its desire to make a difference, all but mandates that it think of itself as more than a Louisville band, he said.
"If you say Louisville, you box yourself in,"he said. "I like to think if you say the world, that's too small. What I want to be about is so much bigger."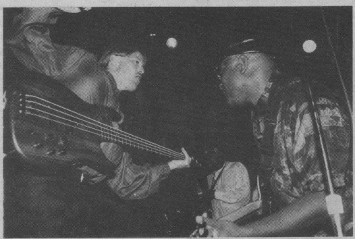 Dan Kiely, at left, and Sam Anderson
Kiely, in a separate interview held earlier, said he sees the group's potential as boundless.
"Knowing the people involved and based on the reaction to the first show, I don't see any limitations on what could happen, on what we could do,"he said. "You don't have to look at huge or ultra-huge. If you don't have limitations, you can just look at full steam ahead."
The band's approach to booking reflects that damn-the-torpedoes approach, as well. You won't find lovesauce and soulbones playing typical bar gigs. No 45-minute sets with 15-minute breaks to drink and mingle with the crowd.
The band and its managers, Garry Cronin and Bob Bahr, have sworn to book the band only in "concert"format — headliner-style shows with two hours or more of continuous stage time. It's a gamble, but one Cronin said fits with the band's mindset.
"It's important for people to understand what we're doing as an organization,"he said. "There have been a lot of good bands from Louisville. One problem is they didn't really clarify their views as far as what they wanted, where they wanted to go. ... If you dream on a small level, that's what you'll be. If you dream on a big level, that's what you'll be."
So far, the unorthodox strategy appears to be reaping dividends.
The feedback from the many musicians and insiders who attended the band's debut was all positive. Selections from the band's performance were broadcast on WQMF-FM, as part of that station's Local Music Hour. lovesauce and soulbones made played its second gig at Phoenix Hill June 27. Its next performance will be July 4 at Tewligans Tavern, with more July dates to be announced soon.
"A guided collaboration"
Kiely admits that he was intimidated, at first, by working with Anderson.
"It was a unique situation because Sam's a bass player and a great bass player,"Kiely said. "I'm more confident now than I was in the beginning, as far as being able to deal with him on an equal level."
Kiely's reaction is certainly understandable, given Anderson's heavyweight resume and the knowledge that, initially, Anderson was planning to piece together what he calls "a 'Sam Anderson and' thing."
But Kiely describes the band's inner workings, especially its songwriting process as "collaborative, increasingly collaborative."
"A guided collaboration so far, is how I would describe it,"he said. "I haven't noticed a lack of ability for input. When it comes down to it, everybody's got an equal say."
"We try to get what he wants it to be, how he hears it, then everybody adds a touch to it,"Hamilton said.
Nevertheless, Anderson has written most of the band's material so far, and has a knack for getting his way when he wants to. ("Talkin' "Bout Love,"one of the high points of the band's debut, wasn't on the play list until Anderson had a last-minute change of heart about the piece.)
He's also been known to drive the band relentlessly in practice, until he's convinced a song is perfect. It can be rough going, but no one's arguing with the results. "I'm proud of every single one of these tunes,"Culligan said.
Such tactics can lead to some tension, but Anderson said a little tension healthy.
"Everybody here's been a leader at some time, so you get that tug,"he said. "I think that's the magic."
As the band's nominal leader, Anderson feels it's his responsibility to ensure that "magic"doesn't degenerate into malice. He watched arguments intragroup squabbles tear apart the critically acclaimed Domani after the group signed with MCA Records.
"There was so much misdirected energy in Domani, that's what ultimately tore the band up,"he said. "The lines of communication have to stay open. That's the main thing about Domani. People quit talking about what they didn't like, and about what they did like. When they did, it was always in the form of an argument and I was always in the middle of that. ... I, me, myself, those are some destructive words unless you're doing something to better yourself."
Anderson said he thinks back on the Domani experience nearly every day, often contrasting that band with his current one. He said that, as long as band members continue talking to each other, lovesauce and soulbones will survive — and flourish.
"I know there's going to be some problems,"he said. "I wouldn't be stupid enough to say there won't be any problems. I don't doubt there's going to be some mistakes made. That's life. But if you see progress, you can keep going."
So far, at least, everyone is not only willing but enthusiastic about going forward.
"There have been some growing pains as far as trying to figure each other out,"Thomas said. "As long as we practice what we preach, what we're saying in our songs, I don't see any reason why we can't make a great change."
Tags: