May 1992 Articles
Cover Story
Jean Metcalfe
Features
Karen Le Van
Paul Turner
Staff
Bob Bahr
Paul Moffett
Columns
Berk Bryant
Jim Galipeau
Paul Moffett
Earl Meyers
Alan Rhody
CD Reviews
Dallas Embry
Dallas Embry
Bob Bahr
Performance Reviews
Paul Moffett
John Goodin
Rob Nichols
Allen Howie
Karen Le Van
Wally Stewart
Jean Metcalfe
Leslie Turner
Paul Moffett
Interviews
Jean Metcalfe
Jean Metcalfe
Calendar
Staff
News Item
Staff
Paul Moffett
Staff
Staff
Staff
Jean Metcalfe
Staff
Preview
Bob Bahr
Bob Bahr
Opinion
Jeff Hutchins
Errata
Staff
Staff
LASC
Staff
Mary Washburn
Jean Metcalfe
Wally Stewart
Staff
Blogs
Got Shows?
Send Them To Us
Bookmark Louisville Music News.net with these handy
social bookmarking tools:
Available RSS Feeds
- Top Picks
- Today's Music
- Editor's Blog
- Articles
Add Louisville Music News' RSS Feed to Your Yahoo!

Issue`: May 1992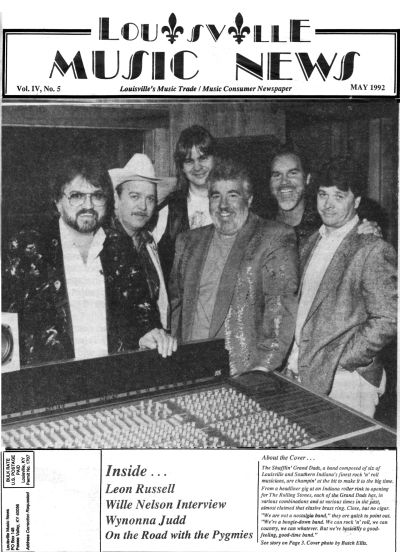 Shufflin' Grand Dads
By Jean Metcalfe
Just who are the Shufflin' Grand Dads?
That question was posed to Marvin Maxwell, Wayne Young and Tommy "Cosmo" Cosdon as we sat in the second-floor recording studio at Mom's Musician's General Store.
"We've been asking that ourselves," Wayne Young chuckled.

Wayne Young
Marvin, owner of Mom's, spoke up:

Gary Meeks
"Maybe it would help if I told you how it started."
"We all worked together in the Sixties, off and on, up to now, and about four or five years ago [probably in 1987] Mom's was sponsoring a jam night down at Butchertown [Pub]. . . . The basic guys (who would become the Shufflin' Grand Dads) were down there that night, so we got up and jammed, too, and had a h-lluva nice time. And I had become a granddad a few months prior to that -- or agrandfather -- and so when we stepped down off stage Duke Meyer from WQMF was there and he said, 'The Granddads.'
Marvin Maxwell
"And a lot of the type of beat that we did, or wedo, was called shuffle. . . . so I just said, 'Well, we're TheShufflin' Grand Dads.'"
"He was also hobbling at the time," Wayne added.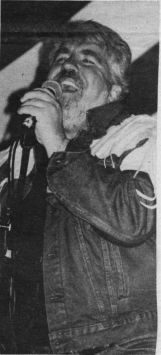 Tommy 'Cosmo' Cosdon
The name, then, has always been "The Shufflin'Grand Dads" [notGranddads], Marvin said, since he was the only one in the band who was actually a grandfather.
"Now we havetwo. We havetwo now," Grandfather Cosmo chimed in proudly.
The guys had a great time that evening at the Butchertown Pub, and were subsequently offered a chance to play the local Rocktoberfest.
"So we put together a show," Marvin said, "And from that . . . we started picking up some tunes and started recording. . . . The concept of the Grand Dads was, basically, to get up here in the studio and record -- which we all love to do -- and record and record andrecord."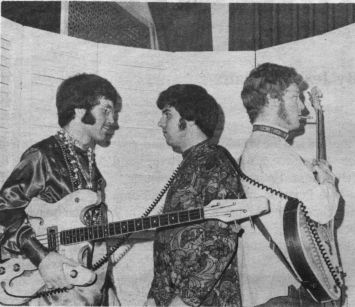 MAXWELL, SETTLE 8: BUGBEE: L to R, Jimmy Settle, Marvin Maxwell and Frank Bugbee, circa 1970.The trio would soon be called Elysian Field.
"Rock 'n' Roll is the Answer," a song written by Wayne, was selected to be the Grand Dads' first recording.
The personnel who gave birth to the Grand Dads at Butchertown Pub were Marvin, Wayne, Cosmo, Ron Payne and Pete Peterson.
Payne, who once played bass with Mike Lunsford and the Whiskey River Band, now has his own group, Ron Payne and Yellowstone. He is a full-time musician.
Pete Peterson, who is also a full-time musician, currently has a regular gig at a local hotel. According to Marvin, "If there's a keyboard around -- a ten-foot grand or a toy piano -- Pete is moving his fingers constantly on it."
When Pete was in the Army, Marvin said, his barrackmates got so tired of hearing him play that they threw his piano out of their fourth-floor window, tearing it all to pieces.
Bob Ramsey, a composer and musician with Phil Copeland Music Co., provides horns for the group on some occasions. Later this month, Ramsey will leave behind his gig as organist for the Louisville Redbirds baseball team to join Leon Russell's band, making him unavailable to shuffle with the Grand Dads.
Howie Gano, studio engineer at Mom's, received high marks from Marvin for his work with the Grand Dads:
"With his mind, with hisears, he knows . . . pretty much . . . the sound that we want. . . . And he's had a whole lot to do with the production . . . he's been . . . an inspiration and . . . we just like to work with him."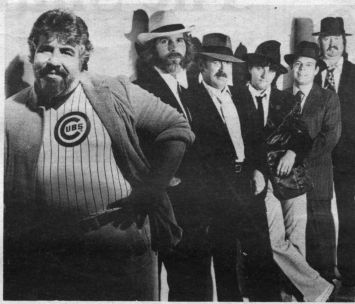 COSMO & THE COUNTS: L to R, Tommy 'Cosmo' Cosdon, Wayne Young, Ron Payne, Jeff McIntosh, Ernie Sanders and Tom Jolly, circa 1985.
"He's a good enough keyboard player, guitar player, drummer, singing the right notes, that he could step into any position. . . . he's a very, very valuable person for what we're wanting to do."
Additionally, singer-songwriter Gary Meeks recently returned to the area and has rejoined the group. Since his return he has done some recording with the Grand Dads, including some of his own original tunes.
Gary started playing music in Charlestown, Ind., in about 1968, when he was 13 years old. In '73, WAKY Radio's Dude Walker took Gary to Memphis (Walker's hometown) and there Gary hooked up with Bill Browder, now known as T.G. Sheppard. When the group The Box Tops broke up, they had a record that they wanted to release, so they took lead singer Alex Chilton's voice off and put Gary's on. The song hit about 40 onBillboard's pop charts, Gary said.
Browder [Sheppard], who Gary said was friends with Elvis Presley at the time, put out a song that went to No. 1, and went on the road; Gary returned to Louisville.
"It was an interesting time 'cause back then . . . I ran around with Elvis' step-brother a little bit and got to hang around some guys from Stax Records and rhythm and blues guys."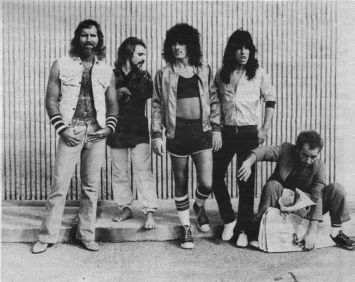 MIDNITE SPECIAL: L to R, Wayne Young, Vinnie De Paulo, Jeff McIntosh, Douglas Paul and Jimmy Gardner, circa 1981.
Being around people who were "writing stuff for Neil Diamond, Aretha Franklin, Elvis" helped Gary better structure his own writing, he said.
In Louisville he hooked up with Dave Snowden and started recording at Allen-Martin. [He recorded there from 1973 until about '81.] He put together various bands, and for a while played with Tim Coy, now with The Monarchs. His first record was released under his childhood nickname, Monkey Meeks. ("I hate that name," he said.) Later records listed him as Gary Meeks.
Of Monkey Meeks and the Colonels, Gary said, "I bet I had 50 musicians around town that played in it."
Pressed for examples, he could think of only Pogie Decker.
"Oh, shoot, I can't even remember 'em all . . . we had a horn section, six backup singers. It was a conglomeration, I'll tell you."
(A quick check of Brenda and Bill Woods'Louisville's Own provided such familiar names as Steven Lee Cook and Doug Cook.)
In about '80 or '81 Gary joined Wayne's band, Midnite Special, after being recommended by band member Jimmy Gardner, who had played on one of Gary's recording sessions.
Gary subsequently moved to Florida, where he played with a couple of bands, and in 1984 he moved to Texas to get away from the grind of the business.
"I was totally burnt," he confessed.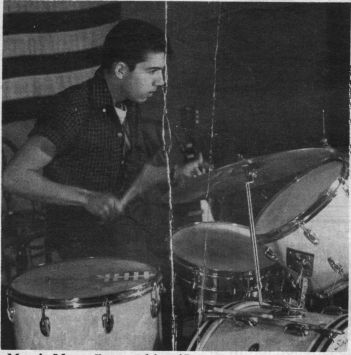 Marvin Maxwell at 16 or 17.
In Ft. Worth he did some recording and writing and would also fly back to Louisville to record at Mom's with Marvin and Wayne. In October of '91 he returned to Louisville to stay. Today he makes his living selling automobiles.
Wayne Young, a drapery salesman, was a talent agent manager for about three years, and prior to that he was on the road for 8« years with his band Midnite Special. Before that he was with The Heavyweights for a couple of years, and prior to that for a little over a year he was an engineer and producer at Allen-Martin's Sambo Studios. He actually worked for the Allen-Martin organization for years, he said.
I asked if they had any records out in those days.
"Nothing to speak of. We had a couple of 'em and they were both bombs," he said candidly.
Wayne, a guitar player and singer, was also a member of Cosmo and the Counts.
Marvin reminded Wayne that Soul, Inc. (Marvin and Cosmo had also played in the group) had out "I Belong to Nobody," the No. 1 record in this area in '68.
"It did real well," Wayne offered, "but for me, recording-wise, honestly, the biggest stuff I did was with The Carnations, The Tren-Dells and with Cosmo. . . . plus Paul Penny . . . whoever else we might back. . . . The Monarchs, all the different groups."
Referring to Midnite Special, Cosmo said,"They wereheavy. They werereally heavy.
"We had the Number One record out at the time, actually," he elaborated.
Wayne identified the song as "Things I Like to Do." Then someone mentioned another song, "Small Town Gossip." One song reached about 49 in the nation, Cosmo said, and climbed to the top regionally.
Tommy "Cosmo" Cosdon works days as a "jock's agent," trying to get trainers to use his jockeys to ride their horses.
"And that's what I do in the mornings. And then I play alotta golf."
At one time, Cosmo said, he had five clubs.
"I had this place [Mom's present location], which was the Headrest, I had a place down the street which was Crescent Cafe, I had the Red Dog Saloon down on Main Street. Eddie Donaldson and I had that together. Then I had Cosmo's out on Goose Creek and I had a place called the Rib Station." He was also a partner in Blue-Eyed Pisces.
"I've been in the club business a lot," he summed up.
This year the soulful singer is celebrating the thirtieth anniversary of Cosmo and the Counts:
"[The celebration's] gonna be at the Water Tower [on May 16] and we're gonna have four or five other groups playing. Guys . . . we worked together or they've been in the band. Brother Stephen [Ferguson]. . . ."
Before forming NRBQ, Steve Ferguson and Terry Adams played with Cosmo and the Counts.
"[Ferguson] is a great talent, hereally is," Cosmo said.
Prior to owning Mom's, Marvin was in partnership with Kenny Deweese in Far-Out Music in Southern Indiana, and "played off and on." After he and Deweese parted ways, and while he was putting together Mom's, he was involved in a serious automobile accident just about a mile from his home.
That fateful night -- March 31, 1981 -- would lead to the formation of the Musician's Emergency Relief Fund, which celebrated its eleventh anniversary on March 31.
Marvin described the events leading up to the accident:
After a day's work at putting together the new business, he would shower in the back of the place, head for a six-nights-a-week gig at Big Moe's [with a group called Lite] and then head for his home in Nabb, Indiana, an hour's drive.
"I was only about a mile from the house, hit a bridge and . . . (he paused)"
"You're lucky to be here," I suggested.
"Yeah," he said quietly. Then he brightened and added, "Lucky to walk, at least.Lucky to play. I'm just really tickled to be able to play (he is a drummer), because when that happened they were going to fuse my ankle . . . where it doesn't move. And I was out of it. I didn't know what they were gonna do. And my wife [Beverly] actually stopped 'em. . . . because of all the playing and the album sessions and stuff that I had done in the Sixties and early Seventies, she said bluntly, 'Well do you know what hedoes?' And they said, 'No, but we're gonna have to do this.' And she said, 'No, youcan't do that.'
"So they ended up pinning it. They put seven pins in there and told her that I would probably notwalk."
"I went through two or three casts and started walking in those casts, and . . . I canwalk."
During his recuperation, Marvin said, "I would sit around and I'd think, 'How can I invent some kind of electrical contacts to mount to my lips so that when I close my lips it triggers the bass drum pedal.' I had all kinds of ways dreamed up I was gonna do it, and I thought, 'I can't switch to left hand . . . I'll fall off the stool or something."
Of his band Elysian Field, which was signed with Imperial, a subsidiary of Liberty, Marvin said:
"I can remember we kinda started off with a bang, and it was downhill, but we did chart in the Top 100 [with "Kind of a Man"] and I remember there was a full-page ad with a picture of the band inBillboard . . . [which he fervently wishes he had saved]."
Marvin did a wrap-up of the guys' past band affiliations: "Back in the Sixties we all worked with everybody. The list is a page and a half long, from the Rolling Stones to. . . ."
"Yeah, but we just opened [up for] them [Memorial Auditorium, 1964]," Cosmo clarified.
As they plucked dates from their past, Marvin declared, "Boy, we're old, Wayne."
Cosmo continued, "It's just freaky how things go. You look at their [the Stones] career and you look at our career, and how talented they were, and how talented theyare. But I mean those guys have madebillions of dollars. . . ."
"It's a shame, ain't it?" someone declared, and there was much laughter.
Cosmo resumed: "And we're still tryin' to cut a hit."
"It can happen," I encouraged.
"Sure it can happen," Cosmo said enthusiastically. "I guarantee it can happen. Because believe me when I tell you, their guitar players were no better than him (pointing to Wayne) and whatever. I mean, the charisma, the management, the whole . . . it's the concept . . . if you're not managed, if you're not in the right direction . . . . It's like playin' rock 'n' roll on the country station, they're not gonna get off on it," Cosmo said with a great deal of fervor.
With the current popularity of country music, the Grand Dads have recently "swayed things thataway," according to Marvin.
They brought in a steel player, a dobro player and a fiddler and "kinda shaped that towards country . . . we're all old enough that I like to say that we're a well-schooled organization with our RBCs -- rock, blues and country -- which is in all of our guts here, so we can pretty well cross over and do any of those . . . things."
"Styles," Wayne suggested.
Back in the Sixties as Soul, Inc. they toured with "Dick Clark's Caravan of Stars."
Said Marvin, "We traveled a couple of those tours, and the odd thing is . . . the way the music's kinda changed around now . . . we have what's called "hot country" radio stations now. And when you look at the new country music show on Sunday nights, which is called "Hot Country Nights," you gotta read between the lines because we're back to another name forrock country nights, when it really comes down to it. And you look at the executive producer and who is it? H-ll, it's Dick Clark. . . . It's gone in a full circle. And I wish we could make contact with that man again and tell him that we're still around doin' it, too. Maybe he'll throw us a bone or something. That's all we're tryin' to do is make enough noise."
"Tunes," Cosmo said, "That's what we need. We needtunes."
"Well," Marvin said, "It'd be nice to have a budget, too."
"None of us are really what you'd call accomplished writers," Cosmo said. "We all dabble and might be able to work with a good writer and write stuff. But we needtunes."
"One of the hottest tunes that the Grand Dads recorded," Marvin said, "was a tune that Tommy [Cosmo] picked up in Nashville [for Cosmo and the Counts]."
Cosmo echoed, "Yeah, [that] I picked up down in Nashville."
Marvin continued, "And what's funny about it is it's called 'Rock 'n' Roll Money,' and with all of what's goin' on with the country market now, and kinda the cross-over, we brought Tommy back in the studio, and the background singers, and all we did was change a couple of words, and we're repitching it now as 'Honky-Tonk Money.' "
"Honky-tonky's real big," Cosmo declared. All at once, everything you see in country, you know, they're honky-tonkin' again. You know, they're meetin' their girl friends in the honky-tonk, and honky-tonk this. . . ."
Marvin said, "There's been a lot of controversy, in the rock 'n' roll market especially, when I would pitch material . . . . Well, Tommy ran into it. You [Cosmo] got the girls [in the office where he took his material] to dancin' on top of the desk. What happened was: [They said] 'We can't use you 'cause you're white.' "
(Much laughter.)
Said Cosmo, "Truthfully, they thought I was black. And the guy kept saying, 'Please don't be mad. Please don't be mad.' Because, truthfully, it's reverse discrimination. Discrimination is discrimination -- white, black or purple. But he said, 'Man, we're a black label, you know. You're not black.'
"I said, 'No, I've been white all my life.'" (Laughter.)
Marvin: ". . . I've pitched the Grand Dads to the rock 'n' roll market in New York . . . and their reaction has been, 'Man, we love the music, but how do we sell you guys? You didn't make it to the masses of the public years ago. . . .' I mean, there's a million players out there in their forties, let's face it. Many, many, many of the successful people, they're playing rock 'n' roll in their forties, but they weresold when they were in their twenties. That's been the objection, is to sell this in the rock 'n' roll market to 13-year-old kids is gonna be a problem for the record company. On the other hand, the country market has seemed much more open-armed about this Shufflin' Grand Dads thing."
"They don't have the age problem," Wayne interjected.
"That's right, they don't," Marvin agreed. ". . . Not as much as the rock 'n' roll market. . . . It was kinda funny, one of the major labels did say something to the effect, 'What alternative type of name can you come up with in case this Grand Dads sounds too old?' And that's when I came up with this, 'Let's call the d-mn thing "Jedd Zeppelin" and cut a tune called "Stairway to Your Cement Pond."ÿ'ÿ"
(Laughter.)
"I swear to god.I swear to god. . . . I talked to 'em on the phone an hour later and even the front secretary knew all about it."
Cosmo jumped in: "We really don't care. 'Cause we're just tryin' to get it together. I mean, names are nothing to us. Somebody says they wanna call us 'Hard Wood'. . . ."
Besides being very talented musicians --and they are certainly talented -- The Shufflin' Grand Dads are a very colorful, fun-loving bunch of guys. They should have their own network sitcom. It would make somebody a mint.
Marvin is a real, well,character, whose gift of gab contains several, well,colorful, expressions.
Cosmo is a big, loveable teddy bear of a man who sings with a lot of soul. He makes me smile.
And Wayne is just plain handsome. He is a quiet man with a trim build that is a testimony to his fitness program.
I had enjoyed tremendously the Grand Dads' performance at last year's Garvin Gate Blues Festival, and I told them so. And they told me that they have been asked to perform again this year.
Said Marvin, "It was a bit controversial, especially when Tom [Cosmo] stepped up to the microphone and said . . . something about 'we're just a bunch of old rock 'n' rollers.' [But] it did come off positive, because that organization called . . . and wanted to know if we'd come back and play the blues festival again this year. So that's why I said we're very well schooled in our RBC's [rock, blues and country]. We could really pull any of it off."
"Yeah," Cosmo said, "but we've been doin' blues for . . . I started singin' blues. You know the whole play with blues is all these people have got this new idea that blues has gotta be bad.It does not. Bobby Bland, Little Junior Parker, B.B. King, Otis, those people wereblues players. They're rhythm and blues players. That's what we've done our whole lives is rhythm and blues . . . That's the way I learned. And that's just me."
I mentioned that both he and Wayne sing with a lot of soul.
Said Wayne: "I always liked that style of music, and getting the chance to play with Tommy, I mean, I was really into B.B. King and some of those people . . . and he turned me on to Little Junior Parker and . . . Freddie King . . . one of my idols."
Cosmo jumped in: "H-ll, Wayne and I's last manager was Audrey Williams, Hank Jr.'s mother. They spent money on us. I mean, they were doin' it the way it wassupposed to be done, I thought. Of course, there was a lot of stuff going on that wasn't supposed to be done. . . ." (Laughter.)
"They just had toomuch money. You know what I'm saying? They had too much money." (The excited-little-boy enthusiasm with which Cosmo speaks and his habit of repeating a sentence for emphasis is charming.)
"They took us to Muscle Shoals, I mean, they brought players in. They did it right. But then they'd get drunk and record over top of it." (More laughter.)
For some time there has been talk (by unnamed businessmen) of a television sitcom that would revolve around The Shufflin' Grand Dads. The Dads would provide the inspiration for the program and would play the music, but professional actors would play the characters.
Marvin feels that one day the sitcom will become a reality "because the bottom line is, in the 1990s everybody on Earth will have been raised on rock 'n' roll. And it might have been Bill Haley, but everybody here will have been raised on rock 'n' roll. . . . What we have together in the Grand Dads is kinda magic, and it's magic for right here. It'sthese guys and it'sthis band and it'sright now."
"[The sitcom] fit us to the tee, because when I got to reading the script on it, my gosh, one guy was selling cars, one guy owned a music store, and it all just really made sense."
I asked the Grand Dads to tell us some stories from their music careers.
Cosmo took a turn: "I still remember, we had a big Lincoln Continental and we were on our way to Seymour, Indiana, to play a roller rink, which was a regular gig of ours. We had a big trailer on the back. And you go to Seymour and there'shills through this, some serious littlemound kind of deals. And we look over to the side . . . the trailer just went by (he is laughing in his contagious way). That bad boy stuck in the ground and threw equipment, I mean it threw sh-teverywhere. We picked it up and this old farmer came by and we hailed him down, threw it all in the back of his cattle truck, took it up there and wiped manure off it. It was all broke up, and bent, had dirt in it. "
A comment about "sh-t kickin'" music sent the entire group into gales of laughter.
Cosmo summed up: "We rocked em hard, buddy. We rocked 'em hard. We just went on and did it, you know. I mean the drummer, I'll never forget, he had a special tom-tom. It wasthis big. It was just bent on the side, big whacks out of it, piano had big chocks out of it. I mean everything was tore all to h-ll."
"I'm sure you were heavily insured," I laughed. The suggestion brought "yeah, right" laughter from the entire group.
Cosmo finished: "We just plugged it in and went to rockin'."
Marvin remembered that "there were a lot of car accidents in those days." One such accident involving Wayne's Mercury "tore the hell out of the front end of it." But they had continued on to their gig in Orlando, Fla.
Marvin narrated: "We got set up for the gig down there, which was a two-week gig, so he [Wayne] went ahead and put this Mercury in the shop down there to get it fixed. So the car was all fixed and they called Wayne to come down and get it, and d-mned if when he pulled off thelot on the street, he got hitagain.Got hit again. And I didn't think we was ever gonna get back from that."
This is television material if I ever heard it," I declared.
Cosmo spoke for the group: "When it really comes down to it, we could sit and think about it . . . you could tell the 'girl' stories and everything (peals of laughter) I mean some of that's scary."
A great deal of laughter was triggered when one of the guys said the words "Great Dane."
Quickly Cosmo said, "We traveled around. . . . I came home and got married and they went out on the road with the Dick Clark thing."
The ensuing cacophony did not dull my memory. When relative quiet was restored, I said, "Tell me about the Great Dane."
Cosmo agreed, but only "off the record."
Suffice it to say, the Great Dane was a dog. Its owner wasn't. And although Wayne took control of the situation, he did ask Cosmo to chip in on the dog food.
Marvin was reminded of another dog story:
"One time I was in the studio doing an album for Turley Richards. Bless his heart. We were in the studio for like 24 hours straight, doing an album project. . . . After the session Turley asked me -- Turley's blind -- . . . to take him home. . . . in fact I had to take him to the airport to ship this master out on the way home. And we'd gone home and Turley had this d-mned dog. It was called a Rottweiler. And that dog (Marvin let out a "hoo-boy" whistle), in 24 hours, had sh-t all over that house. And Turley, being blind, (the laughter drowned out part of the narrative) so here's old Marvin, who's been up for 24 hours beating his brains out, walking around with newspaper picking up this dog sh-t all over his house. I never went through . . . for $20 a song, buddy, I made my money on that album, I'll guarantee you."
At one time in the sixties the guys were a "staff group" at Allen-Martin Productions and, according to Marvin, "we just cut the h-ll out of people [translate "played for a lot of people"]."
They did sessions for Shad O'Shea here in Louisville, and for people from Cincinnati and Dayton, including Jerry Diamond and Lonnie Mack.
Marvin: "I did a session once . . . that it was, like, done in two days' time or something. And a couple of years later I was at the Kentucky [State] Fair and I run into one of the players that was on that album. I didn't know who he was but he recognized me and he stopped me and he asked me about that session and I said, 'Yeah, I remember doing that thing.' He said, 'Do you remember who was playing rhythm guitar on it?' and I said, 'No, I never did know who was playing the guitar.' It was Ricky Skaggs . . . sittin' back there playin' flat top."
I mentioned that Kentucky HeadHunter guitarist Greg Martin told me he had been greatly influenced by Frank Bugbee when he and Marvin were in the group Elysian Field. Marvin described it this way:
"He really admired what we were doing. He really admired one of the pickers [who had also been in Soul, Inc.], which was Frank Bugbee. He really admired Frank's style of playing, and that's shown up in a whole lot of different [newspaper and magazine] articles. Yeah, we [Elysian Field] were a very stylized group and doing a whole lot of original material, which nobody hardly did in those days, or at least our own arrangements of things, which really started in Soul, Inc. "
"Every night that we would play we would see Greg Martin out there, and it's just really something to see him doingso well in his endeavor."
Marvin said that Jimmy Settle and Frank Bugbee wrote a good bit of the original material that they did.
Cosmo mentioned that he got most of his songs from Tree Publishing in Nashville because Buddy Killen was producing his group at the time.
"And believe it or not," Cosmo said, "[from] Roger Miller. We were hangin' together and doin' a lot of sessions. He offered me 'Chug-A-Lug' and we laughed at him. (Much laughter.)
"He stood right there and offered it. [He said] 'Cos, here's a song you might be able to do, old boy.'
'Make you go hidey-ho, don'tcha know, chug-a-lug, chug-a-lug,'" Cos laughed, as he roughly recited a portion of the song that Miller took to No. 3 on the country chartsand to No. 9 on the pop charts.
The laughter in the room drowned out the rest of the story, but I distinctly heard Cosmo say, "Then he said, 'How about "You Can't Roller Skate in a Buffalo Herd"?'" (No. 35, and No. 40, respectively.)
"Roger was 'one of the boys' when we first went to Nashville. You know, Nashville was hard-core country, but it waswhining country then," Cosmo said. "And we were some of the first young rockers to come in there and record. I mean, Elvis was recording there."
"Elvis had just finished doing a thing. Remember that black guy that walked in . . . the old black janitor was in there when we were doin' our stuff, and, boy, he just, he loved it. He said, 'Boy, you and Elvis, I'm glad when you all come to town.' We were going down there [to RCA] a lot."
"We were close, we werereal close to gettin' lucky. We really were," Cosmo said, his voice becoming more serious.
The guys had seen their music come and go. Why did it go?
Wayne spoke: "The big instigators were Ray Allen and Hardy Martin, especially Ray Allen. Basically he retired to make money . . . built the studio, got the [talent] agency going. He progressed on into commercial work and doing big-dollar things, and stepped away from it, and there was nobody else to pick it up and carry the ball. That's my perspective of it."
Cosmos added: "They did a first-cabin job . . . but we wanted our little bit of nickels and dimes and they were spending dollars and whatever, truthfully, to try to get us over the hump. And, like I say, we were real close, justbecause of those guys. But it's like anything else, you gottaspend money tomake money. I mean, you'vegot to do it. If you've got a good product and you believe in it, other people believe in it, you've got to spend money to get it over. The day isgone of Buddy-Holly-in-the-garage rock 'n' roll tunes. You know, you hear one group a year that comes out with an original kind of true sound and original words that's a little bit different. And they've beenproduced, believe me."
Marvin jumped in: "I think kinda what we're lookin' for is for somebody, hopefully with a major label, to say here's the money, but more yet, here's theproducer."
"No, here's thedirection," Cosmo corrected.". . . We're out there reachin' for straws. . . . If they want rock 'n' roll money, baby, they got it. If they want honky-tonk money, they got it. (Much laughter.) If they wantstolen money, they got it. (Tremendous laughter.) Whatever. We want to be able to do itwell. I mean, we don't wanna do it where [in such a way] we're not happy with it. But we're just out therelookin'. Like everybody else. Tryin'. . . . You know, we got thirty years of rock 'n' roll in our bones. And rhythmand bluesand country . . . ofmusic, basically. We're still out there lookin' for thathit.
Although I already knew the answer, I asked if they were prepared to go on the road if they should happen to hit it big.
There was an immediate positive response from the group.
Cosmo: "We could walk on the stage with Frank Sinatra tomorrow and not break asweat."
"A lawyer makes $50 an hour, you know, or $200 an hour. Musicians make nothing. We're the mostunderpaid people who study hard and learn their trade in the world.In the world."
"And they do something that everybody enjoys," I added.
Cosmo continued: "Everybody enjoys it, you're entertainment people, but. . . . It's eitherall ornothing in this game. That middle ground, you work real hard to make a living in that middle ground."
Wayne: "I was in it eight and a half years and it cost $40,000 to do it."
"To getout of it," Marvin said.
"To get out of it," Cosmo echoed, "To stop."
"Because of the equipment you have and everthing," Cosmo explained.
Wayne: "All of the expenses, all of the stuff, it just rolls . . . like a snowball. It just keeps getting bigger, you know. The harder you work . . . don't make any difference."
Marvin: "We're just lucky to have this tool [the recording studio] here that we can experiment a little bit and hope to come up with something . . . that will tickle somebody's hands enough to say 'Yeah, we think that you're on the right track. Here's a bone. We're throwin' you a bone.'"
Wayne: "Fortunately with the demographics, I still think we still have a lot of time in history left . . . we've got a whole bunch of people that's grown up with this, and as long as. . . ."
Marvin jumped in: "Yeah, we're part of the baby boomers."
Wayne: "We're the top side of 'em."
(Much laughter.)
Cosmo: "We're the baby boomers, and we've made some babies boom."
(Laughter.)
Cosmo: "In this game, after awhile, it becomes a job, you get a little sour or whatever. But I was playing a job and a guy came up and he was polite and he said, 'Boy, I really like you guys. I think you're really doin' a great job.' I said, 'Thanks a lot.' And he said 'Aren't you havin' fun tonight?' and I said, 'Yes I am.' But it was a wedding reception or something, and it was like, you know, 'Turn it down,' or whatever. He said, 'But boy you don't understand. Look at the people you're makin' happy.' He said, 'If I could make this many people happy in ayear, I'd be tickled to death.' He said, 'You've got a smile oneverybody's face.' He said, 'Everybody's havin' a great time and that's because you're doing what you do.' And I thought to myself, 'Well, hey, pal, thanks a lot for telling me that' because you gotta bring it back in focus."
Wayne: "It's easy to forget."
Marvin: "It's easy to forget when you're doin' a four-hour gig. Hopefully we could rise above that and come on as a show group and go out and do our 45 minutes and go on with it. I don't think any of us are really interested in goin' out there and playin' six nights in aclub again."
Wayne: "Well, I've been fortunate enough to live through the evolution of a performer where you go play five or six hours, matinees on Saturday and on Sunday. I mean, you know, it's (whew) hours and hours and hours and then you get down tofour sets,three sets,two sets, and then down toone show. And believe me, you know, it's a wonderful world when you get to that. But it's hard to stay on that plateau. But that's the evolution."
Marvin: "It's nice to be able to take that four hours of energy and be able to put everything you've got into one show. And I guarantee you this group could go on. And I've been goin' to some concerts and things and seein' what's goin' on. This group could go on with about three days' rehearsal and kick a lot of people's butts that are out there right now. And even young people, because we have done it with very little rehearsal."
"We know what we'redoin'.God, we've been doin' it for thirty years," Cosmo said, his voice rising to fever pitch. Then laughing, he finished, "When you change atirethirty times, sooner or later you're gonna learn theeasy way tochange that tire."
Marvin: "With the righttune and somebody with the rightlabel to say, 'Yeah, we believe in it. Let's go,' we're ready to go."
Wayne: "We just need the other parts of the team. We all know that this is an industry of teams. . . . recording, promotion, booking, management. Those are all team set-ups. And we just have not found the right team set-up."
Marvin: "You know, folks say 'You can't do it out of Louisville, Kentucky.' Well, I'll be d-mned, if we ain't gonna do it out of Louisville, Kentucky."
"But you gotta look at the record, too, on the other hand," he added.
"You gotta connect," all the guys agreed.
There was talk of how quite a few people are "out there pumping" the music business in Louisville.
Marvin said, "Lord, I've probably spent more intelephone calls in the last three years than what I've made in this studio. That's the truth. Just in phone calls, tryin' to make the right connections."
"My thoughts were, after I pitch this Grand Dads thing and if it doesn't work, then we're gonna change the image and we're all gonna put on guns and rifles and cowboy hats and we're gonna call ourselves The Bang Gang."
I offered my opinion: "Your charm is in just what you have here. What you had at the Garvin Gate Blues Festival, for me . . . not just because I'm older. . . ."
Cosmo had a quick response: "What you're saying, you're giving excuses because we've all got a little age, and you're saying 'Not just because I'm older.' Weare older. Wedo know what we like now. . . . And we do buy records. You know, we started out buying records. The first record I ever bought in my life was 'Rock Around the Clock' by Bill Haley and the Comets . . . and I broke it before I got home . . . jerkin' around on the bus. Still tried to play that bad boy with that little nick in it."
I expressed my feelings: "Well, I think what you all have is really fresh. It's not old. It's fresh."
"Y'all need a signature song," I declared, "a song that just knocks 'em out and everybody loves it. . . ."
Cosmo: "That's the name of thegame."
The guys all started to talk at once, making it difficult to distinguish the individual words, but all were in agreement on the importance of a good song.
Cosmo: "There is no stoppin' us then. Get us a hit record -- we're millionaires."
Marvin described, tongue-in-cheek, the tour bus that he would want if that happened: "I've got a 1939 GMC with three slick tires on it.Believe me, if we ain't had two flat tires by the time we get to E-town, I ain't goin'."
Cosmo: "Let us get lucky with a hit record, there isno stoppin' us.None whatsoever."
I believe! I believe!
Cosmo kept up the pace: "If they want to put us in the Grand Ole Opry, we can do it. If they want to put us in theopera, we can fake it. . . . We're gonna make some people listen, I'll guarantee you that!
Amen, brother!
Marvin: "Well, that's one kind of exciting thing about . . . us going to Germany [to perform in Mainz for Sister Cities]. A lot of acts are made in Europe before they ever make it here. And it's gonna be kind of a pleasure goin' over there and playin' for some folks. And one of the hottest tunes that we've got with Tommy [Cosmo] is a tune called 'Louisville Loves the Blues,' which was written by Alan Rhody, whois country, is right down there [in Nashville] amongst the country. . . ."
Cosmo: "Alan just signed with an Italian label."
Marvin: "So, Europe, here we come. And we're prepared for that."
Cosmo said that Alan is trying to line up a contact for him in Italy.
"I gotta send him all kind of stuff to Italy. Let him know when we're comin'."
Then Cosmo affected an Italian accent and did a funny bit of shtick.
"I'm half Italian and half German," he said.
"Hold 'em over here, hold 'em over there," he went on.
"Just give us a shot," he bottom-lined.
Marvin spoke of how the Mainz performance came about:
"The liaisons here played half of a Grand Dads' song for these German folks that were here and they said, 'We want them.' Just 'bang,' like that, 'We want them.'"
"You know, Germans are oom-pah-pah type people, and they like things that feel good, and that's what we're doin', is feel-good music. . . ."
The band Spanky Lee (in which Marvin's two sons played before the group recently broke up) had been approached about the Sister Cities opportunity, and had been selected.
"And I just kinda slipped some Grand Dads in there on 'em, too, you know, just tolisten to, and they listened to that and they really, really liked it. You know, the German population would really like our kind of music so. . . ."
Wayne interrupted to finish the sentence: "Spanky Lee's out, we're in."
(Riotious laughtererupted.)
Actually, the Maxwell brothers are busy writing songs, getting ready to record, and lining up band members. They plan to keep the engagement in Germany in November, where they will play in an indoor concert setting. The Grand Dads will play in Mainz in an outdoor festival setting.
Cosmo added, "Sorta like down on the Belvedere . . . with the beer gardens and all that -- and get after it."
Said Marvin, "We'll try to get as much mileage out of it as we can."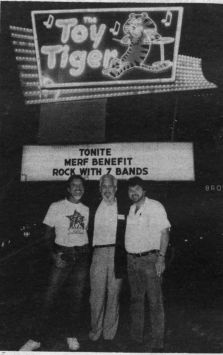 MERF VIPs Wayne Young, Rocky Adcock and Marvin Maxwell
The Grand Dads have scheduled a benefit concert for Sister Cities of Louisville, in association with MERF, to help ensure that the trip will take place. As of this writing the concert will be held at Jim Porter's Good Time Emporium on May 21.
"It's not just the money thing," Marvin emphasized. "Sister Cities wants the exposure."
Cosmo wanted to send a message to songwriters: "We're a boogie-down band. We can rock 'n' roll, we can country, we canwhatever. But we're basically a good-feeling, good-time band and,we need some tunes."
"I like everything from Ray Charles to Bobby Bland. I like storytelling stuff, but I don't wanna get into 'Little Jimmy's crippled and got run over by a truck,' you know. I wanta get into some good-feelin'. . . you know, 'Go out there and rock 'n' roll with your mama. Come on down and let's have some fun.' "
What kind of requests do they get from audiences?
Cosmo laughed: "Everything from 'Whole Lotta Shakin' Going On' to original stuff that we do ourselves. You know, I think 'Rock 'n' Roll Money' -- or 'Honky-Tonk Money,' whichever they wanna call it -- I think that's us. I think that is usto the nickel. I think it's just a really good tune. I really do. It's down pretty good."
I suggested that it would be nice if Dick Clark could hear them, which reminded Marvin of an incident on the Dick Clark tour. Clark had flown in to emcee the show:
"Well, we opened the show. And a particular singer we had at the time was so excited . . . we did our little thing, and when he came to bring Dick Clark on, he said, 'Now, ladies and gentlemen, here he is, Dick Click.'
"On the same d-mned tour a couple of weeks later, Dick Clark met us again, and [the singer] brought him on: 'Ladies and gentlemen, Dark Clark.' "
(Laughter.)
Now that Dick Clark is producing the program "Hot Country Nights," Marvin suggested: "That could very well be somebody that would throw us a bone on this thing."
I told the Grand Dads that because they are such an interesting and visual group, a video would be a good way to promote them.
Cosmo: "We're real pretty guys."
Marvin: "We're so d-mned old . . . if we get a record deal out there, it's probably gonna be on a 78."
(Tons of laughter.)
Marvin (or was it Cosmo?): "If we get a d-mn video out there, it's probably gonna be on an eight millimeter and nobody's gonna be able to see it anyway."
(More laughter.)
Marvin: "No, there is a lot of history here. . . . I remember one time -- this is funnier than h-ll -- we [Soul, Inc.] were on one of those Dick Clark tours and Bo Diddley was on this tour. Whenever Bo Diddley got on that bus, Bo hadhis seat. And everybody in the bus, almost, knew that Bo had that seat, and that seat was behind the bus driver. And Bo sat there and nobody sat with Bo in his seat. Thatwhole seat was Bo Diddley's.
"Well, we were in Pittsburgh, I believe. We had done our show, and the next day we came out of the hotel and got on the bus and for some reason Wayne happened to sit down in Bo Diddley's seat. (Titters of laughter begin.) Boy, when Bo Diddley got on that bus, I never -- never in my life in Nabb, Indiana -- ever heard anybody take a cussin' like Wayne had to sit right there and take a cussin'. So here's Paul Revere and the Raiders . . . and all these guys sitting on this bus -- and there must've been 50 of us on there -- and Bo just rippin' Wayne a new a--. And Wayne didn't have . . . ."
Cosmo finished the sentenced: "Poor old Wayne, he didn't have an option. All he could do was . . . he didn't say a word. Well, what could you say? He just got up and moved and that was it.That was it.
"I never will forget that," Marvin said. "Boy, just ripped him a new one."
Wayne: "One of the greatest lines . . . [Diddley] got off the bus one night and it was rainin'. He tried to cover up his head. He said, 'Oh, sh-t, my process is takin' a recess.'
(Laughter.)
Cosmo reiterated an earlier bit of information:
"I wasn't with 'em. I came home and got married."
Marvin continued with the road stories: "The tour was all traveling on Greyhounds except The Byrds, who had out the No. 1 record -- 'Turn! Turn! Turn!' -- and they were in an echelon that didn't have to ride on the bus with the rest of us. So Dick rented them a brand-new Winnebago. It was a thirty-day tour and we'd been out on the road only two weeks and they had to send back for another Winnebago. They'd already trashed the first one."
"And it smelled like pot, too." Wayne said in mock disapproval.
Marvin: "The drummer, Mike Clarke, the original drummer in The Byrds, had a bass drum pedal -- it was a Rogers bass drum pedal -- and, boy, (Marvin here affected a 'down home' accent) being from Nabb, Indiana, I'd never seen nothin' that slick in my whole life, man. And he [Clarke] said, 'Yeah, I've got an extra one over here, too.'
"Well, I spent the whole thirty-days tour trying to . . . 'Pleeeze, I'll give you anything. Sell me that second pedal.' Well, he wouldn't do it for nothin'. Well, the tour ended in New York and the Winnebago had come out of Cincinnati. So we had to get back to Cincinnati. It was obvious, 'H-ll, let's just drive the Winnebago back.' Well, what did he happen to forget and leave in that Winnebago? (Laughtererupted.) AndI've still got it somewhere. I've got the bass drum pedal used on 'Turn! Turn! Turn!' and he don't know what the h-ll ever happened to it." (More laughter.)
I suggested that he might want it back if he discovers where it is.
Cosmo: "If he reads this article."
(Renewed laughter.)
Marvin: "Well, I ended up with that bass drum pedal. That was a whole lot of fun. That was quite an experience for us because we'd never been around so-called stars that much. It was a real pain in the a-- for us because they don't sleep and eat in places where we could afford to sleep and eat in places, and it had its perils about it, but we learned a whole lot of stuff. Hell, I remember -- we did two tours, I don't remember which one it was -- but me and Jimmy Settle ended up driving the d-mned equipment truck just to make some extra bucks. So we'd be in a show in Louisville, Kentucky, and have to be in Charlotte the next night, so we'd have to be drivin' all night. . . . Paul Revere felt sorry for us and started giving mediet pills back then, you know."
Said Marvin: "We were the opening act and we were very well seasoned musicians from playing so many sessions for everybody. So in a thirty-minutes rehearsal we could get down fifteen or twenty minutes . . . worth of stuff. I remember the first tour we got on I was working in the factory at Conn Organ, putting together organs, putting screws in it. Wayne called me on the phone. He said, 'You wanna go on the road with Dick Clark?' And I said, 'Sure!' He said, 'Well, come on.' So I walked over to the office and quit my job. Got in the car, came down here and met 'em in Louisville."
"Left," Wayne echoed.
In his inimitable, rapid-fire delivery, Marvin continued:
"And he took me over to the union hall to join the union real quick, and we left that day and started that night. And we had a rehearsal back behind the curtains with a group called The Trade Winds, which had a tune to hit called 'New York's a Lonely Town When You're the Only Surfer Guy Around.'
(Much laughter.)
Marvin: "Yes, I swear to god. We had a rehearsal backstage while the audience was comin' in the door. And . . . we walked out there and . . . pulled it off."
"We . . . could back an act real well. And at that time we had a horn, so we could do about anything," Marvin concluded.
Then speaking of the present time, Marvin said:
"So we could go in and do a gig with [for instance] Billy Joe Royal, which we've done, at the Fairgrounds, with an hour's rehearsal; Ian Whitcomb, we backed before 20,000 people with a thirty-minute rehearsal. Never met the gentleman before. Anytime that somebody was coming in the Midwest and they needed somebody to back 'em, we'd get called on, because we could do it with a very little bit of rehearsal time and had the guts to go out there and make it sound like we'd been working together for a long time. And it came from workin' in the studio."
I asked if they were paid well for those gigs.
Marvin: "H-ll, no. We've never been paid well. . . . Why do you think we're still . . .?"
Cosmo: "We're still waitin' for the good pay."
Marvin: "You were low man on the totem pole, theyknew that you wanted to play this show with The Rolling Stones, you know. Money's money, so what the h-ll. No, we never did make good money, when it really comes down to it. We had a h-lluva lot of fun. Kind of a trade-off. . . . "Now we wanna doboth!"
After Wayne had told about their first experience in New York City, Marvin waxed philosophical.
"I'd have to say those experiences in the Sixties give me . . . whatever it is, to make me keep wantin' to go on with it now. . . . I can't say 'keepgoin' on,' cause there was a long time I really just got away from it and I was doin' the family thing and I didn't see any future in music. And we've just gotten together the last four or five years . . . and we noticed . . .crowd reaction is what started it all. . . . the crowd was just diggin' the h-ll out of it.
"And a kid or two would walk in the store and identify me and [say] 'I really like your stuff,' you know, and we got to thinkin', 'Well, h-ll, if I could sell us as a package deal . . . the kids are young and they're gonna do their Spanky Lee thing. H-ll, maybe we can get on the same label. We'll come in asOld Kids on the Block. You know what I'm sayin'? Because times have changed, man. There are fathers, there aregrandfathers, there are kids goin' to the same d-mned concert. . . . It's hard to define. If somebody said, 'Define the Grand Dads,' I'd have to say, 'We're a rock 'n' roll band.'"
Anything else they'd like to say?
Cosmo: "Send songs."
Marvin emphasized that although they do a couple of old songs in their act, "We arenot a nostalgia band."
"We don't want to be depicted as The Sultans or The Monarchs. We've had that background, but we're opening all fresh, new stuff. . . . We're not into doin' that thing [nostalgia] at all. We could do it in a minute, but we're not into it."
"We're just tryin' to make itfunky, make you feel good, and make people smile and make their foot pat."
l
Listening to the Shufflin' Grand Dads certainly made me feel good . . . and made me smile.
And that was just in the interview.
Tags: