September 2012 Articles
Cover Story
Kevin Gibson
Features
Eddy Metal
Columns
Berk Bryant
Mike Stout
Paul Moffett
Nelson Grube
Martin Z. Kasdan Jr.
Eddy Metal
Alexander Campbell
Djinn Shockley
Performance Reviews
Martin Z. Kasdan Jr.
Mike Stout
Bookmark Louisville Music News.net with these handy
social bookmarking tools:
Available RSS Feeds
- Top Picks
- Today's Music
- Editor's Blog
- Articles
Add Louisville Music News' RSS Feed to Your Yahoo!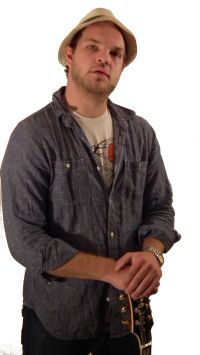 Hunter Embry
Hunter Embry: Louisville's Three-Headed Monster?
Hunter Embry embodies the term "music nerd;" he pretty much eats, drinks and sleeps music.
As such, he's become quite well known in the Louisville scene. If you haven't read the music reviews he's written, you may have heard his band. Or you may have been to a show he has promoted. Hell, if you're in a band yourself, you've probably played in a show he's promoted at some point.
It's true, Embry stays busy. And he means to keep it that way. "I've always prided myself on being the hardest worker I know," he said, "but I can't work for other people."
No 9-to-5 job for him, though he said a stint in the food service industry taught him how to deal with people. So, when he isn't writing a song, recording a new album, playing on stage with his band the Bad Reeds or sleeping (he has to sleep sometimes, right?), then chances are he's networking with musicians and planning out his New Vintage Showcase schedule at ZaZoo's, which features bands of all types who come from, well, wherever.
Sometimes all the bands are from Louisville. Sometimes none of them is. But they come in numbers, and they could be from Nashville or Boston or someplace you've never heard of.
"I get so many people out of Nashville and other regional towns [playing the showcase], because they may only get 50 bucks -- but it's 50 bucks more than they get in their towns," Embry said.
It's a wonder he has time to promote his own band, as busy as he stays promoting other people's bands.
"I would have to say Hunter is one of most driven people I have ever met," said long-time friend and band mate Dane Rodriguez. "I don't' know how the hell he does it, but he does it."
Speaking of Embry's and Rodriguez's band, the Bad Reeds have a new, self-titled album ready to drop, along with a CD release party at Headliners on September 21, with Discount Guns, Zenyatta and Violet Knives. But more about that later.
So, when did the music bug bite Hunter Embry? How did he get smack in the middle of the Louisville music scene. And what band caused Embry to initially become an addict? Because we all have that band, the one that really opened our eyes (or ears).
"When I first heard KISS," he said, without hesitation. "As far back as I can remember – I remember my dad having magazines from the '70s. I had stumbled upon them and looked at the pictures."
He got an acoustic guitar and a basketball goal the same Christmas, when he was around age 4. The guitar came with a how-to booklet, but since he was 4, he couldn't read it. His next influence came from watching music videos on TV.
"I ended up breaking the guitar before I could play anything," he said. "I slammed it on the floor, because I thought that's what you did at the end of every show."
Of course he did. Luckily, he outgrew that – because that kind of tradition could get expensive after a while.
Let's take a look at this story from the three main angles: Embry the songwriter and musician, Embry the band leader and Embry the promoter.
SONGWRITER/MUSICIAN
A few years after he smashed his little acoustic guitar, Embry ended up with a copy of Appetite for Destruction, by Guns N Roses. KISS was the big band, but that was the big album. "Just the energy," he said. "The aggression."
He heard it by way of an uncle, but he ended up buying his own copy at Wal-Mart in Oldham County. "I remember trying to decide whether to buy that or the soundtrack to 'Wayne's World,'" he said.
Later, when Napster came out, the first 30 or 40 songs he downloaded were Led Zeppelin and Jimi Hendrix. Then when he got to high school, he began listening to the Beatles and the Rolling Stones.
Of course, by way of his family, he received generous doses of Buddy Holly, Bruce Springsteen, the Everly Brothers, and even Red Hot Chili Peppers and Metallica.
The first song he wrote was called "Crash Test," and it was written for the band that would eventually become the Bad Reeds. That band, which was called Knub Dust (don't ask), played 75 or 80 shows by the time everyone in the band graduated from high school.
"There are still people that come to shows once in a while, and I will hear 'Knub Dust' being screamed out," Embry said.
While Embry was also an active music writer for several years – "I used to write 20 or 30 reviews a week," he said – he grew weary of spending his music listening time absorbing albums he didn't truly care about.
Writing songs, however, is something about which he cares quite a lot. His songs have leaned toward blues and classic rock, but he said the new Bad Reeds album stretches out a bit more than previous recordings.
"Half the new record was written in one [day], sitting in front of a computer after listening to lot of John Lennon and CCR," he said. "It was Lennon's mommy issues that got me. Everybody's got something. It was stumbling upon the Lennon solo records. My mind got fired up – something came over me; I had to write."
He said the album shows off a bit more of the band's rhythm & blues influences. He points to a couple of standout songs on the new album such as "Poison in the Well," which is about Robert Johnson's death, and "Sally," which is about Sally Salisbury, a famous 18th-century English prostitute who stabbed a client and ended up dying in prison.
"But a lot of [the new album] is personal experience," Embry said. "There's a lot of layered stuff, double meanings throughout the record. … There are also a couple of songs that don't mean anything."
BAND LEADER
Embry gives a lot of the credit for the endurance of the Bad Reeds to his band mates Dane Rodriguez and Brantley Nall.
"I've been privileged enough to play with some of my best friends for a very long time," Embry said. "Each member has sacrificed so much to keep the ship afloat for many, many years. … We have a natural cohesiveness that's hard to find and easy to see at our live shows. I'm 24 and have been in the same band for almost 10 years, and I'm proud of that."
And believe it or not, it was actually Rodriguez who did most of the promotions when it all started. The two became friends while playing football together for their eighth grade team, and quickly found they had a shared interest in music.
"At the time, he was the only one who played who was looking to play with anyone else," Embry said. "The first time we played live, we did 'Freebird' at a talent show with two guitars and drums, no bass. It was teen-age angst about not liking the music that was teen-age angst at the time."
Nall was only 13 when he joined in; Embry said Knub Dust only wanted to do 1960s, '70s and '80s rock, and the other bands around town – most of them playing screamo – considered them a joke.
"We didn't understand the skinny jeans, the words, the haircuts," Embry said. "It was just a style we didn't understand, so we had a hard time early on."
Luckily, Embry noted, White Stripes, Black Keys and Kings of Leon emerged, and it helped make Knub Dust/The Bad Reeds more accepted. This was before Embry had given much thought to promotion, and he had plenty to learn.
"Early on, I was super shy," he said. "Dane is by far the most outgoing in the band. I know a lot of people in music from booking and writing, and he knows a lot of people just by being himself.
So, Embry would give Rodriguez "the rundown." And Rodriguez would get it done.
"In the beginning, I did most of the phone calls," Rodriguez said. "I set up shows, that kind of stuff. I was kind of the voice because I was a little more outspoken than the other guys. Over time, Hunter just kind of took the reins. He fell into his comfort zone. He took it to a whole new level."
Of course, leading a band is about more than just writing songs and doing all the promotion, flyers, album design and whatnot. There are also song arrangements and recording to consider. And from all he has learned about networking, Embry isn't shy about bringing in some outside help.
For the new album, Embry enlisted the help of Peter Searcy and Scott Carney, and they did a "living room recording. I wanted to hear what Peter might think … would need to be done."
Carney, however, was consulted more from the standpoint of production and "sense of sound, broadening the landscape of a song, incorporating different sounds into it."
PROMOTER
Embry said his gig as a promoter came about largely by way of his band playing a lot of out-of-town shows over the years.
"In doing so we met a lot of bands, and playing so many shows in Louisville, we got to know the scene pretty well," he said. "Also, when you go see shows by bands you like and there's a local opener, you find out who you want your band to play with. And from touring, seeing what we loved and hated about each one, brought us to what I now do with booking."
Embry first started booking shows at Stevie Ray's – during the summer months, he booked Waterfront Wednesday after-shows, and it took off. The ZaZoo's Saturday New Vintage Showcases he now books came later, and it ended up being a timing thing, in a way. ZaZoo's was looking to have a make-over of sorts.
Embry had met sound engineer Dave Chale by chance on Facebook, and they got together with ZaZoo's ownership and decided to turn the venue into a music scene.
"We got lucky, because it would have been hard for any bar owner to give us a chance," Embry said. "It was one of those things where we came right in and were putting on bigger shows and making the bar a lot of money."
"He's one of those guys who has a very serious drive," Chale said of Embry. "Whatever he's interested in, he spends a lot of time working on it, whether it's doing it or learning about it. He does whatever it takes. That's why he's a good promoter and why he's good band leader."
Any given Saturday at the New Vintage Showcase could yield any given lineup or any given crowd. Embry estimates that about 5 percent of the shows are national acts, another 30 percent are regional bands, and the rest are local and touring acts.
"My whole thing was to take an old-school approach," he said. "It's all ground work. We still don't do any advertising [unless it's a national act]. So much of it is social media and using Facebook for all sorts of things and trying to stay on top of what's coming out new."
For a touring band, when Embry gets a contact about playing in the showcase, he will go to their Facebook pages to see who their mutual friends are.
"Through doing that, you try to build a community," he said. "I try to stay on a first-name basis with as many people as possible."
From there, he promotes through the thinking, "If you like this band, then you should come and see this band."
Another strategy is "getting on foot and flyering the crap out of everywhere."
He also designs most of the show flyers as well as hanging them around town – because he studied journalism in college, he is proficient with design programs like InDesign and Photoshop.
Embry doesn't really fancy himself a promoter, though. He books bands at Zanzabar sometimes and has booked a couple of Headliners shows.
"I don't like dealing with the contracts," he said. "It's more about developing artists than making money off the big ones. It's fun and exciting, and there's whole other energy around you, but that's not why I do the job or why I like it."
And right now, he's more focused on promoting the new Bad Reeds album than anything else. The band has a new drummer – Clay Birchett, formerly of Cougar Express – and Embry's goal is to go back to playing more out-of-town shows. The Reeds have played South by Southwest and done several tours, and he wants to get back to that. And right now, the band comes first.
Interestingly, though, even in promoting his own band, he's still helping others.
"There are new bands coming out around town and they've been asking for long time" to play on one of Embry's bills. "So we decided to pack the bill with younger bands we've taken a liking to. It will give them their first shot at the big room, which we're all really excited about."
Having his hands in the music scene is still the goal. Rodriguez noted, "That's always been his dream, and he's always been involved. He does it well."
However, he said, "I don't see myself promoting or booking shows in five years. I love writing, I love music, I love graphic design. I would much rather be in management or recording or trying something else."
Tags: