April 1991 Articles
Cover Story
Jean Metcalfe
Features
William Brents
Bob Bahr
Columns
Berk Bryant
Paul Moffett
Alan Rhody
Performance Reviews
Jean Metcalfe
Bob Bahr
Marc Hayes
Linda Gower
Patricia E. Finger
Karen Le Van
Karen Le Van
Henry C. Mayer
Calendar
Staff
News Item
Staff
Opinion
Staff
Errata
Staff
Photos
Staff
LASC
Staff
Staff
Staff
Staff
Michael Layman
Diana Black
Diana Black
Jean Metcalfe
Blogs
Got Shows?
Send Them To Us
Bookmark Louisville Music News.net with these handy
social bookmarking tools:
Available RSS Feeds
- Top Picks
- Today's Music
- Editor's Blog
- Articles
Add Louisville Music News' RSS Feed to Your Yahoo!

Issue`: April 1991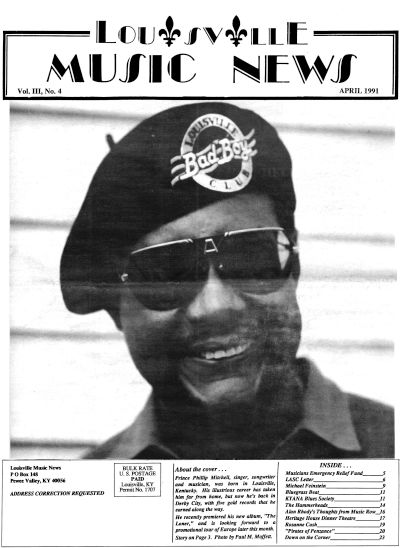 Prince Phillip Mitchell
"Star of the Ghetto "
By Jean Metcalfe
In 1963 Phillip Mitchell won a talent contest at the Louisville Black Expo with a group called The Classics.
"We actually won a recording contract with Motown which never materialized," Phillip said. "We won a bunch of trophies and our contract with Motown disappeared with the trophies."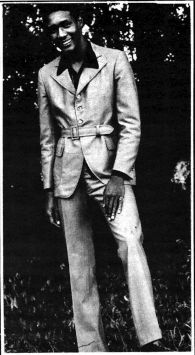 Phillip Mitchell circa 1969
After the contest win, Phillip said, "I was gung ho. I thought I was the greatest vocalist on earth."
Prince Phillip Mitchell recently reached into his past to recount for me the events that led to his successful music career. He spoke of the highs and the lows. He talked about the records of gold and the rejection of blacks. For Prince Phillip Mitchell, music is "a way of 1ife."
Phillip Mitchell's father had wanted him to take a job as a foundry worker at Louisville's International Harvester plant and stay there until retirement. But let's let Phillip tell the story:
"He took me out to Harvester one day to get me a job there and the guy was saying, 'Come on, follow me and I'1l show you what you'll be doing today.' And I was walkin' behind him and as I was walkin' I kept feelin' this heat and I got to thinking, 'Well, this ain't for me,' and while he was walkin' and talkin' I was goin' the other way. So that kinda prompted me to pack my bags and head out."
Phillip's interest in music manifested itself when he was a child:
"At a young age I found out I was fascinated with making up little songs and it just developed into something that I just really found that I loved to do. It was almost like second nature. I just did it naturally and, of course, the more more you do it the better you get."
"My parents never really thought much of me entertaining. They never thought I was any good, first of all," Phillip said somewhat ruefully.
"There wasn't a lot of encouragement in my house as far as my musical career goes, but, of course, later on I proved them wrong and they began to respect that, you know and so things turned out pretty] good."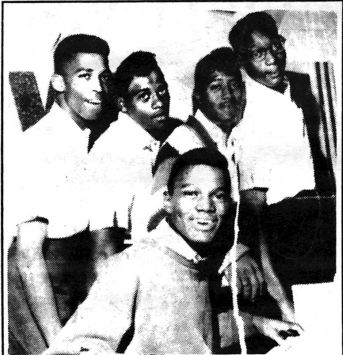 Caption AND THE WINNERS ARE... THE CLASSICS: Phillip Mitchell is at top right
Phillip was born in Louisville, attended Central High School (there were other schools in other cities) and considers himself a Louisvillian. His neat home in the West End evidences the many hours he has spent making improvements, work he 1 enjoys doing. On the beautiful late-March day of my visit, the yellow flowers of a forsythia bush were just beginning to bloom in Phillip's front yard.
After years on the road, traveling to – and in some cases living in – Indianapolis, St. Louis, Houston, Los Angeles, Las Vegas, as well as Muscle Shoals, Phillip has settled down in his hometown for now.
Phillip's widowed mother and his two brothers and a sister live in California.
As a youngster, Phillip said, he and "a bunch of little guys" would get together in "little singing groups." He confessed that at that time he thought he knew everything, "so naturally everybody had to listen to me and my way was the way or else no way at all. And I guess that's still true today."
"You might have heard the rumor," Phillip continued, "(that) a lot of musicians don't like to play with me (but) it's the business that I love and there's two ways to do it: the right way and the wrong way ... I'm somewhat of a perfectionist.
And it's not necessarily my way, it's just the right way ... And I strive to be perfect."
"I had a lot of local groups, before I actually struck out from Louisville," Phillip said. And those early vocal groups did not utilize a band; they sang "strictly a cappella," Phillip explained.
One of the many local groups was called The Viscounts, but it was with The Checkmates, whose routines he choreographed, that Phillip cut his first local record in 1963, a single of two of his original songs, "The Count" b/w "Closed Chapter."
Phillip said that his early vocal groups predate such local favorites as Cosmo and the Counts, The Monarchs and The Trendells.
"I remember (they) would just sit in the wings and marvel at what we were doin' just a cappella. We didn't have a band, we just had a vocal group, hand clappin' and foot tappin'.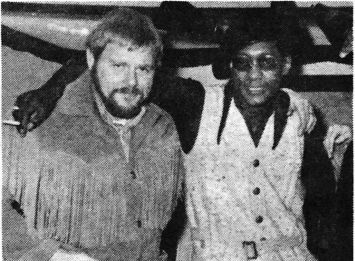 Barry Beckett and Prince Phillip Mitchell at Muscle Shoals Sound Studio
"You were doing then what Take 6 is doing now," I suggested.
"Exactly, precisely, so Take 6 and The Persuaders are just a take-off of The Checkmates, The Flip Tops, The Classics," he laughed.
"Every time a group member would quit they would always want to go out and keep the name. So I would come up with a new name and we'd just keep rollin' ... and we'd meet 'em … and we'd always prove to be the best, which was the case at Expo in '63. All my old former group members went up against me in the contest and we beat 'em."
Except for playing in school bands (his first instrument was the trumpet), Phillip is "pretty much a self-taught musician."
When I suggested that perhaps his musical talent came naturally to him, Phillip laughed and said: "I wouldn't say 'natural,' because it takes a lot of hours of hard work a lot of trial and error and a lot of dues to get to be able to sing like I do now."
I tried to sum up my understanding of Phillip's early music career: Success on the local scene and then contacts that led him beyond Louisville.
"Not necessarily contacts," he laughed.
"My contacts was the Greyhound bus."
Phillip's performances with the local state fair led to fair performances in Indianapolis, Ind. It was there, he said, that he picked up the name Prince.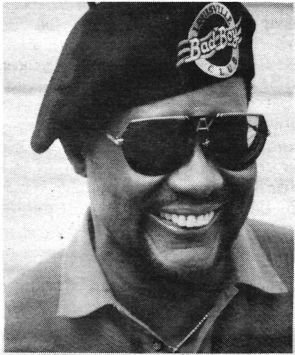 Photo by Paul Moffett
But let's listen to Phillip's own version of how he came to be called Prince.
"I used to have a dog that was called 'Prince,' and he would bite you. And a lot of times we'd go places and the dog would get out of the yard and the kids would say, 'Oh, that's Prince,' and they would see me and say, 'There's Prince,' transferring the dog's name to the owner.
"I got named after a dog, really," Phillip said with a hearty laugh.
"And then there was another situation where I was in Indianapolis … some girl – I don't how she got this, but I guess maybe from one of the local musicians, or something, who called me that and they picked it up and they just started calling me that ever since… . I don't know if somebody called me Prince and they picked up on it, or what, but it's questionable which one of the stories but I do know that the dog would bite you and every time they'd see me they'd holler, 'Oh, here comes Prince,' so everybody started kinda calling me that and I just kinda adopted it as my stage name. It kinda had a nice little ring to it."(He told me later that a record company once wanted to change his name from Prince Phillip to Reuben James. I found that exceedingly funny, realizing how inappropriate it was for Prince Phillip Mitchell.)
Talking about his name reminded Phillip of a funny thing that happened when he played for a party at the Kentucky Horse Park and Philip, husband of Elizabeth II of Great Britain, was in attendance. When Prince Phillip Mitchell was introduced, he said, "Everybody was lookin' around as though, 'Huh?' and I came out and everybody got a kick out of it I played that up and (after the performance) he congratulated the band and it was really neat."
Later that evening after Phillip (of Louisville) had completed a late-night set at Actor's Theatre, a woman, who had heard that 'Prince Phillip' was there, came up to him and said, (Phillip spoke in a high-pitched voice) "Oh, it's so wonderful to meet you. How do you like our country?" (Phillip and I laughed so hard that he could hardly talk and I could hardly hear the rest of the story. 1 did hear the word "dingbat.")
That story led to another one involving England. Walking along a street. in Liverpool, Phillip turned a comer and spotted two black men, the first blacks he had seen in two days. He immediately rushed up to them and said, "What's happening, bro?" "They looked at me and they looked at each other and they started talking in Latin or ... two African guys!"
Phillip feels a strong need to live up to the image that the local people have of him as "somewhat of a local type status symbol, I guess, in a sense that everybody kinda looks up to me and they expect big, big things of me ... "
Does he feel more nervous performing in his hometown than elsewhere?), I asked, explaining that I had heard other musicians say that they do.
"Well, it's not true of me. When you've been in this business as long as I have, it's a way of life. It's something that you love to do and each time out, rather than go out and be afraid, I just go out and think, 'Well, here's a hundred or a hundred thousand people who love me they like what I do and they're there to hear me perform, so it's just like a big homecoming each time out."
While living in Indianapolis Phillip worked with a group call The Cash Registers, the back-up band for Alvin Cash and the Crawlers. The band had a Top 10 hit record, "Twine Time," and Phillip hooked up with them, playing in area clubs. "That was kinda the kick-off point to going on the road," he said.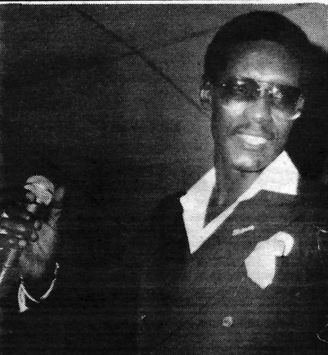 Prince Phillip Mitchell at Louisville Gardens, circa 969
From Indianapolis he went to St. Louis, then to Muscle Shoals, Ala. It was there that he left the fair, eventually signing with Rick Hall at Fame Recording Studios, where he first started writing songs as a professional. His first national record was called "Keep On Talking" on Smash Records (Polydor).
At that time (around 1966-67) Muscle Shoals was "the music capital of the world for rhythm and blues music." Many gold and platinum albums came from there, Phillip said.
"Everybody in the world that's probably of any mention, in this country particularly, has come through Muscle Shoals," he proudly related, then reeled off a partial list: Percy Sledge, Jeannie C. Riley, Brenda Lee, The Osmonds, Bobbie Gentry, Jimmy Hughes, Arthur Alexander, Linda Ronstadt, The Rolling Stones, Brown Sugar, Sonny & Cher, Wilson Pickett, Aretha Franklin and others.
"It was then like the big melting pot of music, the country mixed with the blues and the rhythm and blues and it was kinda like a total new sound that people weren't familiar with. And out of that came a whole bunch of wonderful records."
But when Phillip first went to Muscle Shoals, he was shy about letting his original songs be heard.
"At that time I didn't put much stock in my writing. I was writing music but I didn't think I was a songwriter. I was kinda a little shy of showing my material because I thought it was too personal… . I always thought I had some pretty good little songs but I was afraid to be exposed as one who thought he was a songwriter and I guess I was afraid of being rejected."
"It helps when some of your peers … somebody you respect … when these people hear some of your material and they like it, I mean it inspires and does a lot of wonderful things to you. I had that happen to me on a number of occasions ... Smokey Robinson hearing some of my stuff and he was just 'Wow!"'
People would come to see what was happening in Muscle Shoals, Phillip said. People were asking, 'What is goin' on?'
"You had your Detroit sound, you had your New York sound, you had your West Coast sound and they had the Nashville sound, and all of a sudden then you hear this Muscle Shoals sound. Probably 70-75% of the records that were coming out of Memphis (Memphis was claiming to be a recording center, he said), well, the most of it came out of Muscle Shoals. Stax Records, they were coming to Muscle Shoals and recording and going back to Memphis and putting it out on their local label."
"Sam & Dave, Soul Children, William Bell, The Staple Singers … all of their big hits were cut in Muscle Shoals at Muscle Shoals Sound Studios."
"If they (anyone) looked on most of the old Stax records they would probably see my name a lot, because I wrote a lot of songs back during those times."
"I had better success as a songwriter than I did as an artist for the simple fact that they had realized I was writing good songs, so consequently they would work my songs for other artists. They saw me as a chocolate, wind-up song machine."
After a couple of years in Muscle Shoals, Phillip moved to Houston, where he went to work with a group called The Esquires, Percy Sledge's back-up band. Calvin Lewis, the bass player and piano player Andrew Wright had written "When A Man Loves A Woman," which became a big hit for Sledge. When Sledge went on the road, Phillip replaced him.
While in Houston, Phillip met up with Archie Bell and the Drells and started choreographing the group. He subsequently produced several records for them, the most notable of which was their chart song "Dancing to Your Music," which Phillip also wrote.
When he moved on to Los Angeles, Phillip got together with a dance group called The Bean Brothers – who were not brothers – and taught them to sing. The group was so named because all the members were "long and tall like a string bean," Phillip said. (Phillip towers at just under 6'7.")
They became famous around the southern California area for their dance moves and Phillip was approached by other groups in the area – groups such as The Whispers and The Young Hearts.
For a total of about six or seven years (in two separate stints) Phillip wrote exclusively for Muscle Shoals Sound Publishing, specializing in what was called "assignment" writing, sometimes writing as many as ten or twelve songs a day, he said.
Phillip said that he has written "a lot of songs for many different artists which most people locally don't have any idea."
"Prince has a track record for writing songs … God, I can't even think of half of the songs I've written ... I've had somewhere around 30 or so records that charted, in all countries … ."
"Sometimes, if it crosses my mind, I say to myself, 'God, I wonder how many songs I've written' … but I don't bother with it, because I'm forever writing new ones."
In 1987 Prince Phillip Mitchell was inducted into the Alabama Music Hall of Fame.
Furthermore, in a book called Say It One Time for the Broken Hearted, author Barney Hoskyns says that Phillip's "Be Strong Enough to Hold On" is perhaps Bettye Swan's "all-time masterpiece."
Hoskyns also says that "this aching country ballad may be the greatest thing he (Phillip) ever composed. it is one of the last great Shoals country-soul records."
"Being from that era of music in Alabama I'm kinda like a piece of history walkin' ... around and most people don't understand it," Phillip said.
"Like Wilson Pickett's 'Land of 1,000 Dances' (he demonstrated: 'nah nah-nah nah nah') … I sang background on that." That was but one of Pickett's hit songs that crossed over to pop (No. l R&B, No. 6 pop).
Phillip received gold records for five songs he has written: "Oh La De Da," "Hurts So Good," "Starting All Over Again," "Dancing to Your Music" and "Home Is Where the Heart Is."
Vandals broke into his home and destroyed three of them, he said.
He also received a gold album for a compilation album that included several of his songs. It was a big, big record for her," Phillip said of the Millie Jackson cut "Hurts So Good."
Other artists who have recorded Phillip's songs include Peter Yarrow, Razzy Bailey, Don Gibson, Bobby Bland, Mel & Tim, Jolmnie Taylor, Hall & Oates and the list goes on.
Hall & Oates' album that includes Phillip's "Starting All Over Again" is doing well, Phillip said, but admitted that he doesn't read Billboard. "I just write 'em and watch the mailbox."
"Is it necessary to leave Louisville to find success in the music business?" I asked.
"Personally I don't think you have to leave Louisville, but your music definitely does," he laughed! "I don't know of anybody, any producer or record company who would turn down hit songs, since that is the main ingredient of success in the music business. ... "
"Most local writers, they sit around, they have dreams and aspirations of going to Nashville ... even Nashville is a hard place to crack. They see amateur songwriters coming from all over the country, trying to break into the music business and it's a bit tough, because it's a clique ... " It's that way in Los Angeles and New York, as well as in Nashville, he said.
"Today's music is a joke," he laughed. "It's not the music business, it's the money business. It's not talent, it's promo, it's money, it's fast dollar and cents. It's the 'dis' business – disgusting, discouraging, disco, video discs, disenchantment … that's what it is, it's the 'dis' business."
"Music to me is a way of life. It's not a hobby, it's not a job, it's strictly a way of life. And you gotta love it to tolerate it. You take the bitter with the sweet, the ups and the downs and if you're a true musician or songwriter then you'll maintain, you'll survive."
"I've had my ups and downs in it and I feel I've been a little more fortunate than most people. I had to go out and do it and when people like Barry Beckett or some of your bigger producers in the country or some of the great writers of our times and they approve of what I'm doing … that's gratification for me ... that makes me feel good and it inspires me. Songwriting is just my way of life. I do it naturally. I do it whether anybody ever hears 'em or not. I have to write it's just a good feeling to be able to sit down and express myself through my music and it's wonderful to know that it's appreciated when people hear it and what feels so good is when you make money doing it."
Phillip spoke about one of the negative aspects in the music business:
"A lot of people locally, they kinda look down at you or they want to try to push you around. But, see, what they don't realize is I'm a legend in my time and I think everybody wants to try to take a little part away from that legend. Sometimes when I come in contact with a lotta local people, (they say) "Is your name really Prince?" And I say, 'Yeah.'
"Well, how'd you get the name Prince?' And I say 'My daddy is a king,' So I make it a little joke."
Sometimes people come up to him, Phillip said and they will say, "Hey man, you're pretty good." ' "Well, I'm not pretty good, I'm damn good."
"So if you can't add anything, I just don't like people to subtract," he explained.
He assured me that he doesn't mind if people genuinely want to know how the name Prince came about, it's their taunting attitude that he doesn't care for.
Phillip disagrees with those who say there is a lot of talent in Louisville.
"There are a handful of great musicians, I feel, in Louisville. They don't have the necessary discipline that's going to propel them into the big musical success that everybody's trying to be. Attitude is a big part of it and once you get into a professional situation, somehow you suddenly learn how you are to respond and how you should conduct yourself or how you go about becoming a professional."
He said that sometimes people will describe a group as "great," and yet they can't "tap their feet in time to a four count, you know, four-four timing. But they're gonna sit there and say, 'Oh, yeah, they're great.'"
"Well, what criteria do you use?" he asked, not requiring an answer.
I asked why it seems that musicians, unless they have really "made it big," get so little respect, even though music is such an important part of people's lives.
Phillip feels that many people aspire to be successful musicians and never make it. They then tend to look down on those people who are out there trying to make it. Once a person has achieved success, he said, they want to "get on your coattails."
In answer to my question, Phillip said that after years of writing songs as a staff writer in Muscle Shoals and having considerable success at it, the turning point in his career was probably "when I first signed with Atlantic Records and a bunch of my records went totally national and international" and got that exposure. That was in about 1977.
"I was one of these 'bubbling under' performers as an artist. Everybody knew of me, but for example, I would be in New York and people would be talking to me, about me."
"(They would say) 'I know this guy named Prince Phillip Mitchell down in Alabama,' and they're talking to me ... so my name's been around it seems like I've been around forever and I keep coming back ... I've got great, great fans in Europe they love me there."
"I personally feel and I've been told this … there was some conspiracy against me to prevent me from becoming a major artist for the simple fact that I wrote such great songs."
"I'm the star of the ghetto." he said. He went on to relate that that is the title of one of his songs recorded by the Average White Band and Ben E. King some years ago.
"It was real personal to me more of my autobiography type. It was a song that I had written for me, about me and people heard it in New York and they loved it and I was saving the song to do for my album "to propel myself into the big business … the President of Atlantic Records heard it and he sent me a personal letter begging me, more or less, please let me have this song, let me have this song for artists like Ben – E. King, which I did. They sent me a nice little check of appreciation. … That's one way that convinces me," he laughed.
"I let 'em have it and they recorded it ... did real, real good. Later on I recorded the same song on my album, which I had to do because it was kinda personal to me. And it kinda sums up my childhood days around Louisville as a performer."
"What is the best part of being Prince Phillip Mitchell, in music," I wanted to know.
"Well … whew … that I can do what I want to do I just do … what comes natural … I like the freedom of being an artist and being able to express myself musically and that's a big, big relief. I find that if I have problems, if I'm not feeling very well, I can always think of a nice lyric or a nice melody that puts me in a good mood. And I don't need anybody but me and my guitar, or me and my piano to do that."
"I can sit down at any time, day or night, any hour and write what I consider a good song, maybe not necessarily a hit song, but what is a hit song? Nobody know until it's proven to be …
"I don't like a lot of the limelight," Phillip insisted. "I'm kinda a low-key person. I don't like crowds of people I just kinda like to do what I like to do, when I like to do it."
"It's nice to be appreciated," he admitted, when I asked that specific question about his singing.
"I would prefer a person to sit and listen to me … I don't like people to dance when I sing ... I'm an intimate type of performer ... I like close quarters where I can kinda reach out and reach people musically ... . I love to perform. I don't know whether I'm a performer first or a writer second or vice versa. I just kinda feel it's a combination of the two that makes me."
Phillip decried the loss of artistry in much of today's music.
"I have this love of the old artists. All my artists are either dead or retired," he laughed. "I cannot tell you right today I can name you five current artists in the whole music industry that I know.
"That you like?" I asked for' clarification.
"That I know," he reiterated.
"Who do you listen to?" Phillip gave a rapid reply: "Nobody.
Absolutely nobody. ... You can sit at my house for months and you'll never hear me play a record ... I never listen to the radio … I hate videos … I think videos are a slap in the face ... it takes away the creative music. It puts emphasis on video rather than audio ... it's discriminatory ... if.you're ugly ... all your videos are all these sleek, suave looking guys or all these model looking women … New Kids On the Block can't sing … it cuts out the musicians … it takes away all the intimacy of being an artist and the love between the music and the artist or the singer and the keyboardist or whatever. All of that is gone from music today. It's all synthesized keyboards, electronics. To some extent it's okay, but I kinda prefer the old days, the old ways, and the old styles of recording because it was more meaningful to me."
"They say that music reflects the times that you're livin' in. Well, God, I hate to think I'm livin' in those kind of times.
We discussed the lip-synching in today's videos and groups such as M.C. Hammer ("He can't sing," Phillip said) and the head sets that artists wear so as not to impede their movement. I said that I didn't like them. –
"Well, what that amounts to, Jean, is we're gettin' old." Phillip said, laughing a wicked laugh.
"I think it's getting so ridiculous right now the whole music scene is going to have to be forced to take a backward step," Phillip continued. "It's getting too far beyond itself. And the big difference that really bothers me is the difference the requirements for black artists versus white artists."
"Of all the records that I've made, I've never heard any of my records played on any of the local stations (other than the black radio stations)."
He went on to explain that if a song crosses over, it might be played on a station such as WVEZ. "You can't get around that – that's classic."
We talked about the "As Nasty As They Want to Be" philosophy that seems to be so prevalent today.
"Black artists find it so hard to really seriously get into the music business and to really have the serious side of themselves musically to offer to the industry that they decide to jump on the bandwagon and prostitute themselves to the rap thing. Because it's easy, it's quick, it doesn't require a lot of talent – it doesn't require any talent, actually – and record companies understand that this is fast-money music, they can take a keyboard and maybe a thousand dollars and go in the studio and cut a few tracks ... promote it a little bit and make millions of dollars off of it. That is why it's so lucrative."
Phillip feels that it is much more difficult for a black artist to make it in the music business than it is for a white artist.
"The requirements of what you sing about black artists versus white artists is so diverse. Can you imagine Luther Vandross singing about a 'Little Deuce Coupe'? Come on. ... So as a black artist you are expected to really have something wonderful … something phenomenal to offer before we're (music industry people) gonna open the door."
"The requirements are different. ... Another 'dis' in the 'dis' business is discrimination. It's the most lopsided business in the world, as far as I'm concerned. … (Some people have is said) '90% of all blacks can sing and dance.' Well it doesn't reflect in the music industry, you know." (He chuckles.) "If you seriously look at that, it's disenchanting to me in a lot of ways because, going back to the last 1012 years, there's been no significant changes. There's been one or two real prominent black artists to emerge, like Whitney Houston, maybe."
"The kids, they don't have any role models of any significance. They don't see them, so what they see on television is what they want to be. So, drug pushers, pimps, hustlers, murderers, thieves, what have you … and it's appalling, really."
"So every little kid on the street nowadays ... they're walking down the street rapping, pointing their fingers, trying to get their moves together like the rappers do. This is the first and foremost thing on their minds … learning how to rap. "
"I don't like being involved with that. Because I don't particularly feel like that's music. I think when they have awards ceremonies, they should have totally separate ones, because they need to call rap 'rap' and let music be music."
"Thank God for James Ingram and Quincy Jones, who just seem to me to attain that level of excellence forever and I can always count on Quincy and James Ingram, or even Luther Vandross for that matter, to give me something I can feel. I like Lee Greenwood and a lot of the country artists. ... Country is kinda like my roots. I'm a Kentuckian, you know."
"I can even do the Grand Old Opry ... I'm right at home."
"Would you like to," I asked.
"Of course, sure, I'd love to. I love the Grand Ole Opry."
Phillip paid high compliments to the country musicians he met while he was in Muscle Shoals.
"What was so amazing was when I got to Alabama and ... heard all of this funky music, all this rhythm and blues and I walked into the studio ... expecting to see a bunch of black guys and there was a bunch of these down-home, just country, I mean, just typically southern Alabama white boys playing the funkiest music I'd ever heard in my life and I could not believe it. I gotta go out the door and come back in this can't be true. These were the most precise musicians that I've ever heard in my life."
Phillip said the musicians were very versatile, switching easily from one style of music to another. For instance, finishing up a session with Linda Ronstadt and immediately starting one with Wilson Pickett. "No problem," he said.
"I feel kinda lucky being able to come up in that type of environment … you feed off of that and subconsciously it becomes part of you and this is why, I guess a lot of people think I'm hard to work with … I guess my expectations of them is so great because I know and understand, I've lived how it's supposed to be. Most musicians do not understand this about me, they don't understand where I get it, where I'm coming from because they don't know I've been there, I've done this, this was my life, I used to have to do this every day of my life to get paid and that is to critique and make sure it's precise and make sure it's perfect. So they cannot relate to me on this particular level … they think I'm just being obnoxious or just over-reacting or just being very difficult to get along with, which it's not. It's absolutely the only way to do it."
"I give everybody a chance … and if a guy can't cut it, he can't cut it. ... So don't blame me, because I know the difference between good, better and best. Locally I deal with a lot of adversity from a lot of local people they don't understand me because they don't know where I come from, they don't know where I've been, have no idea who I am or where I'm going."
One of those places that Phillip has come from is the jazz circuit. Back in about 1977-78 he was the featured vocalist with the Norman Connors jazz quartet. This is how that came about: The group had had a chart hit with "You Are My Starship," featuring vocalist Michael Henderson, who was also the bass player. (Connors was a drummer.) With the popularity of "Starship," Henderson was wooed away from Connors' group, leaving him with a hit song and no vocalist to sing it. Enter Prince Phillip Mitchell.
"So I traveled the country singing 'You Are My Starship."'
Phillip went on to record a couple of albums with the group, thus becoming known to many as a jazz singer.
We spoke of the difficulties of being in the public eye and Phillip laughed and said: "You develop somewhat a little state of paranoia in a sense. ... When I lived out in the hillside and the mansions, everybody would say 'You think you're better than we are because you live out here with the white people.'"
"You never can be everything to everybody," I commiserated.
"No. No. Well, when I lived down with the black people they robbed me, they broke in my house, they throwed everything … they tore up my gold records, they killed my dog, they knocked a hole in the back of my house (Phillip was talking so fast and laughing so hard that I barely "understood him), but now I've developed this happy medium. So I'm back in the ghetto … not really ghetto ... but I live around the rappers and the tappers (laughing) ... It's not the person that changes, success doesn't change, you know, I've been up, I've been down and my career has taken a lot of twists and turns, but, thank God, I'm still able to do what I love to do most and that is write, sing and play my music."
How would Prince Phillip Mitchell describe himself?, I asked.
"(Laughing) I'm just a perfectionist," he said after a bit of thought.
"I would describe myself as being an unusual person, in the sense that I don't find a lot of common music – on the new album. He has been told by an Ichiban rep that the album is "awesome."
"He's promised me gold,"Phillip said with pride.
"This particular album has got a lot of me in it. … a lot of this album is based on my experience. ... "
An album release party is scheduled for 11 p.m. on March 29-30 at Air Devils Inn and is open to the public. Prince Phillip Mitchell will perform songs from the album both evenings.
A European tour to promote The Loner is scheduled to begin in April.
What would Phillip like to say to our readers?
"I would like for people to understand that people are people, regardless of who they might be, where they come from or what they might do or what they might accomplish in life. But take people for who they are rather than for what they are or what they have. Because happiness and joy comes in a lot of different packages, you know. And don't alienate themselves from people, be they black, white, green, orange, purple or what have you, because you never know when you might be face to face with one of these people, your whole existence might depend on it, so you have to look at yourself as a person and be a compassionate and loving type person, because you never know when it's gonna pay off for you to do that."
I suggested that – payoff or not – he would still feel that same way that everyone should be looked at as a person, regardless of race, creed, color or other characteristic.
"There is no color in the music business," he answered.
"I'm the Star of the Ghetto ... if I never make Broadway."
Tags: