May 2006 Articles
Cover Story
Tim Roberts
Features
Bob Mitchell
Eddy Metal
Mark Wilkerson
Columns
Berk Bryant
Mike Stout
Paul Moffett
Chris Crain
Keith Clements
Martin Z. Kasdan Jr.
Eddy Metal
CD Reviews
Leslie Ritchie
Kory Wilcoxson
Bob Mitchell
Daniel Gilliam
Kevin Gibson
Bob Mitchell
Bob Mitchell
Tim Roberts
Blogs
Got Shows?
Send Them To Us
Bookmark Louisville Music News.net with these handy
social bookmarking tools:
Available RSS Feeds
- Top Picks
- Today's Music
- Editor's Blog
- Articles
Add Louisville Music News' RSS Feed to Your Yahoo!

Issue`: May 2006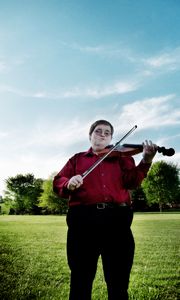 Photo By Laura Roberts
MICHAEL CLEVELAND:
FIDDLIN' WITH THE GIANTS
Desist them, I implore you, from despising the sacred Muses; don't think them worthless or unprofitable. It is by their gift that you yourself have the skill to match a thousand notes to fit rhythms and the expertise to vary the singer's voice through a thousand modulations. . . ."
-John Milton
"Ad Patrem (To his Father)"
An older man seated toward the back of the audience raised his hand. "We're from New Orleans," he said after the show's host, a folklorist named Doug Boyd, acknowledged him, "and we were wondering what other styles you use in playing and if you've played in anything other than Bluegrass."
"Well," said the featured performer, seated between his accompanist Jeff Gurnsey and folklorist Boyd, pausing to formulate the answer, "I did play on a polka record."
The audience burst into laughter with a sprinkle of applause. We were in the Callahan Museum on the second floor of the American Printing House for the Blind for the first installment of the museum's Bards and Storytellers series, featuring entertainers who are blind. Every seat in the performance area was occupied. Outside, the weather was warm for early April in Louisville. The room felt like a window needed to be opened. It had the kind of mild heat that you don't notice at first until your upper lip begins to sweat.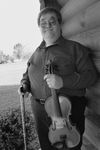 Photo By Laura Roberts
Located in a boxy red-brick building four stories high on a block of Louisville's Frankfort Avenue, shaded by a thick wall of trees, the American Printing House for the Blind produces Braille items, audio books and many other products for people who are blind or visually impaired. Next door, in a series of buildings that extends nearly one block north, is the Kentucky School for the Blind, a school for blind or visually impaired youngsters from Kindergarten through 12th grade.
At the front of the room that day at the Callahan Museum, the first of the Bards and Storytellers to perform was Indiana-native and Rounder Records artist Michael Cleveland, a 1999 graduate of the Kentucky School for the Blind and International Bluegrass Music Association (IBMA) Fiddler of the Year in 2001, 2002 and 2004.
It must be some kind of local musician curse: you are known by such Bluegrass and country music luminaries as Dan Tyminski (whose voice you hear singing "I Am a Man of Constant Sorrow" while George Clooney mouths the words in O Brother, Where Art Thou), Vince Gill and Del McCoury and your recordings share a label with Alison Krauss, Cowboy Junkies, Ellis Paul, Bruce Cockburn and the High Priest of Polka Jimmy Sturr (on whose Grammy-winning release Shake Rattle and Polka Cleveland played, as did Bela Fleck and Willie Nelson), yet you are nearly persona non grata in the area where you live.
But when you're Michael Cleveland, that doesn't matter. Not because all the recognition he gets is enough of an ego boost to send the Space Shuttle into orbit. And not because he is bashful, almost dismissive about his success.
It is because he just enjoys playing. All the props from the peers are just the cherry on top.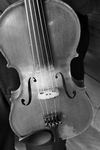 Photo By Laura Roberts
"For as long as I can remember, I wanted to play," he said in a cheerful voice that was stretched with a light drawl. We were at a large round table in a crowded barbeque restaurant in Clarksville, Indiana. His voice cut through the crowd noise that banged off the restaurant's wooden walls, much in the same way Cleveland's fiddle playing cuts through when he's performing in a band. Even when he isn't soloing.
He continued. "I started playing when I was four and I've been interested in playing Bluegrass for," he stopped to calculate, "21 years. I was exposed to it at an early age. My grandparents used to listen to it a lot. They had Bluegrass records they'd listen to. That music just kind of ingrained itself into my head.
"And they'd take me to festivals. That's where I heard the fiddle. I knew then that's what I wanted to learn."
All that early exposure more than two decades ago has resulted in two solo recordings in the bins and another to be released on May 23, guest appearances on works by other Bluegrass artists (and, yes, a polka record, too), critical praise that calls his style of playing "smokin' hot," a gracious acknowledgement from an organization related to the school where he was educated and awards from his peers in the IBMA.
"It was an honor just being nominated," Cleveland said with characteristic gratitude. "Much less win."
Born in Henryville, Indiana, birthtown of Col. Harland Sanders, Cleveland started playing violin at the age of four. Classically trained in the Suzuki Method, where young children are taught an instrument through listening and emulation (basically the same way they learn a language and who's who among Disney characters), by Dorothy Nolan at the Kentucky School for the Blind, a young Michael Cleveland was revved and ready to apply the teaching he got at school to the music he loved. But there was a problem.
"At first they didn't know what Bluegrass was," he said. "They kinda frowned on it a little bit. They thought it was Charlie Daniels: not any tone, play all the hair off your fiddle bow. It took a long time for them to realize. . .it actually took me bringing tapes in, for them to say `Oh. Well, this isn't like that.' And once they finally figured out what it was, then they were more accepting of it."
Before graduating from the Kentucky School for the Blind in May, 1999, Cleveland started looking for a gig, which he knew would be his full-time job. Since then, it seems he's never been out of work.
"I found this band who didn't have a fiddle player," he said. "It was Dale Ann Bradley's. They were playing in Shepherdsville at the country music place there. They sent me their CDs, I learned the stuff and went to play that show with them. They offered me a job, so I went to work for them right out of high school."
Six months later, Cleveland joined Rhonda Vincent and the Rage, where he played for about a year-and-a-half, then he rejoined Bradley's band and stayed for five years. Through work with both outfits, Cleveland attained exposure among the performers and fans in the Bluegrass community and experience in all that being in a band entails: showing up on time, playing your heart out and sending the hounds out to track down the club owner so you can get paid.
But it was during his stint with Vincent's band that he made another connection.
"Rhonda was on Rounder [Records] at the time," Cleveland said. "We had played a few festivals where Ken Irwin was. He's the president of Rounder Records. I just called him up one day and asked if he would be interested in doing a few records. He's always been really great. I didn't think it was gonna come through, really. Rounder's such a huge label. I figured we could at least try. Since I was playing with Rhonda, I'd have a better chance, anyway.
Taking that risk to ask the head of a record label if he'd be interested in working him, a performer who already had notoriety as a sideman with one of the label's major artists, has since led to Cleveland's third Rounder recording Let `Er Go, Boys, scheduled for release later in May: seventeen tracks of traditional Bluegrass, public domain, old-timey music and one of Cleveland's original compositions. It and Cleveland's other work puts a tight seal on a reputation that ranks him with performers in other genres who are blind: country music's Ronnie Milsap and Terri Gibbs, opera's Andrea Bocelli, jazz pianists George Shearing and Art Tatum, jazz vocalist Diane Schurr, flamenco guitarist Jose Feliciano.
And, of course, Stevie Wonder, Ray Charles and Louisville's Turley Richards.
Being in that company and part of a notable roster of artists on Rounder, Cleveland walks with the giants of music, which has apparently given him remarkable power he doesn't seem to realize: he can easily pull together a dream team of musicians and singers to make a record with him. For instance, the jaw-dropping list of guests on Let `Er Go, Boys that includes Vince Gill and Del McCoury.
"This was an exception," he said. "[Co-producer] Jeff White knew Vince and I'd gotten to play a couple of shows with Vince in the past year and he was kind enough to come and sing on the record. It's almost like you've got a tune and you've got somebody in your head who can sing it. Larry Sparks sang `The Old Man and His Fiddle' on the record and I actually got the song from his earlier version that he cut in 1976. It hadn't been done since then. And sometimes you can just look for different tunes and you'll think, `Hey, Del McCoury could sing that.'"
Which he does on "Montana Cowboy."
Even with all the stars supporting Cleveland, the sessions recorded at Nashville's Hilltop Studio were relaxed.
"It was really laid back, almost like a jam session," Cleveland said. "Matter of fact, we ended up cutting two extra tunes we hadn't counted on. In all the excitement, the banjo player Charlie Cushman suggested `Flower Blooming in the Wildwood.' And the last tune on it: we had five minutes to go in the session and [mandolinist] Jesse Brock had to go to work. He wanted to cut something really quick, so we cut `Cacklin' Hen,' a real old fiddle tune. We did it in one take."
Even though Cleveland gets to fiddle with the giants of Bluegrass and country music, that isn't what he enjoys doing most. What he does enjoy happens outside the studio and performance space.
"The ultimate thing for me," he said, "is jam sessions. When there isn't a place for me to be the next day, there's nothing I like to do more than find a good jam session. Usually at festivals, they're everywhere. A lot of these musicians from all these bands get there and go to their rooms and that's the last you ever see of them. They've been doing it longer than I have and they have a few more miles than I have. But I'd rather be pickin' than sittin' in a room."
A new band Cleveland has formed will also keep him pickin': Michael Cleveland and Flame Keeper, named after his IBMA-award winning recording of the same name.
"I'm not sure of all of the members of the band," he reports, "but right now it's Audie Blaylock on guitar, Jeff Gurnsey's also going to play guitar, Jesse Brock's going to play some mandolin, Pete Kelly. But we haven't found a bass player yet. We've got a couple of guys we can call to fill in on gigs. We're not to busy this year, but we started booking late in the game."
For someone who is only in his mid-twenties, Michael Cleveland already has the type of recognition and recording experience that only a handful of performers have achieved, including many of his sightless contemporaries in other music genres. He has worked around his disability and has made himself an example of the heights someone can reach, especially someone so young. However, there is a wrong way to take the example he sets. Just because he is blind and plays in such a way that he can probably outperform the Devil and score himself a golden fiddle, that doesn't mean every parent should run out, buy an instrument, thrust it into a child's hands and command them to learn it.
"You either have an interest in it and you want to do it, or you don't," he said. "I've seen a lot of kids whose parents would like them to play a certain instrument and depending on the extremes the parent goes to, the kid might be out everywhere playing the instrument in a family band. And when they're 18, they quit doing it.
"The important thing is to learn as much as you can when you're young, but also have fun. It shouldn't be a job when you're young. That's the thing my dad was really adamant on, because there were kids my age who already had record deals and solo albums out. But if you get into a grind like work at 11 or 12, you'll lose the interest."
The jams that keep him connected with musicians, the festivals he attends, the guest stars he gets to play with on his recordings and the opportunities he gets to join his colleagues on theirs, the acknowledgements he gets from his peers and anyone who has performed with him: a muse or some other divine lightning strike has touched off the flame that keeps Michael Cleveland performing at the level he does. He is not only a keeper of the flame of his own talent, one that burns golden, ferocious and fun, but also the one of Bluegrass music, one that was sparked off in the early decades of the last century and has spread across the globe.
It is almost as if the title of his newest release isn't just about letting the music go, like a horse that has the spurs put to it. It is a command for his colleagues to release their own flames and join them together to make the warm fire of Bluegrass music.
And he invites you to stand close to it.
Keep the flame burning by visiting www.mikecleveland.com.
Tags: