February 2006 Articles
Cover Story
Kevin Gibson
Features
Eddy Metal
Columns
Berk Bryant
Mike Stout
Paul Moffett
Chris Crain
Keith Clements
Martin Z. Kasdan Jr.
Eddy Metal
CD Reviews
Larry Alexander
Bob Mitchell
Bob Mitchell
John Bohannon
Tim Roberts
Bob Mitchell
Bob Mitchell
Kory Wilcoxson
Bob Mitchell
Leslie Ritchie
Blogs
Got Shows?
Send Them To Us
Bookmark Louisville Music News.net with these handy
social bookmarking tools:
Available RSS Feeds
- Top Picks
- Today's Music
- Editor's Blog
- Articles
Add Louisville Music News' RSS Feed to Your Yahoo!

Issue`: February 2006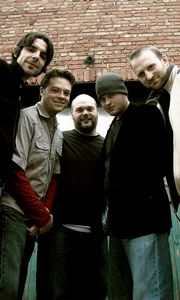 Photo By Laura Roberts

The Muckrakers
Get To The
Front of the Parade
As legend has it, Muckrakers front man Rob Carpenter began his songwriting career at a young age with a three-chord ode to his beloved dog Chandy. Asked about it, he tells the obligatory story, pulling out his acoustic air guitar and softly singing a couple of lines.
It doesn't matter to Carpenter that he's sitting in the dining room at Vietnam Kitchen, one of his favorite restaurants, with strangers dining nearby. He then notes that the three-chord tune was a fairly simple C-D-G arrangement.
"The same chords I still use today," Carpenter said, drawing a laugh from Muckrakers bassist Brian Meurer, who seconded the motion.
Of course, that middle-school version of Carpenter probably didn't envision a future as a Muckraker, one who embarked on a journey that continued as a college student at Western University and stretched into signing with a fledgling label (Louisville's Label X) and has ended up with road trips to the east coast and south, positive reviews and airplay all over the country and what many believe might be a promising career in music.
Chandy probably didn't see that coming either. But some do.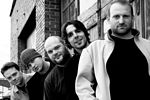 Photo By Photo by Laura Roberts
The band's national debut, Front of the Parade, was released in September and already it has been a Blender magazine editor's pick and has earned the band regular airplay - and even an in-studio visit - on XM Radio. A blurb in Billboard magazine called the album "charming in its unpretentious, straightforward delivery," and Indie-musicnews.net confessed, "When you hear a band this tight - this good - you hope others will notice them."
And finding the sunny video for the single "Through My Door" is as simple as a Google search (download.com is a good place to start). The video is almost like being at a Muckrakers gig - "the Muck Show" as many fans call it - as it's filled with fans, friends and family members and features the band having a blast at a nearby public park. (Watch for members of label mates Digby in the crowd shots.)
Major chords, happy times and canine ballads notwithstanding, the question on the lips of those who've not heard the Muckrakers or been to a Muck Show might be "Why?"
Sara Havens is an editor and pop culture writer for the Louisville Eccentric Observer - she's been following the band for about five years and famously tapped the Muckrakers as "the band you'd most want to hook up with" in a best-of column.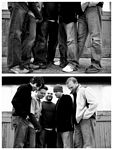 Photo By Photo by Laura Roberts
"I've been a fan for more than five years and simply cherish their live shows," Havens said. "They can go from funny and spontaneous - like when they intersperse cover songs into their own - to tender and compelling. I'm always the first to get there and the last to leave."
"They are a tremendous live band," said Todd Smith, founder of Label X and producer of Front of the Parade. "You can't see them live and not fall in love with them."
From impromptu rap medleys (yes, it's all improvised) to between-song banter to informal dance lessons (and yes, Carpenter had a packed Headliners Music Hall dancing in synch with him just last summer) to the irresistible "ba ba ba" chorus in the song "When the Morning Comes," the Muckrakers seem able to captivate an audience like few others can.
When you toss in the fact that Carpenter and his 'mates can write a pretty mean hook and melody and that Carpenter and co-founder John Ruby have a vocal harmony one-two punch that could tame a jackal, what you've got is a recipe for musical success on a lot of different levels.
FROM DORM-ROOM GLORY TO A BIGGER STAGE
If Carpenter and Ruby hadn't had a mutual friend, the Muckrakers might never have been.
Ruby started his musical life as a drummer with a youth group at Valley View Baptist Church; it was there he first met Meurer and current Muckrakers drummer David Sparks. Ruby's drumming career, however, took an unfortunate turn when his mother realized how loud they were. Back to Doo Wop went the drums and Ruby grabbed an acoustic guitar instead.
"That was not quite as loud," he said. "If not for Mom, I could have been a drummer."
He would meet Carpenter while both were students at Western Kentucky University; Ruby recalled it as September 1995 in the university's North Hall.
"It's a crazy circle of life," Ruby said, "but we both knew a guy named Joel Gerdis. He was my neighbor on the third floor [of his dormitory] and he knew Rob, who was on the second floor. He thought we should get together and see if we could make some money or impress some girls."
A band named Triple Lundy (among other monikers here and there) was born and the house party circuit was the first order of business. "I remember one party, I was plugging in my amp and there was a blender and a coffee mate" plugged into the outlet, Ruby said.
The band graduated into doing smaller bars playing covers and grew into five and sometimes six members. Then someone graduated and someone else transferred and Gerdis (remember this name) decided to do his own thing. That left Carpenter and Ruby, who decided to start a two-man acoustic show, "and see what happens from there," Ruby said. Thus were the Muckrakers founded.
For the most part, the duo played dorm shows, but that scene graduated into playing a place called the Happy Inn - about which the two would later write a song that appears on the new album - and original music was the focus.
When the duo's song catalog grew, as did its audience, the decision was made to record a CD. Unfortunately, they were broke. So Ruby and Carpenter decided to pre-sell copies in order to raise money to record with the promise that sponsors would either get a CD or get their money back. The album Forgot to Breathe was the result, a project Carpenter described as "a couple of college guys having fun."
But it was an important milestone in the evolution of the Muckrakers. To fill out the recordings, they needed a bass player, so Ruby called Meurer to come in and lay down the bass tracks. Meurer had started playing bass because, according to him, a guitarist friend in high school told him, "You should play bass because nobody plays bass. So I picked it up and it stuck."
Meurer was living in Lexington at the time Ruby invited him to lay down some bass tracks for the album and he would drive to Bowling Green about once a month to record, but didn't get involved in the gigs at first. "They finally convinced me to come down and play a live show," he said.
"He never left," Ruby said. "We tried to get rid of him."
Carpenter recalls that Meurer, who had until shortly before that point been in a band called Neptune with the Hawks' Josh Hawkins, was late to the first rehearsal session; Meurer remembers sitting in his car waiting for the others to arrive. When they got down to business, Carpenter said he handed Meurer tabs of the bass parts he wanted Meurer to play. Meurer allegedly tossed the tabs aside and said he'd just follow on his own.
"I thought he was a complete dick," Carpenter said.
"That story is like a fish-that-got-away story," Meurer chimed in. "It gets bigger and bigger as time goes by."
(At this point the fake argument devolved into a discussion of fantasy baseball. Carpenter, a Cincinnati Reds fanatic, takes any and every opportunity to talk about his team. In turn, Meurer pretends to like the Chicago Cubs.)
At any rate, the CD was received well, the guys kept doing their thing and around that time Sparks came on board. Sparks, who fell in love with music largely through the influence of his grandfather, who played guitar, banjo and fiddle, also had been a member of Neptune, the group Meurer was in before becoming a Muckraker. Sparks, who was a violinist in his high school symphony before becoming interested in percussion, got himself a copy of Forgot to Breathe, loved it and was soon asked to sit in for a gig. As it turned out, original drummer Matt Barry, who had also been involved with Triple Lundy, would depart shortly after that show.
"I knew I wanted to be in the band, but there wasn't a space for me," Sparks said. "I played one show with them in May of '99 as an auxiliary percussion-type player and the next show we had in Louisville, I was their drummer."
All the Muckrakers but Carpenter are Louisville natives (Carpenter is from Murray, Ky.), so the band naturally had gravitated back toward the River City as they graduated from college and the 1990s pressed on. But later in 1999, after Sparks was firmly in place behind the drum kit, Carpenter got engaged to his childhood sweetheart - good news except that she was a student living in northern Indiana.
Knowing he wanted to be near her more than he wanted to play music, he proposed and went north to live with her. This became the premise for the song "Working My Way," which is also a track on Front of the Parade.
"The song was about knowing I had to get there and propose to the woman I'd been in love with since sixth grade," he said. "And this was the first time I was away from music."
It didn't take long before Carpenter knew he didn't want to drive five hours each way every weekend to play shows. Primarily for that reason, he was prepared to give up on music and just go on with his life without the Muckrakers. But the band had already begun recording the 2001 follow-up to Losing Sleep and Carpenter wanted to see that come to fruition.
At that point, recalls Meurer, MP3.com had thrown a bunch of money into marketing and was using it to promote unsigned bands on its website. "This was before it was sold to a record company," Meurer said. "There was no Madonna on MP3."
Sparks introduced Meurer to the site and Meurer took it from there, uploading the new songs and tracking the progress. Users could download Muckrakers songs all day and click through to buy the album. And the more plays you got, the more exposure you got on the MP3 "music charts." And the new Muck songs were soaring - people all over the world were discovering the band and buying the album.
"It was like stock to us," Meurer said. "We would get up in the morning and say, `Oh, a CD sold in Germany. Oh, a CD sold in Australia. Oh, a CD sold in Japan."
Meanwhile, Carpenter was returning to Louisville from time to time to play gigs, while the other Muckrakers kept rehearsing together in his absence. But one of the gigs Carpenter returned for was a show at a packed Headliners Music Hall to an enthusiastic audience. It was about then that the light switched back on for Carpenter.
"I remember thinking, `This is what it should be,'" he said. Soon, it was time to return to Louisville. With the love of his life on board, he did just that.
And so the Muckrakers began their ascent.
The Muckrakers wanted Smith to produce them; he wasn't interested. That could cause a problem in most cases.
"He blew us off and we'd ask again and he blew us off and we'd ask again," Carpenter said of Smith.
"We were at a studio in Goshen and I remember [Smith] showed up there to pick up some stuff," Ruby recalled. "We were like `Hey,' and trying to introduce ourselves. It was really kind of a `Yeah, I'm too busy [response].'"
"I didn't know them," Smith said. "I didn't know who they were or what they sounded like. I had this mistaken impression of them as some little bar band. I had no idea how good they were or how good their songs were.
"So I was kind of blowing them off, but they stayed on me. I gave them a couple names of some guys in Nashville and told them, `They can get to you quicker and cheaper than I can.' They said, `No, that's OK, we'll wait.' I thought, damn."
But finally Smith did listen and according to Carpenter the first song he checked out was "Working My Way."
"He turned around and was like, `What the f**k?'"
"I loaded up the first track and I said, `Damn, this is good,'" Smith said. "Then I thought, Well, even a blind squirrel can find an acorn now and then. Then I loaded up the next track and I was equally impressed. By the fourth or fifth track I realized there were no clunkers."
That was sometime in late 2001, around the time Label X got started. The Muckrakers were among the first bands to sign to the label, but there was still no budget in place, so the band was paying for the initial recordings on its own and getting to them when the time and resources were available. The album ended up not being released until four years later, but all involved, much like the public and the press who've heard it, believe Front of the Parade was worth the wait.
A KEY ADDITON FOR THE FUTURE
It was during the recording process that guitarist Micah Gerdis came on board. If that name sounds familiar, it's because it was Gerdis' older brother who first introduced Ruby to Carpenter at Western Kentucky. But the addition meant more than filling out the band's sound with electric guitar. Carpenter and Ruby play acoustic guitar on stage, so the addition was a welcome one, but it turned out that the younger Gerdis added much more to the mix.
"We added Micah and he made us change everything about the way we looked at our songs," Carpenter said.
"They signed to Label X and called me up and asked if I wanted to play a gig with them one day," Gerdis said. "I played like every date for a year after that. I never asked, `Am I in the band' or anything like that."
He was.
Gerdis, who had begun playing guitar when he was 12 or 13 by learning Weezer's "The Sweater Song," turned out to be a key force in song composition - the guy in the studio who could hear when something was a little off or who would add elements to a song that weren't initially conceived.
"I try to give the songs a little more meat because most of what they do is acoustic," Gerdis said. "It's not really lead and it's not really rhythm. There might be a solo or two here or there. But the key is not to step on the songs they've written." He also helped Carpenter write two of the tracks on the album: "Breathe In Breathe Out" and "Gone."
With all these forces - the band's persistence and camaraderie, Smith's guidance, the label's help - working together, the Muckrakers' songs shone through once the final product Front of the Parade was done. Loaded with sweet melodies, luscious harmonies and interesting stories about emotions and fragile characters, it's one of those discs that, once it grabs you, won't let go. It's pop, but it's not commercial. Not in the bad way. It's just, well, it's what popular music should sound like.
For instance, the disarmingly catchy "Cigarettes and Magazines" was originally going to be a song about someone who went to church every Sunday morning and subsequently thought she was superior to everyone else, Carpenter said. "Slowly though and without me realizing it, I think the song became autobiographical and not at all what I originally intended it to be. It became about me being oblivious to the real world, worrying about superficial things - worrying about wearing the right clothes or what people thought about me."
And the upbeat and cheery-sounding "Sylvia" is not exactly what it seems to the first-time listener. Happy song about a great girl, right? Not exactly. Said Carpenter: "I do crossword puzzles to unwind and one day there was a question about Sylvia Plath that I didn't know the answer to. ... I decided that I should know a little something about Sylvia Plath and so I did some research on her. Her story really just stuck with me - couldn't shake it.
"Around the same time, I had read an interview with the Barenaked Ladies where they talked about how people always tell them how happy their songs are. They pointed out that they actually had some very dark lyrics - but they were just happy sounding, so nobody paid attention. ... So, I decided to experiment a bit and tried to write a happy song about a very depressing subject. Sylvia is far and away the darkest song I've ever written."
And Carpenter's favorite song on the album, as one might imagine, is "Working My Way," the song he wrote about moving north to be with the woman who is now his wife (the couple recently became parents as well).
"This was the song that got us the record deal and is also the song we always end our shows with," Carpenter explained. "I love it because it's so simple - but there is just so much emotion in it for me. I felt exactly like the lyrics at that point in my life. I was ready to give up everything I had to be with the person I loved. I had no money. I had no idea how I was going to get to them. I had no idea what I was going to do when I got there. But I knew I had to go."
Fortunately for the Muckrakers, Carpenter has set aside a little bit of that affection for his music and with the help of his comrades - the Muckrakers are all very close friends - a long-time dream for each of them is slowly being realized collectively. Smith said the plan is to keep building a buzz slowly and so far it is going exactly as planned. Audiences outside of Louisville are catching on to the Muck Show.
"When you go to Atlanta and Washington, D.C. and people are singing along to your music, it's a very good feeling," Sparks said. "We always really thrived on translating that energy from the crowd back into more performance energy."
If things keep progressing, another album looks likely for 2007 and all feel confident it will be as strong as Front of the Parade.
"I think the sky is definitely the limit with them," Smith said. "We are very committed to this group and I know our partner label is very committed to this group. It's going to take a while, but we are seeing very good progress, a very steady build on that album and we have every reason to think that will continue."
Sparks, for one, is reaching for the stars. "My vision is to get a Grammy," Sparks said, "and Best New Artist will be just fine."
The truth is Carpenter, who does the bulk of the songwriting, is one of those guys who sees the world through song. With all that is happening now with the band, the love of his life by his side and his recently becoming a father, there's no telling what kinds of emotional tunes still remain unwritten.
And chances are we'll get to hear those emotions - probably in the keys of C-D-G - for some time to come.
Tags: