This page was generated in 0.04 seconds.
July 2005 Articles
Cover Story
Tim Roberts
Features
Eddy Metal
Columns
Berk Bryant
Mike Stout
Paul Moffett
Chris Crain
Keith Clements
Martin Z. Kasdan Jr.
Eddy Metal
CD Reviews
Paul Moffett
Kory Wilcoxson
Bob Mitchell
Kevin Gibson
Sean Hoban
Sean Hoban
Bob Mitchell
Sean Hoban
Sean Hoban
Performance Reviews
John Bohannon
Bookmark Louisville Music News.net with these handy
social bookmarking tools:
Available RSS Feeds
- Top Picks
- Today's Music
- Editor's Blog
- Articles
Add Louisville Music News' RSS Feed to Your Yahoo!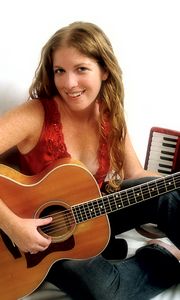 Brigid Kaelin
BRIGID KAELIN:
Sidewoman By Choice, Frontwoman By Demand
The Far Side cartoonist Garry Larson could cram more humor into a single panel than you can find in an entire recent season of "Saturday Night Live." He did it with bizarre situations involving common and uncommon subjects: cows and anthropomorphic insects, dogs and cats, nitwits and scientists, nerds and celebrities, angels and devils, God and game show hosts. And musicians. A decade later after its final appearance (but still living on in gift calendars and omnibus collections), Larson's single-panel gags remain stapled or taped to many bulletin boards or cubicle walls or refrigerator doors, yellowed and brittle from time, but still damned funny. In one of them the panel is split horizontally. At the top, an angel greets a line of new entrants into Heaven by saying, "Welcome to Heaven. Here's your harp." At the bottom, a demon surrounded by flames greets his with "Welcome to Hell. Here's your accordion."
The young woman sitting on a porch swing cradling an accordion in her lap might just shake her head at that. The instrument's mother-of-pearl finish is the color of a wild cherry lollipop. It glimmers warmly in the light from the early evening Sunday On its left hand side, small, colored sequins spell out BIG RED on the panel of the bass buttons. The fingers of her right hand press a set of square switches over the keyboard. "Those are the reeds," she explains. "They produce the different tones." She presses the white center reed button and squeezes both sides together while holding down two keys on one side and pressing a button on the other. The sound the instrument makes is low, almost rumbling, like an old dusty pump organ in a storefront church. But the harmony made by the two keys she presses is as exact as anything a boy band could produce (and it doesn't require jars of hair jel).
The street where the young woman lives is in the Schnitzelberg neighborhood, an extension of the part of Louisville called Germantown, located east of the city's center and south of Downtown. Once a nexus of small manufacturing plants, Germantown/Schnitzelberg was and still is, full of working-class people living in shotgun and bungalow-style houses placed close to each other, with small front yards and on-street parking, which means they don't have much grass to cut and neighbors are less than three steps away. And even though the factories have gone, their buildings crumbling or demolished or renovated into something else, Germantown is still splayed out in their shadows. The woman's street dead-ends at a rusty chain-link fence that encloses the back yard of one of the old factory buildings, which is now a mall for antique dealers. The building's smokestack, the last one left from the area's manufacturing base, stands like a lone sentinel over Germantown.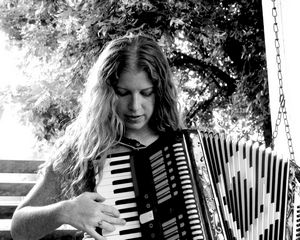 The accordion is considered to be an instrument of working-class people, like those who had settled and built Germantown. And it is often the butt of cruel and snobbish comments. But in the correct pair of hands, an accordion does not sound as if it is the favored instrument of the Netherworld, nor does it create sounds to be scorned. Placed appropriately in a song's instrumentation, an accordion can create a tonal substrate, a mossy bedding, if you will, that lets the other instruments have their own space so that they don't all grow into each other. Its sound can growl like a panther or warble like a chickadee. It can be as subtle as an autumn drizzle or as obvious as a freight train parked in a church.
The young woman gently coaxing the tones from her accordion is Brigid Kaelin, pianist, vocalist, songwriter, music teacher, saw-player and accordionist, who has worked with other Louisville musicians for the past four years adding that mossy bedding (or freight train in a church) to their songs, or helping out with a needed vocal harmony. The list of performers on whose recordings she has performed, or with whom she's shared a stage, represents the best-known of the city's singer-songwriter community: Tim Krekel, danny flanigan, Dan Gediman, Heidi Howe and Bryan Hurst.
Now it is her turn with her own debut CD. And it features some guest stars who are returning the favor.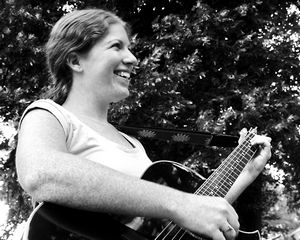 "I've played with so many people over the years," Kaelin said in the living room of the Germantown home she shares with her husband Nate Thumas, former member of Hundred Acre Wood member, part of the city's cadre of singer-songwriters and producer of her CD. "The people who played on it were mostly the people who were really instrumental in encouraging me to make it."
On the coffee table in front of us is the mock-up of the packaging for Kaelin's deubt release Keep Your Secrets. The pictures of her in it mirror the musical contents it contains. On the cover, she's seated behind a baby grand piano, giving her gleaming smile and tilting her head, the look of a siren temptress: sweet but with a sting. In a picture inside, she's dressed in black leather and splayed across a Harley. In the photograph that spans the center of the liner notes, she's surrounded by trees as Gaelic green as if they had been grown by St. Patrick himself.
Which doesn't mean that Keep Your Secrets will contain jazz standards, biker anthems and knock-offs of Enya songs. It means that the music she makes brushes against a few select genres, ones that fit the richness and clarity of her voice and the toffee-smooth way she uses it.

And it also has room for an accordion.
"My influences are all over the place," she said. "That's something we tried to do when we made this record, was to make sure it fit together. I know that the genres change from one song to the other, but the instrumentation is pretty similar."
Twenty-six years old with long wavy hair the color of baked ginger and skin covered with a galaxy of freckles, Kaelin has played piano since she was six. She's the granddaughter of trumpeter Joe Speevak, who was one of the regular performers in the Wednesday Night Band rehearsal group, which met at the VFW hall on Bardstown Road to play old big band standards. After graduating from New York University when she was 20, she went to work as an associate producer for the documentary division of CBS, which, because of its extensive film and video archive, had been contracted by the A&E Network to create content for the Biography series.
"My very first one was George Hamilton," she recalled. "I did the ones of Cheryl Tiegs, Gorgio Armani, Samuel L. Jackson. The last one I did was Robert Blake, which led to part of my wanting to leave. But I did some stuff for the History Channel and the Discovery Channel in between."
But earlier, while studying at New York University, she found a way to amuse herself: become a cabaret musician.
"It was just for fun," she said. "I never, ever thought I would be a musician. While I went to college, being a musician wasn't something I was supposed to do."
And when she wasn't playing jazz in candlelighted nightclubs, she was singing songs that were more than 300 years old in an Irish band.
"It was another one of those things I just stumbled into. One of the graphic designers for CBS was going out to some bars in the West Village and he came across this Irish band one night who was looking for a singer. He kind of tricked me into going to hear them. He bought me some Guinness, then some more Guinness and then said, `Go sing.' And suddenly I had a gig."
She continued. "It was old, old, old music. Some of the songs were 300-year-old ballads that had never been recorded. I sang some. But mostly I just played guitar."
It is ironic that Kaelin's tendency to stay out of the spotlight began in a city where you can't toss an empty latte cup without hitting someone who is striving to be a star. Instead, by providing background jazz piano in a cabaret and guitar and vocals with an Irish band, Kaelin was finding her niche: sideman (or, actually, sidewoman), something she was happy doing.
But a frightening turn in her life brought her back to Louisville. And to a new career.
"It was a long, strange series of events that led me back here," she said. "The biggest one was probably that my mom got breast cancer. She's fine now. I had been working a lot, then my mom got sick and I was far away. And I'm thinking, `Why am I working and climbing this career ladder?' It was a creative job and wasn't miserable or anything, but I didn't need to be there.
"So I just came home for a visit and stayed. I started playing music here just for fun and realized that it's really cheap here."
Her first regular gig began as a dare. While visiting Air Devils Inn, one of the bartenders, who knew she had played in New York, dared her one Sunday night to go onto the bar's tiny concrete stage and start playing. The dare paid off because people began coming back to hear her play on Sunday nights. Then other musicians started joining her, notably Bill Ede (one of the bar's regular performers) and Nate Thumas. But it was bassist Danny Kiley, who plays in Thumas's band, who began to spread the word about Kaelin among Louisville's singer-songwriter set. The first to invite her to be a part of a recording project was Dan Gediman.
"He was looking for a female vocalist who played something," Kaelin said. "And that something happened to be an accordion. So it worked out."
Nate Thumas was the other performer with whom she played regularly and immediately the two of them began to demonstrate the old paradox of getting what you resist. "We didn't date right away," Kaelin explained, "because we were playing music together. We tried not to, but when you try not to there's obviously something there."
Like the homes in the area of Louisville where Kaelin and Thumas live, the city's singer-songwriter community is close, where you can easily find one singer who has played on three others' CDs, perhaps even produced a few. It is a utopian microcosm of how the music industry should work: sharing, encouraging, helping and knocking back a few when the gig is done, with very few ego barricades and high-octane divadom. So after a few years of contributing to the singer-songwriter community as a sideline performer, Kaelin took her turn behind the microphone.
"I wouldn't have made a record," she said, "if danny flanigan hadn't said, `Where's your CD? I want one. I'm gonna buy one. Here's money.' He'd set up gigs for us and when we'd get there he'd say, `Okay, go. I'm your sideman. Sing something you wrote. I wanna hear it.' Then he'd say, `That was really good. Why don't you record it?' I didn't have much confidence in it, but people started asking for songs that I'd written. And I said, `You know what? I'm gonna make a record. Everybody else has a record. Why not me?"
flanigan appears as one of the sideman musicians on Keep Your Secrets. So does Dan Gediman, John Mann (last month's LMN cover story subject), bassist Jimmy Brown, Nick Reifsteck, Aaron Montgomery, Rod Wurtle, producer/engineer Ben Andrews, cellist/Realtor Peter Searcy, Mick Sullivan and the spiritual and musical Godfather of Louisville's singer-songwriters: Tim Krekel. The entire production was recorded and engineered by Howie Gano at his studio in Butchertown's Bakery Square.
Even though Kaelin has a powerhouse lineup of session men, they are not the foundation for Secrets. That comes from strong songwriting, the kind from someone who weaves years of music training and performance with attention to one small detail: good lyrics.
"I grew up listening to the songwriters more than anything," Kaelin said. "John Prine, Carolle King, John Denver, Richard Thompson. And I do write my words first because I want to make sure I'm saying something."
Now in addition to her work as a piano and accordion teacher at Bizannes Music Mart, Kaelin has the chance to get her music into more people's ears. Which means playing out more and, possibly, touring. The experienced group of sidemen who performed with her on Secrets, including her husband Thumas (who claims he's an amazing resource for her because he's done everything wrong), is giving Kaelin some help there as well.
"I'm trying to be smart about it. From playing with all these musicians, some have told me what not to do, not that anyone knows better than anyone else. Ask me how to make a documentary and I can tell you, because I've done that before. But as far as making a record, this is something that I've relied on other people who have done it before me. People say one thing, others say another. What I've decided is some sort of combination of what everybody else has done or wishes they'd done and that's starting locally and branching out.
"Eventually, I'd like to travel and play original music and have people come to see me because they want to come see me."
In an industry that is already crammed to capacity with mediocre (or worse) talent that either demands or begs for our attention, Kaelin's direct, simple attitude toward the work that is involved in making a recording that people will want to hear and the epic amount of work involved in touring to support it, is refreshing and distinctive. It fits the way she evolved as a musician: starting off on the side, shyly making her way into the spotlight, watching and studying and listening to the people she was backing. Put another way, moving from teacher, to sideman, to star and back again makes her a moving target, one that's harder for the twin beasts of music industry hype and obscurity to pounce on and devour.
"The music business is fickle," Kaelin said. "I'm not looking to be Britney Spears or Madonna. I just want to go somewhere."
Watch Brigid Kaelin go somewhere at www.brigidkaelin.com
Special thanks to Regan Thomas of 2Thomases Video Productions for providing space.
Tags: