October 2004 Articles
Cover Story
Amanda Lee Anderson
Features
Eddy Metal
Columns
Berk Bryant
Mike Stout
Paul Moffett
Chris Crain
Keith Clements
Martin Z. Kasdan Jr.
Jason Koerner
Eddy Metal
CD Reviews
Larry Alexander
David Lilly
David Lilly
Bob Mitchell
Bob Mitchell
Kevin Gibson
David Lilly
John Bohannon
John Bohannon
Performance Reviews
Eddy Metal
Blogs
Got Shows?
Send Them To Us
Bookmark Louisville Music News.net with these handy
social bookmarking tools:
Available RSS Feeds
- Top Picks
- Today's Music
- Editor's Blog
- Articles
Add Louisville Music News' RSS Feed to Your Yahoo!

Issue`: October 2004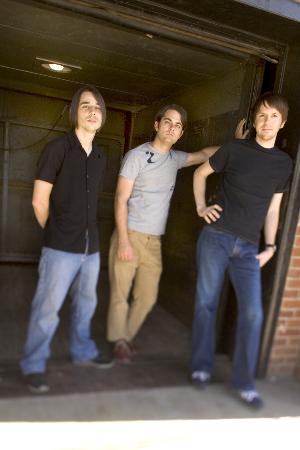 Photo By James Moses
The Pine Club
By Amanda Lee Anderson
The dimly lit St. Matthews basement looked almost like a padded cell. Propped up along the walls were thick mattresses and comforters and blankets were fastened to the ceiling. The stone floor was laid with thick carpeting.
But the padding wasn't for safety. It was for muting the sound. In front of the propped-up mattresses were huge amps; a drum set sat in a corner. In the middle of the room were three twentysomethings practicing - albeit loudly - for their next gig. After all, this basement is where Louisville band The Pine Club practices.
"The neighbors love us," bassist Bradley Coomes said.
"Actually, I don't think they can hear us," drummer Brad White said, laughing. He launched into a story about their former practice space in Old Louisville, where the cops regularly got calls from the neighbors about excessive noise from the other bands who shared the space.
Even if their St. Matthews neighbors could hear their practicing, they probably wouldn't complain. The Pine Club has had their share of stardom and fans. Their impressive resume boasts opening for Spoon at Headliners in June, playing for over three thousand people at WFPK's Waterfront Wednesday in July and being featured on the 2004 Louisville is for Lovers album last February. Their July release on Louisville collective Debauchery Records has become a fast favorite of Louisville audiences and they get regular airtime on WFPK. So a few strains of their practicing escaped from their practice room in the basement may be well received - the neighbors may even be fans.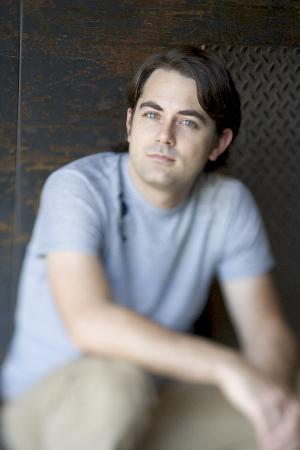 Photo By James Moses
But the members of The Pine Club haven't yet taken on the rock star mentality. There was no audience of fans at this rehearsal, just a lone journalist. The band paused occasionally between songs to goof off - tonight they launched into snippets from the Cars, among others - but for the most part, the guys were professional and hardworking in practice. They don't act famous or even think of themselves as celebrities.
"I've been in Ear X-Tacy and people will come up and say, 'Hey, you're in The Pine Club. I like you guys,' " guitarist Brian Gray said.
"But we're not getting stormed on our way to our cars when we leave our shows," Coomes said.
"Yeah. It's kind of hard, because [My Morning Jacket drummer] Pat Hallahan is actually my next door neighbor," Gray said. "And I'm picking up Mojo and Magnet and Rolling Stone and I see that these guys are pretty big. So it's hard to feel like a celebrity when you see [My Morning Jacket] everywhere."
*****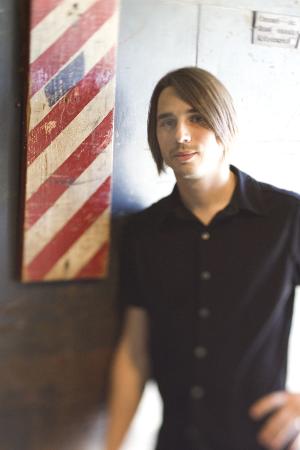 Photo By James Moses
The Pine Club's history is convoluted, involving several transitions among a few different bands before the current lineup was assembled. It started when Gray and White attended Murray State University together. They played together occasionally during college, but according to Gray, "It was mostly drunken jams, never really serious."
"When I graduated I moved to Louisville and I played music a little with a roommate of mine," Gray said. "We didn't really perform a whole lot, just recording and jamming in the attic."
But when White moved to Louisville in 1999, they played with some other Murray alumni before forming The MaeKates - a band that, according to White, "didn't do many shows, maybe ten or 15 during the whole year we were together. But we were doing really killer Beach Boys covers."
"[The MaeKates] actually laid the foundation for The Pine Club right off the bat," Gray said. "We automatically knew we wanted to do harmony. But we wanted to keep it rockin'. We didn't want to do any of the kind of long, jam-type stuff that's getting popular now. We wanted something more immediate." About this same time, Gray also did a brief stint playing bass with The Middle Men, another Louisville band on the Debauchery Records collective.
However, The MaeKates' third member, bassist Jordan Forst, a former engineer at GE, moved to Murfreesboro, TN, to study recording engineering at Middle Tennessee State University - leaving Gray and White without a bass player. (Ironically, Forst plays slide guitar on one of the tracks on The Pine Club's new album.)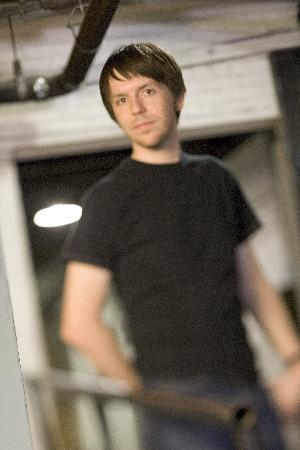 Photo By James Moses
The pair considered several acquaintances who'd played bass in other bands, but Coomes was the first bassist of all to play with them. The combination worked right off the bat.
"We'd actually played a show with Bradley's other [former] band, Red-Tailed Hawk," Gray said. "When Jordan moved to Murfreesboro...we called Bradley and said, 'You wanna get together?' And we got together and it was like, immediate chemistry."
This was in January of 2002. The following June, their first album was released after a marathon fourteen-hour recording session at Louisville's 1132 Studio. "God Bless The Pine Club" references the Guided by Voices song from which the band's name was taken. The album established them as a melodically driven, lo-fi indie pop group.
The band's self-titled July release builds on these foundations. It couples their infectious melodies, uptempo danceable tracks and trademark Beach Boys-inspired vocal harmonies with a guitar sound that's all at once vaguely rock, pop and punk. Highlights of the album include "Hollywood," a track in which frenetic, knee-jerk rhythm doesn't forgo the trademark melodies and a muted horn section compliments the guitars perfectly; and "You're Old Enough," a lulling, lilting, singable ballad.
It's obvious that music is deeply important to them - and not just their own, either. Earlier this week, at Bardstown Road's Za's Pizza, they engaged a non-suspecting writer in a long discussion of their favorite musicians - a question about each of their top five favorite albums turned into a discussion of which Smiths album was best, which bands they don't want to sound like and which new release they were most looking forward to in the next couple of months. They mentioned The Jam, The Buzzcocks, Big Star and Elvis Costello as their immediate influences - and indeed, their music shows it vaguely. But they hate that they're frequently labeled a "retro pop band."
"Right now most of the bands that are getting recognition are a direct knockoff of one, possibly two bands," White said. "And we're not trying to be that. Sometimes Brian will bring in a riff and play it and it's like, 'Yeah, you know what that reminds me of?' And we'll scrap it. We try to steer clear of all that. We're trying to avoid the retro thing, trying not to be The Hives."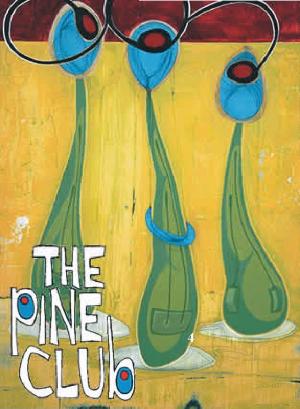 "We don't want to get locked into only listening to old music," Gray added. All the guys are avid fans of Interpol, The Shins and Spoon.
"[Opening for] Spoon was probably the biggest professional highlight for me," Gray said.
*****
In this three-hour Thursday night practice session, it was evident that the band gets along really well. Coomes told me that Gray and White will be in his wedding this month. Also, all of them mentioned parties and shows they attended together and they recalled an evening of dinner and board games a few weeks back.
"For the most part, we're playing out...[and rehearsing] enough that we're together three or four nights a week," White said.
With this much time invested in the Pine Club, you can tell that they love what they do - and it showed during practice. Never taking themselves too seriously, they laughed when Gray mixed up a lyric or when White acted goofy with his drumming. Sometimes they played a reggae version of their own songs. And of course, between practicing their own songs, there were the launches into old favorites, usually led by Coomes - Gray stopped between songs once to explain that they're going to perform Weezer's Blue Album at a house party on Halloween, complete with Weezer costumes; they also regularly cover "Big Mouth," a Smiths song. But aside from a little bit of Weezer practice and joking around, this practice was for working to get their own songs in perfect form. Every missed note or lyric meant they ran through the song again.
"It's a lot more fun when we can have a looser practice," Gray said. "Sip some beer, just play and cut up. But a lot of times we're playing for shows coming up, so we just get in and get it done."
The dynamic of teamwork was evident. All three were quick to point out flubbed guitar fingering, missed rhythm and forgotten lyrics, but they never acted resentful towards the criticism given. And near the end of the practice, they briefly rehearsed new songs which they hope will be on the next album. It was impossible to tell whose idea the song was initially - after the chord patterns were developed, everyone began tweaking rhythm, tempo and melody line in hopes of working the whole song out. When it was finished, they all echoed, "Yeah, this sounds really good. I like it."
"There'd be no way for us to give songwriting credit to just one person on albums," Coomes said. "It doesn't work like that for us."
"There's an overwhelming honesty that seems to work. We fight about it sometimes. But we're always pretty straightforward with each other about how the song's going," White said. "I think we understand it's for the good of the song. Instead of having something that has to be scrapped later, we're straight up about it now."
With an eye on recording again the future, they settle for little less than perfectionism.
"It gets difficult towards the end [of writing a song], I'd say, " White said, "when we're like, 'Okay, this is almost it.' "
"Once we have all the music and the vocal melody, it's like, 'What are the words?' " Gray added.
"The new record has two songs on it that recorded in their entirety without any words until, like, the last minute," White said. "We don't want to come off sounding like we've just thrown anything down on the record."
*****
While they have begun writing more material, tonight's practice is, for the most part, in preparation for two shows in the next week - one in Louisville, the other in Lexington at a house party. When asked about best and worst live show experiences, Coomes mentioned a show they played in northern Kentucky.
"We played at [Newport, Kentucky's] Southgate House, " Coomes said, rolling his eyes. "We thought we were paired with a band that would draw a crowd up there. But we played to, like, the bartender and the other band."
"Other than the bands, there were three people," White said.
"But it was pretty awesome looking out at all the people at Waterfront Wednesday," Coomes said. "That was definitely the biggest crowd we've ever played to."
Although a crowd is important, a good show for them is about more than just playing to a crowd.
"I'd say some of the Rudyard Kipling shows we've done were pretty good," Gray said. "You know, when we've been totally laid-back and everyone else was drunk and egging us on. That's a great show to me - where we can run out [after the set] and people will give us beers and stuff."
Most of the shows The Pine Club plays are here in town at local venues, including the Rudyard Kipling, Uncle Pleasant's and Headliners.
"We've sent our new CD out regionally and we're trying to follow up and play in clubs," Gray said. He mentioned Chicago, Cleveland, and Columbus as some of the places they hope to play "I mean, we're not looking to tour, to take off. But we want to hit more regional places and just, I don't know, step outside Louisville for a little while. It would be nice if we had the ability to tour the West Coast, but Louisville is a great city in that it's only a few hours' drive from lots of other cities. So that's our main focus now."
"We're what some people call weekend warriors," White said. "We're not dropping everything to go on tour. That's not the objective. If touring full-time was the only option, we wouldn't be able to do it. We wouldn't be able to be a band at all."
"We've all got 40-hour-a-week jobs, " Gray said.
Gray, who majored in studio art during college at Murray State, works as a designer for the Courier-Journal's news weekly, Velocity. White, also a former art student, is a sculptor and painter. He makes bronze figures (including statues of the gorillas at the Louisville Zoo) and painted the cover art for the band's self-titled album; also, last July he had two art shows in New York City. Coomes is attending school to become a massage therapist and works at the Bonefish Grill when he's not in school.
"I'm working or at school all the time," Coomes said. "But if I'm not at work or school, I'm at practice or at a show. Sometimes in between there I get to leave and go to sleep. But I'm pretty much sacrificing down time. I think we all just decided it was time to work. If we really want this thing to take off, down time is a luxury we can't afford to have."
And take off it has. Although they're quick to deny their growing celebrity, Gray says that they've received a lot of positive feelings from concertgoers.
"In the further future, besides touring around more, we hope to make enough money off this CD so that we can record again, you know," Gray said. "That's probably every independent band's goal - to be able to do it again."
The Pine Club will play at Zephyr Gallery on October 1 and at Glassworks on October 3. For more information about the band or about upcoming shows, visit www.thepineclub.net.
Louisville's Debauchery Records - more accurately called a collective than a record label - is based on the principle of the power of a union.
"It goes back to why we love rock and roll in the first place," Debauchery founder and local musician John Whitaker said. "You hang out at your punk rock shows, your hardcore shows. People are handing out flyers, doing their own handbills, swapping shows...Trying to help each other out. " Whitaker referred to the idea of rock and roll as a community where different bands can pool their resources to set up better shows and attract bigger crowds.
Whitaker founded Debauchery in 2001 with the release of his solo album, So Foul and Fair a Day. Later, as a member of Louisville roots rock group The Middle Men, he began thinking about collaborating with other local musicians.
"I knew two bands in town that I really liked, The Pine Club and Fire the Saddle," Whitaker said. "They'd already had albums recorded; they were already going to make them[before joining the collective.] So it was like, why not pool our resources?" Unlike a record label, the bands in the collective all pay their own expenses for recording and travel. But they regularly share information about contacts in other cities - useful when booking shows - and frequently play shows together. He said that he's been able to help the other bands get in touch with his friends in other cities and vice versa.
In a sense, then, the collective is a kind of networking tool. And Whitaker is a perfect person to head it. Before and after our interview, he walks around and shakes hands, remembering names and important information. I see him ask an old friend from high school, "Is your band still together? I'd like to come see you when you play." His cell phone rings constantly, allowing him to keep in touch with longtime friends living in other cities and abroad. The members of The Pine Club jokingly say that he's going to run for office one day.
Whitaker said it helps to have the backing of a collective or a label when presenting yourself to potential venues or members of the press.
"One of the benefits is that with new technology, now anyone can record anything," Whitaker said. "The media are just bombarded with package after package of people who've recorded albums in their homes. But the quality of the music isn't always as good." As a collective, the Debauchery bands have an independent third party working for them when it comes to booking shows or dealing with the media, giving them a little more credibility in the age where anyone can record their own album without necessarily having a label backing their work.
"The goal of Debauchery Records is to make each band bigger than they are now," Whitaker said. "I want them to be more well-known, to help them to be able to make more records and play more shows."
Debauchery Records hosted a showcase featuring all the bands in the collective on Thursday, September 23 at Lexington's Dame.
For more information about Debauchery Records and The Middle Men, The Pine Club and Fire the Saddle, visit www.debaucheryrecords.com.
Tags: