September 2004 Articles
Cover Story
Kevin Gibson
Features
Eddy Metal
Columns
Berk Bryant
Mike Stout
Paul Moffett
Chris Crain
Keith Clements
Martin Z. Kasdan Jr.
Eddy Metal
CD Reviews
David Lilly
Martin Z. Kasdan Jr.
Bob Bahr
David Lilly
Mark Clark
Bob Bahr
David Lilly
Kory Wilcoxson
Performance Reviews
Amanda Lee Anderson
Martin Z. Kasdan Jr.
Eddy Metal
Blogs
Got Shows?
Send Them To Us
Bookmark Louisville Music News.net with these handy
social bookmarking tools:
Available RSS Feeds
- Top Picks
- Today's Music
- Editor's Blog
- Articles
Add Louisville Music News' RSS Feed to Your Yahoo!

Issue`: September 2004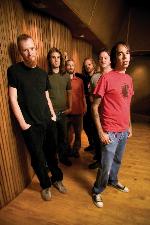 Valley
Valley Gently Searches For Its Peak
By Kevin Gibson
Put a sushi list in front of him and Stephen McWhirter becomes giddy, like a kid at Christmas.
"I love this stuff," he gushed while poring over his selections at a Louisville Japanese restaurant recently. McWhirter, a 26-year-old Corydon, Ind., native is like that - breezy, childlike, enthusiastic - about a lot of things. Much of that charm comes through in his band, Valley, which earlier this year released its debut album, an offering that was met with critical acclaim that nearly rivaled McWhirter's own enthusiasm for his favorite Japanese cuisine.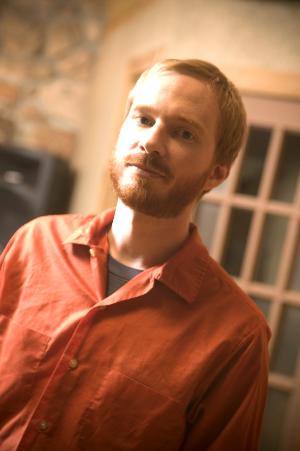 Dave Howard
All this might come down to a naturally given disposition, but McWhirter's easy personality seems to be coupled with an unspoken wisdom about the human condition, about life and love and family and all those other things people like to write great songs about.
For McWhirter, growing up was not about playground friendships, school routines and Saturday morning cartoons. His father, the Rev. R. Stuart McWhirter, is an Evangelist who traveled the world spreading the gospel with his wife, Ellen and his three children at his side.
"Mostly we lived out of hotels," the carrot-topped McWhirter said. "We were home-schooled. It really bonded us as a family."
While Rev. Dad was a world-traveler early on - McWhirter's older brother Stuart, now 34, crossed the Atlantic Ocean 36 times before he turned seven - things had toned down just a bit by the time Stephen hit the scene.
"Most of what I remember is rural parts of the United States," he said. "We had a good time."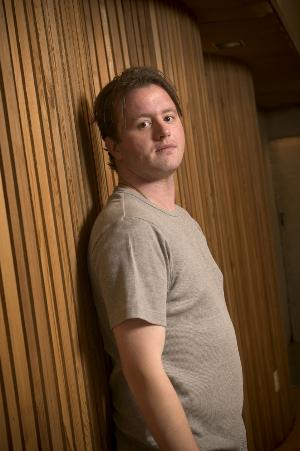 John Woosley
And the experience, for the McWhirter children, created a different reality than most know. Said Stuart McWhirter: "My dad would preach for like a week at one church, then we'd travel two or three days, then we'd be at another church for a week - so we definitely had lot to rebel against. ... We were all a little wild."
Stuart jumped from interest to interest; "I was one of those kids who probably had ADD, but didn't know it," he said. "I was a martial artist one week, then a guitar player the next."
But Stephen found some solid creative outlets at a fairly early age and it helped that the family had curbed the acquisition of frequent-flyer miles by the time he was 12 or 13. Brother Stuart said he remembers Stephen going to great lengths to create his own comic books as a youngster - art, storyline, characters, everything. He also remembers young Stephen going full-bore at learning to play bass guitar.
"Stephen picked up the bass guitar and decided he was going to be a musician," Stuart said. "The kid practiced like eight hours a day - blisters, bloody fingers, the whole thing. It was an example of how he never did anything half-assed."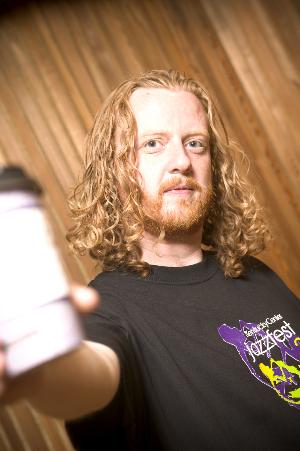 Sam Gray
Stephen remembers it with a slightly different spin. "The honest truth is when I was 13, I met some kids and we were all hanging out and someone said, `Let's start a band.' I lied and said I could play bass. They said, `Great, let's get together in two weeks and practice.'
"So I got a bass and learned to play `Am I Evil' by Metallica. We got together to practice and they said, `Let's play this,' or `Let's play this,' and I said, `How about "Am I Evil" by Metallica?'
"Needless to say, I was busted."
But not for long. McWhirter did learn to play the bass and he eventually learned to play guitar and write songs. His love for metal didn't die out, but Valley is something quite distinctly removed from "Am I Evil." Valley is an acoustic-based contemporary folk or Americana band - but with a songwriter/lead vocalist in McWhirter who possesses a contemporary edge and a demanding presence. Imagine Steve Earle teaming up with Eddie Vedder and you're at least in the ballpark.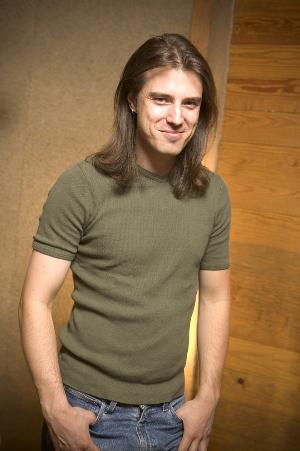 Scott Anthony
"It's interesting to hear his music now," Stuart said. "I remember him just slaving over learning Metallica riffs. Now I hear influences of that early Gospel music we heard in there."
UNPLUGGING
Valley didn't start out as what it is now. The beginning of what became Valley was, indeed, a metal band. It grew into a more mainstream rock sound, which didn't please McWhirter any more.
"It was another one of the herd," he said. People told the band it should sound like Nickelback or Live, but McWhirter thought that would be a copout, or at the very least playing it too close to the vest. "It's unemotional. You can only be so genuine doing stuff like that."
Then came some upheavals in McWhirter's life and way of thinking. Like many musicians, McWhirter dabbled in the requisite rock 'n' roll party favors.
"I became extremely addicted to methamphetamines," McWhirter said. "But I kicked it all and locked myself down. During that lockdown, I started writing songs on an acoustic guitar."
Yep, it was your standard $60, off-brand acoustic six-string, but it was perfect for a new beginning and McWhirter began to write songs with a much different presence than those that came before. Wanting to try them out in front of a live audience, he went to an open-mic event at the Red Lounge hosted by Peter Searcy about a year and a half ago.
"Peter said, `You're not just another fish in the bowl,'" McWhirter said. "When you have someone like Peter say that, it boosts your confidence."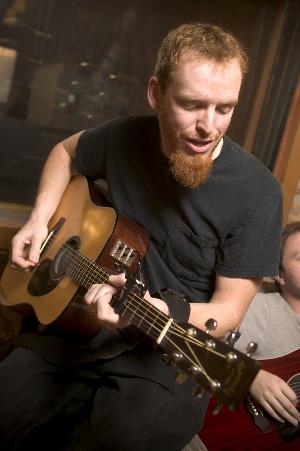 Stephen McWhirter
And as it happens, part of an early open-mic audience at which McWhirter performed was another singer-songwriter named John Woosley, lead vocalist of Hell's ½ Acre. Local singer-songwriter Warren Ray, a mutual friend of McWhirter and Woosley, was hosting an open-mic night at Molly Malone's around that same time, which is where they first crossed paths.
"I started coming up there and playing what went on to be [HHA's] Under a Whiskey Moon," Woosley said. "(McWhirter) was just starting to get interested in acoustic music. I noticed him and I'd never met him and I thought, `This guy is great. What a voice and what a talent.' The musicians that come in there are all pretty good and he stood out."
A couple of months later at Searcy's open-mic, the two met and became fast friends.
"My second love other than acoustic music is harmony," Woosley explained. "One of the things I always wanted to do was provide melody and harmony. I love that, so I was right at home from the beginning. He came over a couple of times and we sat around the basement and picked out a couple tunes."
The new Valley had begun to form.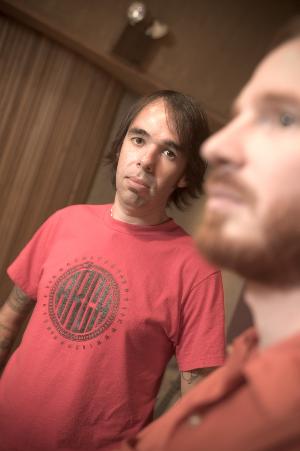 Harley Wiseman
Searcy sat in on cello and backup vocals for a while and the sound started coming together. McWhirter was determined that he wanted to record an album and told Searcy he needed a drummer.
"Let's call Ray Rizzo," was Searcy's response.
McWhirter was understandably a little hesitant. Rizzo isn't exactly sitting around waiting for Valley to call, right? But Rizzo was interested, he started playing with the band and things got rolling. Rizzo put McWhirter at ease.
"Ray said, `Every good musician needs a great songwriter,'" McWhirter said. "That killed some of the timidness I had."
The next need was a lead guitar player and many tried out. "Some of the best guitar players in Louisville," McWhirter said, declining to name names. "But what happened was Dave Howard, who runs Music-Go-Round, played mandolin one night with us at a gig. I said, `Screw having a guitar player, let's just have a mandolin player.'"
Boom. There's your Valley. Well, almost. By this time, it was pretty impossible to wrench that acoustic guitar from McWhirter's hands, so a bass player was needed. Several years back, McWhirter had experimented with a few rock tunes - on bass, mind you - with his good friend Harley Wiseman, a guy he'd originally met during childhood while taking tae kwon do classes in Corydon. They were in a hardcore band called Kine (that once traveled to New York as an opening act for Ozzy tribute band Crazy Train) and had a brief run in a heavy metal band called Die As One.
"Steve was kind of wanting to do his own thing," Wiseman recalled. "He started putting Valley together and they did that for probably a year before I got involved. I think he just wanted to do a different kind of music. I knew everybody in the band and I guess they just all agreed."
THEN THERE WAS RECORDING
So they made an album. Taking McWhirter's acoustic cues, this Valley band put together a gentle reminder that real music can still make its bid for mainstream attention. With a little help from the aforementioned as well as Brian Goodwin (violin, lap steel, etc.) and Scott Anthony (keys), Your Life Asleep came together. The album led to a WFPK Live Lunch appearance and some heavy gigging, plus a lot of favorable press.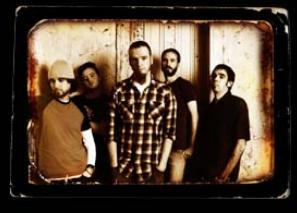 Valley
Many took notice. McWhirter said after a show at Headliners Hank Linderman, former soundman for the Eagles and accomplished musician in his own right, approached him and said, "You have a really good voice ... it's like you're hurting yourself, but you're not. It's a voice that will always be yours." Things like that tend to make a band want to play in front of people, for obvious reasons.
Then McWhirter's wife, Tara, had the couple's first child andrew, now nearly four months old. That slowed down the gigging a bit over the summer, but that didn't bother McWhirter so much.
"I wouldn't mind going out on the road if it meant recording more," McWhirter mused, asked what the future held in store for the band. "But playing out never fulfills you. You can play the greatest show ever, but what's it matter if you don't get to do it again?
"Gigging is like the bottomless hole I could never fill. I've never said, `OK, I can die now, that was the greatest show ever.' It always seems like there's something bigger and better that you have to do."
THE MUSIC'S THE THING
Whether on stage or in the studio, one thing missing in a lot of contemporary music is that it often ceases to be about the music. It becomes a style pageant or some kind of bizarre media contest or image duel and the songs get left behind. But Valley is happy to not only have a group of guys who are interested in the songs more than the success, but a group of guys that understand each other and get along.
McWhirter's easygoing personality is one reason that is possible.
"Stephen was always the one who made us keep perspective," brother Stuart said. "Even at a young age he was like, `Let's not overreact.'" ("But," Stuart noted, "with that red hair, when he gets mad it's not pretty.")
But it hasn't stopped McWhirter from making friends like Woosley.
"He and I have morphed into great friends," Woosley said. "We're tight in other areas besides music and that really helps. You think of this `band of brothers' thing, but I've learned pretty quickly that's not going to happen in most situations. But our friendship really facilitates the music."
"(Stephen) is easy to get along with," Wiseman said. "He's easy to get to know. He's definitely going to put it up front for you."
Added Woosley, "I know his parents really well. I went over for dinner and they made me feel like I'd known them for years. His whole family has that quality. He's a pretty straightforward, no-nonsense kind of guy, but at the same time he has a good sense of humor and puts people at ease.
"And he has the rare ability to get things done - he knows what he wants done and he is able to convey that without sounding like he has an ego. His delivery and demeanor are such that he can get it across to people. He's able to be assertive without coming off pompous."
All this helps Valley to create great things musically. One of the marks of a Valley song is the gut-wrenching emotional honesty that is delivered so gently that it manages to soften the sometimes dark undertones.
"The songs a lot of times do seem to have a dark nature," said Sam Gray, who took over earlier this year as the band's full-time drummer. "But at the same time that is what gives it such a cool sound. His voice is very distinctive; it's very original sounding. Even though there's more of a folky content to the music, his voice has kind of a pop attitude to it that could be very marketable. You could instantly hear our song on the radio and say, `That's Valley.'"
Gray, who played with Woosley in the Kingpins, the band that became Hell's ½ Acre, runs the recording studio at Mom's Music in Louisville, so he knows of what he speaks - and he is also able to add considerable arrangement and studio expertise to the mix. He said the sound continues to improve as the band writes more tunes.
"The new songs we're getting together are incredible," he said. "It's the best stuff yet. We've been getting together and writing as a group as opposed to just Stephen writing songs and getting people to back him up. We're bringing the best out in each other. Now that he's matured as a person and a songwriter, I think he's kind of opening up more to everybody else's creativity and ideas."
Gray said the band has eight or nine songs together and ready for pre-production purposes, with more on the way.
"I think Stephen already has 50 more tunes sitting in the closet," he said. "We need to sift through them, pick out the best ones and bring them to life."
"A couple of the new songs I've been playing with Steve for a couple years now," Wiseman said. "They're a couple that have been in the closet for a while. Those sound real good and the new stuff we've written sounds good too. Every time we practice, if we don't have show coming up, then we write a song."
"I'm all about the songs," said Woosley, noting that he greatly enjoys his secondary role in Valley as a nice contrast with being lead vocalist in HHA. "I'm not looking to put my personal stamp on everything as much as trying to serve the song as best I can. I'm pretty lucky to be in the position I'm in."
McWhirter couldn't be happier to be in the position he's in, either. He's finally found a niche that suits him and he's got a group of friends around him to help him make it work.
"I might be a good songwriter," he said, "but these people blow me out of the water as musicians."
And while he's helping Tara get little Andrew through infanthood, he's able to spend time writing even if the gigs are less frequent. To pay the bills, he plays some low-profile outside gigs and also delivers pizza a couple days a week. He's darn happy being a family man first and a musician second.
"That IS filling that bottomless hole I talked about," he said. "I don't think there's anything better you can do in life."
As for what happens next with the band, McWhirter is unsure. What awaits Valley at the top of the mountain? Where is the pinnacle? "I wish I could say; it's so hard to tell. When we first got together, I thought I knew where it would go - I thought it would be a touring band with a record deal. But what is it going to be? In all honesty, I don't know."
What he does know is that the plan for now is to continue writing songs and getting better. And to record. "We're lucky to have a lot of hook-ups, so that we can do that and not go broke," he said.
But success for McWhirter and Valley isn't about the record deal or the adulation. "It's not like people are coming up and saying, `You rock!'" he said. "It's people coming up and saying, `I cried to your song on my way home from work.' And I've had that happen. When a song reminds you of a person or a time in you're life, that's when music is at its best. That's when you've struck a real chord."
Of course, CD sales and a successful tour wouldn't be all bad. Then McWhirter could satisfy his sushi craving without any guilt. Hey, sushi is expensive. And filling the soul with things like family, music and good food are important to maintaining a good outlook.
"I turned him onto to sushi," Woosley said. "He's a sushi nut. I figure, I've got this monkey on my back, so why shouldn't he?"
But like with everything else, McWhirter and Valley seem to take it all in stride.
Tags: