August 2004 Articles
Cover Story
Tim Roberts
Features
Tim Roberts
Eddy Metal
Columns
Berk Bryant
Mike Stout
Paul Moffett
Chris Crain
Keith Clements
Martin Z. Kasdan Jr.
Jason Koerner
Eddy Metal
Kimberly Cecil
CD Reviews
Kevin Gibson
Bob Mitchell
Bob Mitchell
David Lilly
David Lilly
David Lilly
John Bohannon
John Bohannon
Performance Reviews
David Lilly
Rob Greenwell
Blogs
Got Shows?
Send Them To Us
Bookmark Louisville Music News.net with these handy
social bookmarking tools:
Available RSS Feeds
- Top Picks
- Today's Music
- Editor's Blog
- Articles
Add Louisville Music News' RSS Feed to Your Yahoo!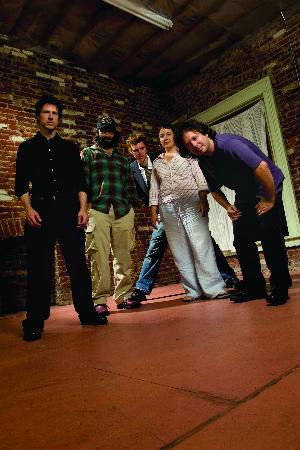 Photo By James Moses
The Sensual Circus of a.m. Sunday
"Dreamtime's extended - and highly recommended,
But early birds like me's up checkin' out the scene,
The early worms jog, forget about your job,
Just come dig the essence while the decadence is hidden. . . ."
-Diggable Planets, "Pacifics"
"The day is like wide water, without sound,
Stilled for the passing of her dreaming feet. . . ."
-Wallace Stevens, "Sunday Morning"
Prologue - "Feel the scratches on the record / Feel the scratches left on you."
Your eyes open and bat away the pasty film that covers them. Memories of the previous night linger like the smoke that trails upward from a snuffed-out candle flame. You try to snatch at them before they all dissipate into nothing. Some you snag and pull closer: a soft whisper of goodbye, the single black stocking draped over your chest, the faint taste of Chablis and chocolate on a pair of wet lips, the tiny thump through the speakers as you drop the needle on the lead-in groove of side two of Silk Degrees, the smile that cut through all the wee-hour noise in the bar and stopped time dead when you asked the question. Other memories, probably the more embarrassing ones you're glad you don't remember, are claimed by the void between sleeping and waking, so you let them go. There's an itch on your lower back. You reach to scratch it and feel a thin scar. It's tender to the touch. You vaguely remember how it got there and turn to look at the other side of the bed. It's empty. There's silence around you. The memories you caught become tinged by a drop of sadness.
You stand and walk to a window. It's early on a Sunday morning and sunlight edges through the tiny slits in the blinds. You feel a small bit of warmth, but it does nothing against the indifferent silence still surrounds you. In the next room you find side two of Silk Degrees is still face-up on the turntable. Next to it, a folded square of paper. On the paper is a short apology followed by the desire to see you again, maybe coffee later that morning. It closes with a phone number and a first name.
Your Sunday morning suddenly gets better. It's not coming down this time, as the growly old song says, but instead it feather-brushes your heart, giving you a generous smile, picking up where your memories leave off, extending the dreamtime. Something moves within you. It's a beat, slow at first, but it picks up as you move through the morning. It ramps up into a groove for the day, an essence of all things good. And funky.
Trap that essence of a day-going-great into a sound. That's a.m. Sunday.
"Right acts, right moves / Right thoughts, Right grooves"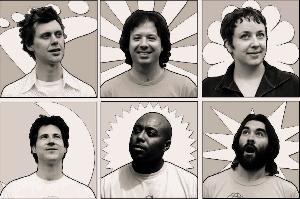 Photo By James Moses
Drummer Ray Rizzo leaned across the table and said, "A couple of years ago, I had guitar lessons with Danny Flannigan. We'd talk about bands and a band name would come up and he'd go, `Oh, man, they're the real thing.' And I didn't know what he meant by that, but I knew what I would mean by that if I ever saw that band."
He paused. "I have seen that band. And I think we're it."
Vocalist Suki Anderson nodded slightly and smiled. "We've got chops."
a.m. Sunday is not a band that congratulates themselves easily and for no solid reason. They work hard at creating their music, however it is classified: light funk, soul with bluesy guitars amped up and reverbed, smoldering sensual rhythms splicing thought with emotion, philosophy with art, fluid movement with structure, all wrapped and ribboned with an attitude as easy as a carefree Sunday morning. The sound is vaguely similar to the one that threaded its way around the mid-1970s: not the funk anvils from Kool & the Gang or Parliament-Funkadelic, but the vibe that sulked below the have-a- nice-day, earth-shoe granola veneer. It was present in Stevie Wonder's Songs in the Key of Life or some of the tighter tracks from Steely Dan's Aja, or Boz Skaggs's Silk Degrees. Blown out, not blow-dried.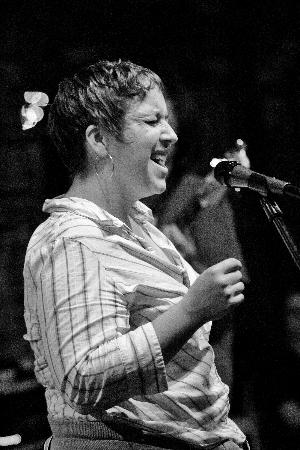 Photo By James Moses
But they're not just a dance-yo'-ass-off funk band, though it is easy to do when you see them in a performance. The audience members are expected to bring more than their dancing shoes with them to an a.m. Sunday show, something that makes the whole experience complete: they are supposed to bring themselves and be present for the groove to work.
"We've all kind of realized," said guitarist Darrick Wood, "that in the creation of something, you're only halfway done. It finally becomes its own piece when the viewer, audience, whoever it is hears it, sees it, whatever the art is, interprets it themselves."
We - Wood, Rizzo, Anderson and two other members of the six-piece a.m. Sunday - were at the Heine Brothers coffee shop in Douglass Loop, seated around a pair of tables we had shoved together, one rectangular, one square, both wobbly on the glazed tile floor. A brief thundershower had just moved through the area, flensing away the afternoon's heat. Outside the skies threatened more rain. The sun was struggling to burn through the cloud layer and get in one final chance to work before it set for the evening. Chairs scraped on the tile as people got up to leave. Steam blew from the cappuccino machine louder than a work whistle signaling that it was time to go home. Amidst all the noise and the overcast skies, the members of a.m. Sunday were sharing their passions for the music they want to make and the message they want the audience to get.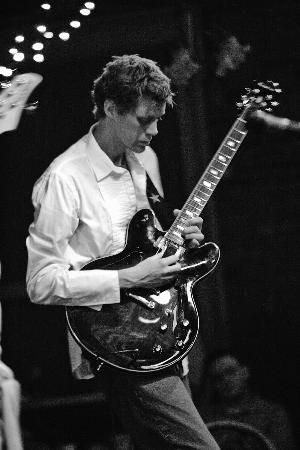 Photo By James Moses
"Even the other night," Rizzo said, "Suki and Darrick and I - `cause we're getting ready to record - we're going through songs, talking about different things, are all the songs having in them what we hear, what we think should be there. And when we got to talking about lyrics, we had to be real respectful because all three of us had different takes on particular lines in the song. You don't want to force that, even on the band members. It's supposed to be that free. Otherwise, it's not art."
"That's the balance, isn't it," Wood added. "Having something that invites a lot of different interpretations so it's that complex, but not so complex that people don't get anything out of it."
All six members of a.m. Sunday - bassist Matt Scobee, guitarist Mark "Lupe" Hamilton and saxophonist Maurice Hamilton, in addition to Rizzo, Anderson and Wood - are experienced performers (in both music and drama) and song stylists, skilled with experience in audience interaction. The six have played together and separately, in such Louisville-area bands as the Java Men, L'Woo, Bloozoo, Tomacco, Curtis Mathis, Gladstone, Days of the New and Lovesauce & Soulbones. Some have accompanied other Louisville performers, including Tanita Gaines, Misha Feigin and Kathleen Hoye. Some have even performed with the Squallis Puppeteers and onstage at Actors Theater. They have played concerts in New York City, Philadelphia and Pittsburgh. Their performance spaces have ranged from a small kitschy restaurant in Louisville to the theater in the Kentucky Center, where they were the backing musicians for a performance by the Rhythms of Life dance company.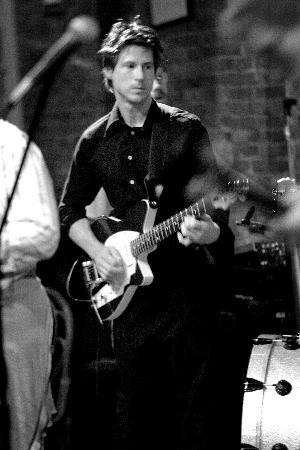 Photo By James Moses
So art and performance are not just by products of what the band does. It is an innate skill they bring to every note played, every word sung, every slight motion during a performance.
And it is within the realm of the theatrical arts that a.m. Sunday has its origins.
"Get dressed, now / Your Sunday best, now."
Anderson and Wood, who have known each other since college, were writing and performing music for the Squallis Puppeteers performance group, some of whom also attended college with them. "When they started the company," Anderson said, "[Darrick and I] decided to participate, but what we could contribute better than anything else was music. We would do live performances with them, or we would do recordings and they would perform to that."
WFPK scored a couple of those recordings when the puppeteer company was advertising one of its shows. The station then contacted Wood and Anderson, interested in booking them for a "Live Lunch" performance, the lunchtime performances every Friday at noon broadcast live from the Public Radio Partnership's performance space.
But there was a problem. There was no band.
Anderson accepted the invitation anyway. Then she called Ray Rizzo.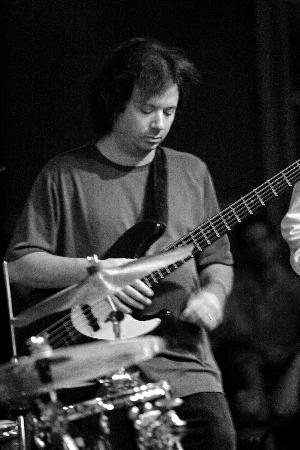 Photo By James Moses
Rizzo continued the story. "Matt, Mark, Maurice and I had been playing in a group called Tomacco. We'd done about a half a dozen shows where I was playing guitar and singing, doing some songs I had written. We were doing this one show and I'd asked Suki to come be a D.J. It seemed like a great opportunity to get together and do a small set. After Tomacco played, I got behind the drums and we did some Aretha Franklin songs. It felt so good and it was so cool that when Suki called and asked about other players and putting a band together. . .you just don't mess with something that is naturally cool. Suddenly we had a band."
With a new band formed almost immediately on the spot, there came the most difficult task facing any new group of musicians who want to play together: coming up with a name.
"In the beginning we had this idea," said bassist Matt Scobee, "that we should all collect our top five songs that represented who we are as musicians and people. We collected these songs and listened to them, took them all in. There was this one song Darrick had put on his list. It was a Digable Planets song called `Pacifics.' And I was listening to this song one day. It's about lazin' back on a Sunday morning. It gave me his great feeling, how great it is to get up and there's no pressure, when you're just taking it easy and enjoying yourself.
"One day I was out walking my dog and I came up with Sunday a.m. from the Digable Planets song as a name. Ray saw that choice and he suggested we flip it around to a.m. Sunday." >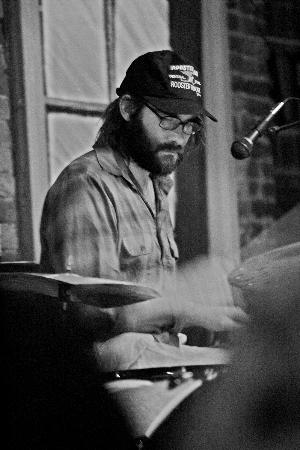 Photo By James Moses
To complete the cosmic kismet, a mutual friend was in a play at Actors Theater that was having its debut as part of the Humana Festival of New American Plays. Written by Jerome Harrison, the play was about a racially-integrated family that begins to fall apart when secrets are revealed.
The name of the play: a.m. Sunday.
"The play showed a really hard, passionate picture of white and black integration," Rizzo said. "Our love is very much in soul music. We're a band that combines those elements that still make it a tricky and very powerful thing."
Integration of another kind presents its own challenges: how do you keep a band whose members have such broad talents, who have played in numerous genres of music, together musically and as a unit? How do you keep the Star Syndrome from infecting one member? In a separate interview, saxophonist Maurice Hamilton said, "It's challenging in more ways that one because we've got a lot of great talent in that band. We're still young and I don't think we've figured out where everybody's settled just yet. Trying to balance all the talent and not have one person overshadow the other: that makes it very challenging."
Another challenge: live performance and recording. How does a band as theatrical as a.m. Sunday translate their visual experience into something purely aural?
"The way we approach the music," Rizzo said, "is very much about filling an environment. What I mean by that is I think we create music for more of a theater setting. And I don't mean that there has to be theatrical stuff going on. I imagine us in places like the Louisville Palace or when we played at the Kentucky Center. These kinds of venues are places where our music really sounds best."
"I think either because of practice," Wood said, "or the experience like working with the puppeteers and playing the music live: we're interested in it. If there's video projection or puppets or dancing going on, I think people in the band settle into that pretty comfortably. That rounds out the event. It's like an untapped resource. There are so many exciting visual things that work with the music so well. Why not include that?"
"So many people are doing exciting things in a creative medium," guitarist Mark Hamilton said, "so you might as well throw them together. It's not that we necessarily see that as a niche that has to be filled, but as something to grow into. It seems like a natural thing."
If a.m. Sunday's bold steps into musical theatrics and their sensual soul sounds adapt well to small smoky bars and the largest performance halls and if the members are feeling comfortable with the direction and confident in facing the challenges, shows should click and audiences should be receptive. But there's always that one show, the one where you hear the crickets chirping after you finish playing. a.m. Sunday has had that show.
"We opened for Jordan Knight," Rizzo said. "That was the one time we left the stage with our tails tucked between our legs."
"All these people were up close to the stage," Wood recalled. "They just stood there and stared at us. They didn't want to lose their spots because Jordan Knight was coming. They were just. . .enduring."
"We weren't hanging tough," Hamilton said with a smile and a shake of his head.
Rizzo added. "And I don't think Jordan was pleased, either."
But Wood was philosophical about the experience. "I think a nice thing that came out of it was that I finally felt we needed to be confident about the type of music that we play. Up until that point there was - and still is - a lot of flexibility with what the band can do. There's a lot of muscle and a lot of ability. We still continue to play whatever room and play in whatever way will convince the crowd that we were good. Now we're more confident in playing what we like and finding the crowd that also likes that, too."
"Just bring yourself and feel all right."
Now that they've been equally praised for the music they made for a dance company and cold-shouldered by the fans of a former member of New Kids on the Block, a.m. Sunday is heading back into the studio for their first full recording. An EP called Taste has been circulating since the beginning of the year, but now the band is ready for the next task: making a full album, creating music with a direction, but without an audience except for themselves. This time, the high-wire act will be done with a net, but without the warm response from appreciative spectators.
"I think it is forcing us to decide on a sound," Wood said. "The people in this band are good at being really flexible with interpreting things, picking a mood and finding ways to voice the emotions differently, even in the same song. With a recording, you're cementing a certain interpretation. It's been good practice because we're now having to make some hard decisions about what's the best way to put these things together."
"One thing about this group that has amazed me from the beginning," Scobee said, "is the flexibility of everybody involved. We've come up with songs and new arrangements of songs just by trying something and being flexible and open to it. That's when everybody realizes that, boom, something's happened."
"The best part of this for me," said Maurice Hamilton, "is creating music with a band that looks at how to musically get from point A to point B, what makes most sense to the band as a collective. Working with a.m. Sunday, you get to be a musician. You're not just a performer. You create these connections that make everything fit."
"One thing we were sensitive to," Rizzo said, "was that we didn't want the connotation of being a funk band. Because funk band, to me, anyway, meant one-chord riffs, shouty choruses, a lot of play acting. We, from the beginning, had really strong songs written. When you extract the songs from the context in which the music was done, you realize there was good songwriting there. I think we've been aware that somehow this is going to be presented in that [funk] context, but, at the outset, it's always been about having really good songs and strong music."
The gentle, musical circus that is a.m. Sunday, with strong songs evoking genuine emotion, is about melding dreams and joy, the kind you feel on a day when you have nothing binding, no limits on your time. Just having the space to relax and feel. And funk-heavy vibe or not, a.m. Sunday wants to be the sound for the joy you feel.
No matter what day it is.
* * *
a.m. Sunday's next show in Louisville this month will be on Saturday, August 7 at 10 p.m. at Headliners Music Hall during the Dirty Soul Party Summer Blowout Show. After a tour that will take them to Pittsburgh, Boston and New York City twice (one show will be at the Knitting Factory during Lebowski Fest East), the band will be back in town for a show at 4th Street Live on Friday, August 20 at 5 p.m.
For more, check out www.amsunday.com.
Tags: