June 2004 Articles
Cover Story
Jason Koerner
Features
Eddy Metal
Columns
Berk Bryant
Mike Stout
Paul Moffett
Chris Crain
Keith Clements
Martin Z. Kasdan Jr.
Jason Koerner
Eddy Metal
Kimberly Cecil
CD Reviews
Tim Roberts
Bob Mitchell
Kevin Gibson
Kory Wilcoxson
Jason Daniel
John Bohannon
Bob Mitchell
David Lilly
John Bohannon
Performance Reviews
Mike Stout
Jason Koerner
Blogs
Got Shows?
Send Them To Us
Bookmark Louisville Music News.net with these handy
social bookmarking tools:
Available RSS Feeds
- Top Picks
- Today's Music
- Editor's Blog
- Articles
Add Louisville Music News' RSS Feed to Your Yahoo!

Issue`: June 2004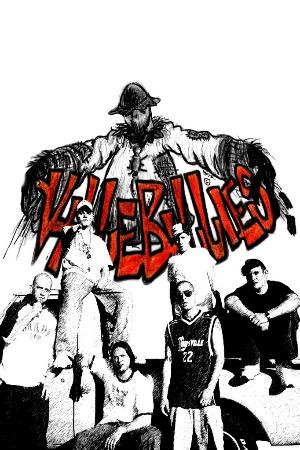 Photo By James Moses
The Villebillies
By Jason Koerner
The Villebilles are without a doubt one of the hottest young acts in Louisville right now. Their shows are known to pack the larger venues such as Headliners, Jillian's and Tailgaters, as well as smaller clubs in town, every time they play, pleasing the clubs and the fans alike. They have performed with national recording artists ranging from Tantric to Busta Rhymes to Method Man. They have been featured in publications all over Louisville and even got some exposure in Hustler. The group just went into full rotation of WTFX 100.5 FM and is featured regularly on WLRS 105.1 FM's Kentucky Fried Radio Hour, as well as other stations in town. In their two and a half years as a group, they have skyrocketed to the top and are not slowing down a bit.
Now, if we could all put our heads together and just figure out what kind of music they play...
Is it country? Is it rap? Is it bluegrass? Is it hip-hop? Is it rock? Is it blues? Even the band doesn't know and doesn't care. It is just good music.
I asked the guys which genre section they would want their CD to be in at record stores and their simply brilliant answer was "All of them."
The group does claim that they catch some unwanted labeling of being a hip-hop group or a rap group by those who are aficionados and purists of the genres and this is not their goal.
"We are not trying to compete with them, we don't even want to be in that category. We're just Villebilles," they say.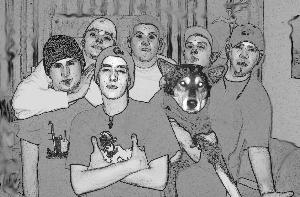 In my quest to get to know the Villebillies' life story for the cover of LMN, I set up a time to get together and chat with the guys. As it turned out, vocalist Demi Demaree had a pretty rough night before the interview and spent the first part of it a little sluggish, to say the least. He did manage to respond to my questions in-between rounds of vomiting and was quite articulate considering the circumstances. The rest of the guys got things rolling and made sure to get the job done, even in 2-B's absence and Child's early dismissal due to work. It was a very interesting discussion, spanning almost 3 hours. I'm glad I wasn't interviewing someone from a 1-900 number, because I would be broke.
Something that has helped to get a jump-start on a fan base is the association with local rockers Plan of Man, considering that Demi is the front man for the group. Demi therefore assumes many of the lead roles on vocals for the Villebillies. Dustin "Tuck" Tucker says that he is the only one who doesn't "sing" in the group, stating that Dylan BJ, Demi and Child handle that end of the harmonization outside of rapping. The Villebillies have now taken their stage show to a new level by recreating their music and beats with the musicians of Plan of Man - in a Brady Bunch sort of way. Here is the family tree, including contributors of all sorts:
Team Villebillie:
Demi Demaree: vocals/main singer of choruses
Dustin "Tuck" Tucker: vocals/production/"studio Nazi"
BJ: production/beats/studio vocals
Child: vocals/production
2-B: vocals
Adam Goff: guitar
Natalie Gallagher: guest musician, backup vocals
Justin Reid: guitar
Tim Bernaner: drums/guitar
Ron Ping: bass
Derek the Banjo-maniac: guest musician, banjo
Will Walk: Louisville Manager
Dan Colluci: Band Manager
Who Are These People?
Demi is the diplomat, the one who smoothes everything out. He is also described as the reverend (Reverend D) and as the guy who never practices what he preaches. Musically, he has the most experience. Tuck is regarded as the funniest guy in the group. Perhaps one day he and Dylan will get up the nerve to take their crazy conversations to the Comedy Caravan. BJ rarely speaks and does his communicating through the keyboard. He didn't much to say about this "whole damn thing" (inside joke to the band). Dylan says all the things BJ wants to but never says. Mix that with his unpredictability and you will get the picture. Child is noted as the most intelligent of the group, especially in his lyrics. He is one of the calmer Villebillies, but Dylan says sometimes he gets an attitude and he has to "pop him in his mouth." Nice... 2-B, as you recall, is the crazy, hard to get in touch with gambler. Rock and roll...
The group's manager, Dan Colluci, also manages the highly successful band, Tantric. He is guiding the group to big things via his connections and knowledge of the music business. I would expect such good fortune with the Villebillies. Demi brought him into the band and after a very rocky beginning, the band is now thankful of his guidance. They praise him most for his work with the band's arrangements, patience and maturity level. They now feel they are ready to make it to the next level using his expertise.
Will Walk also plays an important part in the band here at home. He serves as the Louisville area manager, since Colucci is away more often than not. In the words of the band, "Will is the head of Villebillie operations. He's the little mouse in the wheel making the Villebillies work." Like many of the members, they met at Michael Murphy's, following a Plan of Man show. Will obtained his degree in Communications at U of L and jumped in headfirst to help the group because he believed in them. He brought in his knowledge of marketing, promotion and networking to fill the void the group had and boosted their success early on. Will and BJ also keep things running smooth for the group on and off stage. The other guys credit the duo with much of their success and praise them at every opportunity possible.
The Humble Beginnings:
Tuck, BJ, Demi and Adam had a project going prior to the formation of the Villebillie family called Jim E. Krack Corn. Meanwhile, Child and Dylan had their own thing as well under the name Awkward Mob. The guys suspect that at this time, 2-B was probably feeding his addiction at the gambling boat. The story goes that Tuck saw Dylan at a Plan of Man show and he was drunk and telling Tuck how good he and Child were and so the next day he tested Dylan's bold statements. He was obviously impressed, because they recorded that night and the foundation had been laid for the future Villebillies. In admiration of Child, Tuck said, "He wrote a rap in 5th grade that I couldn't write today." Though it is a flattering statement, Tuck holds his own with the group and their talent breeds a healthy competitive spirit that keeps the lyrics at the forefront of the music.
Tuck recalls, "Everybody was drunk, everybody was happy... we just needed one more finger to complete the hand. We added 2-B, this crazy, outspoken, wild m**f** to the group and that was it."
Many things have changed since the guys had their first show together at Headliners, opening for Plan of Man as Jim-E. Krack Corn (The group later changed its name after the Nappy Roots similarities arose). For starters, the name has changed. Secondly, they group has more than four songs. Actually, they have one of the largest catalogues of music I have seen from a local act, with thousands of beats and unfinished songs plus with over 150 finished ones. They are currently trying to narrow the field of thirty for the ones to be released on their first official CD. The group hopes that it will be a major label releasing that one, instead of the "Plan B" self-release under their newborn label, Scarecrow Records/Entertainment. Right now, it is little more than a good idea without the money needed to get it off the ground. Money makes the "world go round" and that includes the cash needed to release an album. Most of the members of the group make their living off music, so it may be a while for a professional CD to hit the shelves. Until then, the band will keep selling the home-made albums at shows, much like they have done with the approximate 10,000 they have already sold. This does not take into account the nearly 20,000 demos they claim to have given away over the years.
The band got serious quickly, selling out shows in their infancy, playing in front of thousands of people in Daytona Beach during Spring Break with Tantric and creating a buzz in the national market. BJ finally spoke during the interview in regards to the Daytona gig; "It was a good show." Powerful words, indeed.
Why Music?
Nationally, the band draws influences from artists Outkast, Bob Dylan, Michael Jackson plus an assortment of rap and classic rock artists. However, influences on the radio are not the only reason for playing music. There are more personal reasons why the guys do what they do...
Dylan thanks music for his safe return from a "Road to Hell."
He adds, "I've never loved anything more, not a girl, not anything... it kept me alive."
For the other members of the band, music is also the driving force in their life and the inspiration for everything. Tuck and BJ grew up together in Germantown and have made music together since age 11. They chose music as an alternative lifestyle to the crime their peers were more interested in.
Demi adds that he wanted to start making music because he hated everything on MTV and thought he could do it better.
"I started getting pissed off at MTV and at the radio stations because they were playing all this garbage and people were getting rich and famous off this s**t-ball music and I knew I could do better than they could," he states.
Whether it was keeping them out of trouble, bringing meaning into their life or it was purely entertainment and fun, music has impacted the lives of the group and made them who they are today.
I'm a Villebillie, B***h
The group's name obviously refers to their affection for their hometown of Louisville and their embrace of the heritage that comes along with being a city dweller in the middle of the sticks. They preach it everywhere they go, trying to get the world to understand what Louisville is all about, in terms of diverse music and good times. Symbols of the devotion can be found in the form of Kentucky-based tattoos on several of the members. They cite pretty women, high-quality weed and liquor and 4 a.m. closing times as a few good reasons to love Louisville. There's no place like home.
Tuck explains, "We've been to L.A. twice, they consider us Hillbillies, no matter what. There's nothing we can do about it. We say, `No dude, we're from the city...' No. It doesn't work. We're Hillbillies whether we like it or not. So, we took our city, Louisville, combined it with Hillbillies and was like, `Bitch, we're Villebillies.'"
Child is credited as the creator of the name, as it appeared in some of his lyrics long before it was adopted by the group as their moniker. Demi drew the logo featuring a scarecrow holding the letters of the name. It is reminiscent of cornfields and country symbolism with a modern urban flavor, much like the group and their music.
What's that sound?
If you take all of the elements of every genre of music you like and combine them into a blender, the end result is a Villebillie Smoothie.
Demi explains his choices to me... "I like the way it (rap) rolls off the tongue. I like the movement of it; I like the beat of it... But then again, I like rock & roll and country lyrics. But, I don't like country music; I don't like the way it sounds to me. So, I would just take the elements of the writing of the country music or the poetry, the real rock and s**t like that and I put it into a rap flow because I like how it sounds and I like how it feels when I do it. We take the elements of everything we like and sometimes it comes out as a rap, sometimes it comes out as a rock song, it's just whatever."
Simple enough, right?
The group's formula for success seems to be a win-win situation. The band gets to play what kind of music they like and the crowd gets to hear a good blend of everything in a fresh way. The group wants their CD to be one that you never have to take out of your stereo, because everything you could want to listen to is on it.
"We keep you from having to take our CD out and put another one in. Life's full of colors and so is our music."
The group says if someone was looking for their CD in a retailer, the scenario would be as such:
"Take all the CDs in the store, throw them up in the air and when they land, there's gonna be one Villebillie CD."
The conversation shifted to the topic of downloading music off the Internet, yielding the newest description of the hopes and desires of the Villebillies: "I want us to be `album-buying-worthy." (Demi said, very eloquently...) We all agreed that if a group only has one good song on a record, it is not worth buying. When a band does show that they are quality through and through, you want to spend your money to support that artist and you want the full package- not just a burned CD.
Big, Big Things in the Works...
A CD may not be your only outlet to hear the band. The group is anxiously awaiting word on a television show pitch to a major network. The group's manager has been negotiating the idea and hopes to see it take off soon. The show would be a reality-based series about the life of the band while recording an album, trying to get a record deal and their everyday life while living here and later in Beverly Hills. (You see where this is going...) The group is entertaining enough in an interview; I can only imagine what it would be like to see them on TV! I'm sure they would show the entire country how boys from Louisville like to party.
Tucks says it plainly, "L.A. is not ready for us."
They know this to be true from the last time they were there, double-fisting alcohol at an open bar event. A few of the members have rubbed elbows with some famous musicians at the Grammy Awards after-party and cannot wait to be one of them in the near future.
Let's wish the guys luck on it...
It Hasn't Always Been Like This
As far as pitfalls are concerned, the group states that their biggest mistakes stem from their beginnings as a bunch of kids playing music to having to learn the business side of things. With a fear of sounding conceited, they maintain that they did not know their worth for a long time. It is a known fact that clubs make good money off concerts if the band has a good draw. The business challenge of music is to be fairly compensated for your effect on that draw. The group now promotes their shows mainly through word of mouth, radio ads, flyers, their web site, etc. They hand-deliver flyers by the ton at area bars, since they are self-proclaimed avid drinkers. They are now at the point where they can be more selective, play more places, bring in better crowds and get paid well. This has attracted a great deal of attention form the record labels as well and that is next on the list of things to do to take over the world. The group has turned down many smaller offers in the hopes of getting the one that will ensure them the best shot at a career, rather than a one-hit wonder.
The members still experience a bit of stage fright though, some more than others do... Child and Will are said to be the most nervous before a show. They all state that it goes away after the first words are sung.
"It's like a real, real, real good dream," says Tuck.
A pitfall they faced in the past and are still trying to conquer is touring. They are focusing on playing out of town more now but still have a few obstacles. One of those has been overcome already with the formation of the live band. Previously, the group had to rely on the club's PA for backing, which requires a high-powered sound system with enough subs to support the bass. Now the band can go live and create those sounds independently. Another problem with a solution in the works is gaining more radio play outside of Louisville. More radio play means a bigger audience to perform in front of. In counter to this problem, the band is trying to secure not only the radio time, but is trading shows with artists in other cities that are already established there. (Sharing is caring.) Lastly, there is a transportation issue when trying to get such a large group around. A tour bus would be nice, but reliable vehicles would do. The guys say they have neither right now.
Thank you, thank you...
The Villebillies are fans of many local groups, but want to give a special thanks to the following for their help and support: Code Red, Boney B and ET, Plan of Man, Eclectic, 502 HEADZ, Explicit Cricket, Natalie Gallagher, Soul Factory, Daredevils, Mobstyle Music, Acoustipimps, Tantric, Malcolm McLaughlin, as well as many of the up-and-coming artists who they know will break out soon.
"If you're from Louisville and you are doing positive, original music, we like you... we need more union in the Ville," the group says. They say that some people have shown anger towards them because they are not "real" hip-hop and they are getting media attention. The group states that it is not their goal to be hip-hop or rap, or politically correct in any one genre, that they are just a band with their own tastes in music.
Last But Not Least...
One of the things the group wanted to clear the air about was the fact that many of their recent performances have been rather expensive to get into. This has been influenced by circumstances out of the group's control, as they state that a typical Villebillie show admission is between $7-10. However, the group has been an opening act for national artists such as Too Short (who was obviously "Too Busy" because he did not bother to show up) and at a later date, Method Man (who did show up). The group also performed at Broadbent Arena during the second annual Louisville Slugfest boxing event. (That was actually where I had my first experience seeing the group live and I was very impressed.)
Check the band's web site for all their upcoming shows at www.villebillies.com. The group is sure to be a major success, so be on the lookout. See them for yourself and find out why they are Louisville's hottest band.
Tags: