This page was generated in 0.06 seconds.
September 2003 Articles
Cover Story
Kevin Gibson
Features
Eddy Metal
Columns
Berk Bryant
Mike Stout
Paul Moffett
Chris Crain
Keith Clements
Martin Z. Kasdan Jr.
Eddy Metal
Steve Nall
CD Reviews
Kory Wilcoxson
Paul Moffett
David Lilly
David Lilly
Kory Wilcoxson
Larry Alexander
Bob Mitchell
Kory Wilcoxson
David Lilly
Performance Reviews
Rob Greenwell
Eddy Metal
Bookmark Louisville Music News.net with these handy
social bookmarking tools:
Available RSS Feeds
- Top Picks
- Today's Music
- Editor's Blog
- Articles
Add Louisville Music News' RSS Feed to Your Yahoo!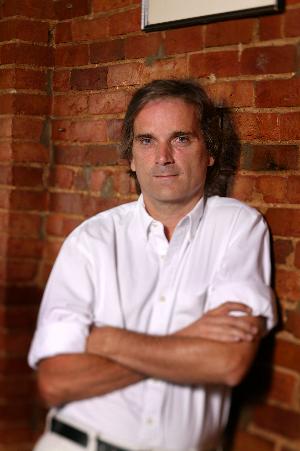 Sid Griffin
Sid Griffin
The music person's music person comes home
When Sid Griffin led his small ensemble into the Byrds' "I'll Feel a Whole Lot Better" during a recent homecoming show at the Rudyard Kipling, it was as if, at least for a moment, the universe was in perfect balance.
Griffin, the one-time leader of the Long Ryders, has, since the late '70s and early '80s, expanded his musical horizons every which way. Here's a guy who counts people like Peter Case and Billy Bragg among his buddies, who wrote the definitive biography of Gram Parsons and who regularly contributes to both Q and MOJO magazines. He was once introduced on BBC1 as "a rock 'n' roll Renaissance man." Oh yes and he went to Ballard High School and grew up in Rolling Fields, just north of St. Matthews.
But the joy Griffin's voice demonstrated as he crooned that old Byrds tune really summed it all up. Written by the incomparable Gene Clark, "I'll Feel a Whole Lot Better" is a song that sums up folk-infused rock in two-and-a-half minutes of jangle and melody.
When Griffin, backed by local singer-songwriter Dan Gediman and bassist Danny Kiely, applied his tender touch, the tune took on a whole new life. Griffin, simultaneously confident and humble, comes across as one of those people who takes in everything, processes it in his own way and reaches his own conclusion about its strengths and weaknesses. And "I'll Feel a Whole Lot Better," on that recent Wednesday at the Rudyard Kipling, came out as a piece of him just as much as it was the love child of Clark when he wrote it all those years ago.
Gediman, who helped Griffin set up the Rud show in August, is a fan of many of Griffin's attributes, from his voice to his songwriting to his music criticism. He believes Griffin's voice is unique. "As a fellow performer," Gediman said, "finding a musical niche is hard. Whether it's stylistically or phonetically, it's hard to separate yourself from the pack. Off the top of my head, I can't think of anyone he sounds like. He has some idiosyncrasies in the way he sings that are immediately recognizable."
That's just the audio part of Sid Griffin. He says he's a musician first and that's pretty clear; but he's also been writing prose for years. He has a journalism degree from the University of South Carolina. He also runs his own record label, Prima. And he's a husband and father (he's married to Kate St. John, whose band the Dream Syndicate was a Long Ryders contemporary). And his music career has expanded and diversified over the years as well.
So what is Sid Griffin? Musician? Writer? Music historian? It's sort of all of the above. He's done what he's done so long that it all comes pretty naturally.
"After a while it's not that hard to do what I do," Griffin said. "It's like Woody Allen making a pretty decent film. The main thing for me is I don't have to have a serious job. I don't want to work at the bank. And I'm not making fun - (bankers) are putting food on the table. I do the same, but I'm blessed to do it this way."
Whether he was talking about writing or playing music or running Prima or all of the above isn't clear. Probably all of the above.
Sid The Musician
Growing up hereabouts, Griffin played Little League baseball, hung out with his friends and formed the Frosties, a garage-rock band way back in 1970-something. He formed the Long Ryders after leaving The 'Ville for California in the late 1970s (he allegedly was inspired to go there after seeing a photo of the Sex Pistols, although he'd never heard the band's music), following a stint in a band called the Unclaimed. The Long Ryders were an early version of modern alt-country; they were one of only a handful of bands then using banjo and infusing country with rock.
While they were sometimes written off as a Byrds rip-off, their legacy remains. Griffin's love for the initial rock-country hybrids undertaken by members of the Byrds (such as Parsons, Clark and Chris Hillman) branching off into other bands like the Flying Burrito Brothers was long-lasting, as he closely followed the developing careers of each Byrd as he flew on to new horizons.
"In those days," Griffin said, "band members would split and do different things. And the spotlight was so intense that the real fans followed them. The industry was so strong that even Gram Parsons was not the leader of the Byrds; he was second string at best. So if one of the Byrds left and made a record, you checked it out.
"These people had at least a cult following. Now, other than maybe Uncle Tupelo splitting up into Wilco and Son Volt, there's not many other examples of this. A band breaks up and that's sort of it. There's too much competition for the entertainment dollar. Now it's just a lot of middle-upper class white kids picking up guitars and complaining - how interesting is that supposed to be?"
But one can truly hear even today how good those Long Ryders were. The band's 1983 debut EP, 10-5-60, kicks off with the unofficial Long Ryders theme song "Join My Gang," which combines a "Turn! Turn! Turn!" jangle with a bit of "Eight Days a Week" pop and stutter. Native Sons came out a couple years later and is still considered by many to be the band's best work. Henry Lewy, who produced the first two Burrito Brothers albums, was the producer and the band recreated an unreleased Buffalo Springfield album cover for the art. Clark himself did a guest vocal on "Ivory Tower," described by allmusic.com as "the best song the Byrds never wrote." And Griffin's punk-meets-pop-meets-country "Run Dusty Run" was an instant classic.
Scream "throwback" all you want, but the album was good.
"I think those songs stand up as well as anything I can think of," Gediman said. "If that record came out now it would sound good."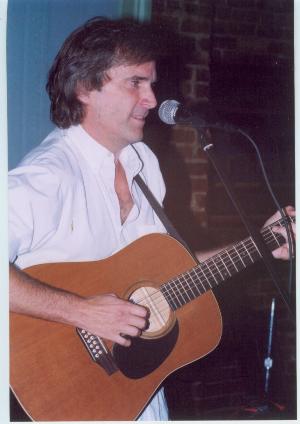 Sid Griffin at the Rudyard
As far as the Ryders being called a Byrds rip-off, Gediman defends the Long Ryders against that as well: "The best pop music is by its nature kind of a pastiche of other pop music. If you listen to the Long Ryders' stuff, you hear a little of this and little of that, but a lot of it is just good strong straight-ahead songwriting. That's what I was most struck by recently is how well it holds up over time. If that was a band out right now they would be played all the time on WFPK and other AAA stations."
(Although, why was Ryders spelled with a "y" instead of an "i"? Hmm.)
It was during the 1980s - 1985 to be exact - that Griffin first laid eyes on his wife, Kate.
"I first saw her in a video," Griffin said. "She was in band called Dream Syndicate and she was friends with Billy Bragg."
He wouldn't meet her for five years, according to St. John. "We met in 1990 in London," she recalled. "Sid was playing with the Coal Porters and we were introduced by our mutual friend Billy Bragg."
Was it love at first sight? Meant to be? "I kept bumping into her," Griffin said.
Whatever the case, by 1987 the Long Ryders had broken up, and Griffin had formed the Coal Porters. He would move to London soon after meeting St. John.
The Coal Porters, a band which now plays acoustic Bluegrass exclusively, but which has enjoyed a long run creating several different sounds, plugged-in and otherwise. But they still hold tight to all things Byrd and those formative years of country-rock, releasing albums with titles like All Things Hope and Crosby, as well as The Gram Parsons Tribute Concert and the Chris Hillman Concerts.
It was after the Gram Parsons tribute that Griffin led his Coal Porters (which has always featured a revolving cast of players, including a couple of ex-Long Ryders) toward acoustic music. And there they will likely stay.
Griffin said lately his CD player has been filled with Ricky Skaggs' latest effort as well as a couple of Bill Monroe collections, plus albums by the Hives, MiniBar and Chocolate Genius. He also has been listening to the latest album by British folk-rock band Lindisfarne (he produced the band's 1998 album Here Comes the Neighbourhood). It was during production of that disc that he decided to take the Coal Porters in an acoustic direction.
"The board they were recording on in Scotland broke down," Griffin recalled. "I got frustrated and started playing a mandolin and I started thinking, `This is really what I should do.' So I drifted back into acoustic music."
In recent years, Griffin, along with a couple of his Coal Porters bandmates, formed Western Electric, with the twist of mixing country-folk and jangle with subtle electronic elements. The band's self-titled debut was reviewed favorably and a follow-up is in the works.
"That's the best reviews we've ever had," Griffin said of the first Western Electric album. Originally, the untitled follow-up was set for the end of this year, but a band member got injured, forcing the project to be put on hold.
"We started on it a little over a year ago," he said, "but our drummer, Dave Morgan, got hit by a stolen car. He was very seriously injured. A lot of people suggested we get someone else, but at a certain age you become like family. It's like replacing Ringo with the Beatles."
Griffin said the album will be pushed back to late 2004 or early 2005. Expect a collection of live acoustic songs from Griffin to be the next release of new music. A Long Ryders live album is also in the works.
Sid The Writer (Etc.)
Another reason that Western Electric album is on hold is that Griffin is working on a Gram Parsons documentary for the Nashville Film Commission.
"That's taking up a lot of my time right now," he said. "And it has to be shown in January 2004."
Research shouldn't be a problem; a recognized expert on Parsons' career, Griffin needs only to pick up Gram Parsons: A Music Biography, from Sierra Books. And he wrote it.
When he read it, Gediman said, "I sort of forgot quickly who wrote it. I just thought it was very well written and authoritative."
Interestingly, it was because of Griffin's writing that he and Gediman came to finally meet (as far as either of the two remembers; Gediman knows he either saw the Long Ryders or opened for them in Ohio in the mid-1980s, but his fuzzy memories from college prevent him from knowing for sure). A local friend of Griffin, Stratton Hammond, sent a copy of Gediman's latest album, I Began to Fall. Griffin reviewed it favorably in MOJO magazine and the two struck up an e-mail friendship.
He also contributes regularly to Q, Variety and Country Music International and has been published in The Guardian, Music Week, Cash Box, L.A. Weekly, BAM and Melody Maker.
And Griffin's name is all over the liner notes for dozens of albums and anthologies of such acts as the Byrds, Flying Burrito Brothers, Clark, Parsons, Joe Ely, the Everly Brothers, Michael Nesmith, Glen Campbell, Iggy Pop, Nils Lofgren, Bill Monroe, Hank Williams and on untold various artists compilations, some of which he contributed to as a musician. (While Griffin didn't write the liner notes, it's worth checking out a Finnish John Fogerty tribute album called Wrote a Song For Everyone, for which the Coal Porters recorded a tender, folky version of "Who'll Stop the Rain.")
As mentioned, Griffin has a journalism degree. Even during his days with the Long Ryders, he churned out articles occasionally for extra money. But in addition, he is a disc jockey, spinning tunes every Sunday for Mean Country 1035. On the station's website, it notes Griffin's affinity for the Byrds and mentions that he grew up listening to the Beatles and the Beach Boys.
Indeed, it was the Beatles' appearance on the Ed Sullivan Show in 1963 that pushed him into a lifelong love of music (although he admits he bought a Beach Boys record before he ever bought one by the Fab Four). He had to get there by himself, because his parents never were ones to buy records or listen to contemporary music.
"They still don't," he said. "My parents are too old for Elvis."
But paying attention over the years brought Griffin to where he is now. He listens. He understands. He cares about music, which isn't as common as one might think. Many people buy CDs; few people seek high and low for new sounds or for obscure records by obscure bands with obscure influences and sounds. Few people read liner notes and lyrics. Few people make it their business to know what's going on in the world of the music they enjoy most. Few have such passion. A lifetime of doing just this tends to make one an authority.
In a 2002 interview with Mark Phillips, Griffin ranked the best-known Byrds in terms of their contributions to music. He evaluated it thusly:
"As for history, I supposed the order is (David) Crosby, (Roger) McGuinn, Parsons, Hillman, Clark. To me Crosby is famous mainly because of his penchant for headlines and his CSNY past but he is not the best songwriter of the bunch. McGuinn is also not a really good songwriter; if you look at his best songs, they are co-writes with Hillman or Parsons ("Drug Store Truck Drivin' Man") or Jacque Levy or Gene Clark ("You Showed Me," "Eight Miles High"). But McGuinn is my fave guitarist and singer of all time so there you go, his sound is just unbeatable. Unbeatable. And he is the only guy to do it, period.
"Gram I used to think was God and now am thinking his cult, which I helped start, is really overrating him. He has about seven or eight KILLER songs and performances and then the level drops off to a lot of merely good and interesting stuff. Hillman is underrated; he is not nearly as good at self-promotion as Crosby and this has hurt him down through the years. Yet his singing and playing today, right now, are as good or better than ever and that is something you cannot say about any of the others. The thing is with Chris, you gotta be into bluegrass and straight country to dig him because that is where his head is at right now. Which suits me fine."
See? Average minds don't think so deeply and in so much detail -- about anything, let alone music.
It's this kind of love of music and passion for writing it and playing it and writing about it that has etched Griffin's place in music history. In 2000, "Sid Griffin" was an answer to one of the clues in a crossword puzzle in a British newspaper, for crying out loud.
There is now a Japanese Sid Griffin fan site and an Italian website dedicated to his first L.A. band, the Unclaimed. The autumn 2002 edition of the Italian magazine Ill Mucchio Selvaggio EXTRA featured an extensive interview with Sid and an exclusive 16-track Sid Live In Concert CD (the concert will be re-released on Prima later this year with different packaging). Subsequently, Griffin was presented with a lifetime achievement award at the Premio Ciampi Songwriters Conference in Italy.
Perhaps Gediman summed it up best: "He's got the holy spirit about music and that is contagious."
Yet Griffin shrugs, maintaining his all-in-a-day's-work demeanor. Running Prima, being an acclaimed musician, a well-known DJ, a successful writer, plus being a husband and father have their benefits.
"My only complaint is I don't get to play in the United States very much," he said. "I'm not a wealthy guy."
Indeed, Griffin hadn't been back to his hometown in nearly a year, when the Coal Porters played WFPK's Live Lunch. He says he came back this summer primarily to visit his parents, not necessarily to play in public.
"But I really love it," he said. "When I travel, there's almost always someone at a gig I know from somewhere else, either musician or friend or fan or all three. Most people growing up in Southern Indiana or Louisville mainly know their neighbors. Music took me to Hong Kong - how many people from Kentucky or Indiana have ever been to Hong Kong? And I got paid for it!"
He paused. "I guess I'm a guy who complains sometimes and shouldn't."
Tags: