April 2003 Articles
Cover Story
Jason Koerner
Columns
Berk Bryant
Mike Stout
Paul Moffett
Chris Crain
Keith Clements
Martin Z. Kasdan Jr.
Jason Koerner
Eddy Metal
Steve Nall
CD Reviews
Rob Greenwell
Kevin Gibson
Larry Alexander
Kory Wilcoxson
David Lilly
David Lilly
Larry Alexander
Kory Wilcoxson
David Lilly
Bob Mitchell
David Lilly
Performance Reviews
Martin Z. Kasdan Jr.
Mike Stout
Jason Koerner
David Lilly
David Lilly
Blogs
Got Shows?
Send Them To Us
Bookmark Louisville Music News.net with these handy
social bookmarking tools:
Available RSS Feeds
- Top Picks
- Today's Music
- Editor's Blog
- Articles
Add Louisville Music News' RSS Feed to Your Yahoo!

Issue`: April 2003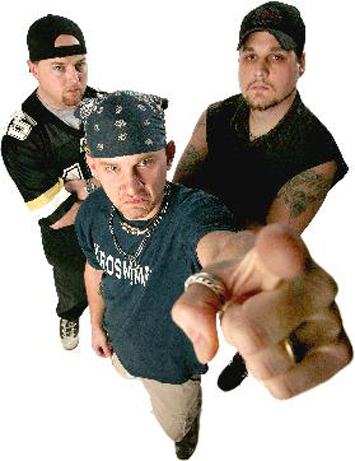 My Own Victim


My Own Victim
Story by Jason Koerner
There is no band in Louisville with a lesser known past, present and future than My Own Victim. If you are aware of their past success in Europe under Century Media Records, their present status as a leading act in the Louisville music scene and their future probability of being a signed act to a major label, then you are one of the lucky few to come in contact with the band and their work.
"There's a lot of people in Louisville who still don't know we exist." -David "Sailor" Bryant, My Own Victim vocalist.
For those who know nothing about this highly accomplished band that has been around the block a few times (over a span of nearly 14 years), this will be more than just entertaining reading.
Please explain...
My Own Victim, a band of twenty-something, testosterone-driven, angry, educated and talented individuals, is aimed at filling the void of music's lack of a voice for the common people. Those who work hard, who are oppressed, who are shunned by the "cool" kids, all have a home at a My Own Victim show.
What's in a name?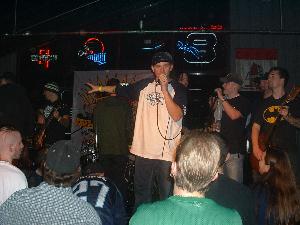 The fans enjoy the show
"You're not a victim unless you allow yourself to be," says Sailor, as he explains the concept of the band's name. The band pays homage to such masters of metal as Down, Slayer, old school Metallica, Megadeth, C.O.C., preaching that we, as musicians, should never forget where we come from. While MOV comes from a metal family tree, however, a generous amount of musicianship and classical training forms the underpinning of the band as well, including Berklee-style training in some cases. MOV has opened for Pantera, Biohazard, Cannibal Corpse, Days of the New and many more. The group had considerable success in Europe while touring with Biohazard on a 55-date run, promoting their second record on the German-based label Century Media.
The History
So where did it all begin? Let's backtrack:
Human Remains, the ancestral root of present day MOV, started when the guys were fifteen years old. The band was on the rise in the scene, playing many shows with the "Daddies" of Louisville rock, Kinghorse. The band changed its name to Crawlspace (1993) and later made its way from playing at the Zodiac Club to cutting a demo tape entitled Foothold and mailing it in to the address in the back of a Century Media catalogue, little knowing that this would change their lives forever. "To Become One," a track off the demo, got immediate recognition from the company and their fans. Shortly afterwards the group changed their name to My Own Victim (1994).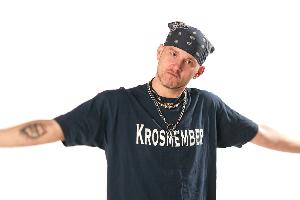 David 'Sailor' Bryant
With a slightly different lineup than currently, MOV went to Europe for their first tour for Century Media to promote their 1995 album, Burning Inside, paired with Muckey Pup. The tour had an effect on at least one person, who changed his mind about suicide after hearing the album. He wrote the band and told the story on his web site, after he had decided to give life another chance.
The second album, 1997's No Voice, No Rights, No Freedom, was backed up by a 55-date tour with Biohazard. The band became the co-headliner and hit the charts in Europe, placing in the Top 10 on the metal charts in London. They were the first band to play Yugoslavia since Alice Cooper had some ten years earlier, The band was featured in several magazines around the world, playing to crowds of 30,000 people a night. But there was one problem: when the fans would go to buy the record in the stores after the show, it wasn't there. At the time, Century Media was lacking in the distribution department. Record sales, though totaling in the 50,000 to 60,000 range, were no reflection of the potential sales.
Turmoil begins.
The band was sent to the States to do a 20-date East Coast tour ("The Forbidden Sex" tour) for their third album, The Weapon, but lack of funding and advertising doomed the outcome. MOV was given $40 and a van to start off with and was told to make the rest of the trip on their own. The band quickly realized the way things were going and in 1999 parted ways with the label.
Despite the bad run on the last tour, MOV was featured in the book, The History of Metal. and was also put on the compilation CD that accompanied it. This, among other accomplishments, put this Louisville band in national view.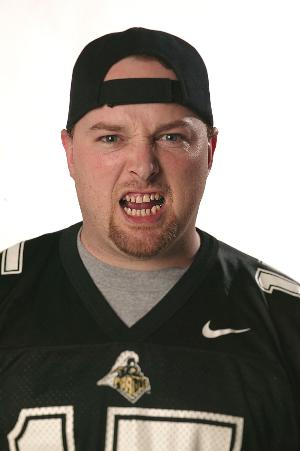 Todd Con, Photo by James Moses
The band returned to Louisville and regrouped, replacing lead singer Victor Hillerich after his exit from the band with David "Sailor" Bryant. After Hillerich's departure, guitarist Jeff Toy was left as the only co-founder. He remains in the band today. Guitarist Brian Omer and bassist Todd Conn came on board in 1992 and 1993, respectively, and are also still with the band today. Drummers are another story, as it seems with every band. Ivan Arnold (now with Silent Q) kicked things off in 1994. Brian Harris, Sean Fitzgibbons, Johnny Wooldridge and now Jeremy "Feet" Mitchell followed Arnold. (If I left anyone out, I am sorry. Maybe I used to drum for them.)
And now?
A solid, brotherly, fight/love lineup has paved the way for My Own Victim to return, full-force to the music scene. So, are they a "local band" again, I asked.
"If you can go to Toronto and you can go to Germany and you can go to South America and find a My Own Victim record, you're not a local band." Sailor said. He also mentioned Adidas advertisement in Rolling Stone in which a member of Soulfly was wearing a My Own Victim shirt. "We don't proclaim that; we don't use that as leverage ... we don't ... we have a very sound, ground level idea of ourselves."
Sailor gave the above response in a confident yet humble tone. He even states, "That's not me on the record, that's Vic!" This balance of pride and conceit is one that is a constant juggling act carried on by musicians who achieve any levels of success. My Own Victim is no stranger to slander and insults over their success and talent, picking up the title of "My Own Wallet" at some point over money, rumors and debates. However, after talking to the band personally, I see the "rock-and-a-hard-place" situation they are in.
For a band with such a reputation for greed, one can easily counter the argument. The benefit shows for cancer and other causes, free radio shows and the live in-store CD release show at Ear X-Tacy (which free pizza was also provided) My Own Victim has done may help to rid them of the nametag of "My Own Wallet." The band has also never turned down a show, "just because."
Recently, the band sought the management of Susan Weber, e/go Management, to help achieve their goals of once again breaking into the industry.
"You got to have that middleman, that person that can maintain the band's needs... It is the man who walks, or should I say the lady that walks that thin line who can take care of business and take care of the band at the same time. Managers may bring asking prices, but that's not necessarily true. That's not the manager most of the time even asking that. If we do a show and it's dismal, we won't hold them up to that (in reference to a $150 guarantee for shows). But, if we do a show with 700-800 people there like we've been know to have in the past, if asking for $150 of that big show, probably less than what we'd actually make by splitting the door evenly... we don't ask for a $150 guarantee and expect people to pay it if it's dismal, " Sailor noted.
"My Own Victim has had a guarantee in Louisville long before they ever had me as a manager. The clubs offered them that a long time ago so that they would play there." said manager Weber.
Sailor agreed and said, "We do not perceive ourselves to be greater than nobody in this scene. There are a lot of great bands in this scene and if I had the money, I would start my own record company and pick all the ones that are great and we'd all go on tour together! That's exactly what I would do. But just because you are contracted to paper, should not mean you generate more money... I just don't understand the concept of `you have paper, so that makes you better'..."
"The difference for them was not that they got a guarantee, because they have always had that. It's that they finally got paid, once they got a manager. That was my job, to make sure they got the guarantee they were guaranteed. That happens a lot that bands don't get paid what they're guaranteed. As anybody knows, when you have a band filled with testosterone-filled people, bad things happen when bands don't get paid. So, one of my first jobs was to make sure they got paid so that bad things didn't happen!" Susan Weber explained.
She went on further to talk about her role in this band as a female manager. Weber emphasizes that the guys are all gentlemen and that their tempers do not flare as much around her as they would in front of the general public. She also admits her limits when it comes to controlling a discussion of mixed opinions, "There comes a point where it doesn't matter if I am there or not," she laughed.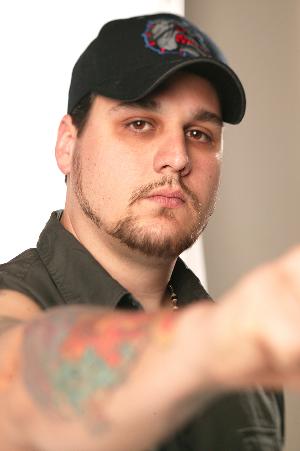 Jeff Toy. Photo by James Moses
Sailor further explained "Southern trust" and how they are people of their word. Obviously, the entire globe does not share this mindset, as the band has encountered time and again. Thankfully, management support has helped ease some of the pressures of these types of situations.
Though the perception of greediness may be held by only a few, Sailor states that MOV's luck is to keep running into the few, "My Own Victim's luck is the day of the show the tire flattens on the way there... MOV's luck is that we go through five drummers in two years!"
The MOV Philosophy
The MOV philosophy, in order to "make it" in the industry, is to show them that they "believe it, breathe it, feel it, eat it ... Our life is My Own Victim," Sailor said. "God blesses everyone with a talent. You can take that talent and choose to do good with it and use it to it's most potential; or waste it."
The message of My Own Victim, though it has been said before in other ways, is "unity, power, rebellion, survival, fighting against all the odds..." Never let anyone tell you that you cannot do something because of education, race, creed, status, etc. Tell corporate America- "No more."
Brian Omer's idea for the next record is an interesting one, bringing meaning to the name. On the cover would be a mirror, so you would see yourself as you pick it up and on the mirror it would say, "My Own Victim." This is almost as great as his T-shirt idea that would read, "We're not arrogant, you just suck."
Sailor goes into more detail about what he feels that most Americans feel in everyday life. The angst and stress of the daily grind is common among most individuals and this can be felt universally. "During that hour you are at a Victim show, you don't have to be that person that society trains you to be. You let that (grunt sound effect) out! Where else can you go and mosh and clobber people and it is accepted and cool?" he asked.
Stories turned to memories of mosh pit injuries of both MOV fans and his own. A backlash of this reputation is a venue's hesitation to book the band due to the threat of a riot or crowd control issues. Phoenix Hill is one venue among others who have voiced their concerns to the band.
"Even if you don't like our music, you'll like what we write about," Sailor asserted. "The industry needs that (MOV) kind of band, they do. When I turn on the radio today, I don't know if I am listening to P.O.D., I don't know if I am listening to Papa Roach, I can't tell who they are because they've all got that `Aaaaaaa...' in their songs. And I'm like, who is this?"
Susan Weber commented d that "it is hard to be a hero in your own backyard." Even though the band has a lengthy track record of success, it will always be regarded as something slightly less than what it is by those who are saturated by the presence of the band. Their pride in their accomplishments is what keeps this band going and it is also a target of jealousy in some cases. The solution seems to be to play out of town more often and keep plugging away.
Changing "Scenery"
Speaking of playing shows, a lot has changed in the days since MOV played its first show and its most recent one. A trend that has developed among venues is shorter set times with more bands on the bill, coupled with a smaller paycheck. I asked Weber why she thought this was the case.
"Because the venues can. They have the control," she responded. It seems to fit well into one of the many philosophies of My Own Victim to call it like they see it.
"Come to our show and do what you want!"- Sailor
Getting to Know you...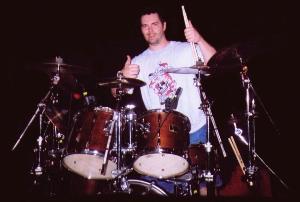 Jeremy 'Feet' Mitchell
While Jeff Toy and Brian Omer do much of the songwriting and Sailor writes most of the lyrics, the entire band contributes their part to the performances. The band members are also very different in their approach, which leads to a diverse combination of sounds found within each piece. While Toy, the most prolific of the writers, may pound out two songs a day on his acoustic guitar, Omer may come up with two very intricate songs a month. He has a different style than most musicians and also carries the torch, so to speak, for My Own Victim. Any and all MOV memorabilia can be found in his hands.
Jeremy earns the name "Feet" as he is quite the double-kick bass drummer. Todd is said to be the Sugar Daddy of the band, a traditional metalhead and easygoing. Sailor is said to be afraid of only two things: needles and Phil Anselmo. As for how tight the band, they noted that they recorded their most recent three-song demo at Headfirst media in just 16.5 studio hours. Practice makes perfect.
Brian Omer and Jeremy Mitchell are currently on tour with Brothers of Conquest, helping the band to finish their tour to promote their album. Sailor also has a side project with Days of the New front man, Travis Meeks, called Not of This World. Omer and Mitchell will be back this month ready to perform on April 19 at Expo Five on South 7th Street, in the Derby Trader Flea Market for a show in conjunction with 100.5 the Fox, WTFX. The show will feature twenty-five of Louisville's hottest bands all in one day on four stages. Listen for the interview on the Fox on April 6 to plug the show. The band will also be traveling to Flint, MI soon to showcase at The Machine Shop and a possible date at Harpo's in Detroit is in the works as well. Check their web site for updates at www.myownvictim.org.
Kodak Moment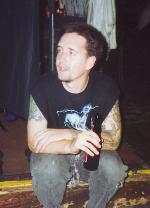 Brian Omer
The band has attempted to build more of a family than a fan base. "We want people to know we are from Kentucky," Sailor added. They have gained support from local DJs at radio stations, famous musicians and local musicians alike, as well as family and friends. They want to give a special thanks to the following people for all of their support: Maureen Bryant for buying CDs and selling them at work, Eddy Worley for all of his help on the road, Dave Carpenter for his work on the web site and many more... (Too many to list)
My Own Victim is here to "flood the world" with their perseverance, musicianship and message of survival through mental fitness and change. They are living proof that success is possible and that the sex, drugs and rock and roll pipe dream is not essential to obtaining your desires in music.
Goal-Oriented
Like many other heavy bands, MOV wants to take over Top 40. This desire is fueled by the overplaying of pop/rock songs that are not of quality, that end up stuck in your head because of overexposure. If the band explores their music and sings a song for a change, then maybe that "hit" will get them on the radio and sell records. However, the other nine songs on the record would be heavy for the fans. MOV is doing more of what they want to do now that they are out of the hands of Century Media. Sailor stated that their next record is not going to be the "cool" fad record, but that it is going to the most brutally honest record to date. (Insert picture of David giving the middle finger to a camera to describe the new record.)
Meanwhile, pick up a copy of the latest CD, Above it All, available at Ear X-Tacy Records (www.earx-tacy.com) or at CD Warehouse (Tek World location).
Tags: