January 2003 Articles
Cover Story
David Lilly
Features
Eddy Metal
Columns
Berk Bryant
Mike Stout
Paul Moffett
Chris Crain
Keith Clements
Jason Koerner
Eddy Metal
Jimmy Brown
Ken Casper
CD Reviews
Josh Coffman
Paul Moffett
Josh Coffman
David Lilly
Bob Mitchell
Bob Mitchell
Larry Alexander
Kory Wilcoxson
David Lilly
Kevin Gibson
David Lilly
David Lilly
Performance Reviews
Rob Greenwell
Henry C. Mayer
Rob Greenwell
Rob Greenwell
Henry C. Mayer
Preview
Paul Moffett
Bookmark Louisville Music News.net with these handy
social bookmarking tools:
Available RSS Feeds
- Top Picks
- Today's Music
- Editor's Blog
- Articles
Add Louisville Music News' RSS Feed to Your Yahoo!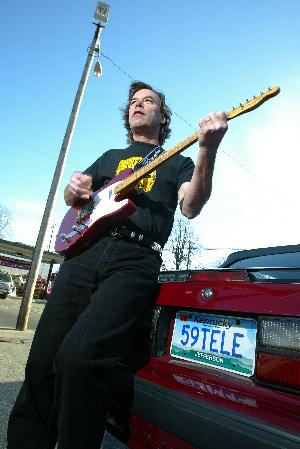 Will Cary
...On
The human stew that is Will Cary contains some spiritually nutritious and admirable ingredients. What he lacks by not having that holy grail commonly known as a prestigious record deal, not having an "official" fan club nor street team...as the powers-that-be would have it, not even a Volkswagen-load of enthusiastic devotees...he makes up for by having a heart that pumps passion, attitude, perseverance and talent through his veins. Because of Will's values, it could almost seem like a fluke if one of his songs charted in Billboard magazine, whether the recording was original or a cover of one of his songs. Just what do I mean by that statement? Enter now the House of Cary and find out.
Roots and Routes
In the big picture of the 20th century, Will Cary was born just moments before the "birth" of rock n roll. Louisville was his crib, so to speak and he was raised here. Like many folks with a love and gift for creating music and writing lyrics, he started in a choir. Before the Internet, before music videos and about the time television sets began to infiltrate American home life, 7-year-old Will sang in the choir at Calvary Episcopal Church, where he is still a member. "No solos, just singing in the choir," he assured me. After that, Cary and some seventh-grade classmates put together their first band. As he fondly recalled, "We pulled together a snare drum, a bass player and two guitars. I sang Beatles' songs, we played a couple of parties...we also played in chorus class show-and-tell." Adolescence soon intervened, as his voice started changing and, as he put it, "I 'osmosed' out of the band. It was just time to go...those guys kept playing, though." Cary auditioned for bands during high school, but added, "it didn't happen for me," so he did what many other brave souls have done in similar situations: he pursued further formal education; for him, academic and cultural studies at DePauw University in Greencastle, Indiana.
The 20th century clock read 1968. Talk about brushes with future greatness (depending on your definition of "greatness,"), he continued, "The draft was looming in front of us all and the first thing I wanted to do was get into a band...I joined up with these guys who actually lived in the fraternity house where Dan Quayle was a senior." Cary nearly moved in but didn't. The band played covered songs from then-popular bands such as Steppenwolf and Procol Harum. During this time, Cary continued, "...this guy named Jimmy Ibbotson was at the school, hanging around." Ibbotson was "hired to take my place," and later went on to co-found The Nitty Gritty Dirt Band. Cary added, "I'm still good friends with a bunch of those people and all of us have tried to keep music a part of what we're doing."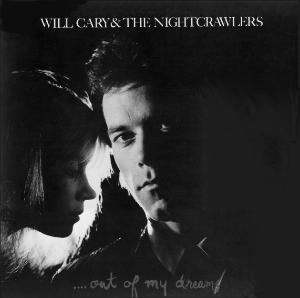 Will the Circle be...Unusual?
Will got the sophomore itch and scratched it by researching other institutions of higher learning, until settling on Franconia College, in Massachusetts. He studied theater, gaining confidence about being on stage: "It's pretty scary auditioning vocally in front of a hundred people when you don't know any of them." He relished his college experience, adding, "We did a lot of improvisation in class and we did musical comedy and Shakespeare. This was in the early `70s when that wasn't cool, but it was an awesome program." The head of the theater department had been acting coach at MGM Studios for ten years and Cary enthusiastically recalled, "He brought in a couple who taught dance and were friends with Bob Fosse...so these people were pretty serious."
Eventually, he met some guys called the Cohn Fullen band: "they were real big in Maine and they played a lot in New York City. They were actually one of the first bands to play in the folk club that became CBGB's." He dug their company and commented that one of them, Peter Ray, "is an outstanding keyboard player that plays with Tim Krekel on and off. It's kind of a bizarre circle."
Having graduated with or without Vaudevillian delusions of grandeur, he and several classmates put together a musical-comedy nightclub act and got hired doing skits at the Flintlock Motor Lodge at a Franconia, New Hampshire ski resort. Working there for nearly six months, the Soup Troupe (as they'd dubbed themselves) also branched out to other ski areas. One happened to be the Stow Playhouse, in Vermont. "That's where," Cary recalled, "I got my 1934 `00028 Herringbone Martin, for $25...a guitar player's dream.'" Thirty years later, he still values both that guitar and that experience a great deal, relating, "I felt like God was telling me something...it really, spiritually, flicked me in the head and I've been sticking with it ever since."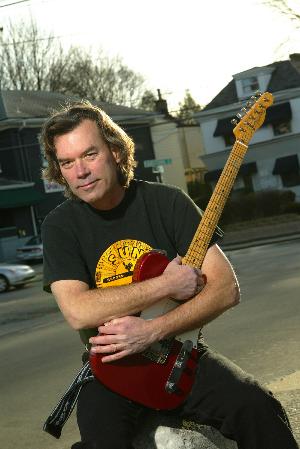 The Soup Troupe moved to New York City. Will explained, "The first thing we did was audition for Catch A Rising Star and they told us to come back that same night." A volunteer gig was secured for a few months and, Will added with a grin, "You don't get paid but you get a lot of exposure." In a strange match for a gig in Asbury Park, New Jersey, they opened for the English rock band, Slade, "which," he added, "really didn't work out too well." At that point, the Soup Troupe parted company for a summer break. Once a musical comedy act has warmed up an audience for a fun, glam rock band, what's left to do? You could find yourself at a crossroads.

Cary explained, "That's when my life changed." He returned to New Hampshire to get his possessions and store them at his sister's house in New Jersey. However, while in New Hampshire, he continued, "A friend told me about a nightclub that was looking for a folk singer...I had about 12 songs I could play. I went over there, auditioned and got the gig." Soon after, he ran into Peter Ray, who jumped at the opportunity to join him to make a piano/guitar duo. Cary admits, "I needed help stretching my act, that's for sure. About two months later, we found out that the Mittersill Inn, the biggest hotel in that region, was looking for a summer act. We auditioned and got the gig." A band was put together, including "a flute player, me, a drummer and Ray on the keyboard...he used a Wurlitzer electric piano and played bass with his left hand." The act worked a few months and made a lot of money. Louisville beckoned him home for Thanksgiving. There were family issues to deal with and, he added, "I really didn't want to go be in a ski-bar band, you know...I wanted to write and didn't want to be just another guy who moved to New York and stayed there writing songs because there's already plenty of people doing that." Thinking he could do more distinctive writing in a different environment, he based himself in Louisville.

A Game of Cat and Muse

How do songwriters do what they do, anyway? I asked about his method. He replied, "It's a mixed bag, you know? I think it's that way for most people. There might be some guys that always start with the melody and tack words to it, but for me, I'll be sitting around, get a chord progression - if I can get a chord progression - write the words; the melody's already there because of the rhythm of the words. That part I don't worry about `cause it comes easy...it's the idea that's the hard part; the inspiration." He elaborated, "Normally, the best tunes I write are real personal, coming from some event that keeps rolling around in my head." Unlike those of us who are not songwriters, but who also go about our ordinary days and have thoughts and ideas rolling around our minds, Cary added, "Suddenly an idea will present itself as a lyric...it becomes a couple of lines and I'll come in here and write it." With a sense of amazement, he also revealed, "I've written several songs in my sleep. I'll wake up dreaming and it's so strong that I'll actually remember it...the strangest thing about those songs is that I wrote them on the piano, which I don't play."

One method Cary hasn't yet used is the Nashville method. He informed me, "That's where two people get together in a room and write a song...just because it's time to write for an album or a certain artist." He is interested in doing that and mentioned the possibility of trying it with fellow local artist Tim Krekel.

Construction and Love

Soon after returning to Louisville, in early 1974 a friend helped Cary ride a horse of a different color. He went to work for Danny Rath, (of Rath & Associates), not as the Entertainment department but as a hired construction hand. At one point, as Cary explained, "the company bought the Weisinger and Gaulbert building at Third and Broadway. There happened to be a cafeteria in what used to be a Walgreens there...some Lexington businessman was bringing in a fancy restaurant. I introduced him to my girlfriend; she had moved from Washington, D.C. to Louisville to work in that

restaurant. That's how Kathy (Mrs. Cary) and I got together."

MTV? Ha! This is work

A construction worker by day, Cary played music at night. He teamed up with a guy named Dave Trabue and worked numerous clubs in Louisville. He gleefully regaled, "I played the Great Midwestern a lot and got to open for all the big bluegrass acts from Doc Watson on down to the Goins Brothers. I jammed with Mark O'Connor when he was 15." Cary revealed that he'd started playing guitar at age 20 and recalled an inspirational moment at the Great Midwestern, stating, "I knew three chords and everybody made fun of me cause I couldn't play that well...I was opening for Doc Watson; he got up and in the middle of his show he said, `tonight Merle and I are going to play a song I've been working on for ten years.' I thought, wow!, if it can take Doc Watson ten years to learn a song then there's some hope for me."

He was playing a steady gig at a place called Steak & Ale, along with another guitar player and a flute player, when one night, "this guy comes in and takes my guitar player and flute player aside, jamming with them and tells them we should be playing rock instead of folk...that turned into a band called Live Bait." Live Bait played original music with Cary and Jay Goldstein sharing the writing.

"We'd do one cover song in a set, maximum of two. We were a hot item at the Phoenix Hill and the Great Midwestern...We had one song that we'd end up the night with and we all went out in the street and did a Mardi Gras type of train down the street and back, singing Jay Goldstein's song, "Party Party Party." All things must end, however and Cary continued, "Then we sort of had a falling out." Cary, along with Live Bait alumni Jimmy Brown on bass and Mike Harpring on drums, added guitarist Mike Mill and the original version of Will Cary & the Nightcrawlers was born. He decided to start playing not only Louisville but also out of town a bit, which obviously meant traveling. The other band members lacked sufficient interest the road so he hired new players who were interested and that's the band heard on his The Disciples of Chuck: Live at the Phoenix Hill CD, a disc of cover songs. Ironic? Maybe, except that it's a celebration of fun rock-and-roll music with the title a salute to Chuck Berry.

Save the Table and Hit the Road

While playing with the band at night, by day Cary also worked for a time as a driver and installation man for a furniture & decorator business. One day while helping his boss carry a parson's table, something went awry and Cary fell. He saved the table from ruin, but fell hard on his left hand. The maneuver would haunt him much later in the form of a partially debilitating cyst.

On that note, Cary hired a manager and took his band on the road. A hot second later he hired a different manager, due to his preference for working with someone he considered sane. The band played venues throughout the Hoosier state. With a gig at The Vogue hanging in front of them, an exhausted Cary threw in the towel. As he recalls, "I had paid my dues to get in the Vogue but I just didn't care anymore. We had played four to seven nights a week for two years and had a really good time, but I was just burnt out."

MellenCary? Uh huh

Amidst all the blood, sweat and cyst, Cary and the Nightcrawlers managed to record Out of My Dreams, an album of original songs written by Will. Through old friends in Greencastle, Cary was referred to a musician named Mike Wanchic, who happened to be in Bloomington and happened to be John Mellencamp's guitar player. Cary sent Wanchic a copy of Out of My Dreams, which led to a phone call regarding Mellencamp's wanting to record Cary's song, "Cruisin' in the Park," as the first single from his new album. Will recalled, "He ended up using the fourth verse from my song to start his song, "Lovin Mother Fo Ya."" A writing-credit deal was signed and Cary got 15% royalties for that song. "At that point," he recalled, "I called it quits and just wanted to write but I was so burned out I didn't pick up my guitar for a year." What he did was restoration work at Architectural Salvage.

If You Open it He Will Manage

A restaurant partnership between Will's wife, Kathy and another woman fell through. At that point, he said, "Kathy wanted to know if I was going to work at Architectural Salvage the rest of my life or what am I going to do. That's when we opened Lilly's Restaurant." He committed himself to five years as restaurant manager and continued that gig for an additional five years. He added, "I'm still working there. I did take off one year, officially. It was great. It allowed me to recharge my batteries and that was around the time I had my hand surgeries." The cyst had reached the point when his left hand was practically useless. His doctor informed him that there was a point of no return and Will added, "I was almost to that point, where I'd permanently lose some of the use of the hand, so he insisted on operating right away." Eventually it healed and he regained full use of the hand. Additionally, Cary says he has become a better guitar player than he ever was prior to the cyst.

Back in the Groove

Down the road of recovery, Will hooked up with a friend, Nick Riefsteck and asked if he needed a harmonica player. With an enthusiastic and positive response, Cary was back to performing, though not on a grueling road trip. The band made a record to which he contributed, "a lot of harmonica." Having put himself back in the musical water with practice, practice and more practice, Will got his band together, as well as playing a few solo gigs. Everything paid off, apparently, since the previously mentioned recording of the band playing live at Headliners is definitely not the work of rusty players or amateurs. The same can be said of his Foundation of Love CD, which speaks highly of the players he worked with and the quality of the songs. "I didn't play a lick on that album. All I did was sing. I played the songs for the other guys to hear and then I put the guitar down. Why wait for me to get it right when I had a couple of the best guitarists in Nashville working." Radiating passion as he spoke about goals, he said, "I'll tell you right now, I wish I worked in the studio every day. I want that to be my job. I'd like to be doing that five days a week, taking two days off and do nothing but record. I love it; I wish I could be a producer and a performer. I love being around good players and giving them space and sitting back and letting it happen. There're a lot of really talented people here in Louisville."

The Meaning of "that statement"

At church one Sunday, a female friend asked Will if he'd heard about "Annie," an old friend who had been in a tragic car wreck and her condition was very grim. Will recalled, "her best friend was named Ann so I thought that's who she was talking about. She said, `no, it was my brother Fred's friend, Ann.' Well, Fred and I are old friends and his friend, Ann, was my seventh-grade sweetheart, Annie Troutman and so that was like getting kicked in the stomach." Upset, Will went home and started aggressively strumming his guitar and singing, "You can't take her, no, no, you can't take her." He recalled, "I played that for about twenty minutes just as loud as I could on the front porch," but he became self-conscious, fearing the neighbors might think he was insane. In order to calm down, he played a melody he'd been working on for about four months and, "just like that, the words came out." Later that week he recorded both at Ramcat Studios. Copies of both tracks were made and marketed. Will designed a sleeve and gave the original copy of the disc to Annie in the hospital. The money generated from the sales of the disc eventually was donated to the Crusade for Children. Meanwhile, Annie survived and lives a short distance from Lilly's restaurant.

While it doesn't always take a tragedy for someone to create good art, Cary's value system involves a dedication to writing honestly about real things. He has no interest in scrambling off any old ditty or exploitation song simply to tap into a market just to watch his bank account swell up.

Toward the end of the interview, he played segments of "You Can't Take Her" and "Annie's Melody." (on his favorite guitar, no less). Given the story behind those songs, the emotion of the music and the strong feelings emanating from Will, the air in the room changed. I already had a pretty strong idea of what those particular songs meant to him, but when he played parts of then and I saw his eyes (and felt mine) become moist, I knew I'd taken part in a spiritual experience.

Will Cary make a living by working in the studio? He has the desire, talent and the studio, so stay tuned. Can he be successful on his own terms? Well, as it goes with wise seekers, regardless of what they find, they take great joy in the work involved in the journey. With that metaphor in mind, in some ways he is already successful.

Will Cary is a busy man, but he'd love to hear from you, especially after you've heard some of his recorded music or seen him perform. I encourage you to stop in at Lilly's Restaurant and/or give a tug on the man's sleeve via

WHCIVlouky@aol.com



Send your comments about this article to the editor.
Tags: