February 2002 Articles
Cover Story
Keith Wicker
Features
Paul Moffett
Columns
Berk Bryant
Decimus Rock
Mike Stout
Paul Moffett
Chris Crain
Keith Clements
Rick Forest
Jason Koerner
Muffy Junes
Eddy Metal
Henry C. Mayer
CD Reviews
Bob Mitchell
Jim Conway
Paul Moffett
Kevin Gibson
David Lilly
Michael Beaird
Kevin Gibson
Kevin Gibson
Kory Wilcoxson
Kory Wilcoxson
Michael Beaird
Performance Reviews
Rob Greenwell
David Lilly
Blogs
Got Shows?
Send Them To Us
Bookmark Louisville Music News.net with these handy
social bookmarking tools:
Available RSS Feeds
- Top Picks
- Today's Music
- Editor's Blog
- Articles
Add Louisville Music News' RSS Feed to Your Yahoo!

Issue`: February 2002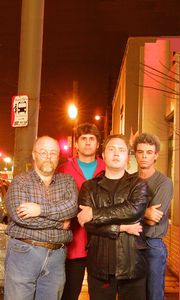 Hog Operation
Hog Operation:
Boldly Riding the Crests of Bluegrass Music's Waves
By Keith Wicker
Wanted: a hippy couple that likes to dance to bluegrass music. Call Hog Operation.
The year is 1976. Rounder records releases Old and In the Way, an album by a band comprised of Jerry Garcia, guitar player for the Grateful Dead, and some of his famous friends, including David Grisman, Peter Rowan and Vassar Clements. Although the album had been recorded a few years earlier, by 1976 Deadheads everywhere become convinced that bluegrass music is cool. Legions of young people take up mandolins, fiddles, and banjos; they seek out records by Lester Flatt and Earl Scruggs. Bluegrass festivals begin to look like outdoor rock concerts: long hair, tents and marijuana.
In 1972, I met a guy named Sam, who was from Jenkins, Kentucky. He invited me back to his place to hear a Stanley Brothers record. Hooked a bit earlier than my counterparts, catching bluegrass fever meant that I was already picking the mandolin by 1976. Nevertheless, it's always a kick when something you're passionate about is suddenly discovered by others.
Bluegrass music has had two such jolts into the mainstream during my lifetime. The first was Old and In the Way. The music on that album sounds as fresh and engaging as it did in the mid-Seventies. When the Nitty Gritty Dirt Band released Will the Circle Be Unbroken, an album that included several bluegrass artists, the feeling that bluegrass music would remain center stage in the nation's conscience was reinforced. But it was not to be. Country music saw first the outlaws, then pop artists dominate its charts. Rock went through heavy metal and punk. Bluegrass music throughout the Eighties and Nineties returned to being an afterthought. Certainly it had a cult following, but bluegrass artists held second jobs and attendance at festivals settled down to the diehard, middle-aged fans with RVs.
The second jolt occurred only last year, with the release of the Cohen brothers' O Brother, Where Art Thou? Young and old liked the movie. With it's soundtrack of old-time and bluegrass music outselling everything else for weeks, suddenly, again, bluegrass music was accepted by young people as cool. They may have mistakenly believed that George Clooney wrote "Man of Constant Sorrow," but nevertheless, banjos and mandolins were back in style.
Go back with me once more to 1976. Larry Raley, a guitar player and singer, gets a call from some younger musicians. They have a bluegrass band and a gig. They need a singer. Louisville's premier bluegrass band, Hog Operation, counts that call as its birth, though only Raley remains from the original line-up. In those days they called themselves New Horizon. Raley played guitar and sang, Kent Houtchens also played guitar. Jeff Hoag played mandolin, Doug Huff played fiddle,. Merle Thixton played banjo, and Steve Wigginton played bass. The band stayed together for a couple of years before "differences of opinion about work ethics," according to Raley, caused a shake-up. Kevin McAdams took over on bass, and Mike Schroeder picked up the mandolin duties.
Louisville's relationship with bluegrass has always been checkered. While the area has no shortage of musicians or interested fans, its track-record for making money for its venues is discouraging. Nevertheless, New Horizon persevered, and when Kentucky Fried Chicken sponsored its downtown bluegrass festival, New Horizon won 1980's Best New Bluegrass Band in the United States Award. After that, the band played a couple of high-profile jobs, even flying to one in KFC's corporate jet. Each member got $500, and the band was awarded the opportunity to go to Nashville and record a single with Tom Collins, a producer for Crystal Gayle and other well-known country acts, at the control board. Although they emerged with two sides and 500 copies, Raley says, "I don't think it was ever played on the radio."
In 1982, the band was offered the chance to play state fairs around the country for ten months of the year under the sponsorship of RJ Reynolds Tobacco. Unfortunately, only Raley and Houtchens wanted to go out. The tobacco company found another band, and the missed opportunity splintered the group. Raley and Houtchens left and formed a duo that played Dagwood's in Bardstown, while the New Horizon continued, replacing Raley and Houtchens with Lea Ballock and Ivan Guernsey. Thixton took his banjo and left the group in 1983 and was replaced by Philip Cooley. Despite the changes, New Horizon continued to be a strong ensemble, coming in second behind a young Allison Krauss and her group at one contest in the mid-Eighties.
After a few years of operating a pet store in New Washington, Raley returned to the band in 1987, replacing Ballock and switching to bass. During this time Jeff Guernsey, a championship fiddle player, worked with the band. Throughout the `90s, New Horizon became a revolving door for guitar players. Tony Myers played with them for a while, as did Mark Rosenthal and Kenny White. Also, Steve Cooley moved back from Missouri and took over the banjo from his brother, who became a full-time student. Around 1992 or 1993 (no one quite remembers the exact date) the band changed its name to Hog Operation. A few years later, after Guernsey had left, John Hawkins settled into the guitar slot and that line-up ushered in the new century.
Cut to 2002. Hog Operation is a bluegrass band of middle-aged men. The four musicians constitute Louisville`s most popular bluegrass band, and they play FAST. They also play steadily. Raley says his plan for the future is to "look at the calendar each month and see how many bookings we have." Lately, Raley's been smiling at his calendar. In order to work consistently, most bands, including the bluegrass variety, have to play clubs, pubs, honky-tonks and taverns (distinctions exist, but they're subtle). For most bands geared around electric instruments, this is not a problem, but for bluegrass music, which has traditionally been done with acoustic instruments and microphones, the need to be heard above crowd noise demands amplification of instruments that sometimes don't take kindly to it.
It's a Friday night in January at Molly Malone's. The patrons are drinking Guinness or Bud Lite and talking to their friends. They are all in their twenties. The guys sport hair so short they could join the Marines and skip the barber at basic training. The gals wear their hair like the women on Friends, straight and shiny.
A little after 10 p.m., The Hog Operation members filter in, tune their instruments and start to play. They begin with "Way Downtown," which I know from a Doc Watson cover but which probably goes back to a pre-war group such as Gid Tanner and the Skillet Lickers. Each instrument has its own amplifier, like any self-respecting rock group. The banjo is up front, but the mandolin is pushed even further.
The audience doesn't turn to look at the band or cease its conversations as Hog Operation play. People talk louder, of course, so their friends can hear them. Occasionally, I see someone, usually a female, do a few steps of a mock clog dance. Her friends laugh at the joke and go back to drinking and talking.
As the band eases into "In the Pines," I hear a guy ask the bartender, "Who's the band?"
He replies, "The Hog."
The young man is puzzled, "The What?"
"The Hog Operation," the bartender answers, annoyed because he needs to be pumping Irish Stout, not answering questions about the band. He understands that the band's presence is secondary to most of its audience.
Hog Operation seems not to notice the crowd's apathy, though it has compensated for the noise level. Not only does Hog Operation play FAST, but they're LOUD, as well. They play louder than any bluegrass band I've ever heard.
Steve Cooley, the band's banjo player, keeps a realistic view about playing bluegrass in such venues. "They don't come out to hear bluegrass. They come to be with their friends and have a good time. That's what bar owners care about, too: selling drinks and keeping folks happy."
While many musicians have the experience of being treated as wallpaper, as background music for other activities, such treatment has little history in traditional bluegrass. Festival-goers sit and listen. Even at the International Bluegrass Music Association's Fan Fest, while some coming and going takes place, the folks seated in the main hall study the stage, the performers and the instruments as though there may be a test later. "Hard-core bluegrass fans," says Cooley, "don't drink a lot, or not at all. They'd rather watch the pickers' hands and compare instruments." Nevertheless, for Hog Operation, such attitudes are rarely enjoyed. "In the summer, we play a lot of lawn parties," says Raley, "and people are usually milling around talking and not listening. We're just hired as kind of prestige thing, so people can say later that they had a live band."
There is an alternative; surprisingly, it's one that most musicians working clubs can empathize with. "If a couple of hippies get up and dance," Raley says while waving his arms about in imitation of Deadhead gyrations, "that gives the students and yuppies the green light. The dance floor fills, and, if they're dancing, they're listening."
The next song is "Hobo's Song" by Peter Rowan; it's one of the songs included on the influential Old and In the Way album. I look around at the young faces, younger than my son, who was born in 1976, and realize that none of these people were alive when that album made its impact. Here and there a head bobs, but most continue practicing their social skills.
The musicians in Hog Operation have played professionally for many years, but perhaps Cooley has seen more of the bluegrass world outside of Louisville. Cooley has worked with the Dillards, Doc Watson and the father of bluegrass music, Bill Monroe. Yet he's not optimistic about big changes in bluegrass. "If you look at the music everyone in bluegrass thought was so cutting edge in the Seventies, such as Seldom Scene and the Newgrass Revival, and listen to those albums now, they sound like what everyone is doing in bluegrass today."
The musicianship in top-notch bluegrass acts is always amazing, and bands such as the Del McCoury Band use arrangements that owe a great deal to rock and jazz. "It just takes bluegrass a long time to move," says Cooley. He shrugs his broad shoulders and sighs. "I was a purist one time; everything had to be just right. That note had to go right there. But I'm not anymore."
Everyone in Hog Operation has a day job, except for Raley. Hawkins and Cooley work for Guitar Emporium. Mandolin player Mike Schroeder is the Circulation Director for Louisville Magazine. Raley maintains several playing jobs: in addition to Hog Operation, he's a member of Johnny B's Bluegrass Band, which performs every Tuesday night at Gerstle's; he plays with Gary Brewer in a group that works for the Mayor's Outreach program; and he still occasionally performs with an old band mate, Shannon Lawson, who now lives in Nashville and has signed with MCA.
"I could get a job and make more money," says Raley, "but I love this. I've been doing it a long time. I know that the music business is wishy-washy. Stuff gets played on the radio that in my opinion is not good, and good stuff sits on the shelf. A lot of it's luck and who you know."
Hog Operation has recorded two CDs; New Litter contains original songs and Nice Little Ham Bites is mostly bluegrass and country covers. At Molly Malone's, Hog plays two original songs back to back: "Rollin'" and "On the Mountain." During the latter, the stoic Hawkins sends a smile into the air above Raley. When they launch into "Man of Constant Sorrow," a weak rebel yell rises from somewhere in the crowd. Hawkins, who doesn't sing, pretends to step up to the microphone for the tag line, "The place where he was born and raised." Hawkins is the newest member, joining "two or three" years ago. Before playing guitar for Hog Operation, he was a member of Edenstreet, a rock band that enjoyed success with a CD and record contract. He doesn't see that O Brother, Where Art Thou? has changed what his band does. "We did add that one song," he says, referring to "Man of Constant Sorrow." As for his future in music, Hawkins is reticent, preferring a see-what-happens attitude to a five-year plan. "I have gone back to school," he admits.
Like most good bluegrass outfits, Hog Operation tears into fiddle tunes with the ferocity of a hawk on a field mouse. In the forefront of these attacks is Schroeder, whose mandolin playing is extraordinary: eighth notes swirl and circle the melody as his fingers fly over the frets and his boyish locks swing across his forehead. A veteran of orchestras and mandolin societies, Schroeder plays with the fluidity of Ronnie McCoury and the enthusiasm of Sam Bush. Despite his chops and relative youth, he holds only a perfunctory vision for the future of either his music or the band's development. "I hope we have a job next weekend," he states.
Cooley's experience is deftly demonstrated on his blond Deering banjo. When accompanying Raley's singing, he doesn't just rely on the upbeat chunks of most Scruggs' imitators, but squirts out remarkably complex arpeggios, reminding me of J.D. Crowe's playing. His solos never lose sense of where the important melody notes fall, and his high tenor is a perfect complement to Raley's voice. Mike Bucayu, who works at First Quality Instruments and promotes local bluegrass, says succinctly: "Steve is simply the best banjo player in town."
Raley is the rock of the band. His bass notes fall right into the pocket, his timing like Old Faithful. His voice demonstrates an incredible range, from the sweetest high tenor to the smokiest baritone. He sings lead for Hog, and he never drops a line. When I asked him if singing all night tired him, he looked down and grinned. "I'm used to it by now, I guess."
Several times I'm assured by members of the band that "most of the places we play, people come to hear us." Venues such as Barretones are not so much a "meat market" as Molly Malone's. However the balance of bad vs. good is played out, Louisville's love-hate relationship with bluegrass music continues, but Louisville's top bluegrass band takes it in stride.
When a big wind like the O Brother soundtrack comes along, bluegrass rides the high wave and bands like Hog Operation play to the converts and those just along for the fad; when the wind doesn't blow so strong and the waves are smaller, bands like Hog Operation and bluegrass will still be surfing, banjos and mandolins sending their cascading notes into the Kentucky air, for those who love that high, lonesome sound. For whatever shape bluegrass music takes, whatever permutations alter its form, bluegrass was born in Kentucky and will always be a part of its landscape, just as permanent as the Ohio River, just as important as its veins of coal.
Tags: