December 2001 Articles
Cover Story
Jason Koerner
Features
Paul Moffett
Moon
Columns
Berk Bryant
Decimus Rock
Mike Stout
Paul Moffett
Chris Crain
Keith Clements
Rick Forest
Jason Koerner
Muffy Junes
Eddy Metal
Henry C. Mayer
Henry C. Mayer
Henry C. Mayer
Jimmy Brown
CD Reviews
Rick Forest
Kevin Gibson
Jim Conway
Michael Beaird
Rob Greenwell
Bob Mitchell
David Lilly
David Lilly
David Lilly
Bob Mitchell
Performance Reviews
Rob Greenwell
David Lilly
Keith Wicker
Rob Greenwell
Bookmark Louisville Music News.net with these handy
social bookmarking tools:
Available RSS Feeds
- Top Picks
- Today's Music
- Editor's Blog
- Articles
Add Louisville Music News' RSS Feed to Your Yahoo!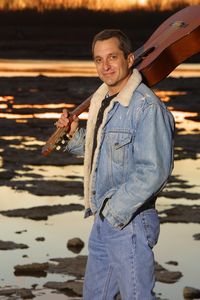 Tom Flood
Tom Flood: The Gates Are Open
You won't find Tom Flood in my "Scariest Things in Louisville" story, but his musicianship is something we all should fear. Finger-style guitar never looked so easy, or sounded so good. This is his story...
Tom is a Louisville native who has traveled widely (including a brief stint in sunny Florida), playing music along the way. His personality, I have found, is as eclectic as his music. Tom seems like the kind of guy who will try anything new, and his music is a definite reflection of that.
I first met Tom at the Mid City Mix taping, at the Comedy Caravan around the time of the release of his CD, Echo From the Heart (Ear X-Tacy Records, recorded at Ramcat Studios). Tom was a guest on the show, and I was running camera. I was immediately drawn in by his music and the intricacy of his performance. I was equally taken in by his stage presence, which I can best describe as "enigmatic."
He and I spoke briefly that day, and we spoke in passing a few others. It was not until recently that I actually talked about music with him, and my admiration for Flood grew as a direct result of it. After all, you know how we musicians can ramble. Seriously, this guy is in it for all the right reasons.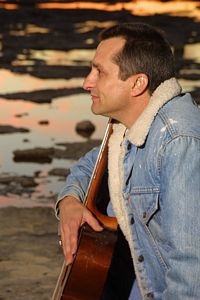 Tom Flood
So how did he find music? Tom tells the story well...
"I snuck into my Mom and Dad's bedroom one day, and I found a guitar under their bed. It was an instantaneous friendship between the two of us. I wasn't even quite sure what it was! I was about 7 years old then, and I have never put the guitar down since. I didn't get in trouble either! In fact, a little while later, I got my own guitar for Christmas.
"Back then, you listened to AM radio. There were a lot of different kinds of music on the radio then... you still heard some '50's. My alter ego, Flood Mon, came from [that]. He's kind of a beach loving guy. Anyways, a friend later turned me on to Hawaiian slack key music."
This was an integral part of the metamorphosis we would later see in Flood's music.
"One day, I saw this pod of dolphins, and I watched them all day. It inspired me to write "Cool Runnings," one of the few compositions that has never changed. There was now a serenity about me as a musician that I had not felt before. Usually, one minute your material is great, the next it is garbage to you. I had really become in tune with myself. I really wanted to be known as a composer and a guitarist, so I came back to Louisville. I met John Cantrell, and we clicked instantaneously. He was immediately able to extract what I was trying to get across with the music. The next thing you know, I have a band.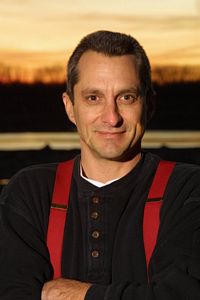 Tom Flood
I started to prepare to record. I thought it was time for me to lay my footprint down. I'm not getting any younger! I have a better chance of winning the Powerball than having a gold record! Halfway through the recording, I knew I had something special. I don't tell the audience what the songs are about on the record anymore. I let people get from it what they need to get from it. It never dawned on me until after the record was released that no one had my sound."
The only hints he gave about the inspiration for the tunes on the album are as these:
"The title track is about my Gran, whom I was very close to and [who] passed away two tears ago. Others are beach pieces, influences from other musicians, or loved ones. My band mates knew there were more than just notes behind the music."
The CD features the following tracks: "Cool Runnings," "Fortune Traveler," "Echo From the Heart (title track)," "New Beginnings," "Guitanjo," "`Moe `uhane' Mele," "Daddy's Girl," "Captain of the Seas," "Rainmon," "Arietta," "Footprints," and "Solmates." *Speaking of Solmates, that is the name Tom refers to his live band, SOL, as. The SOLmates are: Richard Denison (bass), Ken Lucchesse (guitar), Dave Evans (percussion), Alex LaBorwit (percussion), Raphael Starr (woodwinds), and John Cantrell (keyboards).
While Flood's music may be slightly difficult to categorize, it could be labeled as new age, folk, easy listening or maybe even smooth jazz. All of this suggests Pink Floyd, because of the sound effects and unusual tones on several of the tracks, created by instruments like the flugelhorn, kinto, or the accordion. (If I had to make a choice on style of music, I would put my money on "New Age," with a 10-point spread.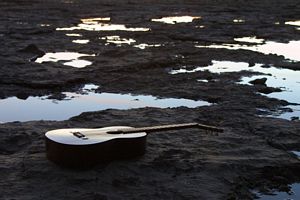 Tom Flood
There are countless elements that can be found in Flood's music; all aligned in just the right proportions and sequence. This is best illustrated through his record. My personal favorite tracks are "Fortune Traveler," the title track, and "Solmates." Players on this project include, in addition to the SOLmates John La Barbera (flugelhorn); Rusty May Alyea (violin); Richard Denison (acoustic and electric bass); Greg Acker (flute, percussion); John Paul Wright (conga, kinto, drums) and Sam Gray (drums, cymbals). The array of talent and musical weaponry suggests the depth of this recording. This is not one of those Deep Thoughts CDs advertised on TV on late night infomercials: the one that comes with a free bathrobe or whatever. This CD has more emotions behind it than a psychiatric ward on medication day.
Despite the large number of players on Echo From the Heart, Flood also performs solo on occasion, or in smaller groups. It seems that no matter what the instrumentation is, "the music still works," Tom says. Flood composed all of the pieces on the CD and has the goal of becoming more recognized for his efforts in composing and songwriting, not just playing.
"Prior to this CD, I was a typical singer/songwriter, and a closet composer. No one knew I even composed. Around 1994 or so, I really got burnt out with a lot of the same gripes and complaints I have today: no money, no support, arguing with club owners, etc. I was tired of having my musical credibility judged by how much alcohol sales were that night. I gave myself permission to be an instrumental musician."
Being true to his musical desires has really paid off. Tom has accomplished much in his recent years as a player in Louisville. Here are just a few of his feats:
A College Degree
Tom recently earned a Bachelor of Arts in Music in May of 2001 at the University of Louisville after a long college career that featured the familiar `major-switching' phenomenon. He says he was the oldest person in his classes. He got over 120 credit hours in Geology before that program was discontinued, after a "limited semester" ultimatum from the school where he and a few others just ran out of time.
"[The music studies] opened my ears to all different pieces of the pie I never realized were there. In the end, I think it made me a more rounded person, and a better musician. I did learn things about the structure of music, forms of music, and periods of music. But, it kind of brought me into the family, so to speak. Of all the musicians that came before us: Bach, Mozart, and others, they were kind of tragic. They fought the same struggles then, that we fight today. It also made me realize how much I don't know, and how much there is to learn out there."
"You don't have to be smart to go to college, and you don't have to go to college to be smart. Of all the things I really thought I knew about, I had only had surface knowledge. I accomplished something. It was a personal dragon I wanted to slay for a long time. My sojourn through the U of L would not have been successful without the patience and guidance of Jack Ashworth, Steve Rouse, John La Barbera and Nancy Bodner. They are still my mentors. Without their advice and opinions (musically)... I would probably still be in school."
"A lot has happened to me this year. I got my degree, my record came out, and other personal dragons were defeated. I've wanted to make a record since I was 8 years old and be in the "biz." If it were all to end tonight, I would be content and happy, knowing I have, and will continue to follow my heart and passions. Since becoming an adult, I've never wanted to be famous, just great at what I can do. Of course, I wouldn't say no to the money!" He laughs...
"I am very blessed to be able to create, play, and perform, and to have others appreciate my wares - it doesn't get any better! That's what living in this great country is all about. I have grown more as a musician this year than ever."
"Live Lunch"
As mentioned earlier, Tom has traveled and performed all numerous towns and venues, including places as far away as London, England. One of his personal favorites when it comes to gigs was being featured as a guest on WFPK's "Live Lunch" show.
"That was a big day. I felt like that was the first opportunity to throw the music out there where a lot of people would hear it. I knew that I wanted to set my footprint down here. It was the first time I feel like everybody `got it' that wanted to. There was a real core of positive energy that day. I was very pleased to be on the show."
Fox in the Morning
"A very early call... we had all worked that weekend. We had to be there at 6 a.m. Dick Irby made the connection for me; he is an avid supporter of Louisville music. I guess I bugged him enough!" Tom said modestly.
"I don't get nervous. But for some reason, at "Live Lunch" I was a little nervous. So nervous, I forgot to introduce the guys on the band. I felt so bad! Of course the guys didn't let me live that one down... so I made it a point to do so on this. Here, it was a very relaxed atmosphere."
Good Morning Kentuckiana
"I knew I would touch a different audience then, those who do not go out to clubs, or who were musicians. Why not?"
KET
"It was a tie-in between music and education. I was working with kids, substitute teaching (music) in Indiana. I talked about the ways I would deal with the children in class. One of the things we would do is listen to records, and then I would get them to tell me what kind of imagery the music gave them. Things like that..."
Good things came out of his television performances...
"The Third Ave Café owners, Sharon and Scott Risinger, saw us on "Fox in the Morning." Later, I was playing Farmer's Market." The owners went to see Tom play, and Sharon said to him, "I just want you to know that we play your record every day at lunch. I just wanted to meet you."
"I was very flattered. She sent me an email asking if we would consider coming out and playing. We did, and I really like that place. They were very gracious.
Sharon's comment to Scott while Flood was on TV was that his music was the kind of music she wanted in the café.
"The fact that they took the time to come and find me, it means a lot. I get emails from people I don't even know, from all across the country, thanking me for my music. A guy wrote to me and said he and his wife couldn't conceive a child with success for some time, but we were successful while listening to my record!
"We are looking forward to your next record!" was this man's end note to the email.
"Hospitals, spas, restaurants, etc. have called me and told me about how they play my CD. Just the other day, a new holistic healing place opened up and I went in saying, `Hi, I'm Tom Flood..."
"I went from not getting any respect to being appreciated. It makes all the times I got stiffed, double booked or I was too broke to go to Kroger, all worthwhile. I used to play because I had to, I did not know what else to do. There is more to music than just that one little slice."
He's already thinking ahead to his next album:
"I have about six tunes ready for the next project. I don't know exactly when it will come about, but it will."
Tom has many people to thank for helping him along the way in his music, artwork, and all-around life.
"Ben Andrews (the Barbary Merchants, Ramcat Studios) was absolutely instrumental, no pun intended, on getting quality (on Echo). You have to have a support group. My journey through this crazy business of ours would not be possible without the help and expertise of Al Moreschi. He does all my graphic work and continually makes me look good despite what he has to work with!
"Just getting the product out was successful, to me. The support came from everyone involved. [ear X-tacy's] John Timmons and the rest. The key to continued success is to have a support group and people that believe in you... people that you trust. The rest of it is getting out there and playing. It is about finding venues here, and elsewhere."
"With the CD, I've tried to raise the bar, so to speak. I tried to tell a story melodically, instead of through lines. It has exceeded my expectations, and taken on its own life. The record is being played in hospitals, for intimacy, for stress relief, or as a sleep aide. To know that a `nobody' like me has made a difference is great. I don't think I have all that angst I used to. I have gone from writing songs to compositions. Everything came together at the right time for me. It doesn't matter if I sell one record, or no one likes it. It's OK. It is just such a thrill and a blessing when someone tells me they like my music."
That people connect to his music in some way is the most important thing to Tom Flood. A fan once approached Tom and said to him,
"You know, I hope you don't take offense to this, but I have referred to you as `The Lullaby Man' to my friends because I listen to your music to go to sleep."
Tom laughed about this, then said to her, "It's OK, because you get it."
I went to see Flood perform with his band at Artemisa on Market. The ambiance was a little high-class for me, but the music was refreshing. (You can catch Tom there on December 7, at 7 p.m., no cover.) It is an outdoor patio area, and winter is coming, so he may not be playing al fresco much longer. I was amazed at the sounds he created with the group live, and its consistency with the CD timbre.
Tom is also a frequent flyer at the Third Avenue Café at Third and Oak St. He will be there every second Friday each month. Tom sadly states, "There are not that many venues for me to play at." There are only a limited number of venues for every genre of music, but he seems to be doing well at the venues he pays regular visits to. Fortunately for him, there is a receptive audience everywhere he plays, as the music speaks for itself. It also seems he is doing well in December and January. Here are his gig dates:
December 1, French Lick Resort, IN
December 2, Third Ave. Café, 3 p.m.
December 7, Artemisa, 7 p.m.
December 14, Limestone Bay Marina, 7 p.m.
December 15, Third Ave. Cafe
January 1, Actors Theater
January 4, Actors Theater
January 5, Joey G's Madison, IN
January 11, Third Ave. Cafe
January 18, Limestone Bay Marina
*Artemisa in January too, but date is still pending
His CD, Echo From the Heart (ear X-tacy Records), can be purchased online through his website link at http://www.floodmon.com/ to ear X-tacy records. (Check out the site and pick up more Louisville artists' CDs while you are there.). You can also pick up the disk at ear X-tacy Records as well as at Hawley-Cooke Booksellers; Barnes and Noble; Christ Church Cathedral; House O' Hits in Madison, IN; and at his live shows.
Eventually, Flood wants his home base to remain in Louisville while he tours and to play in town when he can. He says he would like to be on Windham Hill Records, or any other label that is able to foster his kind of music.
His methods and keys to success remain: hold true to and persevere with your passions.
"Nothing- not even music- means more to me than my family and friends. In the end, it all comes down to being true to yourself, don't be afraid to show your true self."
Tags: