September 2001 Articles
Cover Story
Jim Conway
Features
Paul Moffett
Columns
Berk Bryant
Decimus Rock
Mike Stout
Paul Moffett
Chris Crain
Keith Clements
Rick Forest
Jason Koerner
Muffy Junes
Eddy Metal
Henry C. Mayer
CD Reviews
Bob Mitchell
David Lilly
David Lilly
Janet Wolfe
Rick Forest
Bob Mitchell
David Lilly
David Lilly
Performance Reviews
David Lilly
Jason Koerner
Bookmark Louisville Music News.net with these handy
social bookmarking tools:
Available RSS Feeds
- Top Picks
- Today's Music
- Editor's Blog
- Articles
Add Louisville Music News' RSS Feed to Your Yahoo!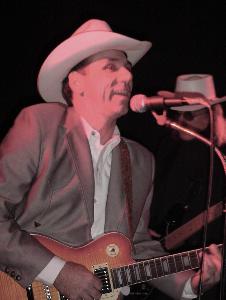 Bobby Joe Terrell
As I circled around the parking lot of that venerable establishment known in these parts as Colonial Gardens, I couldn't help but think off how little the place had changed since the last time I was here. As I recall, it was the late Seventies and some friends and I, who were barely out of high school, decided to take a walk on the wild side and infiltrate this popular hangout by posing as adults of legal drinking age. I've been told that in it's former life, the building that houses Colonial Gardens was the southern terminal of Louisville's trolley line, but that night, as my friends and I hit alcoholic pay dirt, it appeared to my young eyes we had entered into a scene straight out of Urban Cowboy, with dozens of John Travoltas and Debra Wingers decked out in sequined shirts, cowboy hats, pointy-heeled boots and Wrangler jeans worn so tight that the blood-flow to their legs probably stopped when they sat down at the bar.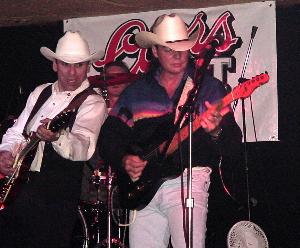 Bobby Terrell & Dale Scharre at Colonial Gardens
These days, the Travoltas and the Wingers are a little heavier and a little grayer, but I was nonetheless amazed at how little the place had changed. It provided the perfect backdrop for the performance Bobby Ray Terrell was about to bestow upon those in attendance that night.
The reason for these recollection? It might have been Bobby Ray Terrell who was playing that evening all those years ago. And if not that night, probably sometime that week, possibly as a member of his former band Spare Change, which is not to be confused by the current local band of the same name.
So trolley stations, underage drinking and different bands with the same name aside, what I was there to see on a hot, sticky July evening was literally a local coming out party, with Terrell as the guest of honor. A party with the expressed purpose of celebrating the release of his three-song CD, Tonight! Tonight!, and one that offered notice to his hometown that he was ending a nine-year hiatus from performing the local circuit.
What everyone was got that night was a smorgasbord of rockabilly candied confections, with Terrell serving it up with a nervous, pelvis-shaking energy not unlike the original pelvis-shaker, Elvis Presley, but with the classic country stance of a later-day Hank Williams. Dressed in a white Stetson, black vest and picking a sunburst Les Paul, Terrell marched through the cream of his original compositions: "Tonight! Tonight!," "Put On Them Old Dancin' Shoes," and "Heartaches Come a Dime a Dozen." All upbeat stuff, and as he commented to LMN later, "Nobody wants to sit and listen to 20 ballads in a row." Of course, he never knew my parents, but that's another story.
It's somewhat unusual for a country frontman to not be playing an acoustic guitar these days. Terrell prefers the electric and, along with lead guitarist Dale Scharre's Fender, the listener is provided with a non-conventional interplay by this band that you generally don't find outside of rock circles. Like Terrell, the other band members: Scharre, bassist Greg Viergutz and drummer Charles Bailey, have deep connections to the Louisville area, with Scharre and Viergutz reportedly ready to follow Terrell's eminent move to Nashville, "Probably within days," he says.
But to grasp how things got to the point of Terrell's songs being played on 39 radio stations in the Kentucky/Indiana/Tennessee area - amazingly, without the push of a major label - we need to return to the late Eighties and remember what the local climate was for performers like him.
It's no secret that Louisville can be a tough market for original music. To a working band trying to exist without the necessity of a day job basically means one thing: play lots of popular tunes, known as `covers' in musicians' parlance, that the masses have heard. The time-tested theory is that your friendly neighborhood bar patrons, upon hearing said familiar musical strains, will somehow be compelled (subliminally?) to purchase more drinks, theoretically creating more profit for bar owner and bar musician.
No one is debating the validity of this formula but having witnessed first-hand other communities' thriving and economically sound original music scenes, the local circuit can be a little restrictive at best, or a downright clampdown to those who aspire to create their own musical legacy, a la Bobby Joe Terrell.
So with the Nineties breathing down his neck, at an age many would have hung up their Stetsons and Les Pauls for good, and after roughly twenty years on the local scene, Terrell was faced with an important realization that would change his musical destiny:
"At that point right there I was saying, 'If the only reason that I'm up here is to be a human jukebox, then this is going nowhere, and my music is never going to be heard or appreciated. At that point in time, I quit playing the clubs and started writing songs to further a professional career.'"
That started the aforementioned nine-year break to concentrate on songwriting, with little thought of performing. All in all, Terrell wrote approximately 180 songs, "and of these 180 songs, anything that sounded like someone else didn't make the cut." But while honing his craft, he did manage to perform, but not in the traditional `cover band' method. Terrell considered then, as now, the 45-minute set to be too confining. "I wanted to do hour-and-a-half shows, but they (the bar owners) wanted 45-minute sets, with 15-minute breaks."
Back at Colonial Gardens, not being aware of this "Bobby Joe-ism," I was waiting for his first set to end so I could visit the men's room. Much to my bladder's surprise one-and-a-half hours later, he brought his set masterfully to a close, which was the immediate cause for a profound drop in the water pressure at the old trolley station, as there was a mass rush to the bathrooms.
This refusal to play short sets is probably only one example of Terrell's stubborn determination. He has been described as a modern-day Don Quixote, refusing to bend, break or be folded into any form he is not willing to be folded into. And that is a good portion of his appeal as well. This singer knows who he is better than any record executive, radio programmer or music journalist, so he only asks that you give him his guitar and listen to what he does best.
But don't think that this guy is all attitude and no connections. Terrell is currently represented by Jo McFadden of the Nashville-based McFadden Group, who's track record includes successful stints with the Hee Haw television show, Buck Owens, Lori Morgan, Dwight Yoakam and another Kentuckian you may have heard of, Billy Ray Cyrus. He got there in typical Southern fashion: he got to know BMI's Harry Warner, who introduced him to Sony's Roger Sovine (Red's son), who sent him over to see Jo McFadden, who knows . . . well you get the picture.
During this time, the thought of being a solo artist was only a vague thought in Bobby's mind, but having the good fortune to meet these Nashville heavyweights through industry events and the occasional open mike nights in Nashville, he managed to gain a strong circle of friends in the business. As he sees it, "by coming in the rear door in Nashville (instead of the waiting room), I became friends with these people." And there is probably no one in country music who has greater appreciation for what that has been done for him.
Recalling one significant meeting following one of his Nashville appearances, he said, "Roger Sovine came up to me and said, 'Man, I love what you do, here's my card." Shortly there after, he arranged for Terrell to meet McFadden, who was then coming off major success with Billy Ray Cyrus. In fact, Terrell reported that Cyrus wasn't an easy sell to the recording companies, until the huge success of "Achy Breaky Heart" took the country by storm. "Ms. McFadden was trying to sell Billy Ray Cyrus to everyone in Nashville," and when the record took-off, many a disappointed record executive called McFadden and cried, "Why didn't you sell us Billy Ray Cyrus? We did, just check that pile of CD's in your office."
But selling a good looking, lanky Generation X-er with to-die-for hair who one-offs a career single is one thing; finding a deal for a guy in his forties who could be described at best as average-looking is quite another altogether. It this type of scenario, the music has to do the selling. Look at the picture chosen for the cover of his Tonight! Tonight! CD. Terrell's hat pretty much covers his face, leaving an air of mystery he hopes will work to his advantage. The great thing about it is he seems pretty comfortable with his image, relying on that determination mentioned earlier. "Man, don't ever let what you look like determine what you're gonna be...(even the pretty boys)...still have to get up on stage and give a good show."
Of course selling is easier when you have the goods to sell. The Valley Station resident lists his song writing formula like this: "You take the structures of The Beatles, you take the feeling of this man here (pointing to a picture of Hank Williams) and take the showmanship of Elvis Presley..." Wrap it up in a high-energy performance and you have probably some of the better-crafted songs to come out of the local scene in quite a while. When pressed to list some major influences, Terrell concedes that they usually pop up in the choice of covers his band performs.. At the Colonial Gardens show, I heard bits and pieces of Charlie Rich, The Everly Brothers, Marty Robbins, Sonny James, Johnny Horton and Roy Orbison.
"I've actually wanted to be a songwriter since I was 10 years old." he said, talking about his memories from Saint Lawrence Elementary School, when he asked the nun's permission to stand on his desk and sing to his classmates. Maybe those nuns were heard something special.
As many industry insiders know, the country music scene is currently in a serious transition period. The huge growth the genre experienced during the early nineties has leveled off, and as most have come to realize, no one is going to sell gazillions of cross-over CD's like Garth did. So what's next? Bobby Ray feels, "The timing is perfect for me to come to Nashville."
The timing may be perfect, but the rules don't change in the music industry. With all the upheaval in Music City, Terrell realized "The only thing that counts is CD sales. Even when you're established, and you stop selling, it's 'sorry buddy, you've gotta go." Against this grim reality is a truism that appears to be in his favor: good songwriting never goes out of style. We both agreed that if one has written a song, and that song sounds great with only an acoustic guitar and voice, one could feel confident that the potential for a hit is there.
"I think BMI's (unofficial) motto is: It all starts with the song, because with a (good) song, you don't need anything else." ("It All Starts With a Song" is the motto of the Nashville Songwriters Association International. - Ed.) Terrell feels that it's his songwriting that has - and, he hopes, will continue to - opened doors for him. Regarding his song catalogue. he quipped, "I have 110% confidence in the songs capturing the audience."
So yes, quite a bit is going on with Bobby Joe Terrell recently, who makes more frequent trips to Nashville to play venues like the Fairview Lounge, Douglas Corners, Tootsie's, Robert's Western Room, Maggie McGee's and The Stage. There's no doubt he's in demand now, but I asked him to consider what, if like so many others before him, his career abruptly stalls. Without missing a beat, Terrell responded, "You know, some artists aren't what they seem to be, but Bob (that's what he calls himself) is for sure a country artist. If I never make it in the music business, I don't give a @%$!, I still have fishin' and huntin'"
Ah, yes, that determination once again, that refusal to be folded into something that may or may not come about. I find it hard to imagine him curtailing his hunting and fishing with his sons, whether he had a hit record or not. His great love of the outdoors was something he learned from his late father Joseph E. Terrell, who was one of his earliest supporters and received a dedication on the CD.
The refreshing thing about Bob is that he has life experiences that have helped him make it this far and will serve him well in the coming years. Reflecting on how difficult his future goals may be to reach, he paused for a moment, then said "even though I'm not signed to a label, I feel like I'm further along than some of the artists that already have a CD with a major label." Don't be surprised if others agree on this point.
Bob has already figured out who Bob is. No costly dental work could ever change the fact that here is a man loves the great outdoors, loves his family and loves the very fabric of what country music has been through the years: music made by the common man, for the common man. Nashville can put as much window dressing on the product as it wants, but the bottom line is: does the music play in rural USA? I think that the music on Tonight! Tonight!, and the music I heard that July night at Colonial Gardens does and will continue to work in the (small-cee) country sections of America.
What's the "next level" for Terrell? "The next level is to get out and start doing shows behind bigger artists," he said, adding that when he's done that successfully, the next step is to release a 10-song CD, which, he says, is partially completed.
There are still struggles. Terrell related a recent experience at a large radio station, where he was trying his best to make some inroads. He was told forcefully to leave the building.
Dejected, he sat in the hallway outside the studio when none other that WHAS afternoon personality Terry Meiners walked by. Meiners asked Terrell why the long face, then, assessing the human interest potential of the situation, and invited him into the studio for a 10-minute, on-the-air interview. So the present day Don Quixote attacks another windmill of overgrown corporate media, refusing to be bent, broken, mutilated or folded into a position he does not want to be in.
It's just another day in the whimsical chain of events the last year-and-a-half has brought Bobby Joe Terrell, who realizes that the big golden break has not happened yet, but who has the insight to realize that "every time something happens (in his career), it's solid."
Tags: