June 2001 Articles
Cover Story
David Lilly
Features
Mike Stout
Columns
Berk Bryant
Decimus Rock
Mike Stout
Paul Moffett
Chris Crain
Keith Clements
Tim Roberts
Muffy Junes
CD Reviews
David Lilly
Bob Mitchell
Tim Roberts
Rick Forest
Jim Conway
Paul Moffett
Performance Reviews
Jason Koerner
Janet Wolfe
Blogs
Got Shows?
Send Them To Us
Bookmark Louisville Music News.net with these handy
social bookmarking tools:
Available RSS Feeds
- Top Picks
- Today's Music
- Editor's Blog
- Articles
Add Louisville Music News' RSS Feed to Your Yahoo!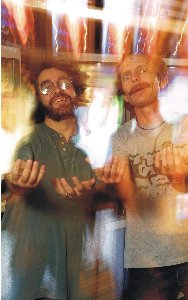 French TV
FRENCH TV
Eclectic And Commercial-Free
Some things we encounter in this life that are so self-contradictory that we wonder how they function as well as they do. The Louisville band French TV - not to be confused with television in France - is one of those things. An enigma, if you will. If you have eaten up any time at all listening to the radio using the scan control, you have a vague idea - a glimpse - of what French TV music is like. The most consistent element in their music is change, and for the most part the same goes for their personnel. So why give a name like `French TV' to a band in Louisville, Kentucky? Read on for the not-so-simple answer.
French TV co-founder Mike Sary's house is home to a variety of art-works, the deepest couch I've ever seen or sat on, various child-raising items and two walls dedicated to recorded music, antique and underground comic books and other works on various subjects, including music, philosophy and horticulture. It is spacious and homey. Upon meeting, Mike and I found we had at least four things in common: age, height, an interest in his band and a first time experience in a face-to-face interview for a music publication.
Who is Mike Sary and why is he playing all that weird music?
Sary has the low-key demeanor of a Leon Redbone CD and, though he claims he is "not a very good singer" and doesn't sing with his band's music (nearly impossible for anyone to do anyway, most of the time), he speaks articulately, with a soft, gauze-in-the-vocal-cords voice, one suited to narrating documentaries or recording books to tape. He doesn't take himself or the mainstream music industry very seriously, nor is he deluded in regard to fame and fortune, but he is full of enthusiasm for what he does with music. Even more so than tending to his newspaper routes.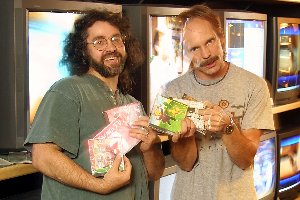 French TV
Sary was inspired early on by eclecticism of mid-to-late 70s art rock bands, which led to his involvement in progressive rock. `Fearless Leader' of the band though he is, Sary has never taken music lessons nor has he ever taught himself to sight read. He did take a class or two involving music theory but admits that he doesn't know "any music theory in the sense that I can tell you the name of a chord, but I do know what sound I want." He admits to feeling some inadequacy for that lack of formal knowledge, yet he is a gifted player, composer, and arranger and absolutely thrives on experimentation and intricacies. He believes no music, whether genres or individual songs, should be subject to the limitations often imposed on it. Give it options, an open road and wings. While you're at it, since humor is an important ingredient in life, let the songs laugh.
He long ago became the Ian Anderson of French TV, though in person he bears a greater physical resemblance to Jerry Garcia. When he's doing what he enjoys most, he is the foundation and primary creative force - the captain at the helm - of the revolving door that is French TV, a band with a paradoxical existence. Their music fits a genre considered defunct by the mainstream since about 1977, and though they're based in Louisville, mention of their name in town more often than not results in a blank look or puzzled grimace coupled with verbal negativity. Yet they're known and loved by Progressive Rock fans throughout America. The progressive community is global and their fame in that community extends to Mexico, Canada, New Zealand, The Netherlands and - you guessed it - France, as well as other countries.
They have been written about locally in the Courier-Journal's Scene, reviews of their CDs have appeared in LMN, and they've also appeared in many progressive music publications over the last twenty years, including Acid Dragon, Big Bang, Eurock, Expose', Ground and Sky, I/E Magazine, Music Uncovered, Progression, Progressive World, Stormbringer, Wondrous Stories and the prestigious Gibraltar Encyclopedia.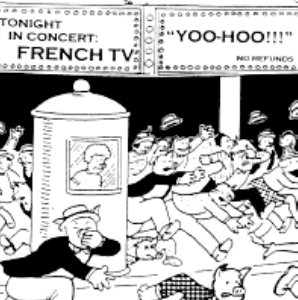 Formed in the early 1980s, they have a catalogue of six CDs, all on Pretentious Dinosaur Records. Part of the fun of French TV is the quirky names of their songs. "Happy Armies Fight in Their Sleep," "The Visit Revisited" and "Under Heaven There is Great Disorder (and the Situation is Excellent)" appeared on their eponymous debut. After a Lengthy Silence offered "You Fool! You Broke the Yokes!" and "Friendly Enzymes" in addition to "...And the Dead Dog Leaped Up and Flew Around the Room." Virtue in Futility has "Hey! Real Executives Jump From the 50th Floor!" Intestinal Fortitude offers "The Souls of the Damned Live in Failed Works," andtheir most recent, The Violence of Amateurs, offers a play on the names of a James Thurber story and a then-local musician who became part of the band for a while, "The Secret Life of Walter Riddle."
Their live gigs have been mostly infrequent, though there have been busy periods, sometimes taking them far from home. Then again, "home" is a term used loosely here, since while Sary resides in Louisville and current member Chris Vincent in Prospect, others make their homes in California and New York.
In the beginning there was Festung Amerika.
While browsing in a record store in 1980, managed by then-future FTV co-founder Steve Roberts, Sary heard Van der Graaf Generator's Pawnhearts playing on the sound system. When Sary started a conversation with Roberts, they found they had a mutual love of progressive music. A friendship developed and Festung Amerika was formed a few months later, with Roberts on drums, Sary on bass and Jeff Jones, a friend of Steve's from U of L, on organ and sax.
They played local bars, where patrons were clearly less than thrilled to be entertained by King Crimson covers or Soft Machine-inspired originals. According to Roberts, they "were hated almost unanimously by the audiences," though some claim it is better to be hated than to face indifference. Differences of opinion on musical direction resulted in Jones' departure to study electronics, and, eventually, to relocate.
Band Names, Band Names
Roberts and Sary continued working together on new music and expanding the lineup. They auditioned numerous guitarists and keyboardists until guitarist Beau Castner sat in one night. He clearly wasn't suited to their musical direction but was gracious enough to suggest they try his 17-year-old brother, Fenner, on drums. They did and quickly decided he was the one to bang the skins. Roberts bought a Roland keyboard to compose with and for the use of an eventual fourth member. Enter fifteen-year-old Artie Bratton, a guitarist friend of Fenner's. Keyboards became Roberts' domain, and the original line-up of French TV was born. The group was named when Roberts noticed "(French TV)" as the source of several progressive rock videos in a video catalogue and liked how it looked in print. To Sary's disappointment, his idea to call the band Strategic Air Command was overruled.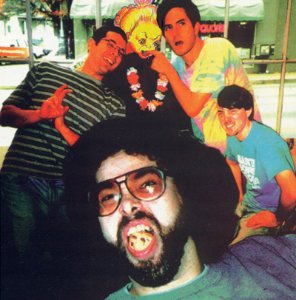 Eventually, months of writing and rehearsing led to a recording studio, and they began capturing their work on tape with engineer Howie Gano. What they gave birth to was their eponymous debut album, of which 500 copies were made. Ironically, the intention was to record an album that would spark some interest in the music industry and then proceed with a career of studio work, avoiding live gigs. The gods laughed, however, as the response even from the progressive community was lukewarm at best. In addition, Castner left to attend college - not just any college, but a one with a campus three hours away, leaving any regular band activity an impossibility.
Roberts decided that he might serve the progressive community better as salesman than artist, so he threw himself into retail at ZNR Records, which around that time became a dealer of prog music exclusively. French TV fell dormant, at least to the outside world, setting the pattern for the "career" of French TV.
Compositional Partying?
In the early days, Sary's approach to composing was like starting a party by himself and then inviting friends over to see what would happen. As he recalls, "I would start out by noodling until I would come up with some interesting note patterns," which he would record to tape and toy with. Later he would listen to the recording for half an hour or so, find a couple of segments that seemed to flow together, or, as he wryly (but sincerely) puts it, "contrast well with one another." "Then," he adds, "I would try numerous variations of them - different keys, chopping up the lines, changing accents, changing speeds, adding more notes per riff, until it turned into a melodic phrase or either heavier or softer," until he had what he considered a good series of progressions. "Then I'd bring the other musicians in and start building with them on what had been accomplished up to that point." Anyone he was working with was given a green light for stretching what he'd brought to the session and creating their own parts.
These days, he and current drummer Chris Vincent jam together to create the frameworks of the new songs. "Chris is an excellent improviser - the best I've played with," Sary notes. They spend about an hour warming up with current material, frequent mutual complements falling into place, and they get it on tape. They also jam for hours and have no fear of the sudden changes that occur during improvisation. If one changes, the other adapts pretty quickly. Sary says "When enough of these taped improvs sound like coherent pre-written pieces, including rhythm and chord changes, thematic variety, reprises and logical progressions, we listen to the recording and sometimes it is advanced enough so we can rearrange, subtract or add - edit in general - and in there we find new compositions." What he likes about this is that the resulting songs tend to sound more natural than the results of the former method.
Sary has a good sense of humor, which finds its way into his work. During their most recent band recording sessions, a dry erase board (rather than sheet music) was used for organization, to help keep the complicated arrangements visually accessible to all the players. The initial phase of writing songs is not siesta time.
As Sary explains, "you don't know how it's going to resolve; how long certain sections will be; you have to think 3-4 sections ahead to get in position and continually re-evaluate how long parts should be, or if they should be eliminated altogether...all while trying to play right correct notes!"
There's a lot of jamming during rehearsal; then they run through familiar material. Eventually it comes time to work on a new song. During one session when it came time to work on something new, Vincent pointed to the dry erase board and asked, "do we have to work on that thing on the wall AGAIN?" Taking that cue, however unintentional it was, Sary knew it was the right name for the song. Hence that particular piece of music became known as "That Thing on the Wall."
He also once referred to himself as "Mr. Doomed-To-Local-Cult-Status," but has also admitted to some disappointment and depression regarding that status. He accepts some blame for it, due to a history of leaving promotion up to distributors and the fan base. Apparently, they haven't talked that much about them, he supposes. As with millions of others, though, the Internet has enabled him to make lots of new connections. He's spread his words and music all over the world. In April of this year, there was a `net radio' show in Mexico featuring FTV music. Whether that will contribute to the band's becoming more famous and in demand for other prog music festivals or not, it certainly didn't hurt anything.
Of all who have passed through the FTV revolving door, the lineup of Sary on bass; Paul Nevitt, keyboards; Ondraus Cissell on percussion; Mike Buren, guitar and Gretchen Wilcox, violin has been the most stable, lasting around a year and a half. That unit played on the most gigs, including a show at U of L's Red Barn, which was filmed to be shown later on local TV. The end for this lineup came when they were scheduled for two weekend gigs at an outdoor bar. Rain drowned out the first show. According to Sary, "about 6 people attended the second show." They'd also lost a lot of money on PA rental, and Nevitt, Buren and Cissell wearily decided to move on.
It might've worked in NYC.
In the mid-80s, French TV worked hard for - and in fact earned - a reputation both for playing weird music and being goof-offs onstage. Sary ruminated that this probably worked against anything resembling a rise to stardom, even though it was fun to do. Then there was the time when reed player Bruce Kroehmer abruptly left a club stage - as well as the band - when a policeman threatened to lock them up and shut the place down for "volume infractions."
A high point of their career, at least from a fan's point of view, came in 1996 when Sary, Roberts and Joe Conroy put together the "Eclectic Electric Event," a Louisville show featuring progressive rock acts Volare, from Athens, Ga.; Quarkspace of Columbus, In.; Indianapolis-based The Mathematicians; Virginia's Boud Deun, and locals Ut Gret (featured on the cover of LMN in January of this year). Sary remarked that "it was a SPECTACULAR show, at least for the 27 people who saw it." Although it was not a monetary success nor did it draw a huge audience, the fact that it happened at all made it a success..
Another high point came when they played the 1997 "ProgDay" festival in Raleigh, N.C. Due to car trouble en route, they lost travel and rehearsal time but made it to Raleigh and played with help from drummer Brian Donohoe and keyboardist Patrick Strawser, friends from Volare. They didn't exactly set the Thames on fire as they'd hoped to, but ProgDay is a big deal in the world of progressive rock. They did play and encountered only minor glitches during their set.
They Hit the Road
In June 1999, French TV did their first actual tour when two weeks of gigs in California were arranged. Not everything went according to plans, but they did get to play San Diego, Los Angeles and San Francisco, as well as Denver and St. Louis and did a lot of sightseeing. One tour highlight was acquiring San Diego keyboardist and woodwinds player Warren Dale, who joined them along the tour and remains an important member of the band.
The majority of their repertoire now is original, though they still do covers. Through the '80s and part of the '90s, the mix of original and covers was often a 50/50 ratio. In a genre where originality is highly valued, Sary disagrees with the existing stigma of doing cover songs. His attitude is to "treat them the same as an orchestra might feel about doing one more version of Handel's `Water Music,' or a theater performing `A Streetcar Named Desire.'" He insists, "if it's a good work of art, it deserves various interpretations."
He and the extended FTV family have covered songs as diverse as "Karn-Evil 9" and "Knife Edge" by ELP; Peter Gabriel's "Games Without Frontiers"; "21st Century Schizoid Man," "Red" and "Larks' Tongues in Aspic pt2" by King Crimson; "Squonk" and "Carpet Crawlers" by Genesis; "You and I" and "Starship Trooper" by Yes; "Four Sticks" and "The Rain Song" by Led Zeppelin; the first 10 minutes of Jethro Tull's "Thick as a Brick" and "Synchronicity #2" by The Police. Songs from lesser-known artists, including Mahavishnu's "Birds of Fire"; UK's "Alaska/Time to Kill"; Shadowfax's "New Electric India"; Van der Graaf Generator's "Pioneers Over C" and, more recently, Volare's "The Odessa Steps Sequence" and Zamla Mammas Manna's "Joosan Lost/The Fate" have gotten the French TV treatment.
Clever Marketing Device #7
Their 21st century debut, tentatively called either "The Case Against Art" or "Clever Marketing Device #7," is due for release in autumn of 2001. Sary continues experimenting and composing and remains capitis as the revolving door of French TV continues to slowly rotate. Above all, Mike Sary is a kind of inspirational underdog. He is not a household name nor is his band, but he has persevered through the ups and downs, ins and outs and lack of support in his own backyard. Despite the obstacles along the way, and the poor odds of success in the music business, he has always done what he enjoys. That itself is a form of success.
You can find French TV CDs at Better Days, and in the "local artists" section at Ear X-tacy. Find out more about them at their website, http://wingedsphere.com/ftv/
Tags: