December 2000 Articles
Cover Story
Tim Roberts
Features
Vicky Moon
Vicky Moon
Jason Koerner
Columns
Berk Bryant
Decimus Rock
Mike Stout
Paul Moffett
Chris Crain
Keith Clements
Tim Roberts
Muffy Junes
Laura Spalding
Henry C. Mayer
Jimmy Brown
CD Reviews
Performance Reviews
Jason Koerner
Paul Moffett
Mike Stout
Henry C. Mayer
Tim Roberts
Interviews
Jason Koerner
Calendar
Paul Moffett
Blogs
Got Shows?
Send Them To Us
Bookmark Louisville Music News.net with these handy
social bookmarking tools:
Available RSS Feeds
- Top Picks
- Today's Music
- Editor's Blog
- Articles
Add Louisville Music News' RSS Feed to Your Yahoo!

Issue`: December 2000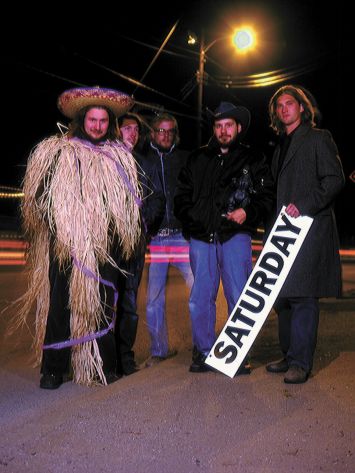 My Morning Jacket
THE LOW LONESOME:
MY MORNING JACKET 2> By Tim Roberts
From Nashville to Kentucky, late and dark – In the military, that hour of the morning is called oh-dark thirty, any point in time between midnight and dawn. It belongs to long-haul truckers, barflies clutching each second of last call, flickering blue TV glows from the houses of insomniacs. The offramps from this winding piece of Interstate-65 are, like any other, populated with gas stations and 24-hour mini-marts. Here, though, the cold florescent glows at ground level contrast with the billboard-sized signs above them that proclaim, in searing neon, their actual business: fireworks – illegal to buy in the state just to the north but plentiful in Tennessee.
The combined brightness of cold and hot light from places that contain the potentially apocalyptic combination of festive explosives and fuel erases the powdery starglow from the sky and leaves blackness. From the Interstate comes the burbling growl of a downshifting truck engine. The sound dies off into the Tennessee woods. The starless night is nothing but an empty black shroud.
There is no welcoming hearth for miles. Just a twisty strip of concrete and hollow loneliness. The only fires in this small part of Tennessee are the lights from havens for those who just want to tank up and grab a fistful of bottle rockets.
If there is a sound to mirror this late-night offramp desolation, it would have a guitar – strummed slowly by arms weighted with sorrow – and a voice singing with longing and a twinge of reverb: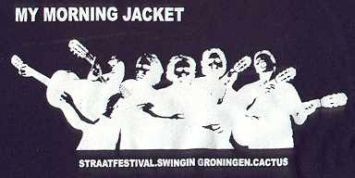 Somewhere someone thinks of me / I just wish it was somewhere I could find.
It's the opposite of the pinched Bluegrass vocals and spirited instrumentation of Bill Monroe's high lonesome, the trademark voicing of Bluegrass music. This is the low lonesome. And it belongs to Louisville's My Morning Jacket.
For the most part, the music made by the five members of My Morning Jacket – Jim James on guitar and vocals, Danny Cash on keyboards, J. Glenn on drums, Johnny Quaid (James's cousin) on lead guitar, and Two-Tone Tommy (no last name given for reasons of either national security or personal embarrassment) on bass – evokes a style that was created more than a decade before its members were born: the wall of sound where each sonic space was filled with music and no instrument or voice was safe from the reverb knob on the mixing board. Yet without it there would have been less trippy magic behind much of the music that borrowed it, from Marvin Gaye's What's Going On to the self-titled debut from The Rasberries to cuts on Miles Davis's Bitches Brew to Led Zeppelin's Houses of the Holy.
But on their 1999 debut release The Tennesse Fire, My Morning Jacket chips away at the sonic cliché Phil Spector created nearly 40 years ago and leaves only the wood framing and hanks of exposed wire.
"I love hiss," admitted lead vocalist and songwriter Jim James. "I hate computerized, ugly, clean recordings with no depth. People don't sound like that. I like things as they're meant to sound."
If things are meant to sound as hollow and unpolished as they do on The Tennessee Fire, then the world is rougher than we think, despite the suburban naturalist image sold by Abercrombie & Fitch and tidy family sitcom endings. It's a world where a man passively awaits the demons that will take him to Hell. Where there is a painful unrequited love with someone unreal. Where love can be bought with promises of carnivals and a roof over one's head. Where a man is stuck in the nightmare of an empty heart and longs for a world where he can live. What can we think of such a world where even heartbreakers aren't safe when they get their hearts broken then beg for more?
"We just tried to make a record that sounded different, that hadn't been made in awhile" James explained. He's 22 years old, wide-eyed with a head full of thick curly hair that, when not pulled back from his face or wrapped inside a wool cap, flops wildly as he plays during a live performance. His speaking voice is tender, a little hesitant, but it can uncage a guttural scream as it does during "It's About Twilight Now" from Fire.
"We like to tune into different worlds," he said. "Live, we like to put on a rock-and-roll show, just have some fun but kinda bring a little lonesome into the picture. When you buy the record you're going to stay at your house by yourself and listen to it. But when you come out to see [our] show, we believe in having fun. There's not enough fun going on so we just like to make jackasses of ourselves and have a good time. That's all that rock music should be. People try to make it too important. It is important, but people try to add to much pomposity, trying to make it sound too much like an album.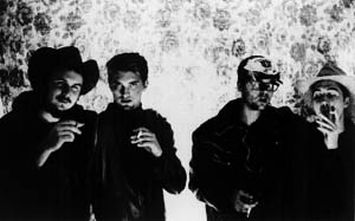 My Morning Jacket
"If we tried to do everything exactly like it is on the record, it would be kind of boring."
A live performance by My Morning Jacket may not include pyrotechnics, dancing girls in cages, or exploding Marshall stacks, but it does compel you to watch the band. While James is the frontman, he doesn't swallow all the attention by standing center-stage with the rest of the group behind him. He stands stage right ("The music deserves the attention," he said, "not me.") and gives Two Tone and Quaid the space – musically and physically – to solo while he whips his head of dense curls up and down. At some point in a performance, Quaid will solo while lying on his back. Glenn will lift his sticks high after each hammerstrike on his drums. In this sense, My Morning Jacket is a paradox of modern rock: their low lonesome sound gets the Little Richard treatment – lots of motion, lots of screaming, lots of power.
Prominent influences abound in the complete My Morning Jacket experience. "Older music is a heavy influence on what we do as a band," James said. "Nothing that's made today can touch that. It's so powerful, so amazing."
In the experience you'll hear and see the sonic thunder of Led Zeppelin, the earthiness of The Band, the background vocal cooing of Bob Marley and the Wailers, the echoey, edge-of-dreamy ambience of Marvin Gaye. The raucous fun of The Muppet Show.
The Muppet Show?
"It's a huge influence," James exclaimed, his eyes wide as nearly two decades melt from his face. It is as if he's suddenly four years old again and planted in front of a TV, one hand holding a dripping Popsicle. "Just in the beautiful way it was done. The songs were well-written, well-thought-out. They did neat covers. They had awesome guests who interacted with the Muppets so well. It was like a big musical party."
To be sure, you won't see My Morning Jacket do covers of songs by Dr. Teeth & The Electric Mayhem (The Muppet Show's house rock band, if you are either too young or too old to remember – and, come to think of it, didn't Animal flop his massive mop of hair around and scream like Jim James does?). But what The Muppets and all the other influences have in common is a desire to create entertainment that isn't so cynical that it expects people to instantly buy or see it simply because it has been pre-sold, tied-in, or hyper-exposed on Burger King cups.
"People don't care anymore," James said. "People just try to sell records now. People aren't trying to create music that comes from the heart and soul. People actually cared about music back then [in the early days of rock]. Big record companies hadn't embraced crap as they have today. It's like whatever they can grab and sell and make and produce the quickest, that's what goes. That's what they make. And they don't care because it's gonna be gone in three months anyway."
Jim James In Amstedam
In the time it took My Morning Jacket to gestate, many of the "gone-in-three-months" bands have had careers to peak and fizzle. It's a development that blended two of Louisville's esoteric rock bands: Month of Sundays and Winter Death Club. James played in Month of Sundays from the seventh grade up to his sophomore year at the University of Kentucky. One of his bandmates was Aaron Todovich, now with The Helgeson Story. Johnny Quaid was playing in Winter Death Club with J. Glenn and Two-Tone Tommy.
During his two years at UK, James wrote the songs that would later form the substance of The Tennessee Fire. In the recording's liner notes and credits, James claims one inspiration for the music was his roommate, Todd Kaiser, who he says writes "incredible trance music."
James later began recording the songs that evolved into The Tennessee Fire. As a bonus, a band began to form. "I started working with John, recording stuff in his studio," he said. "He liked the stuff I was playing, so we started playing together. I needed some drum help. He knew J., so I got him to play on some songs. We recruited Tom on bass because we decided to keep going and beef it up into a real band." Keyboardist Danny Cash was added after Fire was finished.
Spread out over two studios and recorded on a variety of media – four track, eight-track reel-to-reel, quarter-inch tape, and digital tape – the sessions for Fire were then mastered to have the sound quality at a consistent level. "If we wouldn't have mastered it," James said, "there would have been lots of volume differences. There still are a little, but on some songs you hear the hiss more."
Prior to the creation of the hiss-laden, low lonesome of Fire, James had presented a demo to the label that would eventually distribute the recording: Darla Records in San Francisco. "I read an article about them in Spin, and they looked friendly and nice. [From their pictures in the article], they looked like they'd understand. So I wrote them a little love letter and sent them a tape. They liked it and wanted to do some records."
Once released, cuts from Fire not only landed in regular rotation at WFPK, they also collared the attention of Nani Tecker, a music journalist in Holland. "He got hold of our album and freaked out," James said with unabashed understatement. "He started raving about us to all his friends and all the people that he knew. There's a club called The Paradiso, the biggest one in Amsterdam, and the guy who does the booking there also loved the record. He got together with a label called The Concurrent, our first supporting label over there, and they brought us over for a week of meeting and greeting. We did five shows in a week. Then we met the people with Tornado Concerts, who would become our booking agents" They also made friends with one fan, Riny Van Eijk, who created the band's Flash-based website.
Since then My Morning Jacket has been to Holland two other times within this past year alone, most recently to play a series of summer music festivals. James will return there this month for a solo acoustic gig.
While they have played regularly in their hometown, and even toured the west and southwest during the autumn, their most appreciative audience is in Europe. Not surprising, since, as demonstrated by other Louisville bands such as Metroschifter, Europeans appreciate American rock substantially more than Americans themselves do.
"It's awesome, its crazy," James said, "to have people actually respond to the music. Louisville is a very tough town to get people to listen to you, to get press, to get anybody to notice you. So we've been lucky to get people to take notice of us in Louisville. But over there, we're actually a real band. People actually come out to see us, know our songs, know what we're doing. It's amazing. It's what every musician dreams of. It's not like the Rolling Stones or anything. It's close, but not yet."
James elaborated on why he thinks Europeans respond so enthusiastically to American rock music, especially the slightly-more-than-indie-rock bands like My Morning Jacket. "People are willing to give things a change over there. People over here are so trained on what's cool and what's hip. It's pushed in their faces. Over there, word of mouth spreads quicker because each country is smaller. People hear of something and they're ready and willing to pick up on it. They'll give it a chance and go see it. Whereas, over here, it's harder to get people to come out. Europe has the numbers. We've got the same kind of good people in the United States, but they're in a minority."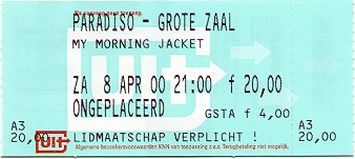 But whether My Morning Jacket is playing in front of a cluster of 20 people in their hometown or a sea of hundreds in a club in Amsterdam, James is cautious about being famous. "I hate the idea of being famous," he said, "of people knowing who I am. The idea totally turns me off, but it's a sacrifice if I want to get the music out. I want the music to be heard, to be as big as it can, but I'd rather people not know who I am."
However, James and the band do use their local notoriety to help raise money and promote the cause of the Juvenile Diabetes Foundation. James's nine-year-old brother, Michael, has the disease. Last month My Morning Jacket joined with The Helgeson Story, The Pennies and Panure for a concert benefiting the foundation. So like Louisville's Velcro Pygmies, who sponsor a little-league baseball team, the men of My Morning Jacket also have a sense of civic and charitable duty.
They're also sentimental. Released this month is their five-song Christmas EP, Does Xmas Fiasco Style, a gift for their fans. It contains three originals and two covers, one of Nick Cave's "New Morning," the other of the Elvis Presley version of "Santa Claus is Back in Town." It is also a small taste of what is to come: their next CD, At Dawn, to be released in early 2001.
"It was recorded on a different machine," James said, "so it will sound different. The songs have evolved. There are some of the same sounds that were heard on The Tennessee Fire, but there are lots of new sounds and different instruments. I think it will be accessible and easy to listen to."
At Dawn may demonstrate that My Morning Jacket has, early in its career as a band, mastered the draining obstacle course so many performers put themselves through for exposure, a simple chance to play music in front of a group of people, and to record a batch of tunes for posterity. James used a family connection to record some initial tracks of songs he wrote. A band formed from the sessions. They received backing and distribution from an independent label after James did a bit of research and wrote a letter enclosing the tape he had recorded. They toured a European nation more than once on the strength of a writer's enthusiasm. The touring and the response to The Tennessee Fire provided their drive to return to the studio to make a second CD.
The question remains: can other Louisville acts follow the My Morning Jacket pattern, or is something in their way?
"There's some camaraderie between Louisville bands, but there's also a lot of competition, lots of jealousy. I just prefer to be with bands that play music because they like it. I think more bands in Louisville need to do that, not because they want to be cool or make money or sell records.
"I think they need to make music from the heart to put Louisville on the map. There are lots of bands that could really hit home with people.
"Louisville bands could really do some damage."
My Morning Jacket's Flash-based website, with animation, audio clips, and up-to-month tour information awaits you at www.mymorningjacket.com.
For more information about the Juvenile Diabetes Foundation, visit www.jdf.org.
Images courtesy of Ger Potze at http://www.magnix.demon.nl/mmj/live.htm
Tags: