April 1990 Articles
Cover Story
Jean Metcalfe
Features
Paul Moffett
Paul Moffett
Paul Moffett
Columns
Paul Moffett
Earl Meyers
Rocky Adcock
CD Reviews
Jim Powell
Alan Brandt
Paul Moffett
Performance Reviews
Jean Metcalfe
Elizabeth Green
Jean Metcalfe
Jean Metcalfe
Kristen Cary
Bob Bahr
Calendar
Staff
Preview
Staff
Errata
Staff
Photos
Paul Moffett
LASC
Diana Black
Earl Meyers
Wally Stewart
Paul Moffett
Diana Black
Jean Metcalfe
Staff
Letters
Staff
Music Business News
Staff
Staff
Staff
Staff
Paul Moffett
Blogs
Got Shows?
Send Them To Us
Bookmark Louisville Music News.net with these handy
social bookmarking tools:
Available RSS Feeds
- Top Picks
- Today's Music
- Editor's Blog
- Articles
Add Louisville Music News' RSS Feed to Your Yahoo!

Issue`: April 1990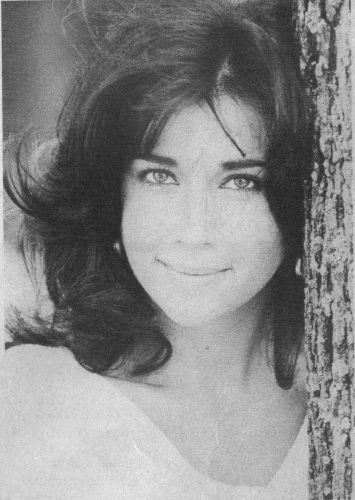 Melissa Combs
Melissa Combs
"A sincere, hard-working professional and a nice, normal person"
By Jean Metcalfe
Melissa Combs has been performing on stage for almost thirty years! Gasp. She sure looks young for someone with that many years of show biz experience.
Actually, she's only 33 years old and she made her stage debut in "a Little Miss Princess something or other" when she was three or four.
Actress, singer, songwriter and musician – Melissa Combs is all of these – and she does charcoal, pastel and oil portraits in her spare time.
Talking with Ms. Combs on March 7 at Derby Dinner Playhouse in Jeffersonville, Ind. following the matinee performance of "Do Black Patent Leather Shoes Really Reflect Up?," I learned that she was very shy as a child. Assuming the character of someone else was her way to cover up that shyness. It's a trait that many performers have in common, not the least of whom is venerable talk show host Johnny Carson.
When Melissa was in the third grade she wrote her own version of "The Wizard of Oz," playing the wizard and the wicked witch. "Now, how I did both, I don't know," she said in amazement.
Although her parents love the performing arts, neither they nor her two brothers are in the business. "I think I got it (acting and singing ability) from both sides of my grandparents," Melissa said. Her materal grandmother came with her family from Italy and settled in a small coal-mining town in Colorado. She sang Italian lullabies, – and everyone in the village remarked about her beautiful voice.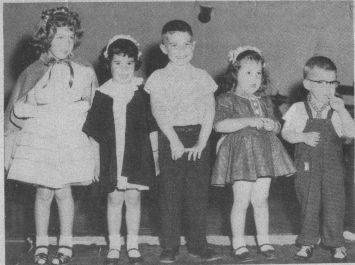 Melissa Combs, second from left, in her first stage appearance. Photo by Tom Hpughton
Melissa's father's mother at one time wanted to go to New York to pursue an acting career. But actresses did not enjoy a good name in those days, so she stayed in her hometown and settled for a part in a traveling vaudeville group that also included her father and her brother. "You're doing what I always wanted to do," her grandmother Combs has told her on many occasions.
Have there ever been times when she has been discouraged and fearful of not being able to support herself in the business? "All the time even today," Melissa admitted. She can remember when she got out of school and thought she would be very settled and secure when she reached her twenties.
There have been a lot of high points in her career, including becoming a friend of and being helped by, the late Marty Robbins. But at age 33 she still finds herself struggling. She has to audition for every show and there are no guarantees that she will get a part.
"It's very disheartening in some ways, because I do think, 'I'm 33 and I don't have any security.' But it is a life I've chosen and I do love performing, but there's the other part of me that's the 'normal' side that wants a home and security and to have dinner with my friends and have a cook-out and do things like that."
Of course, her "normal" friends think that she leads a glamorous life. And there is, she says, some glamour sometimes, but it is mostly hard work. She admits that opening nights are great, but also that there are times when she'd just like to stay at home and watch a movie. It's not always easy for her to be bubbly and "up," but the show must go on.
After finishing a year at Purdue University on a scholarship, Melissa decided, at age 19, to head for Hollywood, even though Purdue did have a good theater program. "You can't teach someone to act; you can polish it, but acting has to be innate," she feels.
Melissa worked for the summer at a bank to save some traveling money, then packed her bags and went to Hollywood to pursue her dream of being a star. She stayed with a family friend there, earning her room and board by playing nanny to the family's nine children and taking cane of their horses.
She stayed in Tinsel Town only about six months because the money was running out and she realized that she needed to learn some more elementary things about the business before trying to break into it. "I was very green," she said. And she wasn't making any money, although she did do "some puppet things" at a home for abused children.
Upon returning to her home in Lanesville, Ind., she worked in country music shows at the Grand Theater in New Albany. She had to pitch in and help clean up the place before the shows could begin. She remembers well how dirty the theater was – quite a change from the wonderful theater she had remembered as a child.
The shows at the Grand were fun, but they didn't last long, so Melissa started traveling with bands. One of those bands was, she believes, called "The Dreamers." A drummer named Henry Lee Schwartz signed on with them in Terre Haute, Ind. and gradually took over the band, becoming the lead guitarist and lead male singer.
The Dreamers didn't get any bookings for a while and they "kinda fizzled out," Melissa confessed, adding, "The next I knew he (Schwartz) changed his name to Henry Lee Summer and went on to that ..."
Marty Robbins had always been Melissa's idol, so when he was booked into Derby Dinner Playhouse (before her acting days there) she got a front row seat and stayed after the show hoping to meet Robbins. Although she was told that he didn't meet with fans after his shows, an exception was made in her case because, she later learned, she had such a "desperate, pathetic 'I have to meet this man or I'll just lose my mind' look" that she was escorted backstage where she met and talked with Robbins.
He invited her to send him a demo tape, but she didn't send the tape – she took it – to Nashville and dropped it off at Robbins' company. Time passed and the tape was returned to her – unopened.
She felt rejected by the man she had idolized he had lied to her – and that was going to be the end of the matter as far as Melissa was concerned. But her mother didn't give up so easily.
Mrs. Combs wrote a letter asking how Robbins could do such a thing to someone who idolized him and had all his albums, etc. A couple of weeks later she received a phone call from Robbins, who explained that the tape never got through to him (he receives countless tapes from would-be singers and songwriters). He arranged to meet with Melissa the next time he was booked at Derby Dinner Playhouse. Robbins spotted her in the audience that evening and took the opportunity to make up for the earlier slight. Looking directly at her, he changed the line in his song from "I can see by your outfit that you are a cowboy" to " you're not a cowboy."
After the show Melissa sat with Robbins while he signed autographs and got to talk with him on his bus. Heady stuff for a star-struck young lady.
Robbins subsequently acted as Melissa's producer and tried to find a song that they could cut as a duet. He also arranged an audition for her when Dave and Sugar were looking for a replacement. Unfortunately, nothing came of those efforts.
Robbins was in the midst of putting together a syndicated television program to showcase new talent when he died of a heart attack at the age of 57. Melissa had been scheduled to be on the show. The last conversation they had was one in which he talked about his children and about the television show, Melissa said in a quiet voice.
Although Robbins wasn't able to help Melissa further her career, she did meet a lot of people because of him. She will always cherish the memories of their five-year friendship and she thanks God for it. "That doesn't happen to many people. That's something I'll have the rest of my life, that I met my idol and got to be his friend," Melissa said wistfully.
Other fond memories include corresponding with actor Mark Harmon while he was in the television series "Flamingo Road," and discovering that even with the success of the show, he felt discouraged at times and wondered if he'd ever get any John Wayne-type roles.
And when the late actor Pat O'Brien appeared at Derby Dinner Playhouse, he gave Melissa a little notebook of the jokes he told that evening. He also wrote her a little card. Naturally, she still has both of them.
I asked about embarrassing moments in her acting career. Melissa laughed and said there had been many. Sets have fallen down around her and she has lost her voice on a few occasions. But losing her voice during a performance is more frustrating than embarrassing and there have been several instances of that. It happened during the recent run of "Big River," and Melissa had to lip sync while another actress did the actual singing.
"That was horrible," Melissa said in a voice that indicated she was reliving the evening.
I Her favorite role'? That's a difficult question for Melissa to answer. "I love doing this one (the role of Becky Bacowski in "Patent Leather") and, performance-wise, this is probably the tightest and most compliments and best role I've ever done. As far as my acting and singing, it's all come together. So this is as really good show for me.
"As far as just sheer enjoyment, maybe, I loved doing Anita in 'West Side Story.' That was a real good experience because I've always wanted to do that role, so that was fun. And, 'Molly Brown,' I loved doing that role. That was fun. Those two, probably, as far as just enjoyment of doing them."
"Black Patent" will return to Derby Dinner Playhouse for five weeks in May and the petite Ms. Combs is scheduled to reprise her role as a Catholic high-school coed.
Melissa doesn't know what she will be doing this summer, but she says, "I have been blessed, the last four years I've been working pretty steady just performing and that's nice, but I don't have a home, I don't have a big, fancy car, I can't take a nice vacation. But I am performing."
Like most folk, Melissa sometimes wonders about "success." While she supposes that since she is able to support herself in her chosen profession, she is a success. But there are other times when she wishes she "had her name up in lights" and the means to do some of the things she has always wanted to do for her family and friends. "I can't afford to send my Dad on one of those African safaris like I always wanted to do I don't have my house with the white picket fence … corny and I want all those those things," she admitted.
Melissa has received a good bit of appreciation from the patrons of dinner theaters where she has played. One sent her a fan letter, saying he had loved her in "A Chorus Line" and had seen the play four times. He was touched by her performance, he said and enclosed $100 because he knew "actors don't make a lot.
Melissa's dream is to be ta recording star a Barbra Streisand, for instance. But she'd never want to give up acting. She hopes she can continue to do both.
"Whatever God wants, that's what I have to be. I do want some kind of security I want normalcy I mainly want to know that I'm living my life the way God wants it, because no matter what I do I won't be happy if it's not what He wants." That's Melissa talking.
And, although she'd like to be a "star," she sometimes thinks that "Maybe He has a different picture in mind. Maybe this is what He wants bring enjoyment to people and do it at this level and He wants me to have the other, too (a little normalcy). I just have to believe that He has a plan and there's a reason. Maybe He didn't want me to be in the big glamor of Hollywood maybe that wasn't for me, 'cause there's a lot of small town in me."
Melissa would like to always be able to make a living in show business. She wouldn't mind being in a little repertory company and she would be thrilled if one of the songs that she has written – or will one day write – would be cut by a major artist. (One of Melissa's original tunes, "Eyes of Baby Blue," is on the Louisville Area Songwriters' Cooperative's debut album First Time Out.)
She'd like to make the people in her hometown proud of her and it would be nice to have recognition by her peers.
Most of all, Melissa Combs would like for people to know that she is "a sincere, hard-working professional, but a nice, normal person, too."
I've seen her perform on both the Derby Dinner Playhouse and other stages and I have enjoyed each performance. I have talked with her off stage on several occasions and those talks have all been pleasant. I like Melissa Combs. She is a lovely person who possesses both physical and inner beauty. And, yes, she is a sincere, hard-working professional and a nice, normal person, too.
Tags: