August 2000 Articles
Cover Story
Vicky Moon
Columns
Berk Bryant
Decimus Rock
Mike Stout
Paul Moffett
Keith Clements
Tim Roberts
Jason Koerner
Laura Spalding
Jimmy Brown
CD Reviews
Laura Spalding
Bob Mitchell
Bob Mitchell
Vicky Moon
Tim Roberts
Eddie Morris
Performance Reviews
Jason Koerner
Michael Campbell
Hunt Sidway
Bob Mitchell
Mike Stout
Calendar
Paul Moffett
Blogs
Got Shows?
Send Them To Us
Bookmark Louisville Music News.net with these handy
social bookmarking tools:
Available RSS Feeds
- Top Picks
- Today's Music
- Editor's Blog
- Articles
Add Louisville Music News' RSS Feed to Your Yahoo!

Issue`: August 2000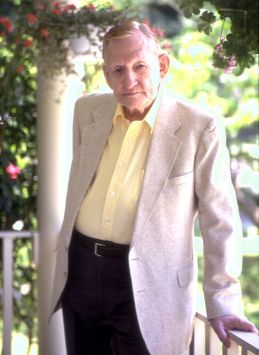 The Heart of Rock and Roll Is Still Beatin':
The Life and Occasionally Hard Times of Jimmie Logsdon
By Victoria Moon
VH1's ubiquitous series Behind The Music presents tale after tale of the rock-n-roll biography rolling out so predictably that it has become a parody of itself: a struggling nobody with a few songs and a dream gets discovered, signed to a huge record deal, and soon has national attention, fame, fortune and all the trappings of success. Then the dream turns nightmare: drugs, alcohol, addictions, contract disputes and failed relationships steamroll a once-promising artist into oblivion until they claw their way back through rehab and a new label or find some sort of other happiness in the real world as a shoe salesperson or real estate broker. This is the world of rock-n-roll as we have always known it; the excesses, the money, the sex and addictions. It's as much about the lifestyle as it is the drums and electric guitar.
After watching a bit of the latest tale of heartbreak on VH1, flip the remote through late-night TV movies and eventually you'll hit on one of Elvis' B-movies: King Creole, maybe, or Viva Las Vegas. Now here is the epitome of rock-n-roll: the handsome boy with the sexy voice who made the dangerously seductive rhythm and blues of the black culture acceptable to a "white" America still poised on the brink of a race war. Elvis brought it all to the table: blues, country, rock, and gospel. It was no longer the sound of one culture or one geographical location—here was truly American music, and we ate it up with spoons. And he was the originator of the rock lifestyle, too: women, outrageous fame, the lean years, the rhinestone-jumpsuit-in-Vegas years, the bizarre eccentricities, the drug addictions, the early death. Elvis is to rock what the Statue of Liberty is to those huddled masses yearning to be free. Elvis is rock-n-roll.
But if you turn off the TV and hit the books, you'll find the history of rock does not begin with Elvis, nor was Elvis the first to hear the rhythms of the back streets of the South in honkytonks and turn it into gold. Rock existed before Elvis. The blues existed before Elvis. There were scores of musicians forgotten by history and time who were Elvis before Elvis was cool; writing the songs, recording the records, churning out hits and living the life. There was a time before rock as we know it, before rock had a name and an image. Few of those who saw the true birth of rock are still around to tell the tale—it's always been a rough profession, and it's always eaten its young. But there are those few, and they are too often lost in the glamour of what we now (dubiously) deem rock. There are those few out there who truly are rock's kings and queens.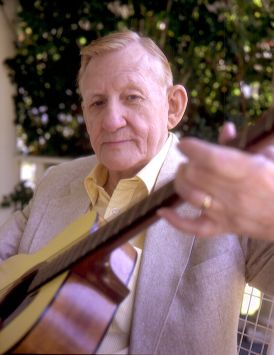 As a matter of fact, if you drive through a quiet suburb of Louisville you might catch a glimpse of real rock royalty, someone who was mentored by Hank Williams, had hit records before Sun Records was a gleam in Elvis' eye, who cut rockabilly ablbums before there was a name for the genre, who, in fact, once complimented Elvis by telling him he'd be as big as Hank Williams someday. Ladies and gentlemen, rock fans everywhere, bow before the legend that is Jimmie Logsdon.
For a real Behind the Music story, let's start on April 1, 1922 in Panther, a little town in Davies County in southern Kentucky. Here Logsdon was born—as all good rock legends should be—to a circuit-riding Methodist preacher and his wife. Logsdon grew up on gospel, singing in the choir for the first 15 years of his life. In high school, Logsdon was exposed to the tantalizing world of music outside the church—blues, country and big band, from Erskine Hawkins to Glenn Miller to Gershwin and back again. Logsdon played the clarinet in the high school orchestra not because he had a preference for the instrument but "it was the only instrument my dad could buy me for five dollars," he remembers.
By the end of 1940 Logsdon had graduated from high school, married his first wife and was working in Cincinnati, installing public address systems and selling appliances for Schuster & Schuster. In 1944, America was in the thick of WWII and Logsdon joined the Army Air Corps and worked in the signal corps in Texas as a lineman repairing the radio equipment of B-17s that had been shot down. In an interview with Adriaan Sturm of Louisville, Logsdon described his time in the army as spending "a year and a half trying to change the Army and the Army spent about the same amount of time trying to change me." One night, after getting into some trouble, Logsdon found himself in the stockade for a few days. With him was a man who was leaving the next day to do five years in Leavenworth. After learning of Jimmie's interest in music, the man insisted Logsdon sing him some Ernest Tubbs songs. Reluctantly, Jimmie sang "Tomorrow Never Comes" and seeing the effect the song had on the man changed Logsdon permanently. "That was where it all began," he remembered later.
Still, Logsdon didn't see himself as a performer yet. After the army he returned to Kentucky and set up a radio shop in LaGrange. He began buying records to resell and some of those records were Hank Williams' first albums. In 1947, after hearing Williams' first record, Logsdon remembers being "so enthralled I just made up my mind to get a guitar and by the time I was 29 I had a $12 guitar and 2 or 3 chords learned." Using those chords, Logsdon cut some demos on an old recording machine in the back of his shop and took them to WLOU in Louisville.
In an interview with Colin Escott, Logsdon remembers what happened next:
"I went to WLOU in Louisville in 1950 and I asked for the leader of a country band that performed on the station. I took in my acetates. He listened to them, and he introduced me to the announcer, and they asked me to come and sing with the band."
Logsdon began getting more involved with radio, and in 1952 was offered a job as senior announcer for WINN in Louisville. He was showing up at the station to sign on at 6 AM after performing his songs in clubs and honkytonks until 2 or 3A M the night before. "It was rough," he said.
Though Logsdon continued to DJ, his music career caught a break when he opened a show at Memorial Auditorium for his idol, Hank Williams. Though the night started badly (Logsdon tripped over a guitar cord and fell flat on his face, sending his guitar flying across the stage) Williams was impressed with what he heard and promised Logsdon he'd see what he could do for him Nashville.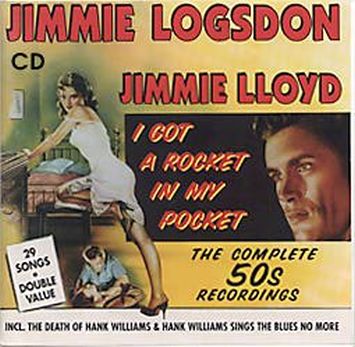 Between Williams and Logsdon's affiliation with songwriter Vic McAlpin, Logsdon was soon signed to Decca Records and recorded "That's When I'll Love You The Best" and "I Wanna Be Mama'd" in 1952.
On New Year's Day, 1953, Logsdon heard over the radio that Williams had committed suicide. He put his feelings for his friend into the song "Hank Williams Sings the Blues No More" and recorded the song along with a cover version of Jack Cardwell's "The Death of Hank Williams" for Decca Records. He even began to move his sound further and further towards Williams, to the point of recording with his band and being considered as a lead in the MGM picture Your Cheatin' Heart. But the endless touring and roller-coaster life of a musician was taking its toll on Logsdon.
"Those were the days before [touring musicians used] buses," Logsdon remembered, "and hardly anyone could afford an airplane. So you'd drive around in your limos and everybody squeezed inside. I never traveled any further than Oklahoma City, but I played all through the South and as far north as Chicago."
In 1955 and 1956, Logsdon was dropped from Decca's roster and struggled with the aftereffects of a divorce and recovering from drug addiction. After a 6-month hospital stay, he returned to record with Dot Records in Nashville. He cut four country songs, but the musical tide was rapidly changing to a sound that owed much to Williams' influence.
In his too-short life, Williams had changed country music in a dramatic way. "He opened doors for a lot of people," said Logsdon. "He put the beat in the music the piano breaks. He did blues-done-country, and the blues are the meeting ground for all kinds of music." He was the father of that amalgamation of country, blues, and gospel called rockabilly, and a lot of country singers were jumping on the bandwagon. For fear of offending their country fans, many country artists recorded their rock tunes under pseudonyms: George Jones became "Thumper" Jones, Buck Owens became Corky Jones and Jimmie Logsdon became Jimmie Lloyd.
As Jimmie Lloyd, Logsdon recorded what became his most famous single, "I Got A Rocket In My Pocket" for Roulette Records. The song, Logsdon insists, wasn't meant to be a "dirty" song, but simply a good rock song. Sexually suggestive or no, the song was a hit from the start.
"It wasn't called rockabilly then—at least I think it wasn't. It was just rock. Elvis and Jerry Lee [Lewis] were numbers one and three on the charts in Memphis, and—I hate to brag on myself, but—I sneaked in between the two when I played Wink Martindale's show. When Wink booked me for his show, he booked me into a black motel because he thought I was black when he listened to my album. He turned three shades of pale when he saw me and realized I was white."
"I've Got a Rocket In My Pocket" was more than simply a great rockabilly tune in the 1950's—it defined a generation when music was changing in such radical ways it would never be the same again. As a result, the song has had a staying power far beyond Logsdon's imagination. In 1983, the song was used in the film The Right Stuff and in 1999 used again in the children's film The Iron Giant.
"It's amazing what this song has done," said Logsdon, "it was cut so long ago but it still sounds contemporary. It means a lot to me that the song didn't just come out, lay down and die. Just recently my granddaughter heard another little girl singing "I've Got a Rocket in My Pocket" behind her in the theater—she had just seen The Iron Giant."
All told, Logsdon's career spanned 4 record labels and 90 album sides. But Logsdon, unlike many of his contemporaries, never officially gave up his day job, and had continued to work in radio throughout his recoding and playing. Until his retirement in 1972, Logsdon remained a deejay on the radio, interviewing many of his contemporaries, establishing friendships with many.
"I had Roger Miller down to the house when my wife, Mary, and I lived in Florence [Kentucky]," he said, "and he got up and sang a few songs for us in my basement. Just had to outdang me, I guess."
Logsdon stayed with WCKY in Cincinnati until his retirement, and became known for his unusual radio programming.
"I would play bluegrass for a half an hour or so," he remembered, "and then I'd slip a Jerry Lee Lewis tune on 'em."
Currently, Logsdon is retired and living in Louisville with his wife, Mary (they married in 1958), and the couple have a daughter, 2 grandchildren and 2 great-grandchildren. Logsdon also had a son who died unexpectedly earlier this year.
"Country music has passed me by," he says now, "back then there weren't that many people in it and the ones who were in it were famous. I got to meet and eat and drink with all of them in the halcyon days on the 1950s and 1960s. I was extremely lucky to be in music then, and to have lived through it. God's been very good to me—better than I've been to Him!"
Bear Family Records has released a 29-song re-issue of Logsdon's work on a CD entitled I Got A Rocket In My Pocket—The Complete 1950s Recordings.
Tags: