May 2000 Articles
Cover Story
Tim Roberts
Features
John Kusak
Paul Moffett
Columns
Berk Bryant
Decimus Rock
Mike Stout
Paul Moffett
Vicky Moon
Keith Clements
Tim Roberts
Jason Koerner
Muffy Junes
Laura Spalding
Paul Moffett
CD Reviews
Bob Mitchell
Bob Mitchell
John Kusak
Performance Reviews
Les Reynolds
Mike Stout
Mike Stout
Blogs
Got Shows?
Send Them To Us
Bookmark Louisville Music News.net with these handy
social bookmarking tools:
Available RSS Feeds
- Top Picks
- Today's Music
- Editor's Blog
- Articles
Add Louisville Music News' RSS Feed to Your Yahoo!

Issue`: May 2000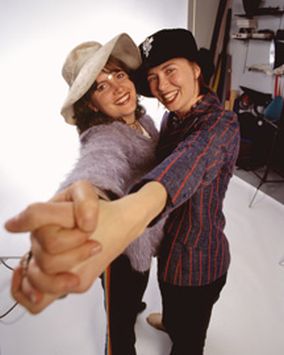 Sharing Stories, Freeing Dreams, Finding Jewels In Trash Cans:
The Tales Of The Troubadours Of Divine Bliss
By Tim Roberts
Prologue
Needle-thin streams of sweat rolled under his collar. April showers had ended early. The sun had already bathed the May land with the warmth it needed to bring back the colors gone since autumn. That job was done. Now it was being merciless. He sneezed from another noseful of dirt kicked up from the dry road. He had regretted taking his place behind the second nun's horse after their first minutes on the long ride to Canterbury. It had not digested its breakfast hay very well. A friar and a scholar engaged in a whispering discussion on herbs had nudged his horse back to the end of the convoy. Far ahead on the lead horse, a knight was telling of the Duke of Theseus's victory over the Amazons.
That's why he was there – the stories. More than twoscore pilgrims on their way to Thomas a' Becket's tomb and each one willing to entertain the rest with a story: pious, ribald, sad, or hilarious tales that could be collected, memorized, and eventually shared. They could be mined for small crystals of wisdom or large chunks of bawdy humor. They would entertain at a feast of nobles or in a raw public house. The experiences of a few would be the memories of many.
He pulled at the collar of his cassock and blotted the sweat. Then he found himself disregarding the smelly beast in front of him, concentrating instead on the melodic voice of the knight, telling now of a tyrant king named Creon. The story continued. He seemed to pluck the knight's every word from the air and shove handfuls of them into his memory. He took advantage of the journey's length. He seized the opportunity ahead.
It's carpe diem, baby.
It was 48 hours past Shrove Tuesday – Mardi Gras time – on a warm evening in early March. A white '78 Chevy van was parked at the intersection of Frankfort Avenue and Rastettler, next to Clifton's Pizza in Crescent Hill. There were several pinpoints of rust on the van. Each one radiated into five cracks in the paint, forming serendipitous stars on the van's body. The side and passenger doors were open. Two women were placing their instrument cases on the sidewalk, loading up for their performance that evening at Clifton's. The taller one wore a tee shirt and patchwork overalls made from small squares of carnival colors. A dark velvet hat with a short, floppy brim covered her honey-blonde hair. She wore two-toned shoes. The shorter one wore a jacket covered in blue-grey fringe, a long silk skirt in deep blue, and sandals. Her hair was bundled in a loose bun.
On the passenger seat was Blossom, a pudgy black Lhasa Apso, the two women's mascot, who has joined them on a journey – physical and metaphysical – across the nation, performing on streets or in clubs or at festivals. It has also been the journey of a 16-year-old friendship, four of them as a performing duo. Of their teenage years becoming friends in a small-town Pentecostal church while their fathers – one a pastor, the other a deacon – feuded. Of their young adulthoods where one got married and worked in information technology sales while the other moved from city to city playing music and acting. Of their reunion, spiritual rebirth and decision to take their show on the road. Literally. Along the way they have collected stories of their friends, their fans, the people sharing the street with them and of their own experiences. And in the tradition of their name, they have returned these stories as music and poetry, sharing them with their audiences. More than half a millennium ago troubadours would bring stories to royalty and nobles, meant as entertainment but surviving the centuries in a number of forms, as poems, plays, or songs. Meanwhile, their colleagues, the minstrels, would bring stories and songs to the people in the towns. At some blurry point the traditions merged.
These two women are their descendants. Using only a guitar, an accordion, voices as rich as fudge, and harmonies that weave together like thick yarn to blanket you in intimacy, the women have a message: our stories reveal our dreams, our dreams need to be free, our freed dreams bring us bliss, our bliss is our destiny.
It's the message of The Troubadours of Divine Bliss.
"Very simply put," said Troubadour Renee Ananda (the tall one in the patchwork overalls), "what we hope to be about is freeing your dream. What we feel like we've done is free our dreams, to make music and to free our other dreams through music and theater. For me, it's doing what I love with all my heart. And that's for anybody, no matter what they do.
"Bliss should be everyone's destiny."
Renee and Aim Me Smiley, her cohort (the one in the fringe jacket), both glow with a sweetness and warmth, a switched-on spirituality, cosmic awareness in campy clothing. Both women laugh easily and from the heart, which is one manifestation of their bliss. Their live stage performances are full of humor and audience interaction, skills they learned as buskers – street performers whose audience may not be permanent but is always appreciative.
They are the spiritual goddaughters of a tradition that spans the hidden history of music – of performance, actually – from Medieval troubadours reciting poetry in some noble's palace, to Chaucer's Canterbury pilgrims spinning bawdy tales. From Renaissance street minstrels, to singers in turn-of-the-century saloons in New Orleans (where the city's police posted signs warning patrons to BEWARE OF PICKPOCKETS AND LOOSE WOMEN, a line used in the Troubadours' "Scarlet Carnival"). From performers in outdoor cafes in France after the First World War serenading the Lost Generation, to acts in cabarets in 1920s Berlin – "Wilkommen, Bienvenue, Welcome" – a handful of years before the monsters came out. From flower-child jams in Haight-Ashbury, to singer-songwriter nights at Starbuck's, entertaining a new set of nobility whose SUVs fill the parking lot.
Their most recent attempt to archive that tradition is Dressing Room for Eternity, their second recording, containing songs inspired by characters they've known as well as encounters they had during a six-month stay in Europe. Recorded by Donnie Oswald at Reel Time Audio in Louisville, mastered at Mom's Musicians General Store, and on sale at ear X-tacy (and at their shows, from an old suitcase lined with velvet), Dressing Room and There's No Place Like Om, their first release, are a pair of a self-packaged introductions to blissmusic. For now, Dressing Room is also one way for them to keep a presence in their hometown while they tour.
When we talked, the women were still glowing from their Shrove Tuesday festivities from two nights previous. They had performed at a Mardi Gras party at Beau Weevil's, the small wooden house on Bardstown Road in the Highlands, formerly known as Kiwi's, Gilligan's and a host of others since its days as the Sunset East in the 1980s. New Orleans had once been their home, where they had first performed as a duo, awkwardly singing Christmas carols. They had assimilated themselves into the city's culture, the decadent atmosphere of an ongoing party, the cosmic picnic. Even being almost 800 miles north didn't completely disconnect them from the city where they had taught themselves their art. They led a spontaneous parade of Beau Weevils' patrons across Bardstown Road to the Bristol Bar & Grille, a microcosmic celebration of Fat Tuesday in their hometown.
They spread their celebration of bliss around the US and Canada during the first summer they based themselves in New Orleans.
"We moved around 37,000 miles," Aim Me said, "playing music on the streets, having no clue what town we were in, trying to figure out where the main square was, setting up our case and making enough gas money to make it to the next town."
"It gave us a good venue to learn our instruments a little more," Renee said, "and it gave us great characters to write songs about. There's nothing like it, really. That's where our heart is."
The trip they took to find that place for their hearts began 16 years ago in a Pentecostal church located in a city outside Louisville. Renee's father was the church's pastor, Aim Me's was a deacon.
Their friendship began after Renee saw a white rabbit.
Renee Ananda's Tale
Sixteen-year-old Renee Ananda (her chosen last name, a Hindu word for bliss) was the church organist. "One Sunday morning I was playing, bored out of my gourd, and I looked up and saw Aim Me bouncing in with a cheery smile. There weren't a lot of young people at church. It was mostly a lot of really old people."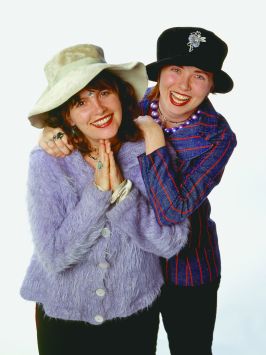 Troubadours Of Divine Bliss
"I was literally bouncing," Aim Me said, "because I was portraying the Faith Bunny for the children's church [service]. I was dressed in this big white rabbit costume."
"So how could I miss her, right? After church we ended up meeting, chatting and became instant best friends. She was 13."
While their new friendship developed, a schismatic conflict between their fathers boiled up ("way too much to expose," Renee explained). Aim Me's father kicked Renee's out of the church.
"We kept in touch," Renee continued. "We both went off to school, saw each other on occasion, but it didn't affect our friendship. We knew our fathers were going through their own things and that it had nothing to do with who we were."
Renee left Louisville to attend Evangel College in Springfield, Missouri to study broadcasting. "I got my degree. Did my internship in broadcast news and went, 'Eww! This is not for me.' I couldn't handle all the egos."
The pair kept in touch through letters and phone calls, both racing toward transition periods in their lives.
Renee resumed her tale. "I was selling computer networks to big corporations – Lay-Z-Boy, Wendy's, Marathon Oil – and was married in a very bad relationship that was splitting up. My heart wasn't connected to what I was doing.
"One day my beeper was going off, my pager was going off, lots of things were going off inside of me. So I just got in my car and drove away from my life, back to Louisville. I'm driving down the road I'm calling Aim Me on my cell phone. . ."
Meanwhile. . .
Aim Me Smiley's Tale
"I was bouncing all over the place," Aim Me Smiley said (Smiley, her mother's maiden name, is redneck for bliss). "I went to three different colleges in three years. Not consecutively, either. I lived in Southern California for a year, lived in New York city for awhile, went to Indiana University for a year, majoring in theater all this time. Then I went to De Paul University in Chicago to study theater."
She was in Chicago when Renee called her. "I was going through a lot of changes in myself, too. I was in an acoustic duo called Cooper's Eden with a wonderful singer named Astra Kelly. I was also in theater, but there was nothing happening with it. So I started to get into music because it just seemed a lot freer. Astra was a wonderful influence on me. She's the one who got me singing, other than Renee who taught me in church how to sing harmony.
"Renee, while she was going through all the stuff with her husband, started writing an abundance of poetry. And I was questioning myself: what is my mission, why am I here, what's going on, how can I express myself, what's my gift?"
Renee's cell-phone call came during the time when Aim Me was involved in a two-woman show called Tango Palace, an examination of the duality of each person. She described it as intense, revealing, preparing her for the set of choices she would make after her reunion with Renee.
"She came up to visit me. We were both really charged, asking what we were doing with our lives. We were also having a spiritual rebirth. We had both been burned by the church, seeing the hypocrisy, backstabbing, all that stuff. We started searching within our souls and spirits once again. . .and it set us free."
The Troubadours Tale
With their spiritual direction set and their destines now shared, the two women needed a medium to communicate their personal discoveries, a vessel of sorts to carry the wine of bliss and a plate for the wafers.
"Renee had a dream she was playing the accordion," Aim Me said, "so she went out and got one."
"I also had a dream I was bald and ended up shaving my head," Renee admitted. "So Aim Me said, 'let's just pick up and move to New Orleans.' We both needed a change."
"I told her one night to come to New Orleans and be a street performer with me," said Aim Me.
"She was planning on doing that," Renee said, "I was not. I didn't know how to play the accordion. I was just gonna go down there to get another computer sales job. But the idea of picking up and planting myself somewhere new was great."
Once in New Orleans, the duo needed a simple way to begin their careers as buskers without making musical pratfalls. The answer: Christmas carols.
Renee said, "I thought Christmas carols were easy. You know all the words. We wrapped ourselves in battery-operated Christmas lights, put out a sign that said, 'We really don't know how play our instruments, we don't know how to play these songs, but we're here for you'. People were really sweet about it. That was successful enough. I quit. Aim Me started playing on the streets [by herself] and I was kind of looking for another job. Then one day she said, 'Just try it with me.' We've never gotten a real job since."
In their four years as a duo, the Troubadours have found that street performing does have some advantages. The work is steady, since you don't have to worry about finding a club that will accept your music. The street truly is the best open stage. Musically, there are other advantages, too.
"The biggest benefit, for me, at least," said Aim Me, "is not focusing on the technical aspects of playing, which are important. But a lot of people get stuck there and they either talk themselves out of it or criticize themselves out of continuing the music. It has kept the heart in what we are doing. It's more about exchanging with people."
"It's about not taking yourself too seriously," Renee said. "When we first started playing together, I would hit a chord and freak out thinking this was being magnified about a zillion times to everyone. It's been beautiful because we've developed our own styles. And, granted, we'll probably never be really technical musicians. But we'll always put our heart into it."
"Another good thing about the streets," Aim Me said, "is that if you make a big mistake, the person who's walking by will hardly ever hear it. But what's also a wonderful thing you can never get playing anywhere else is that you're sitting one-on-one with that person who stops to listen because they're interested, or they like it, or they're lonely, or whatever."
"It's not so coincidental," Renee said, "like they just happen to be eating in the restaurant where you're playing."
"Then after the song, you have an exchange with that person. People have opened up to us and talked about the deepest part of themselves – about suicide, about the terrible things that have happened to them, and also about the beautiful things that have happened—"
"About their secret wishes. The dreams they'd like to free," Renee added.
And their stories. And the characters that inspire stories.
The Elvis the Pelvis Tale
The global economy also has spawned a global Main Street, something the Troubadours have observed during their street performances across the US, Canada, and Europe. People scurry by each other on nothing but small talk and dreams of a Big Mac at the end of their walk down the street. "La Rambla," on Dressing Room, is about the rush people put themselves into and the rewards they see as their destinies, "pounding the pavement to make a down payment on happiness." Their eyes are either averted from – or shocked by – the numerous urban anomalies: the homeless, the drag queens, the street preachers or Hari Krishnas.
In New Orleans, it was Elvis the Pelvis, who is mentioned in the song.
Renee explained. "This was a guy, a German stockbroker named Klaus who became Elvis the Pelvis. He appeared on the street corner wearing nothing but a box and a silver cape. He had given up being a stockbroker and became homeless. He was dancing on the corner, singing Elvis songs, approaching women. One day he was being witnessed to by a Christian woman who was witnessing through a monkey puppet called Chi-Chi. In the meantime two drag queens are dancing in front of us to our music. We looked over and could hear that Elvis was being saved.
"So right when she was pronouncing his salvation, he looked at us ... and he winked. These kinds of characters are the greatest inspiration in the world."
The city where they met Elvis provided the Troubadours a training ground for performing and an endless source for wild stories. It was as if Chaucer's Canterbury pilgrims decided to blow off their pilgrimage and instead act out their tales in a place where they could chug red wine and flash a little flesh.
It was also the city where the Troubadours received their first accolade and, in a karmic twist, lost it.
The Clock-In-A-Pizza-Box Tale
While in New Orleans in 1997 the duo recorded and released their first CD, There's No Place Like Om, 13 long tracks of blissmusic and spoken word. The songs include musical renditions of Mother Goose's "Hey-Diddle-Diddle," the semi-autobiographical "Cup-'n-Coin," and more, some including instrumentation as diverse as saxes, kazoos, and an electronic laughing box. One of the spoken word pieces, "Reve-You-Tion," is a summary of their philosophy as a band and as people. While Aim Me hypnotically repeats the word "revolution" over a steady drum beat, Renee recites the poem, punctuated by the gentle challenges of "Do what you fear the most" and "Speak your dream." Layered over both are whispers, chanting, sighs, laughter. Repeated listenings would do more for a heart than an entire library of Chicken Soup for the Soul books.
Their presence, both recorded and live, in New Orleans earned them the "Best New Folk Band" award from that city's Offbeat magazine.
"[There was] a big ceremony with Offbeat and The House of Blues, where we received our award," Renee said. "The prize that they gave us was a beautiful, hand-painted ceramic clock. It was shaped like a record. We went up to receive our award, and they had put it in a pizza box. We were leaving and Aim Me was dancing out the door with the pizza box, spinning it. It spun out of control, fell, and shattered. So now our award is in pieces."
"Maybe it had something to do with the fact that we accepted it wearing Groucho Marx glasses," Aim Me said.
"We're not about awards. We're about rewards," Renee emphasized. "The rewards are the interaction and the fantastic opportunities we have to connect with people. I can say this for the both of us: the desire of our hearts is to inspire people to free their dreams. The most beautiful thing has been to see that happen. Those rewards could not even begin to compare to an award."
"I'm not in this for self-gratification," Aim Me added. "or honestly even the art of it. I'm really all about wanting to encourage people, and exchange with people, and to help them realize that life is a beautiful gift."
Epilogue
The Troubadours have returned to Louisville to make it home base for blissmusic ("Plus all our nieces and nephews are here," Aim Me said) and to take advantage of the special warmth they feel here at home. They will still tour the country, entertaining its street scenes and playing in a few clubs. They also hope to play more festivals.
No matter where they perform, the Troubadours of Divine Bliss always welcome you into a festival of stories delivered in creamy harmonies, of inspiration imparted lovingly by a pair of women who feel deeply the underlying spirit of all life.
The night before the journey in The Canterbury Tales, the host of the inn where the pilgrims are staying offers his welcome and hints at what's to come:
You're off to Canterbury – well, God speed!
Blessed St. Thomas answer to your need!
And I don't doubt, before the journey's done
You mean to while the time in tales and fun.
Or as the Troubadours, Chaucer's distant goddaughters, sing in "Scarlet Carnival:"
Welcome to Storyville,
You always leave with a whopper of a tale.
Get your whoppers while the Troubadours are in their hometown. They will be at This Old House and Grill on Derby Eve and Day (Friday, May 5 and Saturday, May 6) at 10 p.m. You can also catch them at Heine Brothers Coffee on Bardstown Road on two Sundays, May 7 and 14, both at 7 p.m., and at Beau Weevil's on Friday and Saturday, May 12 and 13 at 7:30 p.m.
Dressing Room For Eternity is available at ear X-tacy or directly from the Troubadours at any of their shows. You can also get a regular dose of Bliss at www.members.tripod.com/troubadours
Tags: