December 1999 Articles
Cover Story
Kevin Gibson
Features
Kevin Gibson
Dick Irby
Columns
Berk Bryant
Decimus Rock
Mike Stout
Paul Moffett
Robert Gruber
Keith Clements
Tim Roberts
Jason Koerner
Muffy Junes
Laura Spalding
Henry C. Mayer
Jamie Bamforth
Jimmy Brown
CD Reviews
Bob Mitchell
Tim Roberts
Jamie Bamforth
Hunt Sidway
Performance Reviews
Tim Roberts
Jason Koerner
Jason Koerner
Blogs
Got Shows?
Send Them To Us
Bookmark Louisville Music News.net with these handy
social bookmarking tools:
Available RSS Feeds
- Top Picks
- Today's Music
- Editor's Blog
- Articles
Add Louisville Music News' RSS Feed to Your Yahoo!

Issue`: December 1999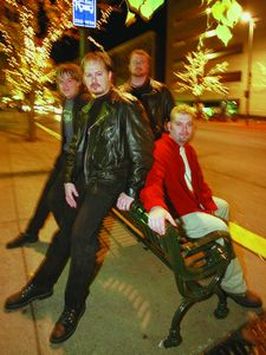 Artgeko
Artgeko:
Pop is NOT a dirty word
The first thing I wanted to know was how in the world this band came up with the name Artgeko. Great name, and it paved the way for an unforgettable cover illustration for the band's 1996 self-titled album.
First, I asked guitarist Kenny Owens. As he recalls, vocalist-guitarist Arte Bratton was on vacation in Florida as a teen-ager and happened to see a live gecko on a painting in a hotel lobby. The band's original name was the Cyclone Rangers, and when they found out there was a band called the Psyclone Rangers - "I believe they were from the south somewhere" - the band turned to Arte's longtime pseudonym of Artgeko.
Then I asked bassist Mike Lewis. He wasn't sure how Arte had come up with the name, but he concurred that the name change was necessary because of a band called the Psyclone Rangers "who, I believe, were from Chicago."
So I asked Bratton. "I was, like, in high school, and I had a little four-track (recorder) that I rented from Doo-Wop, and I was trying to come up with a pseudonym," Arte said. "My friend told me to call it Artrock. Shortly afterward, I went to Ft. Lauderdale and I saw this thing on a wall somewhere and it had the word 'art' and I also saw the word 'gecko' underneath it, so I put it together."
Was it inside a hotel lobby? "I think I was walking down the main strip and someone had painted it on there."
He continued, "Every time I made up a song I would put that on it instead of my name in case the song was stupid-sounding. When we heard about the Psyclone Rangers - they were a band out of Philadelphia - we couldn't think of anything better, so we used that."
Ahem. OK, so Artgeko isn't 100 percent sure on EVERY detail, but here's one thing the band members are sure of: The group's new album, Hurry Up and Wait, is as good as any other CD, local or national, on the shelves in any music store.
Hurry blends bit of alternative crunch with harmonies, melodies and hooks - not to mention pristine production - to create a disc even Toad the Wet Sprocket would be proud of.
Whereas the first album took only a few days to complete, the new effort "took us a LOT of days" said drummer Jeff Lyman. "We went in over a series of weekends. We just wanted to take our time and make sure it was done right.
"The first CD we recorded in a matter of four or five days. It was a good first effort, but it sounded like we did it in four or five days. On this one, we made sure it sonically sounded great, that the parts were correct and there were no missed harmonies or notes."
Added Owens, "This one we spent probably three times as much time and money on. We wanted to try and make it sound as national as possible. Kevin Johnson (who mastered the disc) had a lot to do with that. He has a good ear for mastering, so he made it sound big and full and loud."
The band's manager, Bob Rutherford, is shopping the disc to various labels, and the band is going to make a push to get the songs on area radio. A song from the first disc, "But For Nothing," not only got played, it made it to regular rotation on a couple of Lexington stations. From the new CD, singles of a song called "Bitter" have been sent out and have been played occasionally, but not yet with any consistency.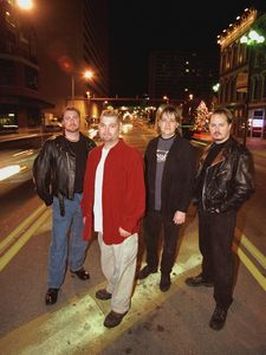 Art Geko
The band hopes if it can develop enough of a following locally and then regionally via radio and reviews, it can catch the eye of a major label.
"We were told by one record company," said Lyman, "that if we could make 'But For Nothing' a local hit on a consistent basis, that's what it takes (to get signed). I wish we could stress to radio stations that this is a really cool music scene going on."
The band is confident enough in the recordings and the time invested into them that all it will take is for the right person to hear them.
"I think the songs are really good," Lyman said. "We spent a lot of time on this CD. We didn't really go into it with a demo mindset. We went in to make a finished product that a record company can pick up and go with it.
"The packaging is there, the material is there. I can't see us NOT getting signed by this CD. I think we've put together a great product. We've gotten nothing but great reviews. We're not Metallica and were not Hootie. We're somewhere in the middle there, and hopefully it's commercial enough that it's going to make someone sit up and say, "Hey, what's that?'"
MAKING THE JUMP
Artgeko almost was a one-time deal. As the Cyclone Rangers, the band played covers and developed a following by playing obscure songs most other cover bands won't touch. Mention the prospect of playing "Brown Eyed Girl" every weekend, and Bratton's skin crawls.
So the Cyclone Rangers found a niche in performing songs by bands like the Hoodoo Gurus, the Lemonheads, the BoDeans, Toad the Wet Sprocket and the Plimsouls. The Cyclone Rangers began to toss in the occasional original and, after getting a good response, the band started to consider ditching the covers scene and pursuing an audience for its own music.
As any band knows, it can be difficult to wean itself off the steady money a good cover act can make. So, to avoid having to make that decision, the band continued to play covers and basically let the Cyclone Rangers pay for Artgeko's first album. For about a year afterward, the band continued to play under two different names - playing cover gigs as the Cyclone Rangers, and playing original music showcases and opening for touring bands as Artgeko.
"We decided to keep the alter egos separate," Owens said. "In Lexington, if you do cover music, you have your cover music crowd, and if you throw in your originals, bar owners don't like it. On the flip side, if you're playing original music and throw in cover material, you kind of lose respect."
Playing under two different names, fans would know in advance what they were going to hear based on how the show was billed. With the success of the first disc providing more opportunities for playing originals, it's been a couple of years since the band played as the Cyclone Rangers. Thanks to that other band, from Chicago or Philadelphia or wherever, that probably won't happen again.
But making the transition brought out some obvious problems when it comes to playing live music. There are few venues in Louisville and Lexington for bands wanting to play original music exclusively, and most people who go to a bar to hear live music want to hear music they know.
"Its shame to me," Owens said. "If it's good music, it's good music. Unfortunately, the masses want to hear the same thing they hear every two hours on the radio. The bad thing about that is there are so many good bands here. People here don't really appreciate it."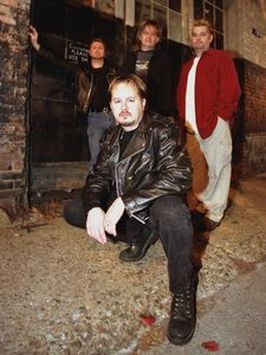 Art Geko
Lewis pointed out that there really is only one club Artgeko can count on for playing originals - that being a club called Millennium - but often it's on a weeknight when crowds are smaller. Sometimes it's even worse than that.
"At Millennium on Wednesday, it's usually packed," Lewis said. "Everybody goes there and they're expecting a cover band. We've had a couple hecklers there, people yelling 'You suck!' Give us a break."
Lewis said some of the best experiences Artgeko has had have been opening for national bands, providing the local boys with a chance to reach audiences they normally couldn't reach. Artgeko has opened for Mighty Joe Plum, the Why Store and Huffamoose, and last year the band played at Lexington's Z-Fest, where close to 17,000 people showed up to see national bands like Better Than Ezra, Candlebox, Third Eye Blind, Tripping Daisy and The Romantics.
"Four of the local bands were thrown into the mix," Lewis said, "and that was really exciting for all of us."
The need for original venues aside, Artgeko still does have some fun with covers. One of the band's favorites is "She Gives Me Love," a little-known tune from the 1980s by a band called The Godfathers. (Indeed, after a recent gig in Louisville at Gerstle's, when someone in the crowd approached Arte to offer his appreciation for that song, Arte said, "Oh, so you're the OTHER guy who owns that album.")
But perhaps more interesting is the band's turbocharged arrangement of an old Police tune called "The Bed's Too Big Without You," which, interestingly, appears on Artgeko's new CD.
Lewis gives all the credit to Bratton for that one. "He said 'I've kind of butchered this song, check it out.' We said, 'That's killer.' At that point, I'd never heard the original version. Actually there've been very few people that realize that's a Police song. Unless we announce that it's a Police song before we play it, most people would never know unless they were real police fans."
"I actually did that version after not hearing the original for about three years, so I did it more like their first album, which was a little more punk," Bratton said of "Bed's Too Big.""It works real well live, and I think we could have done a better take (for the album). When we recorded it, we went back into the studio real late at night and Jeff decided to speed it up a little bit. He said he thinks it needs to be a little raw."
Artgeko's version is reminiscent of a song called "So What I Lied," a tune Bratton and a friend wrote when they were teen-agers which actually was meant to be a punk parody. It stood the test of time and made the band's first album, and rarely is an Artgeko set list prepared without it.
"So What I Lied" is quite a contrast to the new disc, which is more slick in its production, more radio-friendly.
While the band sometimes criticizes itself because it believes the first album lacked focus, Hurry Up and Wait also takes a few unexpected turns; "Bitter" and "Swallow the Anger" kick off the album with an edgy, alternative-rock approach, followed by "Blow Away," which is reminiscent of early Radiohead.
Then "Whatever Makes You Happy" puts on the brakes. That song is pop, pure and simple, an emotional confession of a downtrodden but forever-hooked puppet in a one-sided relationship. It serves as a nice change of pace, then Lyman's composition, "Gone," follows with another tear-jerker, complete with vocal harmonies and some of the saddest lyrics you'll find anywhere.
By the time the listener gets to "Leaving You," with its hook and ultra-infectious melody, it's plain this is a pop album.
Lyman actually wrote three songs for the CD - "Holding" and "Anytime" in addition to "Gone" - and he admits to having a penchant for pop: "I love the Police, I love Journey, and the reason I love Journey is their harmonies and their musicianship, the melodic-ness of their music. It's not necessarily because their songs make me think."
Clearly, that seeps into his songwriting, especially on the Journey-esque "Anytime.""That's just the kind of things I write; it has to have harmonies. Sometimes it's a pain, because it's hard to recreate live."
Bratton wrote the rest of the disc; he and Lyman have been friends since their childhood and have written music together for many years (they joined and toured with noted Louisville act Velvet Elvis at one point). Owens gives Bratton credit for being the creative force behind the band.
"Arte is an extremely gifted guy," Owens said. "I'm more business-sensed. Arte has a little recording studio at home, and he will throw down basic tracks and present it to us and say 'What do you guys think of this? When we work it up, it goes through a metamorphosis and it becomes more Artgeko than just Arte. That's typically how it works.
"It was kind of the same way" with Lyman's songs. "He came in with some bare-bones demo recordings. Usually when we work them up as a band, they get a little more crunchy. That also kind of came through during the recording process. With Dave (Barrick) producing, we had lot of freedom to come up with new ideas and do spontaneous stuff."
Owens seems to have a passion for the production side of the music, as well as for the business side. He positively gushes when he talks about some of the ideas the band came up with during recording.
For instance, "Holding" starts with a guitar part, and a Wurlitzer comes in. "That was all Dave's idea. Jeff pulled the keyboard up, he and Arte wrote up a little part that fit, and we said, 'Now it's finished.'"
Similarly, he continued, "In 'Headfirst,' during the lead section, you hear a duh-duh-duh-duh kind of thing, and it's actually a wooden spoon on a cardboard box. We couldn't find a drum that had that sound we wanted, so Dave said, "Hey, try that cardboard box.'"
Owens also was thrilled to use a 1959 Vox amp that he described as "unbelievable. No matter what you adjust, it sounds great. My Rickenbacker, through that amp, sounds so Beatles, and you get that sound and you say, 'Well, that's how THEY did it.'"
Bratton said far more attention was paid to production and preparation this time in the studio. "We didn't want to come across as just a local band. We wanted to come across as national and dodge all the holes local bands face. I was getting out all these CDs from all these bands, looking for little things - like on national CDs, the text is smaller than a lot of local bands.
"Musically, we wanted to be little more cohesive than we were on the first CD and not be so musically all over the map."
For instance, in its first recording session for the first album, Artgeko had only nine songs. "It was only 27 minutes long," he said, and soon Bratton had worked up three more songs.
"It was like pulling teeth to get Jeff and Kenny to go back in to the studio to finish it," Bratton said. "Mike and I felt the new songs were better than the songs we'd already recorded."
They were "But Then Nothing," which got the band plenty of radio time, "Killer" and "Begin.""They're still almost my three favorites on the CD," Bratton said.
"This time we went in with too many songs," he continued, "so we were a little bit over prepared. This time, most of the songs, except for "Anytime," we'd played around a while. We were a bit more familiar."
ON DOWN THE ROAD
Now it remains to be seen whether all the attention to detail will result in the band's being signed. Each of the members of Artgeko has a day job, and a couple have families. No one is holding his breath, but there's always that possibility, that hope.
Rutherford, at least, has reason to believe his clients have a shot.
The album is "probably the most commercial thing I've been involved with to date," Rutherford said. "The cool thing about the band is the fact that they don't consider 'pop' a dirty word. They have the ability to write rock songs that lean a little toward the heavy side, with a "pop" sensibility.
"I'm used to kicking and fighting with A&R people over where they could put a certain band in the marketplace, but Artgeko is definitely not genre specific."
"It definitely is a big challenge," Lewis said, "because we can't get out and do the touring and gain followings in other areas. Kenny and Jeff both have kids ... it would take somebody to give us tour support, where we could quit our day jobs and go on the road. Realistically, that doesn't happen very often. We're just having fun and hoping something comes open."
So does Artgeko have a plan? "Yes and no," said Owens. "We are trying to get signed, obviously. We're not putting any kind of time limit on it. We've been doing this a long time and playing together a long time. I know I won't quit playing music until I'm ready to quit playing."
Same for Bratton. "I don't know if we have a super-strong song yet," he said, musing on whether the new album might get the band signed. "One of the labels we talked to seemed to like us, but they said 'You haven't written that magic song yet.'"
Not that he will let that deter him. "I'm definitely going to keep hashing it out as long as everyone else does. I've also heard things like if you have a name and have sent stuff to labels and it's two years later, you need to change the name of the band or they won't even pay attention to you.
"I almost want to pretend we're not going to get signed and try to sell the CDs like it's a business. On the last one, the whole motive was to get a deal. This time my motive is to sell CDs."
Signed or not, look for Artgeko, or at least its members, to be around for a good, long while. Perhaps obscure covers will come back into style, or maybe even Rickenbackers and guitar pop will reemerge.
"I'm going to stick with it," Bratton said. "To me, this is all I've ever wanted to do."
Certainly, the songs and musical talent are there. Perhaps Artgeko can tour with the Psyclone Rangers. That might be the ticket to building a fan base in Philly. Or Chicago. Or even the South.
Tags: