September 1999 Articles
Cover Story
Vicky Moon
Features
Vicky Moon
Bob Mitchell
Columns
Berk Bryant
Mike Stout
Paul Moffett
Vicky Moon
Keith Clements
Tim Roberts
Alan Rhody
Jason Koerner
Muffy Junes
Laura Spalding
Jimmy Brown
CD Reviews
Tim Roberts
Bob Mitchell
Bob Mitchell
Jim Conway
Hunt Sidway
Bob Mitchell
Tim Roberts
Performance Reviews
Robert Gruber
Robert Gruber
Henry C. Mayer
Blogs
Got Shows?
Send Them To Us
Bookmark Louisville Music News.net with these handy
social bookmarking tools:
Available RSS Feeds
- Top Picks
- Today's Music
- Editor's Blog
- Articles
Add Louisville Music News' RSS Feed to Your Yahoo!

Issue`: September 1999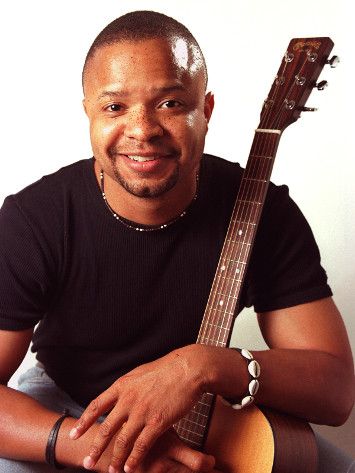 Butch Rice. Photo by R. Hunt Sidway
Cover Story: Butch Rice
By Victoria Austen Moon
Surprisingly enough, he looks pretty happy: tucked comfortably onto a barstool at the Hideaway, sipping a Bass Ale and watching a documentary on the 1968 summer Olympic games, Butch Rice looks pretty understated for a guy whose passionate delivery of songs focusing on love gone wrong has made him one of Louisville's best troubadours of loss and heartbreak. I assume this will be just another conversation with just another musician as I approach him, the sort of thing I've done a hundred times before, and the conversation starts innocently enough - my complaints about finding a copy of Pet Sounds at Better Days approximately five minutes before I realized I'd left my wallet at home, congratulations on his debut CD Acoustic Pop, and his take on how the new album's doing. It isn't until the conversation is deep into the ways and means of music that I realize this isn't your ordinary performing songwriter: this is a guy in love with the music, and in love with the journey it has taken him on.
Talking to Butch about music is infectious; it can make you remember that album you played until the grooves wore out, the first time you picked up a guitar, drunk with the idea that maybe someday you could be as good as Joni Mitchell, and those dark nights when the only thing to get you through the pain was your album collection and a bottle of cheap wine. First there's the legacy he carries, a family full of gospel musicians, and the story he tells of his great-grandmother humming hymns up to the moment of her death. Then it takes very little prompting to get Butch quoting lyrics, or reminiscing about the effect bands like The Who had on him back then, the crucial time when music tattoos itself onto your psyche.
"Quadrophenia is so...so...amazing. Pete Townsend's talking about what it's like to be a fifteen- or sixteen-year-old boy - he's the forerunner of teenage angst. It's great stuff," he enthuses. "I explained this album recently to a buddy of mine out in San Francisco who's never heard the album. I explained the four different personalities, and what it meant...how you hear the songs on the radio, but you never hear the whole story line without hearing the album. I've been playing "I'm One" in my sets, and like it says" - he smiles, tapping the table for emphasis, - "this time you'll notice me."
Somebody carrying this much music in their blood and soul had to be born ready to be noticed; born believing that there was nothing out there for him but the song, a stage, and a guitar, right?
Wrong.
"It was a mistake," he insists. "I was always listening to music - I could quote lyrics to you all day. I had a huge music collection. Finally, around 1990-91, a friend said to me `Butch, you're always going to shows, always around music. Why don't you play an instrument?' I told her it was too late for me to start, and anyway I was too busy. She just looked at me and told me her husband had started playing late, and that I could go down to the Doo-Wop Shop and rent a guitar and try it, and if I didn't like it I could take it back. Well, I've had that guitar ever since: a Fender Gemini II. It's a gorgeous thing," he laughs, "You could shoot arrows off of it, the strings are up so high."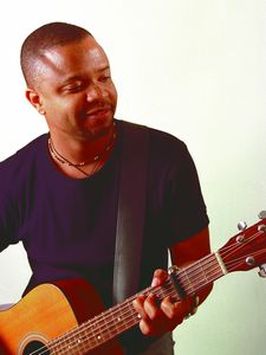 Photo By R. Hunt Sidway
With his high-strung Fender in hand, Butch had the simple goal of "singing Beatles songs in my dorm room" in mind. But then the series of fortunate accidents started happening: frustrated with trying to learn guitar on his own, he enlisted the help of Louisville's own Danny Flanigan.
"He asked me `well, what do you want to learn how to play?' and I said `I want to learn your songs'. That was my first mistake, because he's got all kinds of chord structures and finger picking going on. I'd go home with hand cramps," Butch remembered. He continued taking lessons with Flanigan for about a year and then decided to try writing a few songs on his own. Flanigan, who was then running the open stage at the Blue Room at Anthony's By The Bridge, heard a few of the songs and invited Butch down to play at open stage. He went, and there met David Arnspiger, and brothers Mark and Dave Ernst, who had formed the band About Us and invited Butch to sit in with them at their next practice. He did, and they liked what they heard. He joined the band in 1992 and played with them for about a year-and-a-half as the band went through various incarnations and members came and went.
A car accident involving one of the band members led to the eventual breakup of the band, and Butch formed Tuesday Sun with the Ernst brothers and Dave Coltese from About Us and a couple new players. When Tuesday Sun broke up, Butch decided to venture out his own.
The recording of Acoustic Pop continued Butch's streak of lucky accidents. He participated in a southeastern band competition and got to know another of the contestants, Nashville-based songwriter Moe Loughran. Loughran won the regional competition and since she already was working with a studio in Nashville, offered the prize of free studio time at RAMCAT Studios in Louisville to Butch. He took her up on the offer and went into the studio, making a quick demo. Ear X-tacy owner John Timmons had been interested in Tuesday Sun when he was running the X-static label and was equally interested in Butch's solo work for ear X-tacy Records. He helped Butch get to Nashville and record five more songs with Mark Allen at Benchmark Studios in Nashville. The eight-song demo, plus the five new songs became Acoustic Pop.
While a simple, raw, two-track recording may not seem to be the sort of attention-grabber one would expect in the technology-driven Nineties, Acoustic Pop delivers the sort of raw emotion that pulls you back to listen again and again. Much of this is due to Butch's vocal style, which he attributes to following the examples of his influences.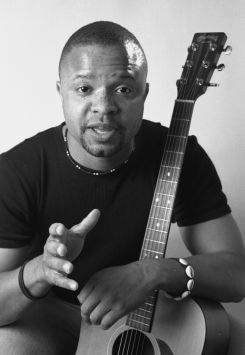 Photo By R. Hunt Sidway
"When I started looking at my music again," he says, "and what I really enjoy, time and time again I looked at my influences and they are - not over the top, but they play like they've got this fire. It's the same way for me. Bono, Roger Daltrey, Aretha Franklin ... I could make a big list. They're not trying to hit every note perfectly, but they are in the moment, and they have the power of emotion. That's what I want, what I'm trying to do."
Finding and keeping the rare moment of emotional power is reflected in Butch's "hands-off" approach to songwriting as well. Some of the songs on this album date back to 1992, and though he has changed some of the arrangements slightly to play them as a solo acoustic act, he has left the bulk of his early work alone, letting it stand as a testament to where music has taken him.
"I'm a firm believer that the songs you write are a good picture of where you were at that time. You shouldn't go back and mess with them," he says, "I don't see the point of it - at least not where I'm at right now. Of course, one of the reasons why I chose to record two-track live is that I can go back and re-record the songs with a band if I choose to at a later date. It'll be another project, and it will be different. But right now the album reflects where I am, and I'm going to play it that way for a while."
Soon our conversation veers away from the actual interview and into a merry free-for-all of remembrances of music we have loved - with a particularly long stop in the 1970s.
"I would love to be a Seventies pop star," he muses, getting distracted from the conversation by an Ambrosia song running through his head. I ask about his goals in music: does he really want to be a rock superstar?
"Selling a million albums would be a very beautiful thing - I would not shy away from that at all!" he laughs, "but it strikes me as being somewhat unattainable. However, I do think making a living with music is attainable: sell your records, market them right, tour - work smart. Make a living and retire like everybody else, doing what I want to do. It's difficult to do, but I want to find out if I can do it."
A couple hours later, still buzzing on conversation and a few good guitar licks, I came back to my apartment and dug Leslie Phillips' The Turning out of a pile of dusty records and stuck it on the turntable. The Turning is my Quadrophenia, the album that made me want to pick up a guitar and sing in the first place. It's a rare musician that has the ability to touch the hidden place in his or her listeners and make them think every song is sung straight to them, like arrows. It's a rare artist who can make you remember why you fell in love with music in the first place. Butch Rice is such an artist.
And get ready, people, because this time you're definitely going to notice him.
Tags: