March 1999 Articles
Cover Story
Tim Roberts
Features
Paul Moffett
Vicky Moon
Columns
Alan Rhody
Berk Bryant
Decimus Rock
Mike Stout
Paul Moffett
Vicky Moon
Henry C. Mayer
Keith Clements
Tim Roberts
Muffy Junes
Laura Spalding
Henry C. Mayer
CD Reviews
Jeff Kallman
Jeff Kallman
Laura Spalding
Brent Starkey
Brent Starkey
Dan Burns
Brent Starkey
Jeff Kallman
Brent Starkey
Brent Starkey
Jim Conway
Performance Reviews
Jason Koerner
Paul Moffett
Paul Moffett
Vicky Moon
Bookmark Louisville Music News.net with these handy
social bookmarking tools:
Available RSS Feeds
- Top Picks
- Today's Music
- Editor's Blog
- Articles
Add Louisville Music News' RSS Feed to Your Yahoo!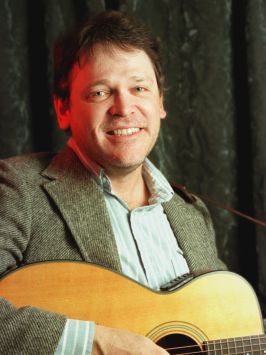 Rick Harper
THE HISTORIE OF RICHARD (RICK) HARPER:
Containing Descriptions of Years as a Wandering Minstrel,
the Encyclopaedic RickenHarper, Excursions in the Caribbean,
The Forthcoming HOOT, and the Surreality of Performing on the High Seas
With Charro and The Captain & Tenille
In which we are introduced to Richard (Rick) Harper and our narrative finds footing
Rick Harper's belt buckle catches the stark porch light and glows like an oblong moon in the center of his body. On it is the Hindu symbol of OM, which looks like the numeral 3 followed by a cursive lowercase "s." He had stepped out of his front door to meet me as I drove up his gravel driveway. His house is a squat A-frame on a blink-and-you'll-go-right-past-it street in Middletown lined with trees and shy of a few streetlights. A brick chimney juts against the house, next to the white-framed porch. His brown Chevy van was parked facing the street. The house, he explained, is on a large chunk of property that used to be a farm. The land cannot be broken up or sold in pieces, nor can the structures be demolished, because it is held in a trust. It's a small reminder of a rural past in an area of Louisville where office condos and video rental shops sprout up once a month and spread like Bermuda grass. The structures are simple, solid, grounded. They are robust, permanent, and constant without the attitude of dominance.
Like the acclaimed Rick Harper and his music.
The Louisville native has been a professional musician - a bassist, specifically - in this city, Nashville, Fort Lauderdale, Miami and places beyond for almost thirty years. He's performed with other local stars like Steve Ferguson, Tim Krekel, Winston Hardy and the Roadmasters and The Cumberlands. He's played with Billy Swan (of "I Can Help" one-hit-wonder fame), met Johnny and Edgar Winter, Kris Kristofferson, Tom Waits and was once a substitute performer for The Kingston Trio. He's also been in original bands (The Breathers) and cover groups (Chopper & The Lonestar Band, at the beginning of the Urban Cowboy craze of the early 1980s). His recordings have been released on vinyl in Germany and New Zealand.
And he spent eighteen months as a bassist in the TNT Show Band aboard the Sovereign of the Seas, a cruise ship operated by Royal Caribbean. "I played `Born To Be Wild' as part of a medley, wearing a white tux," he said, more amazed than ashamed at the memory.
Rick Harper is a rocker, a folkie, a country crooner who uses wit and traditional sounds to get our attention instead of line-dance meathooks. He is one of Louisville's connections to the music world outside the city.
Rick and I first met at the Butchertown Pub last March, prior to a performance by Iko-Iko. His CD RickenHarper (HiVariety) had been released a couple of months earlier. It had, according to Rick, been ignored by virtually everyone in town until Dan Reed started playing it during his morning show on WFPK. The release is a generous, more-than-70- minute collection of low- and medium-fi songs recorded using a handy portable studio over 16 years and in various places - including his cabin aboard the Sovereign - either solo or with a band. Many of the tunes had already been released on demo teaser cassettes. The sounds and recording quality are consistent, belying the illusion that all 25 tracks were recorded over several months prior to release and not spaced over two decades. He's following that with HqqT a collection of new music (including a cover of Gene Clark's "So You Say You Lost Your Baby") due out this month.
So his first full, major release is a greatest hits retrospective. How many performers can make that boast?
II. In which Rick describes his historie as a musician
Forty-six, soft-voiced with dark hair and a wide smile, and a presence as relaxed as a pair of bedroom slippers, Rick Harper is in a position where many musicians find themselves: in between regular gigs or jobs. He has been playing bass with The Cumberlands for about two years, but not now. "Bluegrass season's over until summer," he says. "So it's been kind of hungry. I just left a day-job I've been working for the past two years, delivering for a lithographics company. It's even more than a little bit embarrassing because I can't believe I did it for so long."
The driving stint, preceded by tending stressed-out thoroughbreds on a horse farm, seem to be two anomalies in a steady career of constant playing, from his first harmonica (a gift from local folk legend Johnny Feighan), his attempt at playing oboe, to his first guitar (a Zenon), his first bass (a Kimberly), and his first band (The Keys). He later hooked up with Tim Krekel and his band called Dusty, an outfit that was into country, rhythm-and-blues, and simple good-time rock-and-roll.
A concert he saw at the Iroquois Amphitheater changed him. The band was NRBQ. "It was the first time I saw five really great players interlocked into one drive," he said.
Former NRBQ drummer Tom Staley became an influence on Rick, which led to his first work with a major label - which also led to a major disappointment. "He and [Steve] Ferguson left NRBQ at the same time," Rick said. "In 1974 they called me to come play with their new band, The Sacred Frowns, down in Fort Lauderdale. We made an album for Capricorn Records. They didn't release it. In the sessions, they wouldn't let me play my own bass. [Capricorn label head] Phil Walden said they already had a band like us: Wet Willie. We were insulted.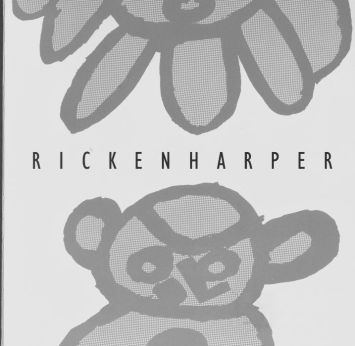 RickenHarper CD
"So [the band] blew apart. I never got to hear the final mix. It was just wasteful. I had moved down there lock, stock, and barrel. We were too young. They were naïve about the way the scene was down there."
Rick returned to Louisville to begin what he calls "day jobs and bar bands" period, performing at places that are now part of the city's nightspot folklore: The Hillbrook Tavern, The Fishbowl, The Great Midwestern, The Windmill. Included in this period was the stint with Billy "I Can Help" Swan and the chance to meet a few big names in music of that era, who far from impressed him. "All the hobnobs I've ever had with the bigwigs," he said, "have been so negative. They're just narcissistic musicians not delivering. I really got tired of it."
Rick reconnected with drummer Tom Staley in Fort Lauderdale once again in 1981 to play with Chopper & the Lonestar Band, playing country hits during a brutal 9 PM to 4 AM session at a place called Club Dallas. The band was machined specifically for the two-stepping, mechanical-bull-riding set, who could recite entire scenes of dialogue from Urban Cowboy ("Whutcher name?""Cissy. Whutchurs?""Buuud."). However, it did become what Rick calls the nucleus of a new band called The Breathers, "a way of getting our rocks off musically and artistically and still try to keep The Gig," as he calls it, emphasizing the initial capital letters T and G. Several songs they recorded were released in the US as EPs on Rick's HiVariety label and in Germany on JaxPax, a label out of Hamburg. Three of them, "Coffee Table," a lovely ballad called "Don't It Make You Feel," and make-you-wanna-twist, harmony-thick "Got a Woman," appear on RickenHarper.
The sound snatches bouncy pop beats and soulful undertones back from the mid-1960s, which much New Wave did in the early 1980s. It also apparently snatched the attention of Miles Copeland of IRS Records, which was the hot label back then for bands tilted just a few inches away from the mainstream. Copeland wanted to release The Breathers' material and have them open for The Go-Gos and R.E.M. Rick was ready for it. Other members of The Breathers weren't interested.
Rick let The Breathers die.
A few years later, after work on cruise ships and in other bands, Rick and Tom Staley hooked up again to form Jangleband, which later self-destructed but not before squeezing out "I Bring Her Down," a track that appears on RickenHarper. After his house in Homestead, Florida was burglarized in 1992, in which he lost all his recording gear and instruments, Rick headed to the Caribbean. Not to write festive songs about island life or perform reggae, but to suit up in a white tux and play cover tunes aboard The Sovereign of the Seas.
In which we are told Tales of the Caribbean aboard The Sovereign of the Seas
For eighteen months during 1993 and 1994, Rick was bassist for the TNT Show Band aboard the Royal Caribbean cruise ship The Sovereign of the Seas. It was, as Rick described it, "a surreal existence. You don't spend any time at home. You're out for seven days. Leave on Saturday, come back on Saturday, and you have only five hours on shore to conduct your business.
"Every night was a different theme," he continued. "There were 40s and 50s nights, a 60s night, a country-theme night. [Each set we played] was an hour-and-a-half long Stars on 45s." Those lengthy medleys of hits wrapped up in a theme - all Beatles tunes, all Beach Boys, all James Taylor.
"We had different-colored shirts and cummerbunds each night. We were just the straightest thing on there. We were the last thing passengers would see every day. People would enjoy it and ask for your autograph."
With the TNT Show Band, Rick backed such luminaries as The Hagar Twins, Charro (famous for her overripe curves, broken accent, and signature phrase "coochy-coochy"), and Captain and Tenille.
"People pick up on these big names," he said. "They go, `Yeah, man, Harper played with Captain and Tenille.' I was only in the ship's band. They'd stick a part in front of me. I'd be playing in the balcony, their band would be down on the stage."
When he wasn't dodging his newest fans or backing the stars, Rick was in his cabin writing tunes and recording them with his porta-studio. He released a demo teaser cassette titled Boat Drill, which included the Goldfinger theme played on harmonicas. One of the selections, "Stumble Inn," co-written with Tim Krekel, appears on RickenHarper.
Rick left the ship in 1994. "Couldn't take it any more. Got into a shouting match with the Customs Officer." He returned to live and work on a horse farm in Shelby County. It was there, at the astutely named Chateau D'Bris, that he completed RickenHarper.
II. In which we encounter the Encyclopaedic RickenHarper
The critical praise has stacked up for RickenHarper, not only from local press but from indie periodicals and other media throughout the globe. Beverly Paterson of Twist and Shake in San Mateo, California, called it "sheer joy, outstripping anything you'll hear on commercial radio these days." Lord Litter's Tapedepartment Radio Show in Berlin said it is "music for people who love true natural emotion." Canada's Sound Views gushed "a keeper, a killer, an all-round CLASSIC." Locally, its tracks get regular airplay on WFPK.
The title is a play on the Rickenbacker brand of bass, right down to the imitation of the logo. "I was a Rickenbacker player forever," Rick reports, as was Paul McCartney. Entirely self-recorded and produced, almost completely self-performed, RickenHarper is a audio encyclopaedia of both a performer's career up to this point and the variety of sounds that have been mined from the history of pop and traditional music. It's also a resume of Rick's power as a songwriter.
It contains the kind of guitar-driven pop and tight harmonies the Beatles made famous in the mid 1960s, love songs about people so disparate in their personalities, a song about the Devil coming into a bar looking to score some reefer - "that red Devil with the horns on," Rick sings, not some Robert DeNiro lookalike in a suit and ponytail. There's also a spirited instrumental called "South Florida," the kind of song that makes you want to cruise along the beach with your top down and radio blasting. Plus there's a good ol' train-driving song, "Knee High to a Nehi." Throughout RickenHarper, Rick also deepens the textures of many of the tracks with harmonicas of different octaves, increasing the range of the instrumentation and giving a full, colorful sound to a low-fi recording.
In which we learn of the forthcoming H//T
Like most of RickenHarper, HØØT is another self-produced effort that, according to Rick, makes more sense because it is more of an album than a retrospective. It is also unique in that contains three songs he didn't write. One of them, "So You Say You Lost Your Baby," is to appear on a Gene Clark tribute recording. Plus, Rick emphasizes, it's only 41 minutes long.
Its origins, though, came from an influential outside source. Rick had sent a demo of "So You Say" along with a lengthy droning piece called "Mantra (Waiting for the End of these Blues)" to Dan Reed at WFPK, who played it one Thursday morning when he had Courier-Journal music writer Jeffrey Lee Puckett as a studio guest.
"I was getting over an illness and was taking massive doses of penicillin, feeling really bad." Rick recalled. "He plays this thing and in the middle he goes, `This has five minutes to go. We'll fade it here, but Rick won't mind.' I was kind of aghast that played the track. He had been playing "So You Say," but he stopped because he knew it would be on the [Gene Clark] compilation.
"He then asked Puckett if he was a RickenHarper fan. How's he gonna say no? But he said yeah, and Dan said, `I hope he puts out something new.' And I thought, aw, bloody hell."
So he rushed HØØT into production, including on it several remixes of songs he left off RickenHarper.
He hopes to release it this month. "There are people around here who like my stuff," he said. "It'll be there for them if they want to get it. It's just nice to keep my name out there."
II. In which Rick makes his feelings known and our narrative completes
In nearly 30 years as a professional musician, Rick has shown constancy in his work. He takes it seriously. To be concise: he loves to play. He is also, even at his relatively young age, one of Louisville music's senior performers. His opinions on the city's music scene are distinct and honest, based on a lifetime of playing and travelling. As for the city's mention as a Music Mecca in last April's Playboy, Rick is wary.
"It's a Mecca if you're a restaurant owner, run a music store, run a studio, or if you can make some money in the [music] retail business. I guess what it really means is that it's a great place to work a day job and try to play at night. Problem is, it depends on what kind of day job you have, and if you're too tired to do anything when you come home. But what do you do, impoverish yourself to do it full time?"
He leaned closer and spoke in a deliberately clipped tone. "Like it or not, Louisville has never been good to its artists. Never! And that's the truth."
Rick decries the decline of the Musicians Union, Local 11-637. Stating he joined it in 1970 when it was a force, not a farce. "They don't even own their building [on Bardstown Road]. They've had it since I joined the union and they're renting the front part out to a hairdresser? And musicians don't make money in this town. Drink prices have gone up, but band members still make about 40 dollars a night. If you're expected to pay taxes out of that and match Social Security, figure it out."
RickenHarper's acclaim and HØØT have apparently become a basis for Rick to plow ahead. He's currently working on some material with singer/songwriter Niki Buehrig of Newport, Kentucky, who was a backup vocalist for Kentuckian Paul K on his 1997 release L_ve Is A Gas. One song, "Cut and Run," is finished. Rick hopes to record it in a real studio. He also keeps busy starving as a freelance photographer and graphic artist. And once Bluegrass season returns, he'll be back on bass with The Cumberlands.
"I've always made money somehow," he said. "I consider myself an artist. I'm first and foremost a bass player with a minor in harmonica and a major in debt. I'm just trying to get somebody to cover one of my tracks and try to keep as much integrity about it as I can. And not be too derived."
Tags: