September 1998 Articles
Cover Story
Kevin Gibson
Features
Todd Smith
Todd Smith
Amanda Thompson
Columns
Berk Bryant
Mike Stout
Paul Moffett
Vicky Moon
Vicky Moon
Keith Clements
Tim Roberts
Muffy Junes
Laura Spalding
Henry C. Mayer
Alan Rhody
CD Reviews
Paul Moffett
Brent Starkey
Tim Roberts
Jean Metcalfe
Kevin Gibson
Jeff Kallman
Tracy Connell
Jeff Dentinger
Performance Reviews
Pete Strojny
Eddy Metal
Tim Roberts
Jean Metcalfe
Calendar
Paul Moffett
News Item
Staff
Preview
Paul Moffett
Blogs
Got Shows?
Send Them To Us
Bookmark Louisville Music News.net with these handy
social bookmarking tools:
Available RSS Feeds
- Top Picks
- Today's Music
- Editor's Blog
- Articles
Add Louisville Music News' RSS Feed to Your Yahoo!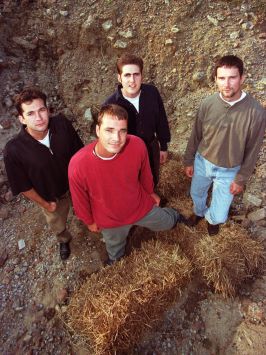 More than merely RUMORS
By Kevin Gibson
Photos by Ralph Sidway
If the Southern Indiana concoction known as the Rumors was a high school, bassist Sam Powers would be the class clown -- so it's no surprise that the band passed on his suggestion of the name Chicken Brothel when it formed four years ago. The band members also knew that Patchwork, a name suggested by drummer John Shireman, wasn't quite what they were looking for.
Finally, the name Rumors came almost by accident. "We came up with the Rumors because I was going around to the guys saying, 'Have you heard of a band called the Rumors?'" said vocalist and rhythm guitarist Rob Marlin. "They said, 'I think so.' But we could never find them.'" So they laid claim to the moniker just hours before their first gig, which happened four years ago at Sid's Tavern in Sellersburg, Ind.
"We think we've heard of ourselves," Powers wisecracked.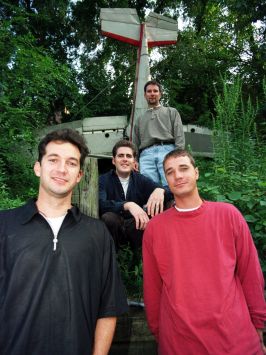 The Rumors In front a for-real crashed airplay on Lexington Road
But the truth is, the moniker fits. As a name, The Rumors is quiet but insistent, memorable but not invasive. It is simple but complex -- just like the band, whose guitar pop style is basic but effective, accessible but not hackneyed.
And there's a chance we all will hear the Rumors in the near future. These four ordinary guys (Powers is in the finance business, Shireman sells trucks, Marlin works for a law firm and lead guitarist Jon Beyl is a teacher) recently finished recording their first full-length album for Cellar Records, an indie label in Dixon, Ill. They feel good about the result; their producer, Todd Joos, the head guy at Cellar, feels confident too -- confident enough that he sent their master to a producer in Nashville and to other industry types with connections to commercial radio. He believes the Rumors are the real deal, which is why he asked them to record an album in his hometown studio after the band sent a copy of their locally-released demo ep in the mail three months ago.
Joos (pronounced like Joe's) said the six-song disc stood out above other submissions, prompting a call to Marlin. "We probably get 50 or so submissions a week," Joos said. "I get to them about once a month. Most of the time, a tape is in (the player) 15 to 20 seconds, but when I put their demo disc in, it kept me interested. It kept me listening."
Three months later, the Rumors were back to thinking up a name -- this time for the group's first nationally-released album. While Cellar is just a small Midwest label, it has a deal with V & R Distribution in Kansas for national distribution to chain stores like Musicland, Disc Jockey, Blockbuster and Best Buy. Plus, Joos, formerly an artist with Star Gem Records (a division of Warner Bros.) who in the mid-80s had two hot 100 country singles, has contacts in the business that can get the Rumors to the next level. He intends to do just that.
"I think there are people who listen to country who would listen to this, and I think there are people who listen to rock who would listen to this," Joos said. "And I think the age range (of potential listeners) is pretty broad."
MOVING UP
It was the strength of the songs on ep that stood out to Joos.
Songwriting was part of the maturing process for this band that started out playing in a pole barn in Lanesville, Ind. Back then they merely practiced cover tunes and learned to play together. Marlin and Shireman had been in a band called Broken Strings, while Powers and lead guitarist Jon Beyl were playing with a group known as Floodwall. When two members of Floodwall left the band, Beyl called Marlin, then an acquaintance. Marlin agreed to join as long as Shireman came on board as the drummer. The Rumors began. For almost a year, they practiced and played taverns, churning out cover tunes of pop music from the '60s to the '80s. But there was a creative core in each of them that pointed to something more.
Marlin, 26, comes from a long line of musicians -- his father, Robert "Bots" Marlin, is part of the longtime, nationally-known act and local legends the Marlins. Rob Marlin therefore grew up with music, learning to play a little piano at a young age and eventually taking up guitar. Dull nights in the Marlin household and even Marlin family reunions meant that everyone gravitated toward the numerous interments around the house. "I guess we Marlins were just really bored as children," Rob joked.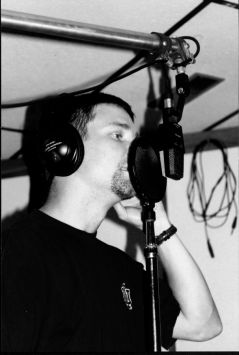 Rob Marlin, vocals
Shireman began playing drums mostly because everyone else around him had a guitar in hand. After high school, he spent a few years writing songs with Marlin, and found it rewarding. "When Rob and I started writing together," the Louisville resident said, "I knew we had something going."
Powers, who is branch manager for Personal Finance in New Albany, took up guitar thanks to his father's influence, he said, "but it didn't really take." He later joined Floodwall on bass for what was to be one gig, and it turned into several. He befriended Beyl, who teaches first grade at Sacred Heart school in Jeffersonville, and when Floodwall broke up, they went in search of potential bandmates.
For a while it was all covers, all the time, but now the Rumors were slowly and deliberately pulling away from their reputation as a hard-working cover band. Not that the band doesn't appreciate its roots -- for a while, Powers and Beyl didn't even hold full-time jobs because of the money the band was pulling in -- but the need to create its own music has turned the group in a new direction.
Well, new in a collective sense, at least. They've always written originals, and many Rumors songs are older than the band. Marlin composed a couple of current Rumors tunes ("Don't Matter" and "All I Want," which appear on the band's forthcoming album) three years before the Rumors started. Another song that was recorded by the band as a demo, "The Hardest Days," was written by Powers and Beyl during the Floodwall era. Yet another song re-recorded for the new album was Powers' "On My Way." Shireman chipped in with "Sacrifice," also on the new full-length release (which, as of this writing, remains untitled), and "Nashville Song" is a Marlin-Powers creation.
None of the Rumors' songs are true band collaborations.
"One of us writes a song almost to the finished point, then takes it to the band for another opinion," Marlin said. He believes this is helpful in weeding out mediocre efforts. He theorizes that if a song is introduced at a practice session, and the other band members ask to play it again during the next session, that is evidence it has a chance to be a keeper.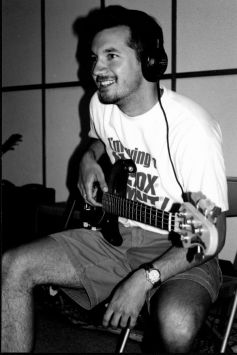 Sam Powers, bass
Besides, Powers said, "with our time constraints, it's been hard for us to collaborate."
Between playing gigs every weekend, not to mention working 40 hours a week like the rest of America (Beyl is now back at school bringing knowledge to the first grade), Powers' statement is right on the money -- the Rumors barely have time to practice. Or sleep, for that matter.
But the new recording has the Rumors re-energized and looking forward to bigger and better things. With Joos' help, they may just achieve those goals.
DOWN IN THE CELLAR
Marlin, Beyl, Shireman and Powers spent about a week together in Dixon, Ill., where Cellar Records is located. After long days in the studio, they found whatever entertainment they could in a town that easily could pass for Mayberry. If not for bowling alleys, batting cages and the town's lone Mexican restaurant, they all might have gone mad.
But in the studio, they were focused. Three days into the process, the drum and bass tracks were down, as were the rhythm guitar tracks. On Saturday, Aug. 8, Marlin stepped up to the microphone to record lead vocals while the rest of the band, the producer and a few other spectators looked on.
Marlin made his way through the 12 songs by the end of the day; by that time, the tunes were beginning to sound nearly complete. He double-tracked (recorded one vocal on top of another) the lead on "All I Want," and pretty much flew through the list to reinforce his nickname of "One-Take Rob." He saved "Sacrifice" for last, because of a vocal part that is almost -- but not quite -- out of his range. He nailed it in one take, then double-tracked it, and anyone who hears the finished product will have no clue that he had dreaded it all afternoon.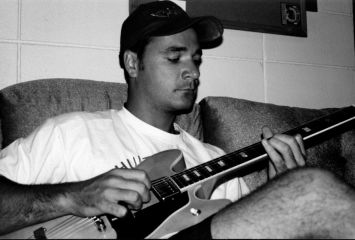 John Beyl, guitar
"That was the tightest double-track I've ever heard," said a Cellar employee after Marlin finished.
"Don't ever write anything that high again," Marlin playfully snapped at Shireman during recording of the song.
Marlin also recorded his own harmonies, a job that falls to Powers when the band plays live. The next day, Beyl completed his lead guitar recordings, and Joos then brought in another musician to thicken the sound with a Hammond organ.
Sure, the experience of recording for a week straight was tiring -- "It'll wear you out," Powers said -- but all in all, the band agreed, there were few stumbling blocks. Perhaps toughest was the constant need for precision.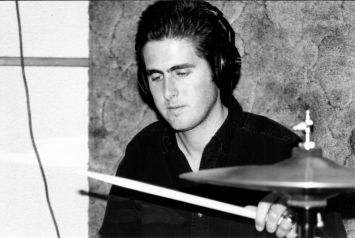 John Shireman, drums
"Any imperfection comes out," Beyl said, and Marlin agreed that while a glitch during a live performance usually goes unnoticed, there are no such safety nets in a recording studio.
"It's like playing under a microscope," Marlin said. "The tape doesn't lie."
The early sessions perhaps were a little tougher, because it was up to Shireman and Powers to provide the framework for the songs. Without complete accompaniment, that can be challenging, Shireman said.
"We started with 'Seven Years.' It was the first track we laid down, and it's basically a more complex structure than our other songs," the drummer said. "Without a vocal it was tough to get through."
True to form, the finished version came out far superior to the one recorded for ep. And Joos' presence, because of his experience as an artist and a producer, was invaluable.
"It was almost like having an extra member in the band," Beyl said.
"It was refreshing to him to have a band open to suggestions," Marlin added, "and it was refreshing to us to have someone make suggestions."
Joos wouldn't go so far as to say he could take the Rumors to the big-time, but when talking to Louisville Music News in August, his usual quiet demeanor revealed that he is at least cautiously optimistic. He did say he believes fans of Counting Crows, the Wallflowers and the Gin Blossoms will like the Rumors.
"I think that if you've got strong songs, there's always a market for it," Joos said. "One of the things about their material is that out of an album's worth, they have six or seven songs that are really strong."
But Marlin confessed that once the recording was done, Joos told the band with uncharacteristic enthusiasm that the band's ticket to a major-label deal is the song "One More Chance" (the original version of which has been played on local radio -- even the FM country station WHKW). Marlin and his bandmates were surprised, but obviously happy to hear it.
The band consensus is that the quickness and success of the recording process can be attributed to better knowledge of the material this time around. "I think we put more thought into it this time," Beyl said.
Shireman agreed. "We were better prepared." Speaking of the crisp-sounding but far inferior recordings on ep, he said, "It wasn't the fact that we were green as far as recording, we just didn't have time to go over those songs."
Experience doesn't hurt, as Marlin pointed out. "We've played live more than 500 times. At four hours a show, that's over 2,000 hours we've spent playing together. We can lay rhythm tracks down fast. Todd said he can tell which bands play live a lot."
This time the songs were written and in their final forms well in advance, and that allowed the band to be more familiar with them and how they wanted the tunes to sound. Credit Joos for helping the band to realize those goals. He told the band "One More Chance" was probably the best song ever recorded in the Cellar studio.
"He knows both ends (of the music business), so that's a pretty good feeling," Beyl said.
It's especially good for a group of guys who didn't start playing music until they were in high school. Marlin calls everyone in the band "late bloomers," at least from a musical perspective.
"My dad was playing drums professionally at 11," he said. "I didn't know how to do anything at 11."
Nevertheless, he said, "songwriting was in the back of my head as soon as I picked up a guitar."
THE SHAPE OF THINGS TO COME
The Rumors realize it won't be easy to shake their reputation as a cover band. (Even at their gig at Headliners Music Hall on August 14, which was booked as all-original, they were asked to do a cover set to fill time before the next band.) But they are moving in that direction.
"We're trying to wean ourselves off the money," Beyl said.
And he means more than just spending-money. The good-paying gigs the band gets so frequently at clubs where they play classic rock and '80s pop tunes has provided them the opportunity to become an originals band.
"We're not considered a full-fledged original group," Marlin said, "but we keep going out and making money and putting it into the original stuff."
But among other problems, the band has had trouble finding other bands to share a bill with. There aren't too many guitar-pop bands in Louisville. And the lack of venues for original bands has been well publicized. The fall of Butchertown Pub, which until Headliners was the only place that would let the Rumors play an all-original set, put an enormous dent in the band's opportunities to promote its own music. Marlin has pledged that it won't stop them.
"If we're running into brick walls in Louisville, there are places in Cincinnati and Bloomington and Lexington and Indianapolis," he said. "We've got access to a national distribution chain and a guy that can make that happen for us.
"It's the chicken-or-the-egg thing. Our music is radio-ready. We'd like to capitalize and use the radio to get some shows for us. We'd like to get the radio to introduce us to some people and then slip in and do a show (out of town)."
"We're looking forward to getting a second originals set worked up in a couple of months," Beyl said, noting that it would allow them to headline at venues where until now they had to settle for an opening set -- or none at all.
That way, they would be ready if the fantasy became reality and Joos found a national market or even a major-label deal for the band. And they all agree it isn't rock stardom they want, just a chance to make a living playing music.
"We're at the point now," Beyl said, "where if Todd gets us something ... it's not going to take a whole lot of money. We've just started our careers, so I think we would all quit our jobs."
(Although, asked about his finance job, Powers smiled and said, "I'll probably keep doing it until we make our first mil.")
Undeterred by his bandmate's flippancy, Marlin reasoned that "it would be a lot easier to leave a job at 26 than it would be at 40. We're not that tied down at this point."
The missing element remains in actually getting the good break, and of course making the right decisions when and if it happens. Marlin said all of the band members understand that music is a business, so they believe any commercial success that might come their way would be kept in perspective.
In a rare serious moment, Powers summed it up this way: "Our thing has always been to open the next door and see what's there. We haven't been real conservative in our decisions, but I think we've been realistic about them. We're just looking to keep producing good music."
Spoken like a true finance manager.
"He does have serious moments," Marlin explained. "You just have to wait for them."
Tags: