December 1997 Articles
Cover Story
Kevin Gibson
Features
Paul Moffett
Columns
Berk Bryant
Decimus Rock
Mike Stout
Paul Moffett
Joshua D. Smith
Vicky Moon
Vicky Moon
Keith Clements
Tim Roberts
Laura Spalding
Henry C. Mayer
Jimmy Brown
CD Reviews
Brent Starkey
Vicky Moon
Jean Metcalfe
Vicky Moon
Brent Starkey
Jean Metcalfe
Tim Roberts
Keith Henry Brown
Vicky Moon
Brent Starkey
Brent Starkey
Brent Starkey
Joshua D. Smith
Tim Roberts
Performance Reviews
Tim Roberts
Tim Roberts
Vicky Moon
Vicky Moon
Henry C. Mayer
Calendar
Paul Moffett
Blogs
Got Shows?
Send Them To Us
Bookmark Louisville Music News.net with these handy
social bookmarking tools:
Available RSS Feeds
- Top Picks
- Today's Music
- Editor's Blog
- Articles
Add Louisville Music News' RSS Feed to Your Yahoo!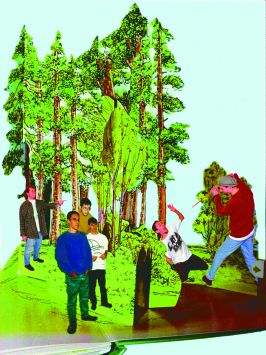 100 Acre Wood may be sprouting at the right time
By Kevin Gibson
Bring up the Louisville music scene around 100 Acre Wood and you'll get a number of theories and opinions on who supports local music, who doesn't and why.
You'll probably hear about the recent success of Days of the New, a band signed after their performance at the 1996 Harvest Showcase, and what effect it has had on other Louisville bands.
You also might get into an argument.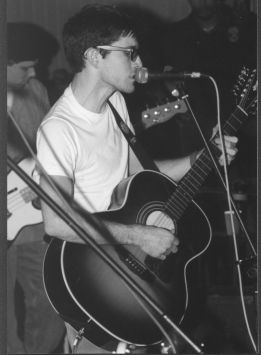 Paul Moeller
One band member might argue that a burgeoning Louisville scene will encourage stereotypes and will, in the long run, hurt bands who don't fit into a certain category — like Seattle in the early 1990s, for instance.
Another could argue that for a band like Days of the New to be signed can only help other Louisville bands, no matter what genre — or non-genre — of music they might be playing.
Paul Moeller, 100 Acre Wood's chief songwriter and vocalist, said he read recently in a travel guide published in Spin magazine that Louisville is the next up-and-coming music scene. Better late than never, in other words, for a town that long has been thought devoid of any musical scene whatsoever.
Remember R.E.M. in 1989? They started their US. tour here because, in the paraphrased words of one of the band members and to the dismay of many Louisvillians, it could only get better.
And Moeller recalled a Mark Twain quotation (also paraphrased) that came long before R.E.M.: "When the world ends I want to be in Louisville, because it always takes 20 years for anything to get there."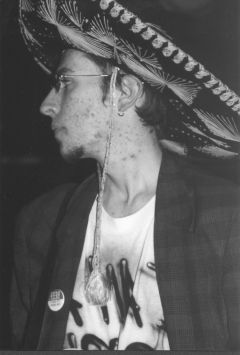 Nate Thumas
It took 100 Acre Wood roughly three-and-a-half years to arrive, but they're here. An album recorded in guitarist Rich Oeffinger's basement, titled Fall and released only on cassette, gave way to a low-budget CD titled Xylophogus that was named through a contest among the fans and horribly mispronounced by Derrick Jones on the WAVE-TV morning show.
So after gigging around the River City and getting almost nowhere — too many of the venues who welcome original music go out of business — 100 Acre Wood decided it was time to record a demo-quality CD and pitch it to a larger audience. It was their stab at becoming more than just a bar band; lesser bands have split up in the face of the frustration they've suffered in a town filled with venues that will hire only a band who can play "Mony Money" and "Brown-Eyed Girl," but 100 Acre Wood wanted more.
They might just get it. Following the 1997 Harvest Showcase in October, the band suddenly has been noticed by more than just the handful of local venues that appreciate their art, and they've even caught the attention of a broader audience that could take them to the next level.
(Through much begging, the band was convincing in their plea to not name any potential music label that might or might not be looking at them. Interest does not necessarily mean a recording contract, they argued, and they don't want to spread information that may be nothing more than speculation.)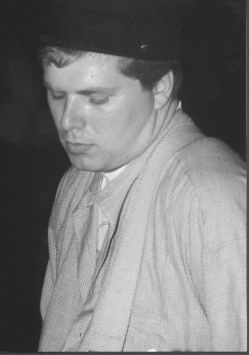 Ben Schneider
If a recording career is forthcoming, however, 100 Acre Wood will have not only achieved its goal and its dream, but the band will also go a long way toward helping along an often-criticized music scene that by many accounts is on its way up. And it will also have helped to stifle a potential stereotyping of Louisville as the next Seattle.
"Days of the New are being marketed as a huge, Pearl Jam type band," 100 Acre Wood bassist Ben Schneider said.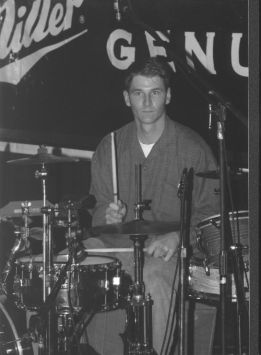 Mark Book
However, 100 Acre Wood's sound is more difficult, perhaps impossible, to access through comparison to any other band. Guitarist Rich Oeffinger is a blues man from the word "go"; Moeller and fellow vocalist/rhythm guitarist Nate Thumas follow a folksy, artistic star; Schneider's training was in jazz; violinist John Shiner's background is in classical music, and the roots of drummer Mark Book's influences were planted in Liverpool in roughly 1962.
"Our sound is always changing," Thumas said. "All of us are influenced by different things."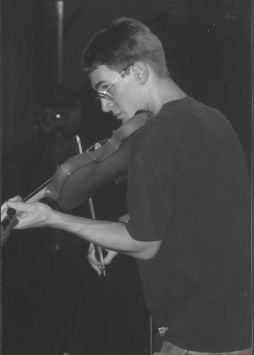 Hohn Shiner
"That's what's good about Louisville: You can do your own thing," Moeller added.
Hold on. This is a band who has been virtually ignored by Phoenix Hill Tavern, one of the city's most recognized music venues. 100 Acre Wood has played small-town festivals, coffee houses, even frat parties, but their big appearance at the Hill was a gig opening for A Flock of Seagulls, hardly a resume booster for a band that has never counted a synthesizer among its tools of the trade.
The band credits a number of venues that have stepped forward to support them even when other clubs were in search of every group that could nail that Van Morrison tune just right.
Among those venues are Kiwi's and Twice-Told Coffeehouse on Bardstown Road, the recently-opened Four Brick Walls coffeehouse in Clarksville, the now-closed Hemispheres on Baxter Avenue and, most of all, The Rudyard Kipling on Oak Street downtown.
"We've got their picture up (on the wall) whether they're playing or not," Ken Pyle, owner and operator of The Rudyard Kipling, said of 100 Acre Wood. "They're the nicest people you could ever meet, and their music is a lot of fun. They're good musicians. They can do anything from bluegrass to blues to rock 'n' roll."
"Ken is one of those guys who really believes in us," Schneider said. "If it wasn't for him, I don't know where we'd be."
"The best place to see us in this town is The Rudyard Kipling," Book added.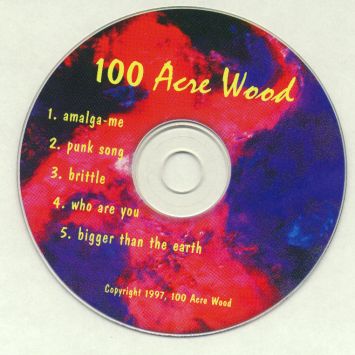 Thumas agreed. "I'd rather have a packed Rudyard than a half-empty Freedom Hall."
Here's how far the support goes from the Rud: Book held his wedding rehearsal dinner there; Oeffinger's wedding reception was held there.
And Pyle, like many other Louisvillians, believes 100 Acre Wood has the talent it takes to get to that hard-to-reach next level. He bases that opinion partly in the following the band has developed over the last three years.
"I used to be the only one that would be up there dancing," he said. "Now everybody's up there."
There is evidence to support Pyle's belief. The band apparently made an impression with its recent, self-titled CD. Five songs long, the disc didn't match Xylophogus in length because the band preferred to record five good songs with a quality sound that could serve as a demo.
"We did the first two projects just to get the music down," Schneider said. "With this one, we wanted to focus on making it sound industry standard."
The songs were recorded at Ramcat studios — whose engineers, Book said, "did a bang-up job" — then Oeffinger and Thumas took it to Atlanta to be mastered.
The band credits Ramcat and the mastering work done in Georgia for the CD's success — it spent five weeks in the top five sales list at Ear X-tacy.
"I can throw down a heap of noodles on a plate and say 'Here's your noodles,'" Shiner said, "but what the chef does ..."
And they've shipped copies of that CD off to any and every label or venue who showed even a slight interest, and even some who didn't.
Oeffinger pointed out that for most of the band's collective life marketing was the weak point. But they recently decided that no one was going to walk up to them and offer them a contract or a plum gig. They had to spread the word on their own.
From that perspective, the Harvest Showcase was invaluable, as is the ongoing Miller Genuine Draft Showcase at, of all places, the Toy Tiger. The Tiger has long been considered a place for metal heads to meet and listen to ear-splitting rock ... right after the female mud wrestling contest was finished.
But general manager Perry Scroggin, himself a drummer in former Toy Tiger mainstay Fire Department, has spent the last couple of years trying to promote local bands and at the same time help the club shed its negative image. Scroggin has brought in national alternative and pop-rock acts like The Smithereens and has helped local bands of all genres to get their music heard.
The band showcase going on now has the support of not only LRS 102 but nearly every local music store and is being judged by locals in various areas of the music business. The winning band gets a Miller Genuine Draft sponsorship for promotional material, a management contract with Wild Justice out of New York, and the top three bands get demos to be recorded at Allen-Martin studios.
Bands like 100 Acre Wood are eternally grateful.
"If we could win this, thing it would be a coup," Oeffinger said.
"It would be a beautiful thing for Louisville," added Book.
"And for music in general," Oeffinger finished.
To promote original, Louisville-grown music is also Scroggin's goal with this contest. And he believes in 100 Acre Wood as much as he does any band — including the rapidly rising Days of the New, whose manager Gary Meeks helped to get the showcase off the ground.
"I would love to see three, four, five or six more bands (from Louisville) get signed, and in my vision 100 Acre Wood in the next year are going to have a record deal," Scroggin said. "There's no doubt in my mind whatsoever.
"They're great people, they've all got the same focus; good things are going to happen to those guys. I think they're going to open up new doors for every band in this area."
If you listen closely, you can hear the sound of every member of 100 Acre Wood blushing simultaneously.
Seriously, this is a band that has confidence in its abilities, but most of all believes in its purpose. Bottom line, the purpose from day one was not to reach a certain audience or to make money or to become rock stars, but to make good music.
"We've never made a dollar off this band," Book said, noting that all the money the band earns from its gigs goes back into the band for equipment, promotion or making payments on production cost of the new CD.
For this group, music is the only payoff. For instance, the band points out that, like most other bands, 100 Acre Wood feeds on the audience's reception to the band's songs and live performance.
"If we give and the audience takes and then we give more back, it just gets bigger and bigger and bigger," Shiner said.
"We kind of rise to the occasion," Moeller agreed.
And Oeffinger concluded, "It's like shooting a laser beam against a piece of glass."
The band has a way to measure if the show was a success, and it's not about how many people show up or how many get up and dance or even how they sound on any particular night.
"It's been a good night if Mark's butt is sweaty," Schneider said.
They're serious about that, or at least as serious as they can be. The point is, sometimes it's better to be lucky than good.
"We don't know what the hell we're doing," Schneider said.
"But apparently we're good at it," Thumas said.
And this is where the conversation again went awry. Moeller concluded that, "Penicillin was an accident; so are we."
That's another selling point of 100 Acre Wood: its sense of humor. This is a band that will poke fun at hard rock with its signature "Heavy Metal Moment," will perform the Darth Vader-Luke Skywalker confrontation from "The Empire Strikes Back" entirely in German and will fling toys into the audience, all in between playing thoughtful, inventive, intelligent and, above all, original songs.
The only cover they do, besides an occasional tongue-in-cheek rendition of the TV theme "Green Acres," is the Beatles' "Tax Man," and then only to have a little fun.
Even at that, their version of the classic Beatles tune is hardly the same as when Lennon and McCartney played it.
Schneider recalls that when the band first formed they planned to rotate different Beatles tunes into their shows as the only cover in their sets. The first one, "She's So Heavy," was so radically changed by the band that people at the shows thought it was an original song.
While they make no claim to being the next Beatles, the unofficial band motto — and this is another argument-starter — goes something like this: "We're not as good as Lennon, but we're less dead."
Whatever. If they're as good as Lennon or as bad, there is a crossroads ahead for 100 Acre Wood, and once the path is decided there may be no going back. Common wisdom says that a band gets just one chance to make it, and if that chance passes by that's the end.
Some are doomed to play local venues forever, while some rocket to some other destiny, or at least get a shot at getting onto the launching pad.
Meanwhile, 100 Acre Wood's six members will keep their day jobs, spend most of their free time helping the band along, and hope for the best.
And their professions are as eclectic as their musical roots. Book sells truck equipment; Thumas works at a coffee shop, while Shiner waits tables and Moeller is a cook; Oeffinger works in a bookstore, and Schneider is a reporter for a southern Indiana newspaper.
"Between us," Schneider said, "we'll always have transportation, something to eat, and something to read."
It's all part of paying dues, and if paving the way for not only themselves but other Louisville bands as well is part of that process, then so be it.
Interestingly, Days of the New had little experience playing live shows until it scored a recording contract. The members of the band spent most of their time practicing in a basement until the ball got rolling. It's an unorthodox way of paying dues, but it worked. As 100 Acre Wood well knows, there are only so many dues-paying clubs in Louisville if you don't know all the chords and changes to "Brown-Eyed Girl."
"At first, I was upset that Days of the New didn't pay their dues, so to speak," Schneider said. "But then I thought, 'Where COULD they pay their dues?' I think (their recording contract) is a beautiful thing."
Schneider said he believes there is a large market for original music in Louisville, and that it's up to the bands to entice those music enthusiasts to attend the shows.
That's a lesson 100 Acre Wood has learned. When they were chosen to participate in the Miller Genuine Draft Showcase, they were given tickets to either give away or sell, and they beat down doors for everyone they knew — and some they didn't know — in order to get a good crowd to the Toy Tiger to hear their set. The crowd reaction is part of the judging of this contest, and they took advantage.
They even promised one University of Louisville fraternity that follows the band that if 40 or more members showed up they would earn a free show for the fraternity. The frat brought a crowd all right, and 100 Acre Wood plans to keep its word.
But that fraternity had better hurry. Since the new CD came out, WFPL has played "Just Like You," a cut from the album, and the band has made appearances on WAVE-TV and WHAS-TV, WTFX The Fox radio and even on a public access television show. A little publicity never hurt.
"It's not as if we're the most popular kids in the neighborhood," Oeffinger analogized. "We've just been there long enough that everybody knows us."
"Our kung fu is good here," Thumas said.
That's saying something in a town with as much musical talent as Louisville.
"This town is brimming with talent," Shiner said.
"We've been able to find people we can play together with well," Schneider said. "We're not the best players in the world, but we do play well together."
Added Oeffinger, "I think the primary reason we've done as well as we have is because we've stayed together so long."
With no financial rewards and few places to play, that's also saying something.
"Original bands have it even tougher than bands playing cover material," Scroggin said, "because there's no place to play and there's no place to make money.
"If we can generate some electricity and get the record industry people into this city, this town is going to light up and everyone will benefit from it. I think it's endless what we can create here."
Days of the New may have started something, and 100 Acre Wood would be pleased to help carry the torch.
As Book pointed out during a recent band discussion, "They could help Louisville get on the map. The feeling is that the s**t's going to hit the fan. If you're a local band, the days of going to Nashville or L.A. to make it might be gone."
"We're just riding on a wave," Moeller agreed.
And all it took was three-plus years of paying dues, sticking together even during the arguments, and keeping the focus on the music.
Oh, and a good sense of humor.
"More or less, it's been like a cat trying to climb up a mirror," Oeffinger said.
"It hasn't been all that tough," Book said. "Three and a half years went by like that. When we were jamming in Rich's basement making that first album seems like just yesterday."
"It was yesterday," Oeffinger deadpanned.
Book's eyebrows raised. "Oh, that's why it seems so recent."
Tags: