November 1997 Articles
Cover Story
Cindy Lamb
Columns
Berk Bryant
Decimus Rock
Mike Stout
Paul Moffett
Vicky Moon
Vicky Moon
Keith Clements
Tim Roberts
Laura Spalding
Henry C. Mayer
Alan Rhody
CD Reviews
Bob Bahr
Bob Bahr
Tim Roberts
Kory Wilcoxson
Bob Bahr
Barney Quick
Performance Reviews
Paul Moffett
Wally Stewart
Jean Metcalfe
Henry C. Mayer
Interviews
Laura Spalding
Calendar
Paul Moffett
Bookmark Louisville Music News.net with these handy
social bookmarking tools:
Available RSS Feeds
- Top Picks
- Today's Music
- Editor's Blog
- Articles
Add Louisville Music News' RSS Feed to Your Yahoo!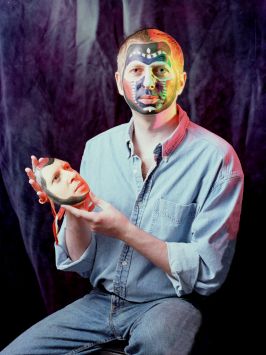 Dan Gediman
Online and Off Center With Dan Gediman
Cindy Lamb Gets the Chat's Worth From Louisville's Renaissance Guy
By Cindy Lamb
Photos by Hunt Sidway, art by Diana Klem
Songwriter, prolific to the power of 10, friendly - if not cuddly - to the nth degree. Add multiple radio documentary awards as well as the ability to engage in conversation for infinity.
With this overwhelming mathematical equation we get Dan Gediman. When his debut CD I'm Trying gets christened with caffeine November 22 at theTwice Told Coffeehouse, yet another stage will be set for this evolving artist.
I was a late bloomer in the world of Dan the musician. I was already aware of his extensive coverage on sexual child abuse via National Public Radio and involvement with the Louisville music scene. It wasn't until I pored over his formal resume, that I realized we'd all been living and playing next door to a renaissance guy. From Production Director at the pre-Radio partnership WFPL/WFPK in the mid-eighties, cranking out NPR jazz profiles, dramatic anthologies and documentaries from cybersex to multiple personality disorder were proof Gediman's ambitious range.
Finally, one chilly spring night during a cats 'n' dogs rainstorm, I met Dan Gediman at a Twice Told appearance of the Mindreels. When he turned to shake my hand, his expression changed from a smile to a big, sorrowful question mark. He immediately assessed my health crisis and provided me with several Fisherman's Friend lozenges and two bags of herbal tea, out of the guitar case, from right next to the bronze-wound strings.
This has nothing and everything to do with local music - it was simply one of those moments. Over a year later I would quote Bryan Hurst as saying, "I have a kindred spirit with Dan Gediman - and I'm not sure if that's a good thing." A sympathetic slap in the face to both gentlemen, Hurst and Gediman made much good music as Core of Resistance in the late, great 80s local alternative days. True, the affable Gediman is the person most likely to raise a roll of Mentos, flick one into his mouth and dash off a precociously smart project. Over the years, we'd been reading/listening to each other for quite some time and never shook hands. Now that I had, it occurred to me that I have a lot of questions for Dan, a Dayton transplant, about music - his, as well as his take on others.
I didn't take the sage advice from Courier-Journal Pop Music Czar and should have. I told him that one conversation with Dan lasted over two hours. His response was "Oh, so I see you only asked him one question." Therefore, in the near talent-less editorial spirit of the Q&A style inter view, I'm publishing the results of several telephone conversations between Seattle and Louisville during the month of September. Dan was in the process of running his radio production company, Milestone Productions, being an outreach consultant on public and network programming and mixing his laser debut on the Ear X-tacy label. I was in the process of getting used to the idea of 40 inches of rain per year and waiting for the dulcet AOL tone…" you have MAIL!"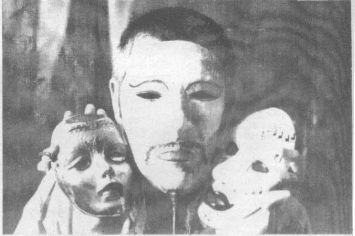 What's your niche in music these days?
"All artists are supposed to have a handy phrase to describe themselves. I've never been able to find a good phrase, .especially lately. A total stranger came up to me and asked about the set they were about to hear, and I said well, its original music, instrumentation-wise, guitar, dobro, fiddle… they said, 'Oh, like a string band!' I said no it's like rock n roll…'
"Hey, what are you going to do? If you can find just one description they can immediately grasp, they'll stick with you instead of '…like, kinda like, sounds like…" There are times I dearly wish I could say I'm a blues guy, a folky, a contemporary Christian, whatever. If you have a phrase, it helps a lot."
It seems that the charts have more categories in them than songs.
A perfect example, in a way, are women songwriters in the past year. At first, [while] a handful of women [have been] opening doors, guys especially have been disdainful of women artists. Now, people are evaluating things…like, 'Who's the next woman I can book or get for my label?'"
So here you are in 1997 without a set of ovaries…
"I was talking to my friend and I said, 'Help me, you're a literate guy…' What is it that I do? He said 'You're in luck - there's a new genre called Americana - it's catch all, hip and you're' right in the middle of it.'"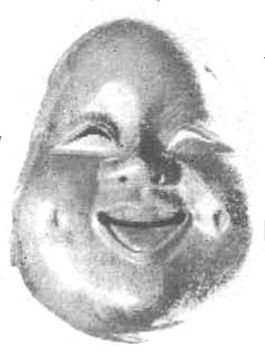 Well, what's your take on the missing testosterone thing?
"Other songwriters usually get what I do and it's been consistent for about fiftenn years or so. When packing up after a show, if I'm playing with hot guitar player, then guys come up, go over the equipment.
"Female fans are certainly different. I was at Twice Told doing this incredibly un-sexy thing, making a database for my mailing list, and I discovered about two-thirds are women. Is it only females who put names on a mailing list? Women are more likely to buy acoustic music - the rockier stuff appeals to guys. Women are possibly more likely to be going out to places I play, like Twice Told. In some respects, I would expect women less apt to give out their addresses."
You seem to be the sensitive man around town.
"Yeah, maybe so but Alan Alda ruined the genre."
What arrangement are you working on now?
"I'm gearing up, auditioning drummer and starting in clubs again in an electric setting. I'm sure it'll be a lot different crowd, apart from the coffeehouses. I recently stuck my toe in the bar water again. There's less of an interest in acoustic music, unless, you're the classic lounge thing. I don't disdain that, I don't put down any other working profession - I've just tried very hard not to go that route."
Like when everyone calls out FREEEEE BIRD as a joke?
"It used to not be, you know. I got a wild hair and played the Hideaway. I had been consumed with my radio work, trying not to start projects and not finish. I just thought it was time to take songwriting out more. We barnstormed with tapes, etc. The Hideaway was easy, they didn't want a tape because they knew I was playing with Jimmy Brown.
"That first night, just the archetypal bar scene, these guys were expressive in their inebriated joy and they piped up and said, 'What do you guys do? Blues?' We said, 'Well, some.' 'Molly Hatchet?' they came back. 'Seger?…Petty?' I'm starting to notice they only used last names.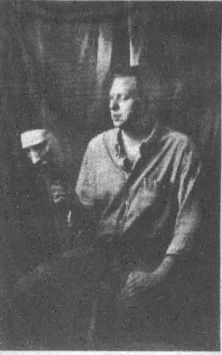 "I told them to stick around, they might like some of the things we have. We did mostly originals and I had a few things that were rocky and upbeat. Finally, one of the fellows came up and said 'How about Creedence??' It was so ghostly!
"I have a small repartee for the human jukebox, my brain's on and my fingers know where to go. I know one and a half verses of most every song. I launched into a miniaturized version of "Fortunate Son." Nick Reifsteck has been playing with us a little and we were starting to cook. We did "Proud Mary," "Born To Be Wild," "Magic Carpet Ride."
"Then, in that same archetypal bar moment, one of the guys came up and said, 'BTO.' I'm a closet fan of BTO, so I did "Takin' Care of Business." This is probably heresy to mention but I've never seen a woman launch into "Takin' Care of Business…." Hmm. Anyway, the problem with that is it's hard to get back into original material. It's not easy."
Everybody has 'guilty pleasure' songs, Tommy Roe and the Cowsills are big for me… what are yours?
I have kind of a rock and roll 'ham' side to me. I can do borderline, wacky rock and roll stuff. I had a band up in Dayton called Victoria's Secret. I'd sing bubblegum, top 40 hits. 'Spirit In the Sky'…oh, man, I was destroyed when Bananarama did a cover of it! 'Green Tambourine,' 'Incense and Peppermints'… Every time I do a cover, there's a big band that does a horrible cover. Secretly, I want to do "Hot Child In the City" and "Little Willy."
What are the five reasons you moved to Louisville after school at Antioch?
"1. I was intrigued by the lights, the arrows and Bardstown Road. I had never seen a town with lights telling you which lane to drive in at different times of the day. Insane. 2. The Louisville Orchestra - I had been a classical music major, studying composition and the orchestra had a sterling reputation nationally. 3. Cherokee Park 4. Jimmy Brown's Guitar Emporium - everyone always told me I had to see it. 5. Tewligans. I fell in love from the fist moment I walked in. everything, even the bathroom. The mixed clientele, biker guys and jocks then cleared away at night for the punks. I was at Wednesday Night Open Stage every week for a couple of years."
Are you a melancholic?
"Virginia and I went through lists of songs to do…she looked up and said, 'They're all ballads…don't you have anything more upbeat??'
"There's nothing wrong with a band that does a lot of ballads. Look at the Cowboy Junkies, they've made a career of it. I write two types of songs: slow, melancholy ballads, up tempo rockers."
All purpose fave.
"When I die, I would like to come back as a Hoodoo Guru. Their garage songs were captured perfectly. They really pay homage to that…time. Songs that remind you of something but you don't know what… It's something that I've accidentally done in the past. One of the most innocent moments in pop history is that George Harrison puts out "My Sweet Lord" and doesn't remember that it reminds him of "He's So Fine." Chuck Berry sued John Lennon over "Come Together." Actually, I was pretty nervous over one of the best things I've ever written, "Endless Solutions." I've implored people, 'If you think this sounds like something you've heard, tell me!' Thank goodness no one's come up with anything yet. I worry that "Endless Solutions" sounds like Tom Petty or Loudon Wainright!!
"That reminds me, Patty Griffin sounds like female Louden Wainwright!"
Doesn't that create tension while writing?
"These are Neil Young's rules and I try to follow them. Finish your song. Don't worry if it sounds like something else."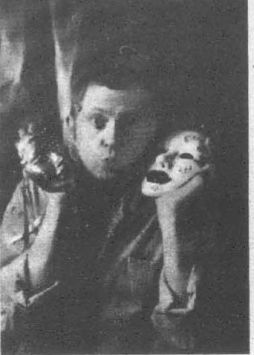 Tiger Beat Question…what's in the deck/CD player/turntable these days?
"Well, let's see, in the little bin I keep my "now playing" CDs in by my CD player in the kitchen (where I do most of my listening while cooking), I have the following:
"Hank Williams, Low Down Blues; Steve Earle, Guitar Town; Wilco, Being There; Steely Dan, Aja; Yo La Tengo, Painful; Yo La Tengo, I Can Hear the Heart Beating As One; Neil Young, Broken Arrow; Hoodoo Gurus, Blue Cave; John Hiatt, Little Head; Sourmash, compilation CD of Louisville bands; Palace Music. Viva Last Blues; Paul K, Love is a Gas; John Prine, Lost Dogs and Mixed Blessings; Galaxie 500, Today; Tobin Sprout, Carnival Boy; Guided By Voices, Under the Bushes Under the Stars; Son Volt, Straightaways; The Swinging Steaks, Bare.
Remember the Chills' song that included the phrase, "It's a heavenly pop hit, if anyone wants it."? Are you writing for pop hooks or do any other genres tempt you?
The most orgasmic Van Morrison cover - and I remember exactly where I was - driving from Dayton to Louisville. It took me 'til the 80s to hear it:
"It's All Over Now, Baby Blue." I heard it again recently and was struck all over again. I used to be apologetic for being, in essence, a pop writer. I still get such a charge out of it. If it doesn't have a hook, then I don't get into it."
Since you returned to Tewligans open stage night in 1984 till now, what are the most noticeable changes in the Louisville music scene?
"1) More places to play (in 1984, there was really only Tewligans if you played your own stuff)
"2) Radio support - first the late Q2's local music show, which played my Nadine stuff pretty often for a while, then WFPK.
"3) Media support - Leo and the Louisville Music News have really aided local musicians by writing more extensively about local music than the CJ seemed to have room for, though both Ronni Lundy and Jeff Puckett have done superlative jobs, I thought, with the space available to them.
"4) Ear X-tacy really gave the local music retailing scene an important shot in the arm and opened the door up, I think, to other local stores handling local product without grousing, though it must be said that circa 1987, I had no problem getting my tapes into several local non-chain stores especially Better Days."
If a label's A&R scout was passing through town, who might they sign?
"Well, I am not on top of the top younger bands in town, but of the folks I have heard lately that somebody should snap up, there won't be a lot of surprise when I mention Tim Krekel, who has just finished recording a killer album that really should be out on at very least a large indie, and Shannon Lawson.
"I am currently crazy about an unknown singer/songwriter out of Frankfort named Scott Robinson, who is perhaps the best songwriter I have heard in about the past decade. From anywhere. Period.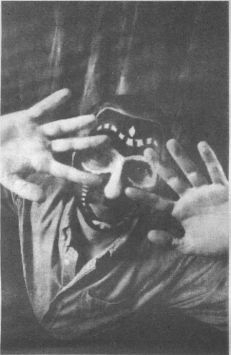 "There is also a really interesting singer/songwriter that I have recently had play at the monthly Songwriter's Showcase I am hosting at Twice-Told, Butch Rice, who is very good. Recent Nashville transplant Tanya Savory deserves to be on a bigger label than she currently is. Those are the pick of the crop amongst people I have heard lately."
The Radio Partnership - how are we doing, stacked against other national NPR carriers?
"Quite well, I think. Certainly in the case of WFPK, Louisville is finally blessed with not just an OK, but a great radio station, as good as any I have heard in many, many moons. As good, if not better, in its own way, as my dear, departed first public radio love - WYSO in Yellow Springs, OH, my school (Antioch) station and easily one of the best in the country in terms of everything - music, news, public affairs. I think Laura Shine is a simply delightful DJ who has an impeccable ear for the right segue, always picks good stuff that I enjoy - all in all she makes it a joy to wake up in the morning.
"I might add that visiting musicians and colleagues of mine in the radio business have also raised their voices in praise of the New 92. A synergistic combination of the station, Twice Told and Marty Rosen have largely revolutionized (not too strong a word, I think) the local music scene. Since there is finally a place for quality music that isn't mainstream country, AOR (Album-Oriented Rock) or Urban Contemporary (I love that genre, don't you?) to be heard, there is a reason for people to come here when touring, plus they actually sell records here.
"I recall Leslie Stewart telling me that Ashley MacIsaac's label told her that they were selling more of his record in Louisville than any other market in the country - including NYC or LA.
"As far as the other two public stations, they each have also been tremendously strengthened by this partnership. WFPL can carry every spoken-word show of consequence available within the public radio world and they do, and there is, finally, only one classical station in town, rather than two, which always struck me as insane, since both of them suffered from the competition for a dwindling audience.
What is the Louisville artistic malaise?
"Not sure what you mean exactly. I have only really spent significant time as an adult in two communities - Dayton and Louisville - so I can only compare those two properly. In general, they thing I have most missed in Louisville is a greater sense of community among all musicians, regardless of genre. Sure, the old punks are tight with each other, the younger hard-core people (or whatever it has now mutated into), the blues crowd, the old folkies, etc., but I don't get the feel of much cross-pollination amongst disparate musicians (there are exceptions to this, but by in large, I think I am right). I think this true of Louisville in general. It is very clannish, built around your neighborhood/part of town, "What high-school did you go to?", that sort of thing.
"So I guess it is not surprising that it extends into the music scene as well. One of the things I loved about the Dayton scene (and it may have changed since the mid-80's in this respect, is that we all knew each other, hung-out together, went to the same parties, went to each other's gigs, supported each other.
"I would see the same fans at the blues shows, the bluegrass shows, the reggae shows, the punk shows. There was a finite amount of good music being played out on weekends, and so everybody congregated at whatever gig was the highest quality - regardless of what your main preference was. This extended into sexual-preference as well. I would go to parties that were often half and half gay and straight. That has never happened to me in Louisville. It has either been me and maybe one other straight person at a gay party, or one or two gay folks at a straight party.
"The more I am writing about this, the more struck I am by this. I think probably Louisville is more the norm on this and Dayton in the late Seventies and early Eighties was perhaps a magical, unusual time and place. At any rate, I miss that sense of community and in many of my musical doings here in town I have tried to do my bit to bridge those gaps.
"I put on a show at Uncle Pleasants a few years back with Love Jones and Yer Girlfriend. Pretty sure that never happened before or since."
Knowing what you know, if anything, how have you finally justified what happened with Laura Shine? Or not?
"Having worked in public radio my entire adult life (and living within its, by necessity, stripped-down lifestyle), I have grown more used to the lack of financial remuneration aspect of it than perhaps others would. This is not unique to public radio. Many non-profits run kind of hand-to-mouth.
"I am a part of an on-line forum for other independent radio producers internationally (which is, by the way, what I usually call myself if asked…usually adding a slash-musician to it for good measure) and we are constantly bitching amongst ourselves about how poorly we are paid by NPR, Marketplace, etc. If you monitor the on-line forums for free-lance writers, they are not that very different in substance.
"So, to some degree, I would tell any aspiring public radio DJ to get used to the lack of money, because even big-city public radio DJ's don't do very well financially, when you factor in cost of living.
"My quitting my job at WFPK/WFPL had little to do with money, though I regularly bitched about my pay while I was there. And yet I most definitely understand the frustration that Laura might have felt when she compared the obvious public adulation she was experiencing with the relatively puny paycheck she got twice a month. I wish her the best of luck and hope, ideally, that she finds a home at another local station so that she will not have to leave Louisville, where she is seriously loved (except by Paul Curry, of course).
"But knowing what I know about the local radio scene, I can't imagine that she will have anything resembling the freedom to play what she wants that she had at the New 92. This is the trade-off of public vs. commercial radio - freedom vs. money. And yet, as public radio becomes more tightly playlisted and controlled by concern for the bottom line, the distinction will become that much more blurred, I fear."
What would you say to Laura if she came over to borrow a cup of sugar and some patch cords?
"I love you, I miss you, I hope you get a great job somewhere nearby so we can sing together again sometime soon."
Tags: