October 1997 Articles
Cover Story
Kevin Gibson
Features
Columns
Berk Bryant
Decimus Rock
Mike Stout
Paul Moffett
Paul Moffett
Vicky Moon
Vicky Moon
Keith Clements
Tim Roberts
Laura Spalding
Henry C. Mayer
Jimmy Brown
CD Reviews
Bob Bahr
Kory Wilcoxson
Vicky Moon
Brent Starkey
Tim Roberts
Bob Bahr
Kory Wilcoxson
Tim Roberts
Vicky Moon
Kory Wilcoxson
Kory Wilcoxson
Performance Reviews
Vicky Moon
Calendar
Paul Moffett
News Item
Paul Moffett
Paul Moffett
Book Review
Jean Metcalfe
Blogs
Got Shows?
Send Them To Us
Bookmark Louisville Music News.net with these handy
social bookmarking tools:
Available RSS Feeds
- Top Picks
- Today's Music
- Editor's Blog
- Articles
Add Louisville Music News' RSS Feed to Your Yahoo!

Issue`: October 1997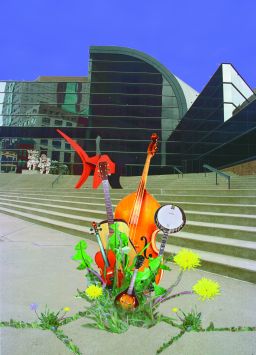 Bluegrass comes back where it belongs ... for now
By Kevin Gibson
Cover Photo by Ralph H. Sidway
Gary Brewer knows.
So do Mike Schroeder and David Cottrell. Bluegrass music - specifically the International Bluegrass Music Association's (IBMA) annual Fan Fest and trade show - belongs in Louisville, where it will set up and do business beginning Oct. 13 for the first time ever.
And it's about time, too.
Brewer, perhaps Kentucky's best-known bluegrass musician, one who has more than 20 albums to his credit and tours the world with his band the Kentucky Ramblers, looks back and can only shake his head at the fate of bluegrass music here over the years.
An annual bluegrass festival sponsored by Kentucky Fried Chicken surged and succeeded from the mid-1960s until it faded in the early '80s, later prompting Brewer to organize his own annual bluegrass festival, the Strictly Bluegrass Festival.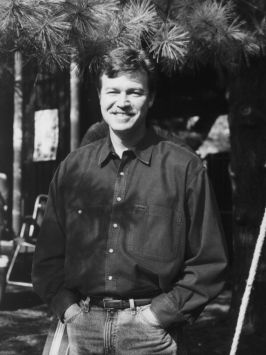 Dan Hayes, IBMA Executive Director. Photo by Jean Metcalfe
Twelve years ago he went to work for the city of Louisville - as the "local point man" for bluegrass - to do whatever he could to bring this traditional music form and its events here
Still, IBMA, the top dog in the bluegrass industry, kept its heart and home in Owensboro. Brewer's intent for some time has been to change that.
"The reason I started my event is because Louisville was a top dog in bluegrass music," he said.
Or so one would think. In the land where this ever-growing brand of music was conceived, it seems only logical that Louisville would be the first choice when those in bluegrass' inner circle decided where to meet each year for its awards, trade show and other promotional events.
But Louisville didn't step forward to make the best offer, and it was tiny Owensboro, nearly a two-hour drive west along the Ohio River in Interstate 64, that became the home for bluegrass.
That's what still has some bluegrass brass wondering how it all happened.
No Place Like Home
There are a variety of reasons the official home base of bluegrass music landed in Owensboro, according to IBMA director Dan Hayes.
Primarily it is because the community of Owensboro has been an active supporter of IBMA from the beginning. In the meantime, it has taken advantage of the growing industry.
The IBMA originally formed as a trade organization in Nashville in 1985, and it still serves that purpose. But Owensboro came to the organization with an ambitious plan to build a bluegrass museum.
"At the time," Hayes said, "that was quite a leap of faith on Owensboro's part to do that."
Bluegrass legend Bill Monroe's birthplace and resting place are just 25 miles from Owensboro, which gave IBMA another reason to consider it a logical spot.
Also, Louisville showed no interest in having IBMA relocate there at the time - this was roughly the time the KFC-sponsored festival was grinding to a halt.
And Hayes said the decision to move this huge annual event to Louisville was more a response to a problem than a decision to move to the big city.
"We've had a wonderful experience in Owensboro," Hayes said. "To some degree it's a question of 'Have the events outgrown the convention space and the venues that we need to host them in?'
"Naturally, a larger city that is accustomed to hosting major conventions and events is better equipped than Owensboro. That's just a given."
What forced the IBMA to look elsewhere is that the Executive Inn Rivermont in Owensboro, the annual home of the festival and trade show since its inception, last year was experiencing financial problems that "to some degree threatened whether it would even be open," Hayes said.
"We had to make a decision as to whether we wanted to take a chance that property would be able to accommodate our needs, and rather than take that chance we checked with some other cities. The accommodations we needed were available in Louisville and of course we're very happy Louisville was able to pull the various pieces of this puzzle together for us in a real short time."
That time frame was roughly 10 months, where Hayes said it is desirable to have at least two years to plan such a large event.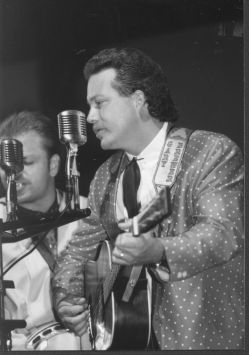 Gary Brewer and The Kentucky Ramblers will play the Fan Fest Main Stage on Saturday, Oct. 18.
The Galt House and the Kentucky Center for the Arts, along with numerous others here such as Brewer and Schroeder, pulled together to bring the IBMA's week-long festival here.
The event is also locked up for 1998, but not beyond. Louisville was one of many communities that offered proposals to play host to the IBMA festival event, including Lexington and Nashville.
Asked if he believes Louisville is a shoo-in to become the permanent home for the IBMA event, Hayes said, "There's always that possibility, but I would be guessing at this point what our board might decide for future years. We haven't really made a decision on the long term."
Once again, bluegrass moguls are left to shake their heads and wonder what it will take to fix their music - their tradition - in Louisville on a permanent basis.
When Home Doesn't Feel Like Home
Mike Schroeder works as a volunteer coordinator for IBMA to organize outreach concerts to promote bluegrass music here, and he has helped set up such events as a lunchtime show at the Kentucky Center for the Arts, shows at River Falls Mall in Clarksville and Hawley-Cooke Booksellers on Brownsboro Road, plus workshops at Manual High School, radio spots and special promotions through Disc Jockey music stores, a corporate sponsor of IBMA.
Even with his efforts and his interest in bringing as much bluegrass music to Louisville as possible, Schroeder isn't sure why the IBMA doesn't call the River City home.
"It's hard to say. There were certainly some efforts in the late 1980s to create a home for bluegrass music here, and for various reasons that effort failed," Schroeder said.
"There is still a strong interest in bluegrass music in this community. I suspect that Owensboro had perhaps some corporate support that may not have been available in Louisville at that time.
"Had Louisville been successful, it would have been another jewel for the mainstream corridor to have a bluegrass museum to go with all the other museums."
But that didn't happen, and Hayes' words would suggest it isn't going to, at least not in the near future, despite the fact most of those who are close to this musical form in and around Louisville believe it should come here to stay.
Brewer said his understanding of why Louisville got the chance to play host to IBMA this year goes deeper than just financial problems at Owensboro's Executive Inn. He said he heard the facility needed repairs and had changed ownership along with being in financial trouble, and the area itself was sorely lacking in accommodations for a festival that grew each year.
According to Brewer, the accommodations in and around the Owensboro vicinity total about 1,280 rooms, while the Galt House here in itself has 1,500 rooms - evidence that suggests the change should have been made much sooner.
But Brewer said there were no doubt ties that strengthened over the last 10 years because of Owensboro's initial and continuing dedication to the bluegrass music association.
Still, he argued, numbers show that Louisville is the best location. Brewer's annual event, which he calls "Strictly Bluegrass," traditionally draws 10,000-plus people, and he believes this year's festival, the sixth in the series that was held in September, came closer to 15,000, although official numbers calculated by the city were not released by the time this story went to press.
"We had more people at our event than IBMA had at their event (last year)," Brewer, who is a fifth-generation bluegrass musician in his family, said.
"Strictly Bluegrass" actually came, at least in part, as a response to the failure of the failed KFC festival. He explained that in the latter years of the event, in an apparent attempt to draw a more diverse crowd, variations of bluegrass and other musical forms were added to the schedules.
Brewer believes that was the show's ultimate undoing, which is also why he named his festival the way he did - to avoid a similar straying from the path of tradition.
Dave Cottrell, 38, who has been playing bluegrass more than half his life, remembers the same thing.
"Louisville tried to mix all different kinds of music and it just flopped," Cottrell said. "Bluegrass people are not going to come to hear all those different kinds of music.
"I feel like Louisville let that slip through their fingers."
For many years, however, the KFC-sponsored event - which actually took many forms over the course of its life - was the largest bluegrass event in the world, drawing people from all over the United States and from foreign countries.
What eventually happened, thanks to the format change, was that bluegrass took on a smaller role and the traditional bluegrass fans stopped coming. That brought about a quick death for the annual festival in the early 1980s.
So Brewer, a few years later, along with his father Finley Brewer Jr., organized a festival with the same format under which the original festival thrived for so long: as a free, family-oriented festival that focused on the music rather than on making money.
In a way, Brewer had little choice but to revive the festival. Because of his high profile, people constantly asked him why the original festival folded. "To be frank, I got tired of telling them," he said.
But even with the success of Brewer's event, there was still a void as long as the IBMA remained in Owensboro. Brewer himself is in favor of having the international organization located here, even if it means overshadowing his own event.
Certainly, Cottrell feels not trying harder to lure IBMA here in the first place was a mistake on Louisville's part.
"I feel like if Louisville had kept the festival, IBMA would have stayed in Louisville," he said. "I feel like the city kind of turned its back on bluegrass."
Cottrell, whose band Kentucky Blue recently released a new album, recalls a booming bluegrass scene here in the 1970s, with numerous local clubs that featured this home-grown brand of music.
"I really don't know why they let it go," he said. "If you ever went to the festival and saw how many people were there - it was just packed the whole weekend. There would be people from Japan and Italy and all different countries who came here just for that festival, and all of a sudden it was gone."
And bluegrass is enjoying a resurgence in popularity, which is all the more reason for Louisville to try and coax IBMA here on a permanent basis.
Home To Stay?
Brewer, like many of his contemporaries, fears Louisville will again let bluegrass' first prize slip through its fingers, and he is determined to do whatever he can to see that doesn't happen.
He said he has secured office space for the IBMA offices and has enough backers on board to match the facilities the organization enjoys in Owensboro. But that might not be enough if the city doesn't climb on board and show the IBMA what it has to offer while the festival and trade show are here.
BLUEGRASS FAN FEST '97
MAIN STAGE TALENT SCHEDULE
Friday, 10/17/97
1:00-1:45 John Hartford
1:55-2:40 Kate MacKenzie
2:50-3:35 Mike Seeger
3:45-4:30 James King Band with Paul Williams
4:40-5:25 Charlie Waller and the Country Gentlemen
6:35-7:20 Nashville Bluegrass Band
7:30-8:15 Laurie Lewis,, Tom Rozum, Todd Phillips & Friends
8:25-9:10 The Del McCoury Band
9:20-10:05 The Lonesome River Band
0:15-11:00 Ricky-Skaggs
Saturday, 10/18/97
11:00-11:45 Bluegrass Pentathlon (fan participation event)
12:00-12:40 Gary Brewer & the Kentucky Ramblers
12:50-1:30 Women In Bluegrass
1:40-2::20 International All-Stars
2:30-3:10 The Fox Family
3:20-4:00 The Sand Mountain Boys
4:10-4:50 The Reno Brothers
5:00-5:40 The Gibson Brothers
6:30-7:15 Jeff White and Friends
7:25-8:10 Frank, Wakefield, Bill Keith, Harley Allen & Tom Morgan'
8:30-9:15 The Lynn Morris Band
9:25-10:10 IIIrd Tyme Out
10:20-11:,05 Continental Divide
Sunday, 10/19/97
11:00-11:45, The Village Singers
11:55-12:40 The Forbes Family
12:50-1:3:5 Petticoat Junction
1:45-2:30 Jim & Jesse and the Virginia Boys: 50th 'Anniversary Salute'
2.40-3:25 Dry Branch Fire Squad
3:35-4:20 U.S. Navy Band Country Current
4:30-5:15 The Sidemen
ROOTS AND BRANCHES STAGE
Friday: Bill Evans * Druha Trava * The Case Brothers * Kathy Fink & Marcy Marxer * Tony & Gary Willamson
Saturday- Will Keys, Doug Smith & Barb Kuhns * Tut Taylor * Chris Thile * James Leva & Carol Elizabeth Jones * Scott Vestal* Mark Schatz & Friends
"It's been my experience Louisville is not going to turn over backwards for this event," Brewer said. "I'm not sure the city of Louisville is going to be as responsive as it should be."
But he doesn't blame the city, at least not completely. What is happening, he said, is something of a quiet standoff. IBMA won't commit to Louisville, so the city is reluctant to commit anything to IBMA.
"They would have never come here unless they had problems there (in Owensboro)," Brewer said.
The shortcoming is that neither side is ready to make the first move, and what that means is that Louisville could again lose, conceivably to Nashville - which Brewer believes would be a big mistake because of the prevalence of country music there - or even Lexington.
"It's attractive to them (IBMA) and obviously it's attractive to Louisville," Brewer said. "To lock them in together is what we need to do. We have to have a commitment from IBMA in order to play our cards."
So the stalemate continues. Some have even insinuated that Louisville is not interested in bringing IBMA here because bluegrass is traditionally a rural form of music, and the city mentality here is not prepared to accept it fully.
Said Schroeder, a veteran bluegrass musician who is a member of the band New Horizon: "In some respects bluegrass in other areas maybe enjoys more popularity than in this area, and there may be a certain sentiment that people in Louisville don't want to identify with 'hillbilly' music, so they tend to snub it because it's rural and not as highbrow as other forms of music."
Nevertheless, he said, "I think bluegrass is enjoying a certain resurgence in popularity because there is an interest in acoustic instruments, and that's a hallmark of bluegrass. A number of artists are becoming accepted in commercial country music and people are becoming aware of bluegrass."
The artists he spoke of include native Kentuckians Allison Krauss, Vince Gill and Ricky Skaggs, who will be in town to play host to the IBMA Awards Show for the third straight year Oct. 16.
Brewer, however, doesn't buy into the snobbery theory: "I don't believe that because of the crowds I have at my event."
Hayes isn't phased by that theory either, and he dodged the accusation with the precision of a true public relations veteran.
"There are a lot of misconceptions of what bluegrass is, and for people who enjoy music their perception is it's a very intricate kind of music that has a strong and loyal following and that the musicianship involved is as difficult as any kind of music out there," he said. "We certainly do have rural roots if you will, but I haven't gotten the impression that Louisville has a separate impression of city versus rural persuasion."
Test of Time
The IBMA gathering, dubbed this year as the "1997 World of Bluegrass," kicks off with the annual trade show Oct. 13-17 for networking, continues with the awards show Oct. 16, the Bluegrass Golf Scramble Oct. 17, and finally the Bluegrass Fan Fest Oct. 17-19, featuring dozens of bluegrass acts and workshops for the artists.
Everyone involved expects a large turnout - in part because the artists will bring with them enough people to make the week a success - but the deciding factors in whether the festival stays in Louisville more than two years remain to be seen.
Until an agreement is forged, all bluegrass artists, promoters and enthusiasts can do is hold their breath and hope.
"Louisville can't build you a new house if you're going to move out in two or three years," Brewer said. "I don't feel like the city looks down on bluegrass music. They know what thrives - they know if it's a rock 'n' roll town or a country town, and Louisville has a reputation for bluegrass."
The next two years, he knows, will be critical: "IBMA is a new, shiny toy coming to Louisville. Bluegrass is something that's always been here, but it's maybe not as high profile as a new, shiny toy."
Cottrell also knows that this is Louisville's opportunity to claim what many feel rightfully belongs here.
"Owensboro picked it up and they have huge crowds," he said, "but they don't have the facilities to accommodate everybody. I think this is Louisville's chance to get it back and keep it. I think it would be a smart thing."
As for Schroeder, he is happy this important event will happen here the next two years, and he believes the community itself may have a hand in keeping it here longer.
"If Louisville will support this event, I'd hope it could be a permanent part of the activities here," he said. "That remains to be seen, and how well it is supported locally and whether or not there might be some corporate support might decide its course in the long term."
Hayes, meanwhile, continues to deflect suppositions of the IBMA moving to Louisville for the long haul. After all, there is still bargaining to be done.
"We anticipate that the Louisville community is going to be very supportive of the events and the local community will take an active role in putting them on," he said. "Whether it's just people in the music community or bluegrass people or the population as a whole, we need that and want that and as any promoter coming into town with an event would want. We've certainly enjoyed that kind of support in Owensboro in the past.
"My early reading of Louisville is that it has a very eclectic taste in music and that is not unlike most other parts of the country that are looking at music as more than just the mainstream popular forms of music."
Hayes cited U.S. Census Bureau figures that show bluegrass is among the fastest growing musical forms in terms of popularity.
"There's a tendency there to dig into the niche music like blues, jazz, bluegrass and folk, and alternative kinds of music that America in general is starting to wake up to," he explained.
Not a bad bargaining chip when it comes time to sign up for a convention site in 1999 and beyond.
Brewer, meanwhile, is poised for the challenge. It is his role to do whatever it takes to make Louisville the logical choice for IBMA.
"They're going to have a small riot on their hands if they try to take a Kentucky-based organization out of the state of Kentucky," he said, which puts Nashville at a disadvantage.
"If the event comes to Louisville and stays, it's going to have nothing to do with IBMA, it's going to be up to me, the city of Louisville and people who like bluegrass music," he continued. "And when the moves start being made, it should be done with the prominent bluegrass people in Louisville."
Tags: