August 1997 Articles
Cover Story
Tim Roberts
Features
Joshua D. Smith
Columns
Berk Bryant
Decimus Rock
Mike Stout
Paul Moffett
Vicky Moon
Vicky Moon
Keith Clements
Tim Roberts
Laura Spalding
Henry C. Mayer
Jimmy Brown
CD Reviews
Hunt Sidway
Bob Bahr
Bob Bahr
Joseph Dinwiddie
Paul Moffett
Robert Gruber
Robert Gruber
Performance Reviews
Kevin Gibson
Pete Strojny
Tim Roberts
Wally Stewart
Pete Strojny
Calendar
Paul Moffett
News Item
Henry C. Mayer
Blogs
Got Shows?
Send Them To Us
Bookmark Louisville Music News.net with these handy
social bookmarking tools:
Available RSS Feeds
- Top Picks
- Today's Music
- Editor's Blog
- Articles
Add Louisville Music News' RSS Feed to Your Yahoo!

Issue`: August 1997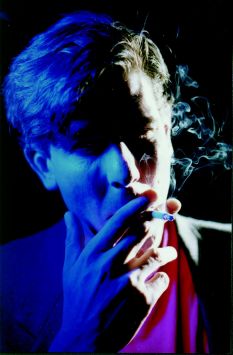 ;
The Forecast of Change from Paul K and the Weathermen
By Tim Roberts
Photos by Ralph Sidway
Paul K cupped his slim fingers around his lighter and fired-up another cigarette. We both gazed out the van windshield to the fleet of houseboats bobbing in the Ohio River, anchored early for a good spot to see the fireworks later that night. The image triggered a new topic in our conversation.
We rehearsedL©ve is a Gas on a houseboat on Lake Cumberland," he said after exhaling a thin stream of smoke. "It takes a goddamn boat to get me to practice"
It was about 6:30, late afternoon on the 4th of July at the seventhRockin' at Riverpoints show, the free summertime Friday night concert series downtown on the wharf. We were in the front seats of Paul's Chevrolet conversion van (deep-blue fabric interior, UK Wildcat logos on the driver and passenger doors) parked on the wharf's easternmost side. Off to our left some distance away was the stage where the rollicking Juggernaut Jug Band was entertaining the audience during its set. The music echoed back small and tinny to where we were parked.
Paul and I had encountered each other two other times an hour or so before we talked in his van. The Daughters of Nubia were playing on-stage. I was sitting on the concrete bleacher-type steps on the wharf, my face buried in a mound of soggy onions on a drippy Italian sausage sandwich. A tall, slender man in sunglasses, dark hair, a striped shirt, khaki pants, and black wing tips walked slowly towards me. I recognized the shape of his face - rectangular, slightly drawn - from the publicity photo that accompanied my review ofL©ve is a Gas, the band's latest offering, in the February issue of LMN. He sat two rows behind me. I thought of turning to introduce myself but wasn't sure it was Paul. The sunglasses made me hesitate. Plus I had sausage grease all over my hands.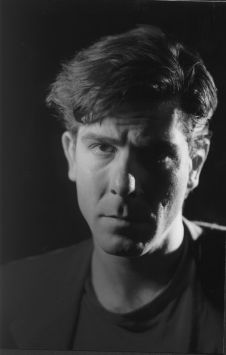 Paul K.
Some time later I was backstage. The same guy in the sunglasses was peeling the seal from a virgin bottle of Maker's Mark with his teeth. He said something, and his voice - deep and rich, like a blues singer with the roughness burred out - matched a lyric from "Everything that Glitters," a downbeat, psychedelic-acoustic selection fromL©ve is a Gas: "We count the times we've laughed and smiled / All the miles we've driven."
I walked up and introduced myself, shook his massive hand. He said, "Yeah. Have we met before?"
The day had been sunny and comfortably warm, freakishly perfect for early July in the humidity sink called the Ohio Valley. Paul K and the Weathermen were scheduled to go on at 8:45, tucked between a short appearance by Mayor Jerry Abramson and the fireworks, followed by Lee Ann Womack, the hot young country singer.
Waitaminit. Paul K and the Weathermen? Their dark, often unsettling music of cynicism, pain, failed dreams, and tentative redemption - the way life is felt by a great many people - as the lead-in to a fireworks display on the nation's birthday and a clean-scrubbed country act? With parents and kids in the audience lining up for funnel cakes and corn dogs?
Paul K and the Weathermen is a band that defiantly spans categories. Something quite obvious onL©ve is a Gas, which covers folk, electronic psychedelia, machine-gun-staccato heavy-metal riffs that segue seamlessly into Motown-style funk. "We never stick with one style for the audience to identify," Paul said, a choice that is artistically satisfying, but becomes a problem for marketing.
Paul is mostly doing some superb folk material in his shows, lots of it his own, some from other songwriters including the late Townes Van Zandt, whom Paul admires. And he does want to return to a more "country" acoustic sound like his first band, The Johnsons, which he said was like the Byrds and Gram Parsons. His answer when people ask what kind of music he and his band play: "Loud folk music."
Minutes before Paul K's set begins, I'm in the crowd making notes. A young man, short-cropped light hair, blue eyes, deep tan, breaks from his knot of friends and walks up to me. "So who's playing next?" he asks.
I tell him. Nothing registers, but I didn't expect it to.
"So what kind of music do they play?"
I give him Paul's answer. His eyebrows scrunch.
"Oh," he says quietly. "Well, who comes on after that?"
"Fireworks. Then Lee Ann Womack."
"Yeah?" He brightens. "What kind of music does she play."
"Country."
"Oh." He looks at the ground. "Okay thanks," he mutters. He walks with a shrug back to his friends, confused by the choices.
Whatever the description, the work Paul K has created over fifteen years and nine releases has given him and the Weathermen reams of respectable press ("Journalists like us," he says with obvious gratitude). His work has drawn comparisons to Lou Reed, Neil Young, Merle Haggard, Franz Kafka (for the alienation themes), pulp-crime novelist Jim Thompson, and modern-crime novelist James Ellroy (both for raw edginess and unsentimental romance). Plus there are the flavorings of Stevie Wonder and Temptations member David Ruffin onL©ve is a Gas.
So with those varied comparisons, Paul K and the Weathermen fit in with the widely-varied music styles - reggae, jug-band, rhythm-and-blues, rap, and country - that were performed before and after them at Riverpoints. It was a warts-and-all microcosm of America on its 221st birthday.
Paul's musical beginnings are simple to describe. The adopted son of Myron and Carmela Kopasz of Detroit migrated to the state via a debating scholarship to the University of Kentucky. One of his instructors there, J. W. Patterson, a cousin of Gram Parsons, steered him toward music. He started playing punk rock in Lexington. His school career ended quickly. The other one began.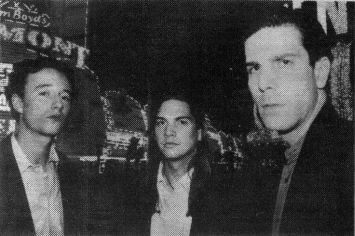 Pal K. and the Weathermen. From left, Steve Paoulton, Glenn Kotche and Paul K. Phtoo by Cole Gerst
Fifteen years of performing, touring, composing, producing his own recordings, getting on and off smack, jaunting from his native Detroit to New York to Europe to his more-or-less permanent home in Lexington has worn on this man who has not yet cracked middle-age.
In the van, the 34-year-old Paul slouched his long body back into the driver's seat. "Rock and roll music is a young man's game," he said. In his voice was a hint of exhaustion, most likely from the tour he and the Weathermen had completed, which included 15 shows throughout Europe for most of May. "It's like being a boxer. Every night [after a set, or "match"] you're so f------n' tired."
There is still a power, though, an gleaming edge that comes through in his performances on stage and CD. The former debate student has retained his aggression and power to draw in an audience. I saw it happen on stage at Riverpoints. He and the Weathermen opened with two of his easier, folky selections, with Paul on acoustic guitar. Then he switched to electric guitar and went into "Slow It Down," fromL©ve is a Gas. The opening chord cut through the crowd like a serrated broadsword. It demanded they listen. After a few bars, heads began bobbing. His edge got their attention.
Working with Paul that night at Riverpoints was his steady drummer, Glen Kotche from Chicago. Richmond, Kentucky native Jerry Burkhart substituted for long-time bassist Steve Poulton, who had left the band. And Paul's friend and recording engineer Otto Helmuth was on keyboards.
The sound from the band was tight that evening, despite a few technical glitches Paul pointed out between a couple of selections. They worked through eight songs, only two of them fromL©ve is a Gas. But they all encompassed the range of which Paul K and the Weathermen are capable.
Usually a band in concert will perform material from its most recent release. But "usually" is not a word to fit any description of Paul K and the Weathermen. Even though Paul saysL©ve is a Gas is the most coherent collection of songs, there is still a sense he's not entirely satisfied with it. Produced by Velvet Underground producer Maureen Tucker,Gas is Paul's "naive celebration of love." The tunes have the familiar Paul K hooks - guitars that alternate between edgy and smooth, lyrics striped in both bitterness and warmth - but this time with a high gloss. Like shellac over a creek-rock wall.
"I wanted a gloss in the mix," Paul admitted. He took the tapes to an expensive studio in Los Angeles, where, during the mix, he met Michael Jackson. While the self-professed King of Pop apparently offered no blessing, Paul finished the mix but feels he went a "tiny bit too far" with the gloss.
Perhaps that gloss is part of the theme the band explores inGas. "Love is a gas," Paul explained, "because you can't see it or hold onto it. But,L©ve is a Gas [with the © in 'Love'] is also an anagram of I © Las Vegas."
The recording is packaged in a gambling motif, from the slot machine on the cover to the cards, slot machine numbers, and the showgirl icons screened onto the disc itself. "On the back," Paul said, "is the front of a car. On its bumper is a sticker that says 'I © Las Vegas.' I'm also saying that love is also a real crap shoot, a gamble."
It is the second Paul K and the Weathermen release with a puzzle on the cover. The other isAchilles Heel, the predecessor toGas, with itsNew York Times-hard crossword.
Not many completed the puzzle. I asked if many people got the I © Las Vegas anagram. No, he said. "Thought I had made it easier this time."
There is another puzzle; what to do next? Paul does want to return to a folk sound. His solo acoustic set as the lead-in to the Steve Earle at Phoenix Hill supports the direction in which he wants to head. And there's even the idea of changing the name of the band. The Weathermen was borrowed from the urban terrorism group of the same name from the 1970s. But with the fade back to folk, would that name fit?
What would be a good name, then?
"I've been thinking about a new name," Paul announces. He, Otto Helmuth, and I are backstage at Riverpoints, relaxing at a table, Paul with his cup of Maker's over ice, Otto with a beer, me with a Coke. The local rap trio Flow is performing. More people are arriving for the fireworks.
Otto and I lean in toward him. "The Randy Weavers," Paul says.
There are chuckles after a few seconds of silence. "Yeah," Paul continues. He looks at me. "You know what 'randy' means, right?"
I nod. Risqué. Bold. Boisterous.
"And you know who the Weavers were?"
Again a nod. Pete Seeger's big-voiced, freedom-loving folk-singing quartet from the 1950s.
And the obvious reference is to the militant Ruby Ridge survivalist whose wife and son were killed by the FBI in a shootout.
Otto shifts his cowboy hat to the back of his head. "I can imagine our first concert with that name. An audience full ofSoldier of Fortune readers. They might be a bit disappointed."
For the short-term future, while the name change debate progresses, Paul will be the touring the Midwest throughout August, opening for Jill Sobule and Mark Eitzel, along with some solo gigs.
For the long-term future of Paul K and the Weathermen: A name change and different sound? Maybe. A band reorganization? Yes. Major projects besides touring? Count on it. A rock opera.
It's about a farmer in New Mexico, Paul told me. He's a good man, married, responsible, a member of the National Guard. His life's excellent, not exciting. That changes when he gets a telephone call in the middle of the night. His Guard unit is being activated to help clean up the mess from a mishap.
It is the night of July 4th, 1947. The place is Roswell, New Mexico. The mishap is the mysterious crash of an object that may have been a UFO.
From that night on the farmer's life is in constant torment, which eventually drives him away from New Mexico to New York City, where he wanders the streets, and eventually lands in Bellvue Hospital.
The music throughout, Paul said, will reflect the change in setting. More folk and country during the parts in New Mexico, then gradual changes to jazz, rock, and punk as the farmer makes his way into New York.
"I want to take the risk to do this," Paul said. "I want to do something big and pretentious, to challenge us and set us apart from everything else on radio."
I watched Paul's solo set before Steve Earle's show at Phoenix Hill three weeks after our first conversation at Riverpoints, chatting with two young men he knows. I asked each what he likes best about Paul and his work. "He's underrated," said Jeff Hardison, bright-eyed a 21-year-old. "I think the type of music he plays will always be underrated."
I asked why.
"Because he taps into the truth."
Images of the 4th of July show reappear singularly, like cards in a slow deal somewhere in Vegas, as I page through the notes I made during the Paul K and the Weathermen set, thinking about the truth.
They are into a selection called "Manhattan," a slow, loud, blues-tinged number of decay and disillusionment. A fat cluster of red, white, and blue balloons breaks free from somewhere and snags on Paul's microphone stand.
Then two rent-a-cops push through the crowd, followed by an off-duty country corrections officer. They head for a trio of apparently homeless men - skin sunburned, clothes faded and tattered --, sitting lotus-like on the ground, who have been there most of the evening sharing a beer among themselves. Two of them are pulled from the ground and escorted roughly to the exit. The third argues with the corrections officer, who then pulls him up, knocking over the beer. The crowed parts tentatively to let them pass.
The balloons were taken away. The band finishes "Manhattan." As a finale, they play a cover of Neil Young's "Helpless." Some in the audience sing the title-word chorus, which repeats three times. It was an unintentionally truthful close.
Weathermen tell us the way a situation is now and how it may become, given a certain set of conditions that can easily change. Predictions are reasonably accurate, but always based on the way the situation is now.
The situations that Paul K and the Weathermen forecast for us do not look too good. But as Paul has shown - with a band lineup, name, or musical style - there's always the slim chance of change.
For more information about Paul K and the Weathermen, visit them at www.hardmedia.com/paulk.
Thanks go to: Paul K, for being an open and willing subject; Elaine Ford, for access to the Paul K personal data vault and help in getting in to see his Phoenix Hill show; John Allgeier of Media Events for the backstage pass to allow me a visit with Paul K and the Weathermen at Rockin' at Riverpoints; Julie Marion and Miri Shin, for comic relief before my talk with Paul; my sister, Marion Bell, and her husband, Morton, for use of their computer to write part of this; Paul Moffett for taking the risks.
Tags: