July 1997 Articles
Cover Story
Kevin Gibson
Features
Vernon P. Thomas
Columns
Berk Bryant
Decimus Rock
Mike Stout
Paul Moffett
Cindy Lamb
Vicky Moon
Keith Clements
Tim Roberts
Laura Spalding
Jimmy Brown
Alan Rhody
CD Reviews
Bob Bahr
Keith Henry Brown
Keith Henry Brown
Bob Bahr
Laura Spalding
Tim Roberts
Laura Spalding
Robert Gruber
Tim Roberts
Robert Gruber
Paul Moffett
Performance Reviews
Hunt Sidway
Paul Moffett
Tim Roberts
Wally Stewart
Calendar
Paul Moffett
News Item
Book Review
Paul Moffett
Blogs
Got Shows?
Send Them To Us
Bookmark Louisville Music News.net with these handy
social bookmarking tools:
Available RSS Feeds
- Top Picks
- Today's Music
- Editor's Blog
- Articles
Add Louisville Music News' RSS Feed to Your Yahoo!

Issue`: July 1997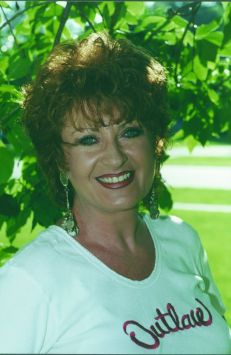 Sherry Edwards - No Rage
Longtime Louisville favorite hanging up her microphone - or is she?
Tired of the Louisville club scene, a longtime local favorite - and still recognized as one of the best singers in the area - will perform a "Farewell to Louisville" weekend July 18 and 19 at Jim Porter's Good Time Emporium.
Afterward, Sherry Edwards, whose performance career spans nearly 30 years, will hang up her microphone - at least for now.
Edwards' decision came after much contemplation and due in part to gradually dwindling opportunities for the 49-year-old rocker's band. It also came as a bit of a surprise.
"The way I did it, I just called everybody in the back on a break one night at Backstage (Cafe) and said 'I quit.' I think they were a bit taken aback, but after we hashed it out they understood."
Edwards' guitarist, Rob Johnson, went on hiatus a few years ago, the singer said, and "he said it was the best thing he'd ever done."
She admits that her decision is not because she is tired of performing, but rather due to the lack of suitable places to perform.
She enjoys her frequent gigs at Backstage and Porter's, but beyond that has few opportunities.
"I don't want to sound like sour grapes, but that's what it boils down to pretty much. I feel Louisville is pretty unsupportive of local talent."
It doesn't help that Edwards employs two roadies, a sound man and utilizes a lot of expensive equipment. "Most places can't afford to pay me," she said.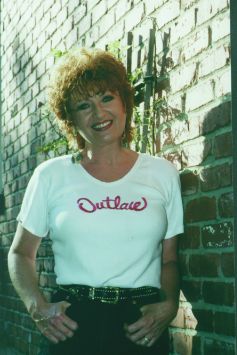 Sherry Edwards
So, after the farewell performances at Porter's, she's going to sell it all. Well, at least most of it.
"I'll keep a small PA. That way if I want to play I can play and I won't have to demand such a big price."
Which in part prompted her drummer, Brad Canaday, who recently joined a band called the Fanatics, to chuckle and say, "If Sherry says she's getting out of it, I say she's full of ----."
Confused? Well, know that Edwards might even agree. "It's not so much I'm quitting as I'm dissolving this part of it."
"I can tell you now Sherry's not going to quit," Canaday continued. "She's going to drop back and punt." In other words, after a musical downsizing, as corporate types might say, Canaday believes she'll simply go back out and do things differently. Edwards is a professional performer, he said, and any performer knows it isn't all about the payday.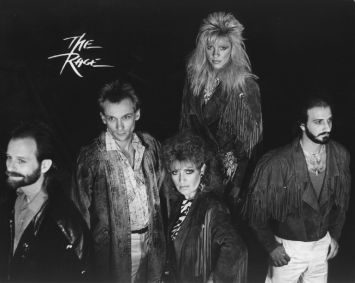 Sherry Edwards and the Rage, 1986-87. From left, Larry Landry, Sonny Stephes, Donna Stoller, Robert Fiandaca and Edwards (front)
"We don't find our pride in the money we make. All our lives our self esteem comes from what we do well. For Sherry, that's performing. Once she's robbed of that, she's going to say, 'I'm going to get back out there and play.'"
And would Canaday like to work with her again someday? "Absolutely," he said.
Nevertheless, Edwards seems to be sticking to her guns. "I've had this on my mind for about a year. I've really fretted about it and lost tears over it and I've come to terms with it now and it doesn't bother me at all. It's like getting my hair cut."
When Sherry Edwards smiles and tells you she's quitting, it's tough not to believe her.
Adapt, Overcome
Edwards, an attractive, personable woman, is coming up on the 30-year mark of her career, one that has taken her across the U.S. and even abroad.
She's performed numerous styles and with more different musicians than could likely be counted without a music historian on hand. But it is the high-energy style of rock 'n' roll that is near to her heart - especially that of blues-influenced artists like Bonnie Raitt and Little Feat.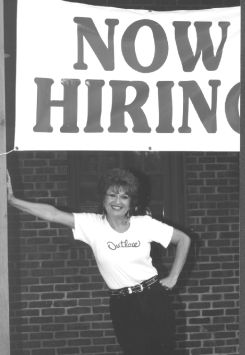 Edwards isn't really looking for work these days
The brand of music she's come to love, unfortunately, doesn't always draw offers from promoters and club owners. And when it does, the gig doesn't always carry the price tag needed to make it worthwhile for she and her band to accept.
She knows this firsthand because she and her band a couple of years ago attempted to reinvent their sound with that style dominating the set list. It didn't work, in part because they had trouble booking it and in part, ironically, because of Edwards' well-known style which ranges from standard oldies to Motown medleys to Tina Turner rave-ups to covers of modern rock artists like Melissa Etheridge and Sheryl Crow.
"I wanted to go in more of a Little Feat kind of direction with blues and rock overtones, because that's my style," Edwards explained. "I had this whole concept I wanted to do and nobody would let me.
"Agents were like 'Oh you can't do that. How are we going to book that?'"
Club owners reacted the same way. "'How are we going to advertise that when you play here?' I got real disgusted with it."
"Sherry talked about going the blues route," Canaday concurred. "Reastically, I played with several blues bands around town and with our production we couldn't afford to go that route."
Hmm. But with just one small PA to lug around, and a pared-down crew, it might just be feasible. Maybe even feasible enough to bring a Louisville favorite out of "retirement?"
"It's something I've got in the back of my mind but I have to get rid of the other one first," Edwards said. "I've got a lot of old skin to shed."
Born to sing
Edwards, an Owensboro native, began singing with the USO when she was 11 or 12 years old as part of a troupe that performed for soldiers at Fort Knox.
She has a long background in music, starting when she took piano lessons as a small child. That part didn't last long, however. "My piano teacher could see I had no interest in playing piano - but I could sing."
Edwards' USO troupe traveled all over the U.S. during the summer, and she started gigging with bands when she was about 13 singing pop, R&B, "whatever was on the radio."
She sang with several groups around Louisville beginning in the early 1960s: groups like the Chateaus, the Aztecs, and the Epics. That brought her plenty of recognition locally. "It was a big deal to be in a band in the '60s. You became a big fish in a small pond," she said.
While performing with the Epics the summer before her senior year in high school, she met a man named Gary Edwards. They would marry right after Sherry's graduation and they became a singing team about 1967 called Gary Edwards and the Embers, featuring Sherry Edwards.
"We were the Sonny and Cher of the era," Sherry Edwards said.
In 1968, Gary Edwards was called to duty in Vietnam and she was left to take over the band, which was renamed Sherry Edwards and the Embers. When he returned a couple of years later, it became SAGE (an acronym for Sherry and Gary Edwards).
However, they split up - as a couple and as performers - in 1971. She went on to sing with the Carnations, which did covers of Joplin, Sly and the Family Stone, Chicago and other bands of the era. Even then, it was the edgier stuff that attracted Edwards. "I was a rocker and I did a lot of Tina Turner stuff. I was the screamer."
She went on to join a showband right after the Carnations split in the early 1970s, an outfit called Jerry Kirk and the Heavyweights.
Vegas-style entertainment groups were big then, Edwards said, "and we were a very good one." Unfortunately, it was also short-lived.
In the mid-1970s, Edwards married a club owner from New Orleans and moved there. "That's when I faded out of sight around here."
She formed a band there and continued her singing career, became more interested in jazz and blues, and became a mom.
When the marriage broke up, she returned to Louisville with three of her bandmates and, of course, her son Roy. They re-formed as Sheer Magic ("I don't know where we came up with that," Edwards said), a band that played hotel lounges and night clubs here and around the Cincinnati and Lexington areas.
But Sherry wanted to get back into rock 'n' roll. She hired a female guitar player, developed an extravagant visual show and bought a huge PA, and around 1985 they became Rage, a name that is still used today.
Edwards performed full-time, often playing five or six times a week, until 1991.
During that time, she had a short but prosperous professional reunion with ex-husband Gary - beginning with a Ramada Inn gig - and in 1989 went to Okinawa, Japan, to play at a resort for two months. Twelve-year-old Roy went along as well.
"It was a good reunion," Sherry said. "We always did work together well."
Interestingly, although she recorded a few records with Gary and the Embers in the early days - "I couldn't even tell you the name of them now," she said - Sherry Edwards never pursued a recording career.
In 1970, however, she hooked up with producer Stuart Payne in Memphis and recorded a radically reworked version of "You're No Good" with a band called the Gentrys.
It got some local airplay and soon petered out, but, Edwards said, "It was a good record, a great experience."
Three years later, a singer named Linda Rondstat made her big comeback with the same tune, and used almost the identical arrangement that Sherry did, right down to the guitar solo.
"Everyone who knew (Edwards' version) said she must have covered that tune," Edwards said. "That was my little claim to fame."
While she wouldn't say no to a chance to record, "I didn't really pursue a career, No. 1 because I didn't really know how."
Also, when her son was born in 1976 she realized "his stability was more important to me than knocking on doors looking for a music career. I have no regrets."
Those who have performed with her believe she might have been a success on more than just a regional level, given the opportunity.
"She's fabulous," said Canaday. "I don't think that Sherry really got the respect she deserved. I think Sherry's one of the finest entertainers in this town and I personally think we had one of the best bands in this town. Yet we just didn't get the breaks."
And Denny Inzer, a guitarist who performed with her shortly before Gary Edwards returned from Vietnam and again briefly soon after she came back from New Orleans, recalls his first impression of Sherry when her version of "You're No Good" was on local radio.
"She was really good. She was strong with a big booming voice and a lot of stage presence."
He continued, "Her singing is very bluesy and soulful. She sings both ballads and straight-ahead rock with a lot of energy.
"She's always commanded a lot of respect. She was always a notch above a lot of the other singers in town."
She's also been blessed with a good supporting cast, and she has high praise for Johnson and Canaday along with her bassist Wayne Carver and her keyboardist Steve Kennedy.
"Man for man, I have a tremendous band," she said, "(and) I've really been fortunate to have great relationships with my band members."
Starting anew
If Edwards didn't take full advantage of her talent and showmanship, it hasn't dampened her love for what she does nor has it decimated her pride in what she's accomplished.
However, the slowly closing door of opportunity on her band has left some frustration with the local market.
"We got pushed into the club scene only around here and there just aren't that many clubs around here for us," she said. "There's just not a lot left to do around here. The one-nighter thing (private engagements) has really dropped off also."
Meanwhile, night club gigs "just don't pay as much as they used to. It became unaffordable to me. I have agencies calling and offering me $800 or $900 for a weekend and I can't afford that."
A common complaint about Louisville is that the market is quite narrow - this is especially a sore point with all-original bands. But even certain innovative cover bands find the going rough.
"As long as you can play 'Mony, Mony' and 'Electric Slide' you're the best band in town around here," Edwards said. "I like to do good music and challenging music and that doesn't go over real well around here. It seems like they want something more mundane.
"I have a little bit of an identity crisis with what people expect of me and what I deliver."
She also misses the positive reaction she used to get from Louisville audiences.
"We would get college kids out there that loved us and we'd get people in their 30s and 40s who found something they liked too."
Lately, however, "You can stand up there and give 200 percent ... and there is no attention whatsoever. You have to beg for applause around here. My favorite phrase is 'Thank you for that wonderful round of indifference.'"
As an example, she cites that occasionally during a show she will take a break and let the band play a couple of songs without her, and - even though she does most of the singing and almost all the talking while on stage - inevitably someone will walk up to her and ask her to dance or offer to buy her a drink, apparently not recognizing her. This only leaves her to think, "Gee, thanks for noticing."
She continued, "That's a shame because there are so many great musicians around here. Not that everyone wants to be patted on the back ALL the time but that's what keeps you going."
One of her favorite gigs ever, she admits, was in 1994 at the Chow Wagon, the night after the Kentucky Derby parade. The weather was great, and there was a crowd of about 15,000.
"All the ingredients were right. We were just able to rock them and it was just a great feeling. That's when it's fun to me. You get your stadium fix for the year then you go back to the clubs."
Or, as in her case, you don't. But it's not retirement. Not really.
For one thing, she is remarried now to another singer-songwriter who has made several splashes in music both locally and beyond, a man by the name of Gary Meeks.
Meeks is a prolific songwriter who has experienced success in touring and in recording, and who shares a similar history to that of Edwards. He too is a Louisvillian who began his music career at an early age, moved out of town and returned only to have his career revived.
And his son, Travis, followed in his father's footsteps - his band, Days of the New, recently released its first album on the Outpost label, a disc produced by Scott Litt (Nirvana, R.E.M.) that is getting its share of national attention.
As a result, Sherry Edwards' household has become a three-musician family, so if she "retires" from her all-out, no-holds-barred live show, it doesn't mean she's out of the music business, just into a different part of it.
"We've gotten really busy with this," she admits. "It takes a lot of time, but it's fun."
And while talking to some friends about her decision recently, she realized that this symbolic retirement is perhaps more of just a moving forward into a different phase of her life and career.
"I've got the best of both worlds here," she said. "I've been able to do what I'm able to do and now I'm experiencing something new. I'm fortunate in that respect to have all this new stuff."
She's learning a lot, and thanks to Days of the New's success she and her husband have become friends with Litt and his wife. Gary recently recorded several songs in Nashville, he's managing his son's group and simultaneously working with another Louisville band called Superface.
Consequently, Sherry is meeting a lot of people in the music business and there has been some talk about some studio work involving her.
"Not that I'm holding my breath, but it would be a great opportunity," she said.
At the very least, she'll still have that small PA saved back just in case.
* Edwards and her band will perform July 3,4 and 5 at Backstage Cafe, followed by the July 18 and 19 farewell shows at Jim Porter's.
-30-
Tags: