April 1989 Articles
Cover Story
Staff
Columns
Paul Moffett
Staff
Performance Reviews
Keith Clements
Dallas Embry
Jean Metcalfe
Paul Moffett
Jean Metcalfe
Calendar
Staff
Errata
Staff
LASC
Jean Metcalfe
Jean Metcalfe
Staff
Staff
Karen Le Van
Dallas Embry
Jean Metcalfe
Jean Metcalfe
Dallas Embry
Staff
Diana Black
Industry Review
Paul Moffett
Music Business News
Staff
Staff
Paul Moffett
Staff
Staff
KYANA Blues Society
Rocky Adcock
Cartoon
Dan Colon
Louisville Homefront
Dallas Embry
Staff
Sara Pratt
Staff
Staff
Staff
Staff
Blogs
Got Shows?
Send Them To Us
Bookmark Louisville Music News.net with these handy
social bookmarking tools:
Available RSS Feeds
- Top Picks
- Today's Music
- Editor's Blog
- Articles
Add Louisville Music News' RSS Feed to Your Yahoo!

Issue:

Second Thoughts
Almost New Cast Sparkles Production Of "La Boheme"
This year's production of Puccini's ever-popular "La Boheme" had at least ten reasons for its success. First, this is Kentucky Opera General Director Deborah Sandler's first presentation of the work. Such an event evokes great interest and enthusiasm. She conveyed this emotion by saying "La Boheme" is the perfect opera to open a new season, with its beautiful melodies and touching story."
The other nine reasons? Nine members of this carefully chosen cast will be making their Kentucky Opera debuts. Heading this array of talent will be soprano Joe Hynd Lim and tenor EmmanueI diVillarosa, whose operatic experience is extraordinary and extensive. He has sung Rodolfo (the same role he will sing here) 34 times in three months. One is tempted to say that is his signature role.
Louisville Music News discussed the role of Mimi with Ms. Lim. "I'm delighted to sing it for Louisville music lovers. Though I've sung it many times, I find each time is uniquely challenging and a fresh experience," she said. Educated at Seoul National University in her native Korea and Julliard's celebrated Opera Center, Lim has had a truly international career. Her more recent performances include Mozart's "Don Giovanni" in Portland, Oregon, in which she handled the part of Zerlina; In Detroit, she was Susannah in "The Marriage Of Figaro"; she was Nedda in "I Pagliacci" in Austin and Pamina in "The Magic Flute" in New Orleans.
Perhaps her supreme compliment took place in Seoul, when world-renowned composer Gian Carlo Menotti chose her for the lead role in the world premiere of his "Giorno Di Nozze" during the 1988 Olympics.
Denyce Graves Gives Top Notch Concert & Three Encores
The Hattie Speed Endowed Concert Series got underway with Denyce Graves giving a recital that won't be soon forgotten by those in attendance. Ms. Graves, however, was not the only artist who thrilled a capacity audience. Her accompanist, Warren Jones, a first rate pianist in his own right, rightly shared in the audience recognition. It takes nothing from Ms. Graves' artistry and consistent hard work over many years to salute Mr. Jones. Seldom do a vocal artist and accompanist blend their talents so deftly; one experienced critic described their music "as perfection in artistic collaboration."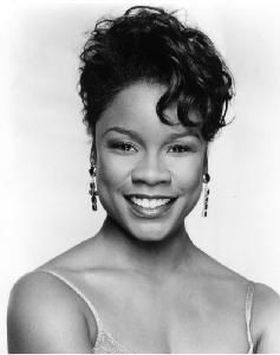 Denyce Graves
As a mezzo-soprano, Ms. Graves has few peers. She has sung lead roles in most major opera houses. She has a great voice (of course); she has mastered the several languages in which most operas are sung and she makes the texts she sings come to life as few singers this observer has heard have done. She also established a remarkable rapport with her audiences.
Her program was as diverse as it was challenging and inspiring. The first part was largely taken from opera but her opening number, Three Persian Poems by the not-well-known Francisco Santoliquido gave the audience clear and undisputed evidence that Ms. Graves is not only a great artist but is also a warm and sensitive human being.
The second part of her program, which was inspired by folk songs (lieder) from composers with quite different cultural backgrounds as Brahms and deFalla, would have daunted many singers. Yet Ms. Graves rendered these numbers with skill and poise. The third part included four spirituals and she interpreted them with a heartfelt reverence and inspiration. It seems that whatever musical idiom she chooses, she is thoroughly at home with it.
Her three encores alone were worth coming to hear and see her - they clearly show why Carmen has become her signature role and why Placido Domingo chose her to sing with him on opening night at the "Net."
Prior to the concert's opening, Edie Davis gave an unforgettable introduction to both Ms. Graves as a great vocal artist and admirable human person.
Frederica Von Stade To Perform with Orchestra
Metropolitan Opera diva Frederica Von Stade will return to Louisville on January 8 for a performance with Maestro Segal and the Louisville Orchestra.
What makes a Von Stade concert unforgettable? Music experts give these reasons: she's well-schooled; her musicianship is tops; she has great dramatic ability and her personal charm lives in the memories of those who hear her.
Though she sings many things well, she is especially great in her Mozart interpretations. U of L faculty member Donn Everette, who is a no mean singer in his own right, has heard her in person and at the Metropolitan Opera and praises her singular artistry. "She's tops," he enthused.
Von Stade has been in productions in this country and abroad and is in her 30th season with the Metropolitan Opera. In 1998, she received France's highest honor for performance in the Arts.
If you want a preview of what these gifts can add to your musical enjoyment, Louisville Music News suggests a visit to the Library at U of L's School of Music. Just ask for one of her discs.
Then come and hear her for yourself.