April 1989 Articles
Cover Story
Staff
Columns
Paul Moffett
Staff
Performance Reviews
Keith Clements
Dallas Embry
Jean Metcalfe
Paul Moffett
Jean Metcalfe
Calendar
Staff
Errata
Staff
LASC
Jean Metcalfe
Jean Metcalfe
Staff
Staff
Karen Le Van
Dallas Embry
Jean Metcalfe
Jean Metcalfe
Dallas Embry
Staff
Diana Black
Industry Review
Paul Moffett
Music Business News
Staff
Staff
Paul Moffett
Staff
Staff
KYANA Blues Society
Rocky Adcock
Cartoon
Dan Colon
Louisville Homefront
Dallas Embry
Staff
Sara Pratt
Staff
Staff
Staff
Staff
Blogs
Got Shows?
Send Them To Us
Bookmark Louisville Music News.net with these handy
social bookmarking tools:
Available RSS Feeds
- Top Picks
- Today's Music
- Editor's Blog
- Articles
Add Louisville Music News' RSS Feed to Your Yahoo!

Issue:


Down On The Corner
• For those of you who learned math in the days when you really had to learn to add and subtract, I proffer an apology for my mathematical error in this column last month. While it sometimes seems like time as really flown since I've been doing this paper, it really has been eleven years, not ten as I asserted. So rather than entering a new decade, LMN entering it's twelfth year.
One of the things that I've learned to do with considerable facility – though I find no pleasure in it – is write apologies and corrections for my errors, most of which seem to cry out for a proofreader. As most folks who have written something that needed to be nigh unto perfect know, one cannot proofread one's one writing. Our last good proofreader left town for college, so if there is some soul out there with no tolerance for errors and a pronounced tendency to notice typos everywhere, please give me a call at 893-9933. We should talk.
• In keeping with owner Marvin Maxwell's  mantra that "music makes the kids smarter," Mom's Music is presenting a six-week program called "Mom's Mini Musicians," which provides play-based musical activities for children from 3-5 years of age. Taught by Kelly Cartright, who has a Masters in Education and thirteen years of teaching experience, the first program will begin on May 24. For more information, contact Donna Reddick at 812-283-3304.
• Jazz guitar fans, listen up. It's time for the annual jazz guitar clinic and concert at Bellarmine College. The clinic will be held June 12-13, from 10 a.m. to 5 p.m. and will feature instruction by Kenny Poole, Peter Bernstein, Gene Bertoncini and Jeff Sherman. Tuition for the clinic is $90. For information on the clinic, contact Jeff Sherman at 502-452-8182.
The Jazz Guitar Concert will be held on Monday, June 12, at 7:30 p.m. in the Amy Cralle Theatre in Wyatt Hall on the Bellarmine Campus. Tickets are $10 at the door, $7 for Louisville Jazz Society members.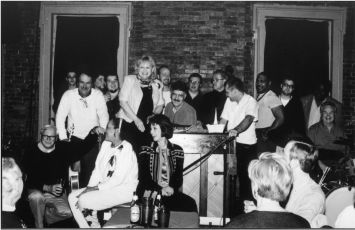 The regulars, both customer and players, gathered around for this photo on the last Jazz Jam at the Rudyard Kipling. The event has moved to the Comedy Caravan in Mid-City Mall on Wednesdays
• Time to clean out those bookshelves, boys and girls, and to donate the books you just really don't want to the Kentucky Opera for the July Kentucky Opera Guild 14-16 Book Sale at Trinity High School. I recommend this as a means of reducing clutter (you aren't really  ever going to re-read those college English Lit collections of the World's Greatest Whatever, you know.) and helping the Opera. They'll even send somebody over to pick up your books. Call 502-584-4500 for the pickup.
• The Louisville Youth Orchestra is sponsoring three summer orchestral camps for student string musicians, from beginning to three years of experience. The camps will be held at the end of July and will feature coaching by professional string players. For more information, contact Melody Welsh-Buchholz at 502-582-0135.
• The 3rd Atlantis Music Conference 2000 is set for August 9-12, 2000 in Atlanta. Artists interested in submitting material for showcase should contact AMS at 770-499-8600 or log on to their website at www.atlantismusic.com.
•  The U.S.A. Songwriting Competition is open for submissions. The deadline for submissions is May 31. The overall grand prize is $32,000 cash and over $18,000 in merchandise. There are a number of other prizes as well. For information and entry forms, log on to their site at www.songwriting.net, e-mail at info@songwriting.net or write: USA Songwriting Competition, 82 South St., Hopkinton, MA 01748.
• Glasgow, Kentucky's Master Musicians Festival, set for July 20-22, is seeking donations to help cover expenses for the event. Like many festivals put together by music lovers, who are often quite unfamiliar with event bookkeeping until they do the event, the MMF people are blessed with increased attendance but no increase in funds. We can relate. If you would like to help them out, call 606-678-2225 for more information.
• Good news for fans of traditional mountain: we read in the Courier-Journal that Morehead State University is planning The Kentucky Center For Traditional Music, which will focus pnm Kentucky and Appalachian music through concerts and performances and instruction in the forms and tools of the music. The center will make its debut in June with a concert by Tom T. Hall.
• Over at the Louisville Ballet, three dancers are announced their retirement from the company. Principal  dancer David Goud, soloist Robin Irwin Heckman and corps de ballet dancer Jean Sager Baldridge will step down after the season finale, Giselle.
• Lexington's Michael Johnathon has been very persistent over the years in bringing folk music to Central Kentucky. His most recent creation, "The Woodsongs Old-Time Radio Hour," is broadcast on WRVG, 89.9 FM, each Saturday at noon and Sunday at 6 p.m. and also over 157 radio stations around the world. On May 1, the show will be produced at the historic Kentucky Theater to celebrate the 100th broadcast and second anniversary of the program. Admission is free. For reservations, call 606-231-5555.
• Did you catch Chaz serenading the kiddies on the White House lawn during the Easter Egg hunt? He was invited to the event for the second time, which is a validation of sorts, considering that Julie Andrews, 'NSYNC and Robert DeNiro, among others,were also invited. As is normal with Brother Rough, he worked all the media very well, a lesson which should be learned by all serious musicians.
Codas
• Dan H. Watson, 65, died on April 8 in Louisville. He was the father of Louisville musicians Mark Watson (TheMarks) and Patrick Watson (The Wilson Project, French Corder).