April 1989 Articles
Cover Story
Staff
Columns
Paul Moffett
Staff
Performance Reviews
Keith Clements
Dallas Embry
Jean Metcalfe
Paul Moffett
Jean Metcalfe
Calendar
Staff
Errata
Staff
LASC
Jean Metcalfe
Jean Metcalfe
Staff
Staff
Karen Le Van
Dallas Embry
Jean Metcalfe
Jean Metcalfe
Dallas Embry
Staff
Diana Black
Industry Review
Paul Moffett
Music Business News
Staff
Staff
Paul Moffett
Staff
Staff
KYANA Blues Society
Rocky Adcock
Cartoon
Dan Colon
Louisville Homefront
Dallas Embry
Staff
Sara Pratt
Staff
Staff
Staff
Staff
Blogs
Got Shows?
Send Them To Us
Bookmark Louisville Music News.net with these handy
social bookmarking tools:
Available RSS Feeds
- Top Picks
- Today's Music
- Editor's Blog
- Articles
Add Louisville Music News' RSS Feed to Your Yahoo!

Issue:

Jazzin'
PRELUDE:
One mo' time for the Jamey Aebersold Summer Jazz Workshop Concert Serie s. Seriously, if you saw most of these artists in New York, it would be $20 or more, for one set only, plus food/drink minimums. Show up or don't complain about the lack of live jazz in Louisville.
Also, RIP Maurice Sendak , and thanks to the Louisville Free Public Library for its recent (January-February) Sendak exhibit.
RECENT CONCERTS
Swing 39 at the Rudyard Kipling
Swing 39 is a contemporary Louisville ensemble dedicated to carrying on the tradition of le Quintette du Hot Club de France, the Gypsy jazz initiated by Django Reinhardt and Stéphane Grappelli. They charmed an appreciative and age-diverse crowd (children to a lady celebrating her 88th birthday) at the most recent installment of the Louisville Jazz Society's concert series, on a pleasant Sunday evening, June 3, at the Rudyard Kipling. Violinist Jane Halliday was upbeat and vivacious, handling song introductions and brief historical comments. Rounding out the group were Ben Andrews and recent addition Ken Allday on guitars, and John Thornberry on bass. Opening with Duke Ellington's theme song (composed by Billy Strayhorn), "Take the 'A' Train," Swing 39 entranced the audience. They kept the spirits and energy high with a song popularized by Reinhardt, "Coquette," and followed it with the standard "How High the Moon." The warmth of the acoustic instruments flowed through the Rud as they continued with another tune from the Ellington Songbook ("Don't Get Around Much Anymore"). The only piece from the first set which was from a later style was Thelonious Monk's "Well, You Needn't," a pleasant change of pace. They closed the first set with "All of Me." Unfortunately, I couldn't stay for the second set, but I heard that it was both long and delightful. Halliday told me in an e-mail that "We are having so much fun having that 2nd guitar, so much more authentic to the Django sound."
Bellarmine Jazz Guitar Clinic And Concert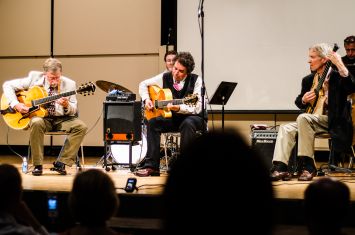 Bellarmine Jazz 2012, Photo by Rush Sherman
The night after the Swing 39 concert was the 26th Annual Bellarmine Jazz Guitar Concert, this year featuring longtime friends of the program, Howard Alden and John Stowell , in addition to Bellarmine's own Jeff Sherman . Mark McCulloch and Terry O'Mahoney provided support on bass and drums respectively. I took my guitar-playing daughter Lauren, who, although not a jazz lover, nonetheless enjoyed the evening. Over the course of almost two hours, with only a brief intermission, the guitarists kept the audience intrigued with not only their easy-going virtuosity, but their malleability. They frequently switched formats, from the opening, fast-paced "Rosetta," with the entire lineup, to unaccompanied solo performances, such as Stowell's rendition of a lesser known Bill Evans piece, "Funny Man." Sherman played the first segment following "Rosetta," with a particularly engaging version of a movement from "Concierto de Aranjuez." This piece has become so associated in jazz circles with Miles Davis over the years that it's easy to overlook the fact that it was originally written by Joaquín Rodrigo for guitar and orchestra. He also performed the first of two tributes to Django Reinhardt, Joe Pass' "For Django." Alden plays a seven-string guitar, and opened his portion of the concert with a medley of Barney Kessel's "I Remember Django" and "Back in Nagasaki." McCulloch and O'Mahoney came back to join him for "Im Glad There Is You," and a Brazilian choro.
Alden joined Stowell for a duet to open the second set, on an arrangement of "Star Eyes" which featured intricate interplay between the two. It was followed by "Funny Man" (and Stowell's quip "Was that abstract and introspective enough for you?"). Stowell welcomed the rhythm section back for his interpretations of Jobim's "Useless Landscape" and Wayne Shorter's fast waltz, "United." He added that this was the first time he had played these with McCulloch and O'Mahoney, but "I wouldn't have given these to them if I didn't know they could do it." Sherman and Alden then replaced Stowell for a Howard Roberts composition, "It's About Time," before the finale, with all musicians playing "Recado Bossa Nova." It was intriguing to watch as the guitarists comped for one another's solos, occasionally laying out for the other two, and how the stylistic differences could be heard, with (if I may characterize them), Sherman leaning to mainstream modern, Alden toward more of a swing approach, and Stowell with posture and playing more reminiscent of a classical guitarist. This series has always featured top guitarists at very moderate prices, and while there was a substantial audience in Cralle Hall, it would be nice to see a packed house in years to come.
GOV'T MULE AND DR. JOHN AT IROQUOIS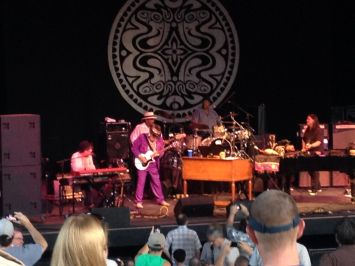 Dr. John. Photo by Edie Mahaffey
It seems like many of the folks of, ahem, a certain age were surprised that Dr. John opened for Gov't Mule ("who?"). Nonetheless, Warren Haynes' most prominent of his many projects took the stage after a generous hour of Dr. John. The good doctor's set included recent material, including a plea to help save the Wetlands, classic New Orleans songs such as "Indian Red,' and a sampling of his hits, including :"Right Place, Wrong Time" and "Such a Night." Gov't Mule played a lengthy set; I had to leave (it was a work night) at 11:00 p.m. with two hours of the Mule and more to come. My personal favorites were an early set instrumental Beatles medley, beginning with "She Said She Said" and touching on as number of the more psychedelic songs from the canon. Later, they transitioned into the Grateful Dead's "The Other One," with Mule drummer Matt Abts kicking into the circular patterns of the theme, with Dr. John's trombonist joining for the jamming. Danny Louis mostly played keys during the concert, but sometimes picked up a guitar, while the relatively new bassist, Jorgen Carlsson, fit like a glove.
ON THE HORIZON
JAMEY AEBERSOLD ANNUAL SUMMER JAZZ WORKSHOPS
The Jamey Aebersold Annual Summer Jazz Workshops take place here on the campus of the University of Louisville from July 1st – July 6th, and July 8th – July 13th. A full list of scheduled faculty is at: http://workshops.jazzbooks.com/faculty. Among the better known are Rufus Reid , Ed Soph , Dave Stryker , Steve Allee , David Hazeltine , Antonio Hart , Eric Alexander , Jim Snidero and David Baker , to name but a few; Dave Liebman has recently been added for the second week. In addition to the workshops, the artists perform nightly for the students and public-at-large, playing at the School of Music Monday through Thursday of each week, beginning at 7:30 p.m..
DIANA KRALL
Pianist and singer Diana Krall returns to Louisville for the first time in quite a while, for a concert on Sunday, July 15, at the Kentucky Center's Whitney Hall. According to her website, her touring band is a heavy lineup, with Anthony Wilson on guitar, Robert Hurst on bass, and Karriem Riggins on drums. Tickets and other details are available at the Kentucky Center's box office, 502-584.7777, 502-562-0730 (TTY), and Toll Free: 1.800.775.7777, online at www.kentuckycenter.org; Krall's site is www.dianakrall.com.
SELECTED CLUB AND OTHER LISTINGS
The Comedy Caravan , 1250 Bardstown Road, Louisville, KY 40204, 502-459-0022 www.comedycaravan.com, has long been a venue for quality musical acts. The Don Krekel Orchestra has been performing the third Monday of each month, and should be July 16. Please contact the club for any post-deadline information.
The Nachbar (969 Charles Street, 502-637-4377, www.myspace.com/thenachbar),
features Vamp (saxophonist Jacob Duncan, drummer Jason Tiemann and a revolving crew of bassists) every Wednesday; check the club for updates or changes. The club also has a Facebook page with occasional updates.
The Jazz Kitchen (5377 N College Ave., Indianapolis, IN 46220; phone: 317-253-4900; www.thejazzkitchen.com) The Blue Wisp Jazz Club in Cincinnati, is now at 700 Race St. (513-241-WISP). Please see online on or after July 1 for road-worthy shows.
Please sign up for updated local jazz listings : The Louisville Jazz Society provides weekly e-mail updates for local jazz happenings. Be sure to sign up for the e-mail "Louisville Jazz Society's Jazz Insider" at www.louisvillejazz.org. It is both impossible for me to try to provide complete listings here, and it would be duplicative of the weekly listings in the Courier-Journal and LEO and the Louisville Music News' monthly music listings, in print and online, www.louisvillemusicnews.net.
EIGHTH NOTES, PART ONE: JAZZ FACTORY ENCORE
Steve Smith & Vital Information:
LIVE! One Great Night (http://bfmjazz.com; www.vitalinformation.com)
This new release by drummer Steve Smith's Vital Information ensemble is a combination CD and DVD, capturing keyboardist Tom Coster, bassist Baron Browne and guitarist Vinny Valentino in performance in Ashland, Oregon, November 9, 2007, only six months after two sold-out sets at the Jazz Factory. Priced as a "two-fer," the only difference between the audio and video versions is the inclusion of "Positano" on the DVD. The DVD is taken from a webcast and, quoting Smith as forwarded to me by his publicist, "The only version of the webcast that we could find was a DVD in B&W. There is no color version." Not an issue, just FYI. Anyway, Valentino had joined the group in 2006, replacing the more rock-oriented Frank Gambale, and adds not only guitar work that can be by turns slippery and crunchy, but also his voice on the konnakol (Indian drum talk) pieces such as "Interwoven Rhythms-Synchronous" and "Interwoven Rhythms-Dialogue." Santana veteran Coster plays mostly organ, but adds a delightful touch on accordion to Valentino's ballad "Positano." As leader, Smith uses his kit to support the other players with often intricate rhythms built over funk patterns. Browne's bass provides an anchor to the band. According to Smith's liner notes, the same lineup is still touring. One can only imagine how much tighter the interplay would be now. In the meantime, this set will please fans of funky jazz mixed with fusion, and perhaps bring back some memories of Vital Information's visit here,
EIGHTH NOTES, PART TWO: OLD FRIENDS, NEW QUARTETS
Béla Fleck and the Marcus Roberts Trio
Across the Imaginary Divide (Rounder Records, www.rounder.com)
Pat Metheny
Unity Band (Nonesuch Records, www.nonesuch.com)
Béla Fleck , from all reports, gave an amazing performance at the Brown Theatre at the end of April, closing out his tour with the original Flecktones lineup (see, for example, LMN Editor Paul Moffett's take at: http://louisvillemusic.org/blog/2012/05/04/reviewing-bela-fleck-the-flecktones-%E2%80%93-I-might-as-well-be-dancing); I was at Jazzfest or I could give you a firsthand account. On his new release, Across the Imaginary Divide , Fleck joins pianist Marcus Roberts' well-seasoned trio, with bassist Rodney Jordan and drummer Jason Marsalis, for a program of five Fleck originals, six Roberts compositions, and one tune, "Petunia," credited as a co-write. Fleck, well known for a variety of styles and experimentation with electric versions of the banjo, sticks with the acoustic here, and integrates seamlessly with the trio's stylings. Several of Fleck's songs, including the opening "Some Roads Lead Home," incorporate some of his trademark time changes; here with a ricky-tick feel which gives way to a more swinging pattern for the solos. His title song shows how seemingly effortlessly he integrates his playing into a fast-paced straightahead piece; clearly there is no real divide between his playing and that of Roberts and company. Roberts has long been known as a serious student of the early jazz piano masters, such as James P. Johnson, and that quality comes through in some of his pieces, like the closing "That Ragtime Feeling." Fleck's study of the African predecessors of the banjo presumably influenced his "Kalimba," in which he begins with a banjo evocation of the thumb piano before Roberts joins him with a delicate touch on the keyboard. In short, as Roberts concludes in his portion of the liner notes, "I believe that those of you who know us well and those of you who are new to either of our musical styles will find it [this recording] to be upbeat, honest, soulful, and rich with artistic ideas and creativity."
Meanwhile, Pat Metheny leaves behind the solo works of his past two releases, Orchestrion and What's It All About , for the challenge of playing with other musicians in a format he has not embraced as a leader since 80/81 , namely a quartet with saxophonist (and bass clarinetist Chris Potter, up-and-coming bassist Ben Williams, and Metheny's drummer for the past several years, Antonio Sanchez. All the compositions are by Metheny. "New Year" sets the tone for much of the album, with an intro by the leader, followed by group interplay, during which Metheny comps with a bossa nova feel behind Potter's solo. Following that is Roofdogs," featuring Metheny on what sounds like a guitar synthesizer intertwining with Potter's soprano. Come and See" explores a more mellow territory, led by Metheny on his 42-string harp-guitar, the Pikasso, with warm bass clarinet by Potter. Throughout the CD, Metheny references many of the styles of which he is a master, from straightahead to the uniquely "Pat Metheny group" sound, with a foray into more experimental work with "Signals (Orchestrion Sketch)," which actually sounds more like his skrawk on Song X or Zero Tolerance for Silence . Metheny continues to demonstrate his versatility with this new release, and I, for one, hope this quartet will make it to Louisville while they are still together.
LOCAL JAZZ CONTACTS
With two thirteen-year-olds, it's hard to get out as much as I would like to hear music. As a result, picking and choosing which performances to catch sometimes require that I postpone seeing some of the local musicians and singers in order to not miss the one-night-stands from out-of-town artists. Invariably, I feel guilty, so in an effort to assuage my guilt and, more positively, to provide more exposure to our community of great local jazz performers, I am initiating this feature containing website and e-mail contact information. I am only including those artists who have given their permission to me; some have indicated a preference for website listing only; others have only e-mail addresses. If you wish to be included, drop a line to me with your permission and preferences, at mzkjr@yahoo.com. I reserve the right to edit and to exclude those whose connection to jazz is, in my opinion, tenuous; and this feature may end up online if it begins to take up too much space in print.
MIKE TRACY: www.michaeltracy.com, michael.tracy@insightbb.com, saxophonist and teacher Mike Tracy
UNIVERSITY OF LOUISVILLE JAZZ PROGRAM: www.jazz.louisville.edu
BOBBY FALK: www.myspace.com/bobbyfalk, drummer and composer Bobby Falk;
WALKER & KAYS: www.walkerandkays.com, singer Jeanette Kays and guitarist Greg Walker;
JENNIFER LAULETTA: www.jenniferlauletta.com, singer Jennifer Lauletta;
JEFF SHERMAN: jeff.sherman@insightbb.com, guitarist Jeff Sherman;
RON JONES: www.ronjonesquartet.com, rjmusic@ronjonesquartet.com, saxophonist Ron Jones;
STEVE CREWS: www.jazzcrews.com, jazzcat@iglou.com, pianist Steve Crews.
CODA
I am always interested in your comments. Contact me at mzkjr@yahoo.com.