April 1989 Articles
Cover Story
Staff
Columns
Paul Moffett
Staff
Performance Reviews
Keith Clements
Dallas Embry
Jean Metcalfe
Paul Moffett
Jean Metcalfe
Calendar
Staff
Errata
Staff
LASC
Jean Metcalfe
Jean Metcalfe
Staff
Staff
Karen Le Van
Dallas Embry
Jean Metcalfe
Jean Metcalfe
Dallas Embry
Staff
Diana Black
Industry Review
Paul Moffett
Music Business News
Staff
Staff
Paul Moffett
Staff
Staff
KYANA Blues Society
Rocky Adcock
Cartoon
Dan Colon
Louisville Homefront
Dallas Embry
Staff
Sara Pratt
Staff
Staff
Staff
Staff
Blogs
Got Shows?
Send Them To Us
Bookmark Louisville Music News.net with these handy
social bookmarking tools:
Available RSS Feeds
- Top Picks
- Today's Music
- Editor's Blog
- Articles
Add Louisville Music News' RSS Feed to Your Yahoo!

Issue:

Second Thoughts
"The Barber of Seville"
Twenty-four, fourteen and ten remain magic numbers as I write, still bewitched by Kentucky Opera Association's remarkable presentation of Joachim Rossini's perennial favorite, "The Barber of Seville." The composer was a youthful 24 when he penned this sparkling comedy (opera buffe) in 14 days. The quality of these performances appropriately mark ten years that Thomson Smillie has been at the helm here.
Thomson's genius includes the ability to hire and put together the people who can work together well. That includes the people an audience never or seldom sees but without whom the show would be less than successful. With that in mind, Louisville Music News went backstage, met and talked with some of these talented men and women and so can tell you about what they have contributed to KOA's growing reputation. It was not possible to talk with all of them and neither is there here any attempt to rank their contributions in any order of importance. After that, there will be a few comments about the musical performers whom you do see.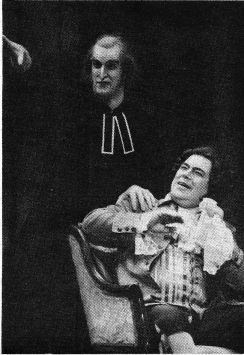 Phillip Skinnger (Basillio) plotting with Richard Johnson (Bartolo). Photo by Patrick L. Pfister
Incidentally, Louisville Music News was invited to both the final rehearsal and the actual show and assisted by Jerry Farrar, KOA's hard-working public relations person.
"Barber" is simply sheer fun – with potential for laughs galore. Still, it is Jim Gage's gifts for lighting which can take you into the heart of this story and reveal more fully its unforgettable – characters: the resourceful if somewhat vain barber, Figaro; the handsome but not always confident lover, Almaviva; the lovely yet highly determined Rosina; the scheming yet susceptible Basilio; the pompous, selfsatisfied Dr. Bartolo; and the harried housekeeper, Berta. Jim Gage, following the music and the text with exquisite care, lets the lights tell us when Figaro has a brainstorm, Rosina realizes that Almaviva truly returns her love, how cleverly Basilio and Bartolo concoct their scheme to discredit Almaviva – and so on. As Jim puts it: "If the lights don't do their job, the opera fails."
Director Mark Phillips added a few new twists. Not the least successful was the introduction of a bust of Dr. Bartolo, reinforcing the highly exalted conviction which Rosina's guardian and would-be husband has of his own importance. Basilio's fingers do the talking and, along with his eyes, tells what manner of fellow he really is.
Mary Zoeller has carefully blended the colors used in the set with those of the costumes. That kind of integration can add much to the quality of a performance.
George Green, a third generation leader and stagehand from Local 17, added his sure and, experienced touch to the performances.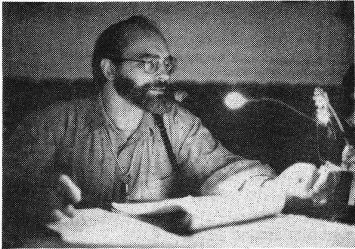 Jim Gage directs lighting for 'Barber'. Photo by Patrick L. Pfister
Now, the story and the musical performers.
At the time Beaumarchais wrote the play – some 30 years before Rossini's opera – one did not make a barber a hero or show the warts of the aristocracy in prominent fashion. Briefly the story is that having casually met or only seen Rosina before, Almaviva, (his name means living soul or self) strides to Seville to woo and win her. After what he fears was a less than successful attempt to serenade her, he meets a former acquaintance, the irrepressible Figaro and together they outwit her guardian who, though old enough to be her Dad, has been feasting his eyes on her beauty and not inconsiderable dowry.
Now once you hear Mark Oswald, you almost immediately know why "Figaro" has been a perennial favorite, why Mark at only 23 already has been appearing at the Metropolitan Opera and why this is his favorite role. Mark can sing – and how – he can act – he can mimic. What a delight it would be for KOA to bring him back "in the companion to this opera, Mozart's "Marriage of Figaro." In that he outwits Almaviva!
In The Courier-Journal Andrew Adler ranked Donna Bruno's Rosina ahead of Oswald's Figaro – and he has a point. Donna is believable, charming and gifted. As Harold Milligan, formerly of the Metropolitan, once wrote, her opening number is revealing of her amiability and determination for as she says in this aria, "I have sworn it – it shall be sol" Antoinette Hardin as Berta has one solo and she has added to her already considerable reputation with it.
This writer finds it almost impossible to rank Mark Thomsen (Almaviva), Philip Skinner (Basilio) and Richard Johnson (Bartolo). Skinner performs the "Calumny Aria" when he and Johnson plot against Almaviva with the ease that can only be the result of the union of remarkable skill and hard work, so I would single him out.
However, the other roles are more demanding in requiring more stage time and versatility, so I rate them all comparable.
Not to take anything from David Berger and the Orchestra, this opera is for singing – and Rossini seems to have known, as few composers have, how to write for and challenge the human voice. Less formally educated in music than most composers of today, one could say for him what his hero, Figaro, tells – us: "It is my genius which made it all happen."
The angels for this production are Brown & Williamson and Barry and Edie Bingham.